The fact that Viking Yachts has started a line of outboard-powered boats called Valhalla has grabbed most of the headlines about this builder lately (and you can catch our video of the quad-engine 41 Valhalla), but that's a shame – because Viking also launched a pair of seriously fishy flybridge boats in their Billfish series this year, the 38BF and the 46BF. We had the chance to run the 46 early this fall and then saw the 38BF at the United States Powerboat Show, and as thrilled as we are about the Valhallas, the inboard diesel bridge boats are just as interesting. Case in point: that 38BF.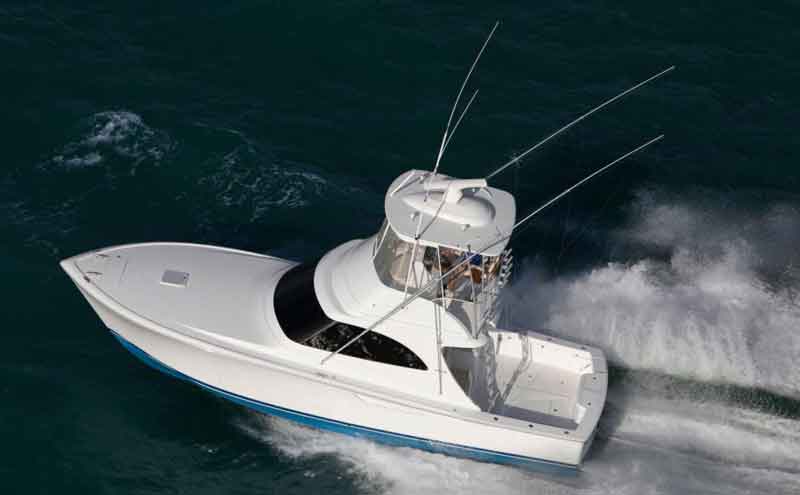 Rather than utilize the usual bridge-over-saloon design, the Billfish has an open "command deck" beneath the flybridge. There's an option for a lower station so you can dart between the cockpit and the wheel, or it can be utilized entirely for a seating and entertainment center. There is no aft bulkhead, and instead, the back of the command bridge can be left open and airy when the weather's nice or sealed off with clear canvass when there's a chill in the air. Many people enjoy the outdoorsy feel of the command bridge, others appreciate the easy engine access it provides (seat bases swing up on both sides plus there's a center access hatch), and some others like having a dinette that's not contained inside a cabin. But there's also an unexpected perk to this arrangement: the entire command bridge can be hosed off and scrubbed clean. You just gaffed a blood-spurting mahi-mahi, and now you want to kick back on a settee in the air conditioning to catch your breath? On a traditionally-designed bridge boat you'd better wash up good – heck, you may need to change your clothes – or you risk besmirching the boat's interior. In this case, however, that's not a problem.
Before such a situation can arise, naturally, you've got to start hooking some fish. That shouldn't be an issue, with a 109-square-foot cockpit to work with. That's a big bump up from the 37 BF, this boat's predecessor, to the tune of 25-percent more space. There's a livewell in the transom, a pair of monsterous fishboxes in the deck, a bait freezer and tackle stowage drawers in the mini-mezzanine, three flush-mounted rodholders in each gunwale, a pair of additional rodholders in the flybridge wings, and five rocket launchers on the bridgedeck rail. There's also rather magnificent rod stowage for a boat of this size, with a large dedicated rod locker under the starboard-side command deck settee.
Walk right past the settee and enter the lower cabin, and you'll discover a full galley and head, plus a private forward stateroom. Owners can choose whether to have it outfitted with a pedestal queen berth, or an over/under that expands sleeping accommodations in the cabin to three people.
The boat comes well-outfitted, but there's one option you'd be nuts to go without: the SeaKeeper Sk6 gyro-stabilizer. Once you've run a boat with one of these things in its belly, you'll be spoiled for life. When it comes to the engines, however, a pair of Cummins QSB6.7 500-hp diesels is the one and only option. While this doesn't quite take the 38BF up to the speeds most larger Vikings hit, it does provide a cruise of right around 30-knots and a top-end of about 35-knots.
Headlines? Who need 'em. With a boat like the 38BF, you can make some headlines of your own.
Specifications
LOA – 38'8"
Beam – 14'0"
Displacement – 30,953 lbs.
Draft (hull) – 3'4"
Transom Deadrise – 12 degrees
Fuel Capacity – 460 gal.
Max HP – 1100
Area Dealers – Bluewater Yacht Sales, Baltimore (410) 342-6600, Grasonsville (410) 827-0873, and Ocean City (410) 390-3043, MD; Hampton and Virginia Beach, VA, (757) 723-0793.