If you want a new production-built convertible offshore fishing machine that has all the latest and greatest in innovation and technology, truth be told, your choices will be fairly limited because Viking Yachts has more or less cornered this market to a large degree. Fortunately, rather than resting on its laurels Viking constantly retires old models and introduces newly updated ones. And the latest to hit the water is the 54C, introduced last fall at the Fort Lauderdale International Boat Show.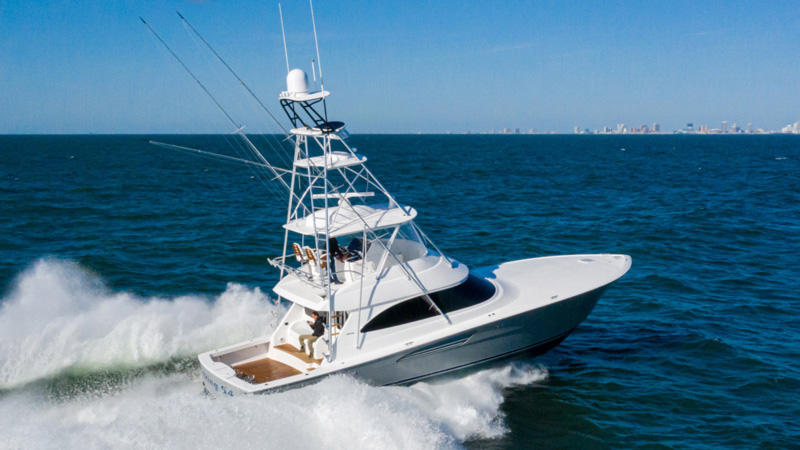 One of the key advancements Viking has made through the years is consistently producing large sportfishing boats that go fast, and the 54C is no different. With a pair of MAN V12 1400CRMs or 1550CRMs in the engineroom the boat's designed to cruise in the mid-30-knot range and top out above 40 knots, a self-imposed benchmark for new Viking models. All that speed comes courtesy of a tech-injection consisting of a bottom designed via computational fluid dynamics software, and layup via vacuum-infusion with vinylester resin.
Interior design gets a CAD-boost, too, and features a companionway that runs straight through the cabin, with three staterooms and two heads. Owners get some choice, here, as the forward guest stateroom can be arranged with either a single queen berth or with crossover berths that could prove a bit more useful if the crew gets tired during an overnighter at the canyons.
Speaking of the canyons: it will surprise no one to learn that this boat's 154-square-foot cockpit is designed purely for bluewater action. The transom houses a dual-use livewell/kill box, there's an in-deck fishbox in the cockpit sole, another in-deck box can be plumbed for a second livewell, and a bait freezer, coolers, and a tackle stowage stations live in the mezzanine. Rod holder and rocket launcher placement will be left up to the owner, but you can have six flush-mounts in the gunwale, three launchers on either side of the tower pipework, and eight more across the bridgedeck rail, should you so desire.
You're looking for a new mid-50-something convertible? Like we said, your choices will be limited. Then again, after looking at the Viking 54C, that probably won't bother you one bit.
Viking 54C Specifications
LOA – 54'6"
Beam – 17'8"
Displacement – 75,026 lbs.
Draft (hull) – 4'11"
Transom Deadrise – 12 degrees
Fuel Capacity – 1403 gal.
Max. Power – 3100 hp
Area Dealers – Bluewater Yacht Sales, Baltimore, MD, (410) 342-6600; Annapolis, MD, (410) 827-0873; Ocean City, MD, (410) 390-3043, Gloucester Point, VA, (804) 642-2150; Hampton, VA, (757) 723-0793, and Virginia Beach, VA, (757) 937-2570.