Okay, just because you own a fishing boat don't click out just yet - let's talk about wade fishing and why you shouldn't limit yourself to casting against the shoreline or zipping across the lake to see what's on the other bank. Hey, the water isn't always bluer on the other side.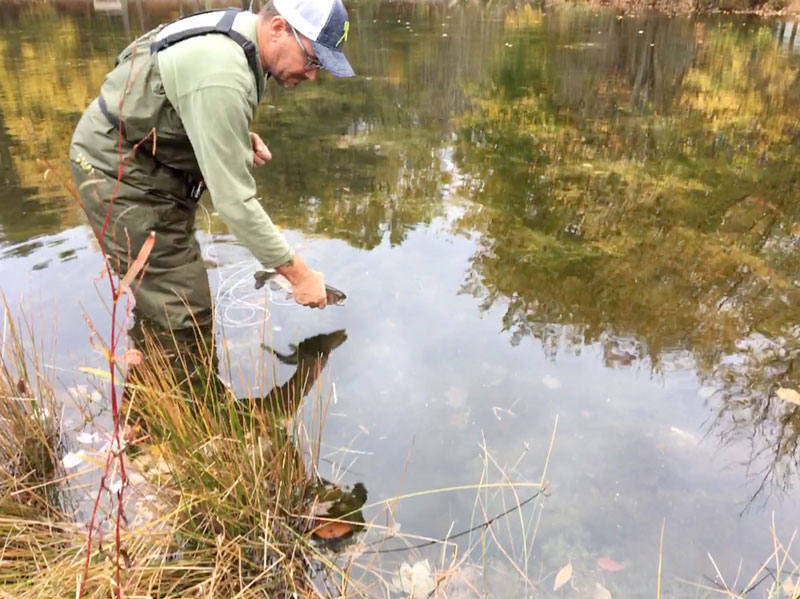 I love stepping into a lake, pond, or stream and casting for some bass, trout or, for that matter, any fish that may be biting. What I like most is catching fish on their level. Think about it: you're in the water, moving slowly along the shoreline fan-casting when you hook that fish. You fight it all the way back to you and reach into the water and lift the fish out. What could be more satisfying than that? Well, releasing that fish and having it swim away, watching it disappear back in to the depth of the lake is pretty satisfying, too.
Tip Number One – Use chest waders. Hip waders work well in smaller, shallow, hard-bottom streams for spin or fly casting against fish like smallmouth bass and other species. The thing is, you'll almost always step into water deeper than the hip waders allow when fishing rivers, ponds and lakes. Chest waders allow you to go deeper, are more versatile, and most provide a pocket or pockets for storage of small gear.
Tip Number Two - Be aware of the type of bottom on which you are wading. Is it hard or muddy bottom, for example. You'll sink into soft bottom, which makes wading tougher and can cause falls. Avoid wading in lily pads, because the bottom is inherently soft under the pads and you may sink to your ankles if not further. Note, though, that wading on the edges of pads does give you access that you can't get with a boat. Unless you know your fishery, take care as you move through the water. Wear your wader safety belt, too. It will keep the water out if you happen to step into a deep hole of fall thanks to a mucky bottom. Wading after a heavy rain or snow runoff can also be troublesome, because banks may become unstable and you might take a spill trying to get to the water.
Tip Number Three – Before you step into a stream, lake, or pond, think about what direction you will be fishing. For example, when I fish a river or stream, I will walk downstream on land, and past the water that I plan to fish. This helps me in a couple of ways as I wade back up stream. When wading, you kick up the bottom and cause a plume of dirt that will drift down stream, disrupting the water you may want to fish. Second, fish typically face upstream, thereby giving you the advantage of sneaking up on your prey.
Tip Number Four – When fishing a pond be aware of your movement. You'll push water forward as you wade around, disrupting and spooking the fish. I have fished ponds small enough that I caused a wake that carried across to the far bank. Lesson learned, the bite turned off because I displaced water and the fish's lateral line picked up the sudden move I made.
Tip Number Five – Make sure you only take what you need. When I wade fish I wear a backpack to carry my gear, a bottle of water, a snack and a small first aid kit. I target a species, take a few applicable lures, leader, and a pair of needle-nose pliers.
While we all love fishing from boats, wade fishing can be a great way to experience the sport, allowing you to take your time and catch some fish on their level. Feel the outdoors around you, and enjoy the freedom of wade fishing.
-By Eric Packard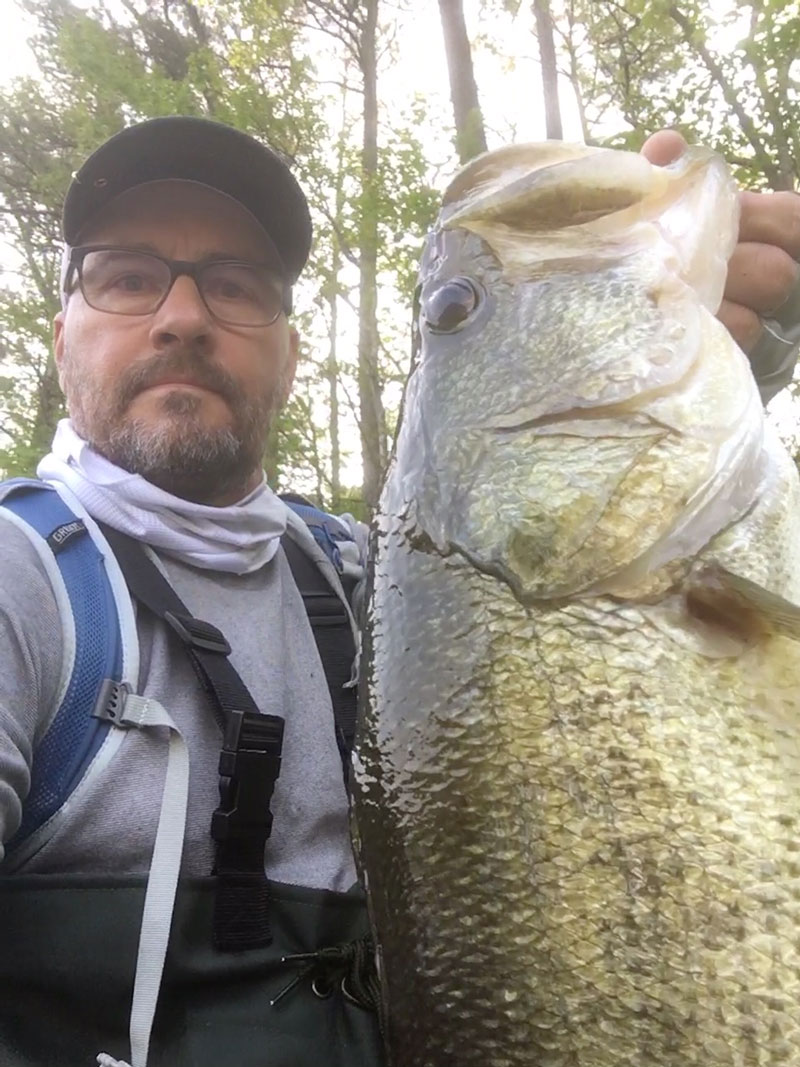 Gearing Up for Wade Fishing
The staff at FishTalk has come across some gear that will prove quite helpful for wade fishermen. Here are some of our top picks.
Hauling Bait - How do you carry a minnow bucket when wade fishing? You don't. Luckily, Bait Up has created a new type of bait container, available in 20-ounce and 35-ounce sizes, that closes to prevent spilling. Plus, it has a floating basket that drains the water from the bait. Simply turn the bottle up on its end, allow the basket to rise, unscrew the cap, and grab your bait. We found this especially useful fishing in cold weather conditions, since we didn't have to immerse our hands into a bucket of cold water to grab a minnow.
The 35-ounce model holds a few dozen minnow; less fit in the 20-ounce container. Unscrewing the cap every time you need to refresh your water or grab more bait does get a little tiresome and in the high summertime temperatures you'll need to remove the bottom lid and keep the jar in the water to circulate fresh water, which is made easier with the attached lanyard. Price: $19.99/$24.99.
Packing Gear - Plano Z-Series tackle backpacks are zipperless, and cinch-cords secure the different pockets, holders, and enclosures, allowing you to securely pack away up to four Plano 3700 StowAway tackle boxes. We like this, because zippers are a common failure point in tackle bags of all types, especially when exposed to saltwater. Price: $119.99.
Wading Safe - The InReach Mini from Garmin is the size of a deck of cards and can fit in a pocket, but can talk to the satellites orbiting overhead. Two-way texting and an SOS button (which immediately pings the GEOS emergency response center) via Iridium gives you a way to communicate, even when wading in remote waters where there's little or no cell coverage. It's waterproofed to IPX7 standards, has an internal rechargeable battery that lasts approximately 50 hours in default mode, and weighs 3.5 ounces. Price: $350 (service subscriptions starts at $11.95/month).
Multi-Magic - With its coated steel body and nylon sheath, the Leatherman Siugnal multitool boasts 19 individual tools including a knife, saw, sharpener, pliers, wire cutter, fire-starter, whistle, hammer, bottle opener, and screwdrivers. The blades on these never disappoint and this tool is no exception, featuring a 2-3/4-inch blade with a one-inch section of that being serrated. What's really unique about this tool is the inclusion of a safety whistle. On the back side of the whistle is the fire-starter with a ferro rod striking surface, which will come in handy for overnight camping/fishing adventures. With all these features and the traditional Leatherman ruggedness, this multi-tool is a great choice for the salty outdoorsman. Price: $110.