The Wellcraft 352 Fisherman has 1200 horsepower strung across the transom, the coolest livewell we've seen in the past decade, and enough rodholders to satisfy the most crazed and ambitious spring trophy troller. We spotted this boat – the prototype, actually – among the new boats at the Annapolis powerboat show and couldn't resist jumping aboard to give it a thorough look.
Once you get past the triple Mercury Racing 400 R outboards (top speed: 57 mph), the next eye-grabber is that livewell we glossed over a moment ago. In fact, it's so cool we decided to make room on these pages for an extra picture. Is that nifty, or what?!
Eye-grabber number three: the hard top pipework and rocket launchers are one of a kind. Kingfish-style side riggers poke out from either side, triple vertical launchers are perched to either side, and the center of the hard top is recessed while the pipework forms a ladder. If you buy this boat and don't get the crow's nest with upper station, someone oughtta slap you.
As one expects of a modern center console of this size, the Wellcraft 352 Fisherman has more than a mere head inside the console. There's a small berth forward for crashing when the bite dies during those overnighters at the canyon, a countertop and sink, a head, and most importantly, Wellcraft designed in a dedicated spot down there for a Seakeeper gyro-stabilization system. Sweet.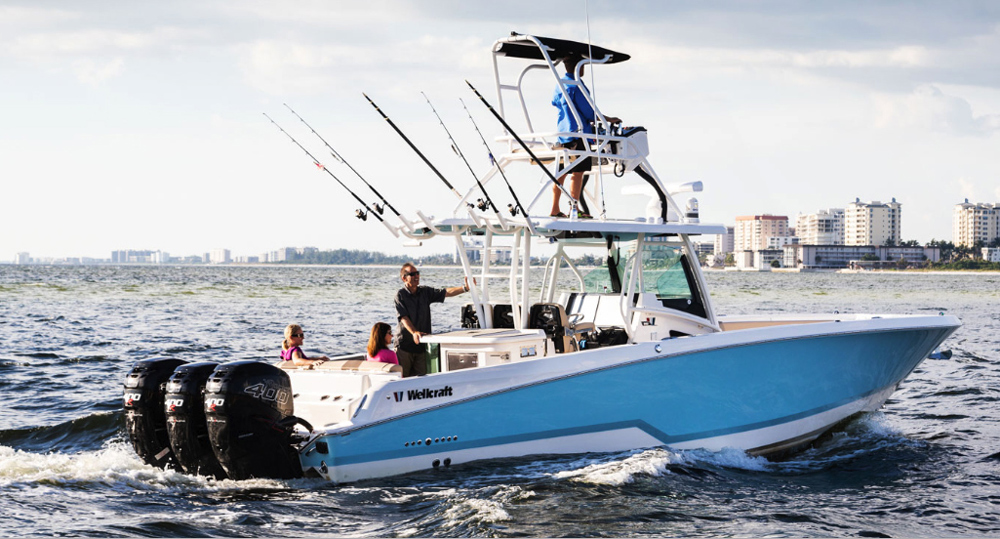 Up in the bow, where so many center consoles focus on creating "social areas" instead of enhancing your fish-killing abilities, the builder took an interesting tact. Rather than meeting in the middle of the bow the flanking seats are joined at the front by a removable cooler seat. You can keep it aboard for cocktail cruises (or if you feel some strange need to keep your ballyhoo separate from your beverages), or you can remove it entirely and use the foremost section of the bow cockpit for casting. We like the stowage compartments built into the seats and we like the dedicated five-gallon bucket stowage under the foredeck hatch even more, though we wish they'd put gas-assist struts on all of these hatches instead of just some of them. We'd also opt out of the pedestal table mounts in the bow – we'll be using that space to swing stripers aboard as opposed to socializing, thank you very much.
Wellcraft is one of the oldest names in boatbuilding, and since Group Beneteau purchased them a couple years ago we all knew changes were coming. Thus far we've liked what we've seen on display at the local shows, as Hawk's Marine of Stevensville, MD, has had plenty of the new Wellcrafts in stock to show off. But the 352 Fisherman represents more than a tweak here and an improvement there. This is now the company's largest offering (NAP price: $253,330), eclipsing the previous flagship 302 Fisherman launched less than a year ago. It has some thoroughly unique features that no other boats offer. And after climbing aboard the prototype 352, we can't wait to see what comes next.
Quick Facts:
LOA – 35'6"
Beam – 10'8"
Displacement – 13,510 lbs.
Draft (hull) – 2'2"
Transom Deadrise – 23
Fuel Capacity – 376 gal.
Max. Power – 1275 hp