Route 219 gets you a ticket to Maryland from West Virginia in one direction, and from Pennsylvania in the other. Or you can run down 70/68 from the metro areas, and link up with 219 near Keyser's Ridge. Whichever way you come into western Maryland, this road is your pathway to perch, walleye, pike, and bass in some of Maryland's finest lakes, plus countless trout streams and cool-running creeks.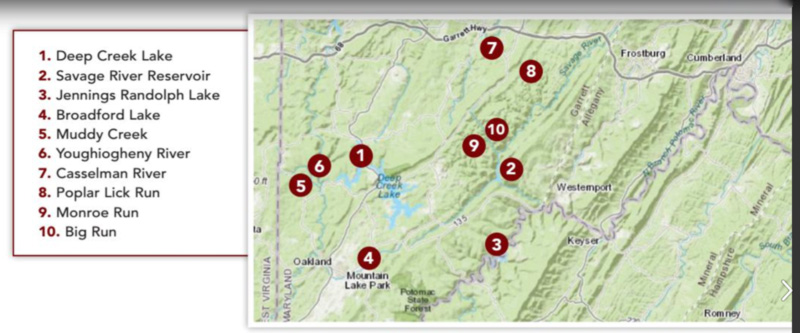 Hauling Down the Highway
Tow, tow, tow your boat and you have multiple options as you head down Route 219. Deep Creek Lake is certainly the most well-known, and it offers exceptional fishing for walleye, great action on largemouth and smallmouth bass, and good pike, pickerel, and crappie catches. As the largest freshwater impoundment in the state (covering 3900 acres in all) this may be a bit surprising, but it's actually a pair of the smaller species that attract many anglers to Deep Creek: yellow perch and bluegills. The panfish here grow to epic proportions, and the current Maryland state record bluegill came out of Deep Creek, tipping the scales at an eye-popping 3.4 pounds.
Deep Creek Lake sports a nice launch facility at the state park, which has four ramps and plenty of parking plus restrooms and (in season) campgrounds. Note that anglers will enjoy the lake the most during the spring and fall months; during the height of summer it becomes a playground for large numbers of pleasure boats and personal watercraft. Traffic levels can get high and make fishing uncomfortable during the midday hours, especially on weekends. At this time of year, fishing at sunrise and sunset is the move.
Fishing Tip Alert: If you'll be fishing here for the first time, check out Deep Creek Lake Hotspots to get some starting points to work with.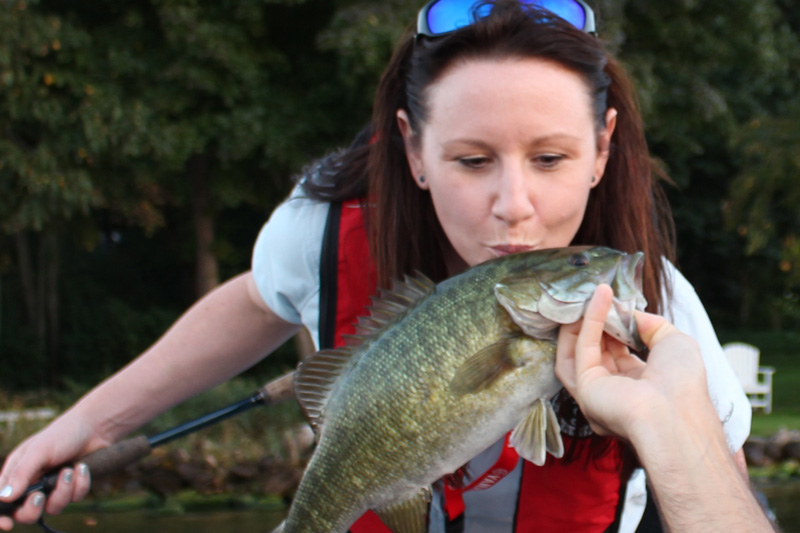 Just a few miles from Deep Creek, Savage River Reservoir and Jennings Randolph Lake offer boating anglers some additional options. Savage River Reservoir is a 350-acre piece of water which has small launch facilities at both the northern (Big Run State Park on Savage River Road) and southern (also off Savage River Road) ends. Both are appropriate for small boats, only, and depending on water levels at the lake, can be sketchy. Gasoline motors are prohibited, but the lake's small enough that an electric will get the job done. It has a smattering of a wide variety of species including both kinds of bass, walleye, and panfish, but its claim to fame is having produced the state's record rainbow trout at 14 pounds, two ounces, back in 1987. Interestingly, just a short hop down the road Jennings Randolph Lake is where the Maryland record walleye comes from, at 14 pounds, three ounces. This 952-acre reservoir shares a border with West Virginia (both state's fishing licenses are honored here) and has a large double-wide ramp off Mount Zion Road.
Fishing Tip Alert: Despite its relatively small size Savage River Reservoir is very deep (close to 150' near the dam) and has some very sheer drop-offs. Try jigging small spoons or dropping jigs tipped with minnow along these edges, particularly where the large cove meets the lower main lake, and you can encounter extremely good yellow perch and walleye fishing.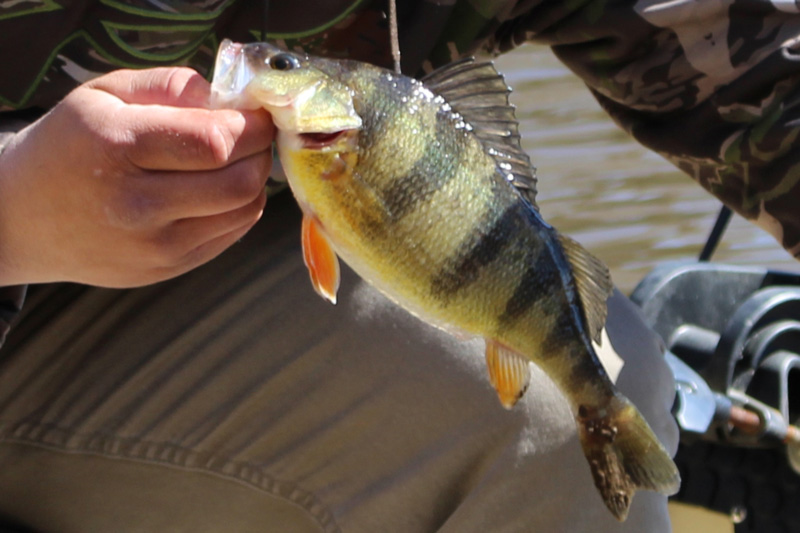 Though it's diminutive in nature, area visitors shouldn't overlook Broadford Lake, just south of Deep Creek. At around 200 acres it may be the smallest reservoir in this neighborhood, but thanks to a healthy crappie population and thanks to stockings of tiger muskie, there's an interesting mix of fish that differs a bit from the predominant species in other lakes in the area. There's a small but good ramp (electric motors only) at the park off Recreation Lane.
Walking Tall
Anglers without boats will discover just as much draw to this portion of Western Maryland — maybe even more, in fact. Along with being able to access shorelines at all of the aforementioned launch points, options abound.
At Deep Creek there's a lot of private property clogging up the shorelines, but anglers can fish at the State Park and several pull-offs along State Park Road. There's also a public fishing access area on the south side of the 219 bridge, which is rip-rapped. Although walking along the rocks requires care and you'll have to listen to the woosh of traffic all day, the drop-offs here are sheer in several areas and this can be a fantastic area for walleye and yellow perch.
Fishing Tip Alert: Try tossing big shiners weighted by a split-shot off the eastern point at the 219 bridge fishing area, leave the reel in freespool, and wait for a run-off.
Those who don't mind a bit of hiking will also enjoy a trip to Savage River Reservoir, which offers far better shoreline access since it's undeveloped. The same goes for Jennings Randolph and Broadford lakes.
Despite these opportunities, many anglers walking the paths in Western Maryland will be on the hunt for trout. You can fish lakes just about anywhere in this state, but if you want unparalleled options for creek and stream trout fishing, this is where you'll find it. In fact, there are literally dozens of access points on individual waterways to explore between Cumberland and the state's western borders. That's far too many to list out here, but before we call out a few highlights we'll note that the public access points are clearly marked on the Maryland DNR Public Angler Access map (Google will get you there in a heartbeat). We also want to note that many of these waters have site-specific rules, such as zero-limit brook trout areas or delayed harvest areas, so be sure to check on the regs for any areas you plan to visit ahead of time.
The Muddy Creek and Youghiogheny Put-and-Take areas in and around Swallow Falls are populated by both wild and stocked trout, have browns and rainbows, and also a surprisingly healthy population of smallmouth bass. While encountering trophy-sized smallmouth probably isn't in the cards here, these river-run bass live in an environment where they get constant workouts and put up positively spectacular fights. If you plan on fishing here, be sure to also swing by Muddy Creek Falls, a 53-foot waterfall which is Maryland's highest free-falling waterfall (Cunningham Falls is 78 feet but is cascading), and is absolutely breathtaking.
Another must-visit is the Casselman River, a tributary of the Youghiogheny which runs into the state from Pennsylvania between Route 219 and Route 669. It can be accessed at Casselman River Bridge State Park near Grantsville and from pull-offs on River Road, gets regular stockings from the state, and has rainbow, brown, and brook trout plus some smallmouth.
Catch-and-release purists who want to flyfish for native brook trout will want to visit the tributaries upriver of Savage Reservoir, such as Poplar Lick Run (which can be accessed off New Germany Road and New Germany State Park), Big Run, and Monroe Run (roadside pull-offs). These waters are zero-harvest brook trout areas that often may look too small to hold fish, but do indeed support healthy populations of these little but gorgeous (and sometimes tough to fool) trout.
Fishing Tip Alert: On low water the brookies get picky. If you see fish and aren't getting bites, don't hesitate to start swapping out flies. Also go into stealth mode, as fish that see you may well become spooked.
Double Fishing Tip Alert: Be sure to check out Take A Hike: Brook Trout Fishing 101, to get the low-down on the artful nature of pursuing these fish.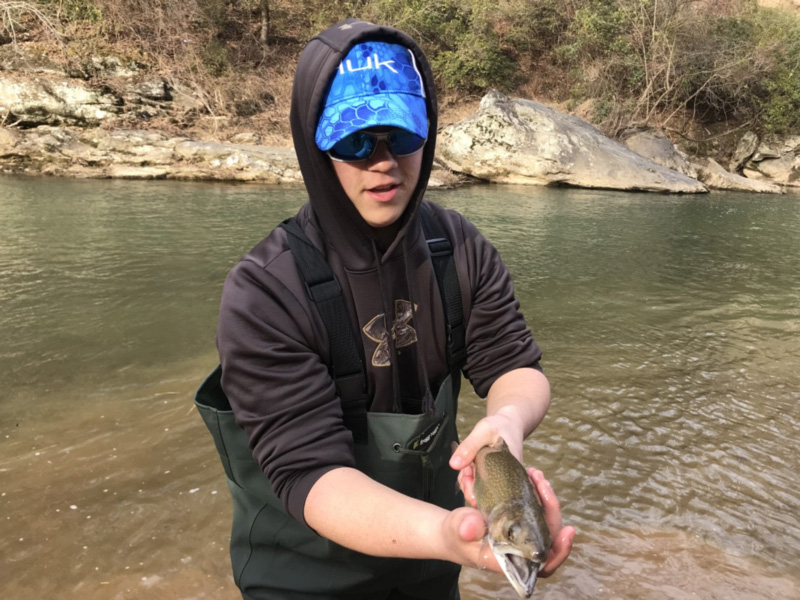 Travel Tips
In and around many of these areas, campgrounds are plentiful but some services may be sparse. There are hotels in Frostburg, Grantsville, and Oakland, and a cluster of hotels and rental properties near Deep Creek Lake in McHenry and near Arrowhead. For those more interested in a personal or rustic touch there are also a good number of small inns and B&Bs scattered throughout the area.
You'll find a handful of restaurants in all of these towns, but again, there's a cluster to be found around Deep Creek including everything from fast food to fine dining, since the area caters to tourists year-round. Still, it's well worth exploring some of the options away from the crowds as you'll discover family-style restaurants and country kitchens that lay off the beaten path.
Bait and tackle can be found in some of the Western Maryland hardware stores as well as at a handful of dedicated bait shops, but there aren't many in the immediate area, some are seasonal, and shiner supplies can be iffy, so calling ahead is always a good idea.
Where will your travels take you this year? Naturally, that's entirely your call. But if you're looking for a freshwater fishing vacation at a destination you can drive to, Western Maryland will be tough to top — whether you roll into town towing a boat, or toting a pair of hiking boots.