When it comes to fishing in Maryland your first thought is probably not of wild trout, but the Gunpowder River, in Gunpowder Falls State Park below Prettyboy Reservoir, offers a unique challenge to Mid-Atlantic fly fishermen in the form of a seven-mile stretch of wild trout tailwater. Driving through the scenic farmland of Harford County, it's difficult to imagine that you're less than an hour from Baltimore City. I feel like the escape is complete as I walk along the stream-side trails, surrounded by forested hills that hide the open pastures.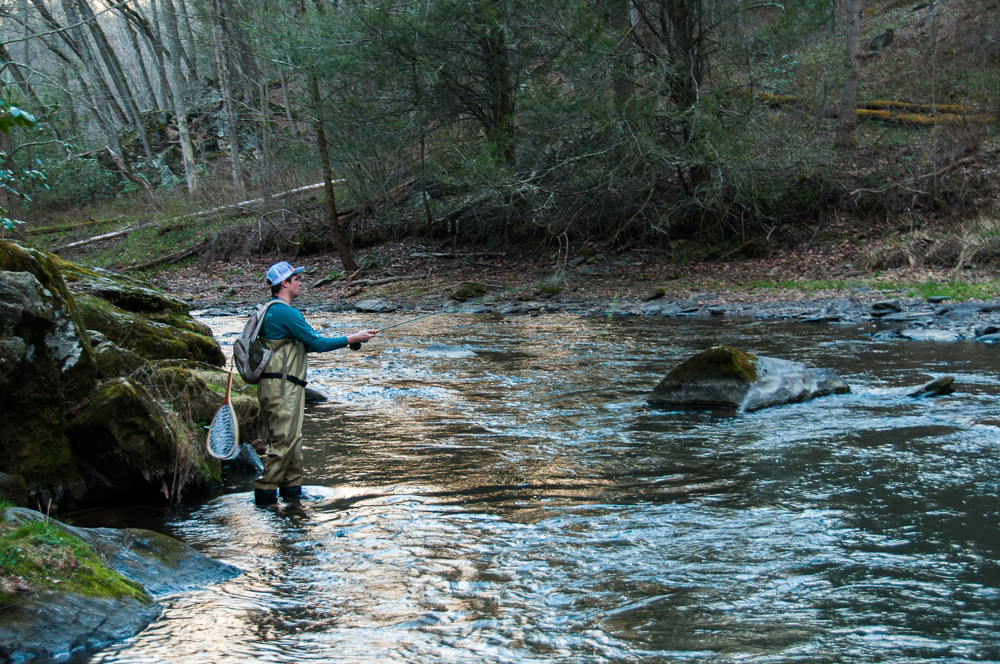 The Gunpowder is by no means an easy fishery. These are not the fattened hatchery fish you find in put-and-take areas. Even with catch-and-release regulations in place, these trout grow slowly. Most of the fish you catch will be less than 12 inches. Also, it can be frustrating to throw every type of fly and not get a bite from the wild and wary fish. But the effort you put in makes the payoff all the more worthwhile when you get a bite and see the glow these wild fish give off. Catching two wild fish can feel more gratifying than catching a limit of stocked fish.
Getting to the Gunpowder River
Exiting I-83 at Hereford there are three main areas to drop in on this stretch of the river. Turn left after you exit the interstate to get to the Masemore and Falls Road access points. Falls Road gives anglers access to top the wild trout section as far as Prettyboy Dam. Park at the lot or along the road and follow the trail down to the water. Masemore road provides a bigger parking lot, but is often full. Turn right off of I-83 and travel into Parkton, the third access is on Bunker Hill Road, just past Hereford High School. There's a large parking lot with access to camping areas and bathroom facilities. All three of these areas are drop-ins that lead to numerous good spots to fish along the river.
Fly Fishing Firepower
Any rod bigger than a four weight is already too heavy for the size fish in this stretch of the Gunpowder. Set the hook with a five weight and you'll quickly find the fish is behind you in a back cast. The lighter the better. This is an opportunity to grab those one to three weight rods you bought on a whim, that have been gathering dust in the garage. Often times rods this size can be as short as six and a half feet, but with something in the eight- to nine-foot range you will be able to make accurate casts and control the line, to get the drag-free drift that fools these wily fish. Using a Tenkara fly fishing rod 11 to 13 feet long helps to eliminate drag almost entirely.
Leaders need to be at least nine feet long to allay the suspicions of these sharp-eyed fish. If you can control it, even longer leaders are preferable. Also bring spools of 5x, 6x, and 7x tippet material. Fluorocarbon tippet is a good idea for fishing nymph rigs and dropper flies (remember, Maryland only allows anglers to use 2 flies at a time, so don't bother with the Czech nymph setups).
Even on the hottest day of the summer, the water, which is discharged from the bottom of the reservoir, is too cold to go in for more than a few minutes without waders. Studded wading boots and a wading staff are also necessary to cross the slick rocks. And be sure to wash your waders and boots after the trip to prevent the spread of didymo, an algae also known as "rock snot."
Tailwater Flies
These wild fish have a discerning eye for the hatch, so matching it is very important. The Gunpowder has numerous hatches coming off throughout the year. Midges are ever-present, even in the dead of winter. Who doesn't keep a few zebra midges in their fly box at all times? Early in the year you'll find little black stoneflies on into April, when the blue wing olives and tan caddis start to hatch. These flies are present on the river throughout the rest of the year, so be sure to keep a good collection of parachute Adams and BWO comparaduns in sizes 18 to 22. As for caddis patterns, you can't go wrong with an elk hair or x caddis. My go-to combo is a Goddard caddis, because they are unsinkable, with a caddis emerger introduced to me by Micah Dammeyer of Knee Deep Fly Fishing, tied in caddis green or tan. This tandem can be fished in a dead drift upstream or on the swing downstream. As the emerger rises it triggers aggressive strikes from fish.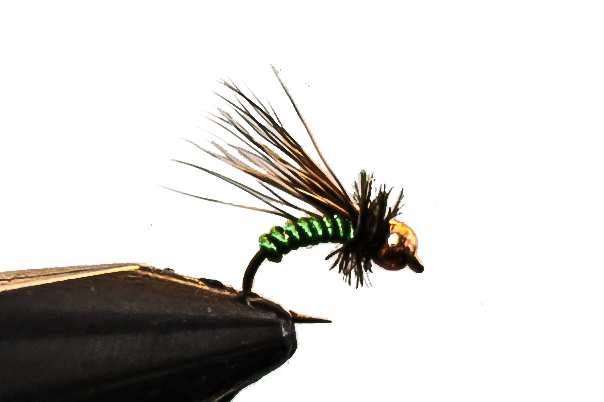 My personal favorite hatch to fish is the sulphur mayfly hatch, which occurs anywhere from May to July. During this time – usually in the later hours of the day – you can see duns hatching on top of the water and fish actively feeding on the surface, with frequent leaps to chomp on flies that thought they had safely made it off the water. As night falls so do the spinners. You will notice that the trout don't hit your orange dun pattern with the same consistency, so it's time to switch to a more lightly colored spinner pattern with spent wings to mimic dying sulphurs.
In the heat of the summer terrestrials provide bigger prey, in the forms of meaty hoppers, beetles, ants, and inchworms. Everyone has their own preference for these and most of them work, so take your pick. Regardless of what you fish on top, you are guaranteed to get some action if you fish a green weenie underneath it.
Patterns to have year-round include pheasant tail nymphs, hare's ear nymphs, and prince nymphs, size 16 to 20 (when you fish the Gunpowder think SMALL). It's also a good idea to keep a couple woolly buggers handy just in case. If you're having trouble figuring out what to use you can ask the folks at Backwater Angler or Great Feathers for their expert advice.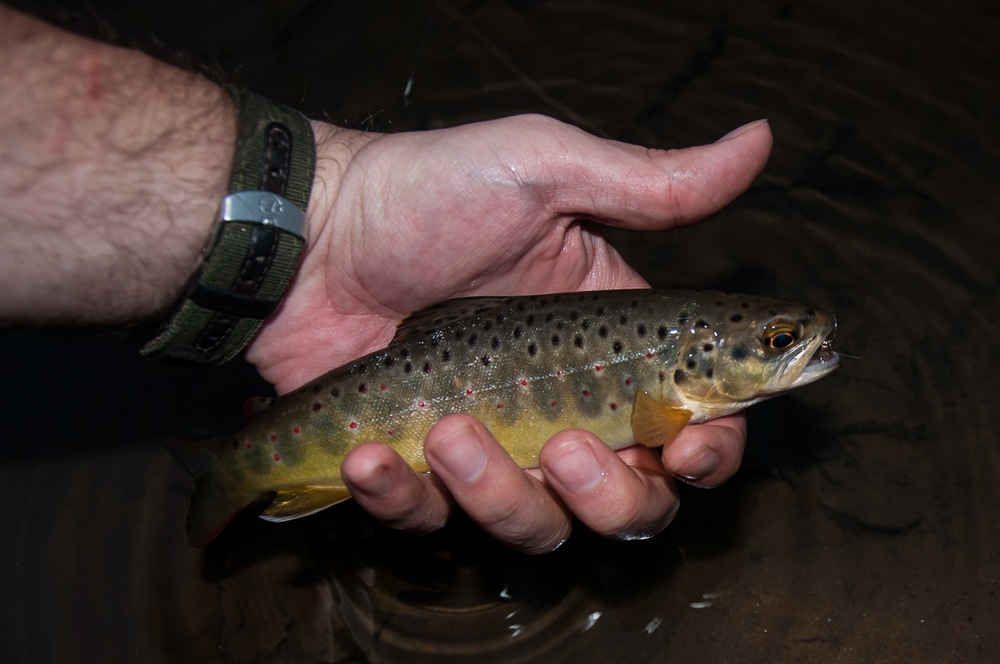 If fishing is meant to be an escape, I can think of few places better than Gunpowder Falls State Park. Standing in the cold waters, thick vegetation hides much of the walking trail, making even hikers along the trail only a fleeting glimpse. Don't be surprised if a deer snorts at you or if a beaver swims right through where you're fishing and slaps its tail at you. And while you're at it, keep an eye out for the splashes of feeding fish.
- By Peter Turcik
Sign up here to get the weekly FishTalk Chesapeake Bay and Mid-Atlantic fishing reports in your email inbox, every Friday by noon.