Okay, I admit it: up until this past winter had I stopped targeting chain pickerel in specific, for many, many years. They aren't an ideal food-fish, while other winter species like yellow perch and crappie are awesome in the frying pan. Fried fish nuggets have long been a favorite family meal that everyone could agree on, and that made tastier fish (or at least those with fewer bones) more appealing back when the kids were eating us out of house and home. But last winter I was tempted into joining the Coastal Conservation Association of Maryland (CCA-MD) Winter Pickerel Championship, a winter-long catch-photo-release tournament, and spent a good deal of the season re-familiarizing myself with this toothy, hard-fighting species. As the winter wore on, I realized I was re-learning lessons from my 20s and early 30s (read: the pre-kid days), when I had far more time to fish and considered hunting these toothy torpedoes an irresistible challenge.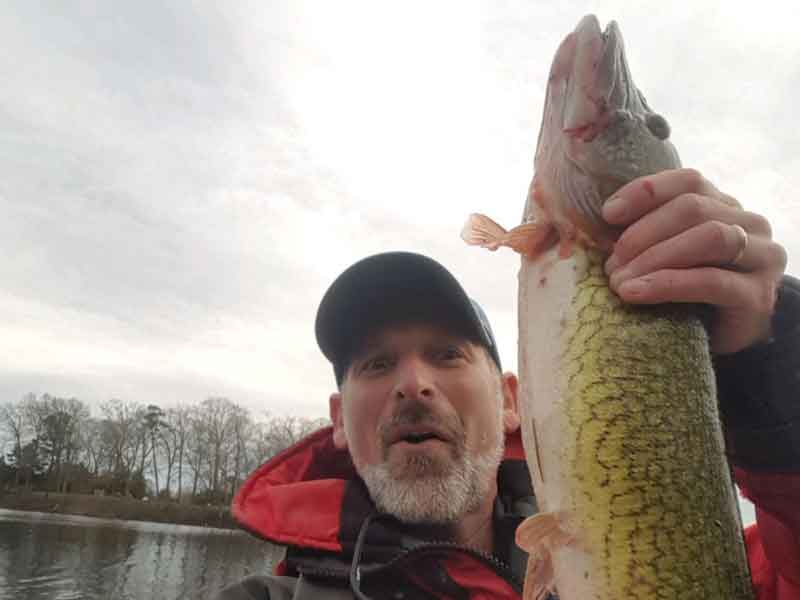 A Remembrance: Bobbers Rock
One thing I had never forgotten was that a simple dart or marabou jig tipped with a live minnow and suspended under a bobber is a serious temptation for pickerel. In fact, in many situations – though not all – lures simply can't match up with the results. Fishing minnow under bobber rigs for pickerel is not, however, as simple as it seems. For starters, you'll want to choose a dart or jig with a long-shank hook that provides at least an inch of separation from the bend to the eye. Otherwise, the pickerel will inhale the entire offering and bite through your leader with ease. Secondly, even with a long shank you have a very limited window of opportunity to set the hook. Jerk back the moment the bobber goes under, and you'll usually reel back a perforated minnow and nothing more. Wait eight or 10 seconds, and the pickerel will have swallowed the entire offering and can easily bite through the line.
The key here is understanding how a pickerel attacks a live minnow in cold water. It takes place in three basic stages. First the pickerel grabs the minnow, pinning part or all of it between its needle-like teeth, and crunches down for a few seconds so the skewered prey is thoroughly injured and unable to swim away. Second, when the pickerel is confident an escape won't occur if it opens its jaws a bit, it releases the death-grip and sucks the minnow all the way into its mouth. Third and finally, it turns the minnow head-first and swallows.
You need to set the hook during the second stage, when the minnow is all the way in its mouth but hasn't yet been turned and swallowed. This can be a frustratingly small window of opportunity. I gauge it by giving a three-count from the moment the bobber goes down. Sometimes that turns out to be too brief a wait, and other times it's too long. And the three-count flashing through my personal fish-brain might actually be the same amount of time as a five-count going through your gray matter. Hey, it's fishing – nothing is cut and dry.
Fishing a minnow under a bobber is usually most effective when drifting along over weedbeds, creek channel edges, or similar relatively shallow open-water environs. Toss one line off the bow, another off the stern, and as the boat drifts and they slowly get closer and closer together, reel one up and re-deploy it out off to the side to keep the baits sufficiently spread out. You want those bobbers far apart, because a raging pickerel on the hook has a distinct talent for crossing and tangling nearby lines.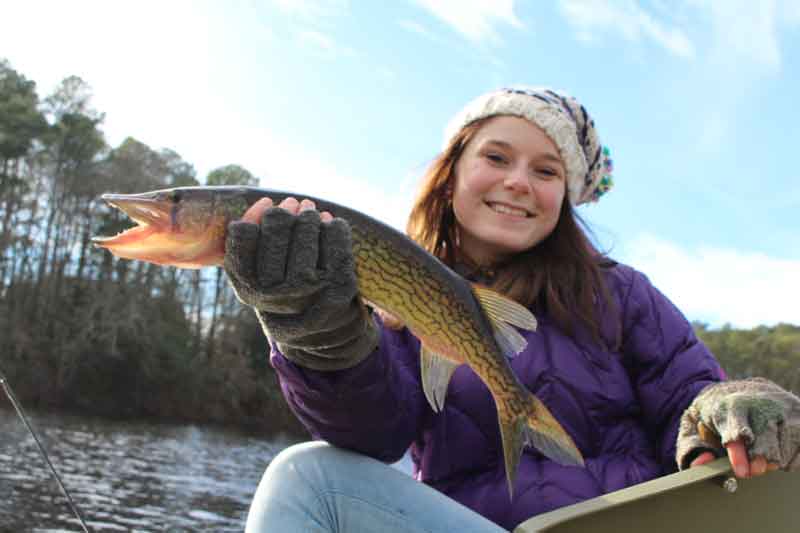 A Re-Learned Lesson: Fishing By Feel
When fishing shoreline structure or deeper waters, you'll want to ditch the bobber and cast and retrieve the minnow. Again, fishing it behind a dart or marabou jig works. But using a Road Runner (which has a spinner blade attached to the back of the jighead via a small swivel) will increase your number of hits. Tip of the hat to Captain John Page Williams for exposing me to the pickerel-pounding Road Runner as he kicked my a** while pickerel fishing on the Severn, decades ago.
Fishing a minnow without the bobber is a bit trickier, since you'll feel the initial bite rather than watching for it – and then have to resist the overwhelming urge to rear back with the rod. I'd forgotten about this at the beginning of the winter, and missed a dozen-odd fish before the technique came back to me. Rather than setting the hook at the strike, when you first feel it stop all motion and try to maintain absolute minimum tension for several seconds. You'll feel some jiggling on the line as the pickerel chomps on your hapless minnow. After waiting a two to four second eternity (I guarantee your hands will be shaking!) you'll feel a much more solid bump, and/or the fish will begin moving off. That's when you'll want to set the hook.
Don't feel bad if you miss a few fish or have a few bite-offs, when you begin fishing with this tactic. Even after I recalled how to turn bites into solid hook-ups, I still missed half the fish. But by the middle of the winter the hook-up rate probably doubled and by the end of the season, doubled again. It takes some getting used to.
Old Dog, New Trick: Pickerel Trolling
Flashback to January, 2019: I'm drifting along a creek mouth in an Eastern Shore millpond, watching as FishTalk's Production Titan and Kayak Fishing Sharpie Zach Ditmars (who won the kayak division in the Winter Pickerel Championship) pedals his Topwater PDL in slow, arching circles that take him across multiple underwater points, about a quarter of a mile down-lake. An hour later, my bobbers haven't plunged beneath the surface one single time. But at least I'm bundled up tight and more or less relaxing in the seat of my little pond-hopper, while that silly guy is out there burning calories to no avail. Eventually I drift close and as he passes by, he shouts "Three so far, how are you doing?"
Wait a sec – what!? I thought the bite was completely shut off, and he'd landed three fish?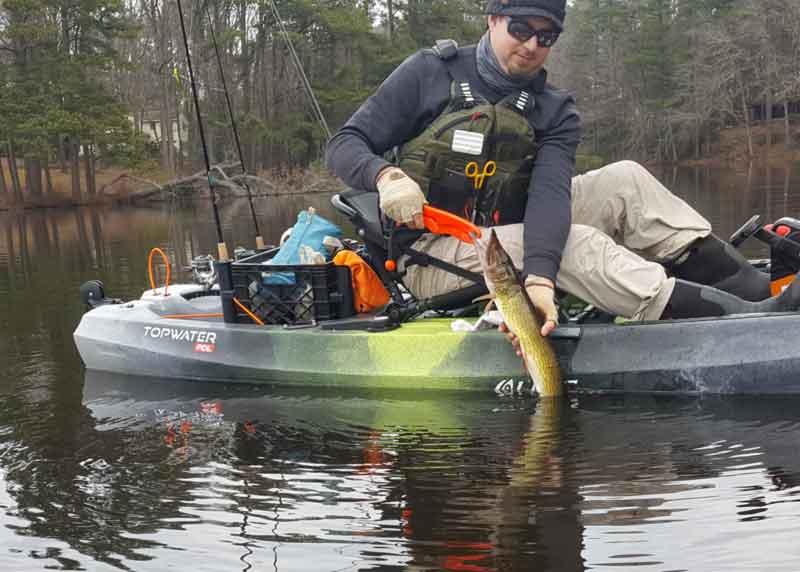 There are times (I won't pretend to know why) when the fish just don't seem to go for a slowly drifted minnow, yet as I learned while watching Zach, they will pounce on a trolled lure. His hot offering that specific day was a four-inch green paddle-tail swimbait. Other lures that proved effective on the troll included a Rapala jointed minnow and a gold Rat-L-Trap. And, as he pointed out, the fish were smashing these offerings with some serious aggression while they showed tepid to zero interest in drifted minnow. Future trips proved that when the minnow bite was off, the trolling bite often was on.
The Best of Both Pickerel Fishing Worlds
Through the course of the winter, I picked up on one other valuable lesson: trolling minnow works well, too. Maybe not as well as those faster-moving lures when the pickerel are off their feed, but after drifting a slightly productive area rather than just zipping back to the top of the drift, trolling back up added some fish to the count. Same goes when changing to near-by locations.
I add "near-by" to the above sentence because minnow have to be trolled very slowly, or they spin and/or drag. You need them kicking to be attractive to the pickerel and that means moving at just a mile per hour or two, so it's not the best way to cover lots of ground.
Going super-slow you can leave the bobber in place, but you'll find it more effective to ditch the bobber in this scenario. However, since one or more of your rods will likely be sitting in a rodholder as you troll, that means getting solid hook-ups as opposed to swings and misses can be a challenge. Three methods worked, listed here in order of effectiveness:
Keep a rod in-hand, with the bail open and your finger holding the line on a hair-trigger. The moment you feel a tap, release the line and give it a three-count before tightening up and setting the hook.
For rods in holders use a strike-release mechanism, like the Ghost Drag adjustable bait-running clip, set to minimal tension to hold the line in place but release it on a strike. Again, after the initial strike wait a few seconds before applying tension to the line and setting the hook.
For rods in holders without a release mechanism, use a long, light rod with very slow action. This gives the pickerel a second or two to chew on the minnow before any real tension gets applied by the forward motion of the boat
So, what was the net result of applying these tactics? I lucked into the largest pickerel of the tournament (and probably of my life) with a 27.25-incher, and came in third for the best three fish combined (an additional inch of fish got angler Phil Kerchner first place, and three-quarters of an inch put angler Shawn Kimbro in second for the best stringer). So as winter sets in this year, you can bet I'll be loading up on bobbers, minnow, and trolling lures, prior to putting those torpedo-shaped pickerel squarely in the cross-hairs.
Join in the Fun!
The CCA-MD Winter Pickerel Championship runs December through February, and all Maryland waters are open to the competition. The entry fee is a mere $50 for CCA members ($75 for non-members, but this includes your one-year membership at a $10 discount), and seriously cool prizes (high-end fishing rods, coolers, sunglasses, and similar gear) are awarded for the longest three-fish stringer, the longest individual fish, longest fish caught on fly, and Kayak/SUP and Youth divisions. Bonus prizes go to the angler catching the largest perch and the largest crappie. There are also mini-tournament Calcutta days. Visit the CCA Maryland Pickerel Championship page to learn more and join in the fun.