There's a good weather-window, and you have a serious hankering to run offshore even though warm-water species like tuna and billfish won't be back for months? If you can make the run to the Norfolk Canyon, you could go on a winter wreckfish adventure. (Editor's note: we've heard of wreckfish being caught in the Washington, too, but haven't been able to verify it. In the Norfolk we've seen up to four in a day with our own eyes).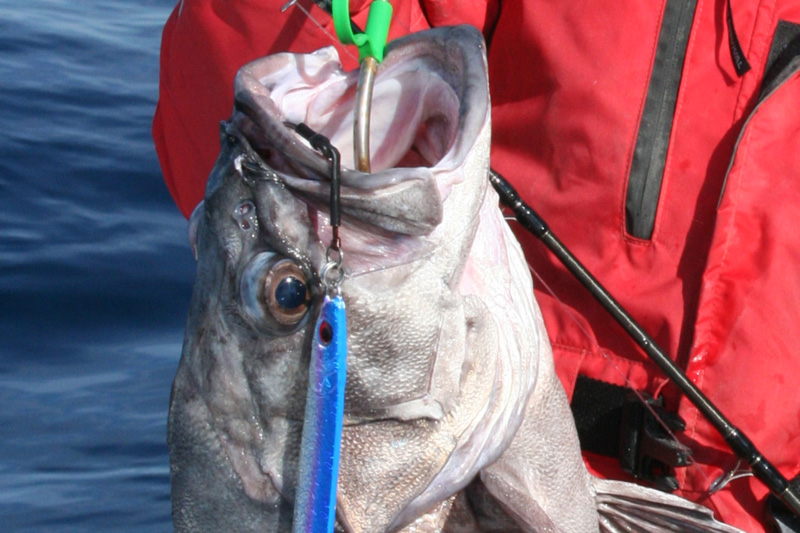 The biggest problem with making winter drops in the deep is spiny dogfish. They often set up shop in the Mid-Atlantic region, and make it nearly impossible to use bait for groundfish unless you go out to 800' or deeper waters. Wreckfish, however, will hit a bare jig with abandon. Here's how to make it happen:
Locate hard, rocky bottom or other significant structure in 400' to 600' of water.
Drop down large 12- to 20-ounce jigs, on fast-action jigging rods spooled with braid (65-pound is a good choice) and topped with 10' to 20' of 80-pound monofilament leader.
Bounce the jig vigorously, just over the bottom. Make sure that on the end of the down-swing, you feel the lure tapping against solid bottom.
The moment you feel a strike, swing for the stars. Then keep your rod tip high and apply maximum pressure for at least eight or 10 seconds. Those fish live in hidey-holes and if you let them run at the beginning of the fight, they'll often drag your line against the structure they live in, abrade that line, and then break you off.
When giving this fishery a shot it's a good idea to bring along some bait, and see if you can get away with adding some stink to your hooks. If the dogfish don't make it impossible to use count your blessings; you'll have a better shot at the wreckfish as well as tilefish, too.