Cheap fishing boats aren't as uncommon as one might think and the average American angler can probably afford one of the cool new bay boats under $50,000 we checked out a while back, or maybe one of the 10 top center console fishing boats under $20,000. But, what if those boats are still beyond your current financial flexibility? Don't worry, we feel your pain. Just about everyone's strapped at one time or another – but that doesn't mean you have to go boat-less. Here are five new boats that are dirt cheap, but have some serious value to us anglers.

Bass Raider 10E – The Bass Raider 10E is the only cat of sorts in this cheap boat round-up, yet even at just 10'2" long and 4'2" wide it can handle 3.5 horses on the transom. Not that you need to get a gasoline outboard, because a 40-pound-thrust electric will move it along just fine at jogging speeds.
Price: $949
Up-Sides: The cat design makes stability and tracking far better than expected. It fits in the bed of most pick-ups, and comes with two swivel seats, a pair of vertical rodholders, carry handles, and is pre-wired to put the motor on the bow.
Down-Sides: Both rod holders are located on the bow, so you'll want to add some aft. Be careful not to drag the Ram-X plastic hull across the boat ramp, or eventually you'll wear a hole in it.
Visit: Pelican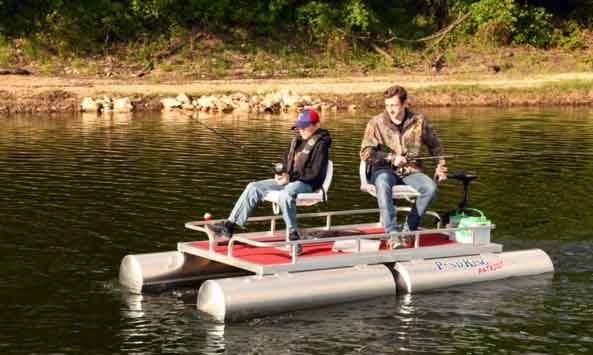 Pond King Patriot – Pontoon boats are incredibly popular, and this is one spectacularly cheap pontoon. The Pond King Patriot fits two anglers and can be bought in finished form or as a kit.
Price: $2,599 for the completed boat; $999 for the kit (deck not included)
Up-Sides: With two anglers aboard the Pond King is utterly roomy, with plenty of space for gear. The pontoons are all-welded, and it comes with a pair of swivel seats, a carpeted marine-grade plywood deck, and a six-inch kick rail.
Down-Sides: Some assembly is required even with the full boat version, since the deck and pontoons ship unassembled. Pond King doesn't advertise a maximum rating for gasoline outboards, which means you'll be limited to electric power or an exceedingly small engine.
Visit: Pond King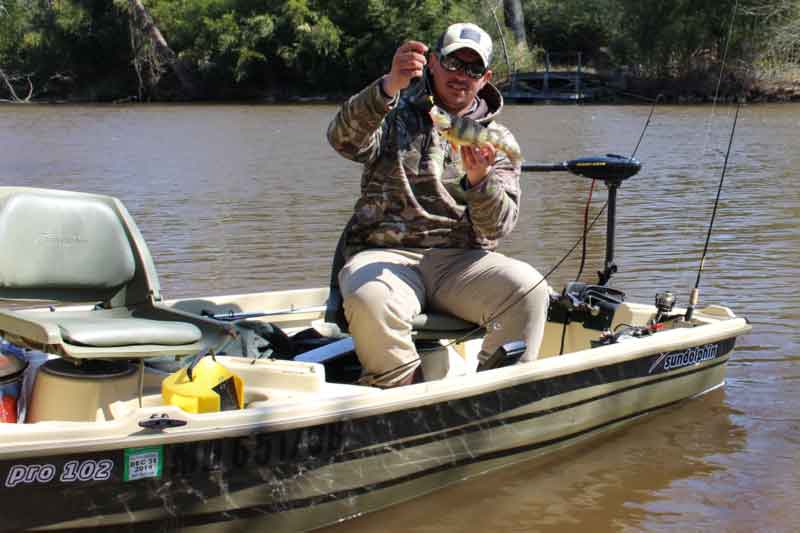 Sun Dolphin Pro 102 – In a nod to the millennial way of life, you can actually buy the Sun Dolphin Pro 102 on Amazon.com.
Price: $1,759
Up-Sides: Though it's rather tiny the Sun Dolphin Pro 102 is seriously jazzed up with fishing features. It has two swivel seats, an aerated livewell, three integrated rodholders and horizontal racks for two more rods, molded-in cupholders, a battery box, navigation lights, and it's pre-wired for a bow-mount trolling motor. On top of that it's amazingly stable for its size and with the 56-inch beam, slides right into the bed of a full-sized pick-up.
Down-Sides: Be careful not to drag the polyethylene hull across the boat ramp, or eventually you'll wear a hole in it. Also, with two people aboard and all the gear you need for a day of fishing, it can feel a bit cramped at times.
Visit: Sun Dolphin Boats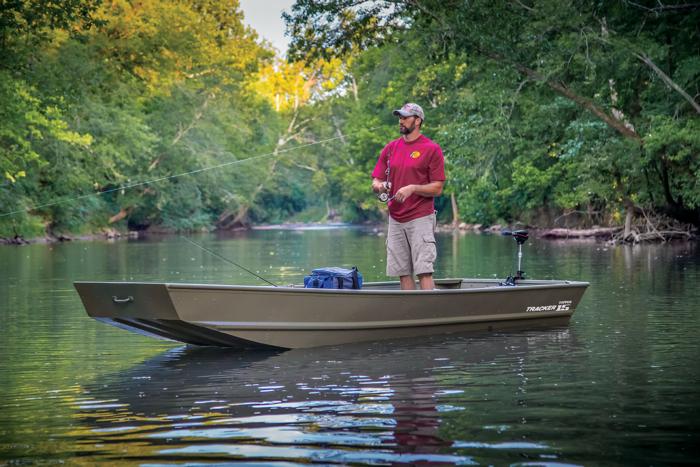 Tracker Topper 1542 – You want plain and simple? It doesn't get much simpler than a Tracker Topper 1542. In fact, its features are limited to a pair of bench seats, a stowage compartment, and carry handles.
Price: $1,595
Up-Sides: This boat has a .063" 5052 aluminum alloy hull 15 feet long and five feet wide. That's a lot of boat for the bucks, and this is the largest rig in our round-up by a long shot. Yet at 190 pounds, a couple husky guys can still wrestle it into a full-sized pickup bed or onto a stout roof rack, so you may not need to get a trailer. Plus, this boat can carry up to 25 horses, which is far more power than these other cheap boats can handle.
Down-Sides: Those aluminum bench seats, oh, my aching back. Also, like most aluminum jon boats, the stability isn't great and shifts in weight have a big effect.
Visit: Tracker Boats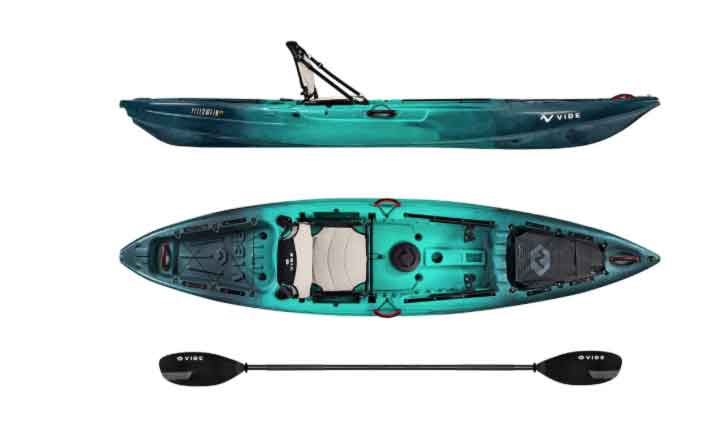 Vibe Yellowfin 120 – Cheap fishing kayaks will naturally be a consideration for many anglers on a budget, and we included the Vibe Yellowfin 120 on our list because while there are certainly cheaper kayaks, most have molded-in seats which are incredibly uncomfortable and limit your ability to fish for more than a couple of hours.
Price: $699
Up-Sides: Fishing basics like molded-in rodholders, tacklebox holders, and gear tracks for adding accessories are included. At 65 pounds, just about anyone can easily load and unload the Yellowfin 120 into or on top of most vehicles.
Down-Sides: This is the only boat in our round-up limited to a single occupant. Be prepared for a workout as this is the only boat in our round-up that's limited to self-propulsion. Though a step above the seats in uber-cheap kayaks, the one in this Vibe can't be adjusted for height and may fit some people better than others.
Visit: Vibe Kayaks
Whether you're a beginner angler or an old salt on a budget, one thing's for sure: owning a fishing boat, even a cheap one, will help you catch more fish. So start considering your options and pry open that wallet, before the next fishing season begins.
You say you have a bit more to spend and you want a little more boat, but aren't ready to spend $20,000 to $50,000? Then check out our 10 Best Fishing Boats Under $10,000 article.