The new Yamaha F25 outboard engine is a serious improvement over last year's model, and will be of interest to anyone looking for a powerful portable outboard for their fishing skiff, duck boat, or crabbing boat. We'll get into the details in a moment, but first, check out our on-the-water test run and see how this little engine performs on an AlumaCraft Escape 145.
As you saw, the fuel economy this engine gets is pretty darn awesome, especially considering that there's no real loss of efficiency as you crank it up. The very best economy actually comes at 3500 rpm, where it burns 1.8 gallons per hour to get 12.1 miles per hour. But the truth of the matter is that with small outboards like these, most people open the throttle up all the way and run it that way continually, as long as the sea conditions allow. And to be getting 10.4 mpg at wide-open is about as good as it gets, even in a boat this small.
Another thing that's as good as it gets: the engine's weight. At 136 pounds, this is the lightest 25 horsepower outboard engine on the water today. (Note: that's for the 15" shaft length model. If you get the 20" shaft, it weighs in at 143 pounds).
Some other important items to keep in mind include the alternator this engine is rigged with, which puts out 16 amps. The powerhead has 2.56" bore x 2.56" stroke, displaces 432cc, and has a compression ratio of 9.3:1. The engine has an external flush port, plus built-in carry handles and rest pads. On top of that, it has Yamaha's oil-retention system that keeps things leak-free when the engine is laid down in the back of a pick-up or SUV. Above and beyond all of these features, however, the most important thing to keep in mind is that battery-less EFI system. Yamaha isn't the first to roll this out, but it's a relatively new development for small outboards and is a welcome improvement across the board. Since the system is pressurized and the fuel isn't exposed to the air, you can forget about all the most common ethanol problems like gunky, clogged carburetors. (Though we'd still suggest using a fuel additive, like Formula X2, if your gas is likely to sit for more than a few weeks at a time).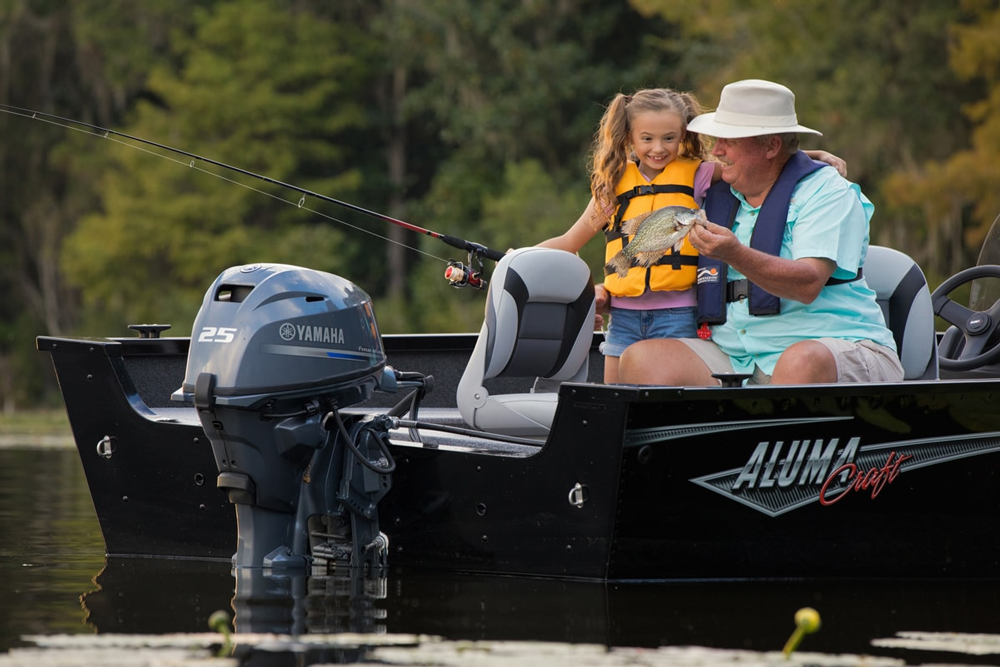 So, what are the down-sides to the new Yamaha F25? The only one we identified during our testing was the low-rpm vibrations noted in the video. They don't carry through to the boat, because the powerhead and tiller handle are isolated from the motor mount with vibration-absorbing rubber. And they disappear as soon as you throttle up the least little bit. We should also point out that these vibrations are present in virtually every small outboard on the market. Still, it's worth noting because this is likely to be the one thing about the engine that users might find a bit annoying.
What about expense? There's a good bit of variation, depending on shaft length, the tiller handle or steering you choose, whether or not you get a tachometer. But the bottom line generally ranges between about $3,200 and $4,000. Keep in mind that since this is a four-stroke you won't need to buy two-stroke oil, but you will have slightly higher maintenance costs since the powerhead requires regular oil and filter changes. This pricing is right in line with Yamaha's competitors, and they back up your purchase with a three-year warranty.
So—should you get a Yamaha F25, if you're in the market for a new small boat powerplant? There are several high-quality engines in this size range available today, so this won't be an easy choice to make. We can tell you one thing for sure, though: after spending an afternoon zipping around with a Yamaha F25 on the transom, we wouldn't hesitate to buy one for our own boats.
For more information, visit Yamaha.