A few weeks back we brought you a selection of the cool new award winning fishing gear from ICAST, and now, here's a selection of some of the other interesting items which we think you'll want to know about.
Virginia Baked
We love our local fishing brethren (and we get kinda ticked when Floridian fishers steal the limelight) so we're proud to share the news that local reel manufacturer Seigler Reels, in Burgess, VA, took the price for Best New Fly Reel at the ICAST show this year. Their new MF fly reel is a lever drag reel (yes, a lever drag on a fly reel) designed to take on saltwater species pursued with eight, nine, or 10 weight fly rods. It holds 300 yards of 40 pound test with nine-weight weight-forward shooting line, and weighs in at 10.6 ounces. But best of all, it's made in the US of VA. Price: $1000. Visit Siegler to learn more, but int he meantime, check out this video we shot of the reel at the show.
Jump on the Fluke Train
- By Zach Ditmars
On a recent trip to Wachapreague, VA we put the new Panther Martin Fluke Train doormat lures to the test. Three jig weights rigged loosely on the monofilament line, separated by beads, are designed to create a fish-attracting click-clack sound as you jig the lure across the bottom. The Fluke Train comes pre-rigged with one of several soft plastic jerkbaits on a weedless offset hook, but we also found it easy to swap out the lure for squid strips, or replacing it with other scented soft plastics. The weedless rig aided in repelling the copious amounts of seaweed churned up by heavy winds in this coastal bay, but you'll need to bury the hook tip slightly to completely avoid snagging unwanted debris. If you're drift fishing, you can try rigging the weights above a barrel swivel to allow the hook and bait to swim off the bottom and avoid dragging. Price: $6.59. Visit Panther Martin to learn more.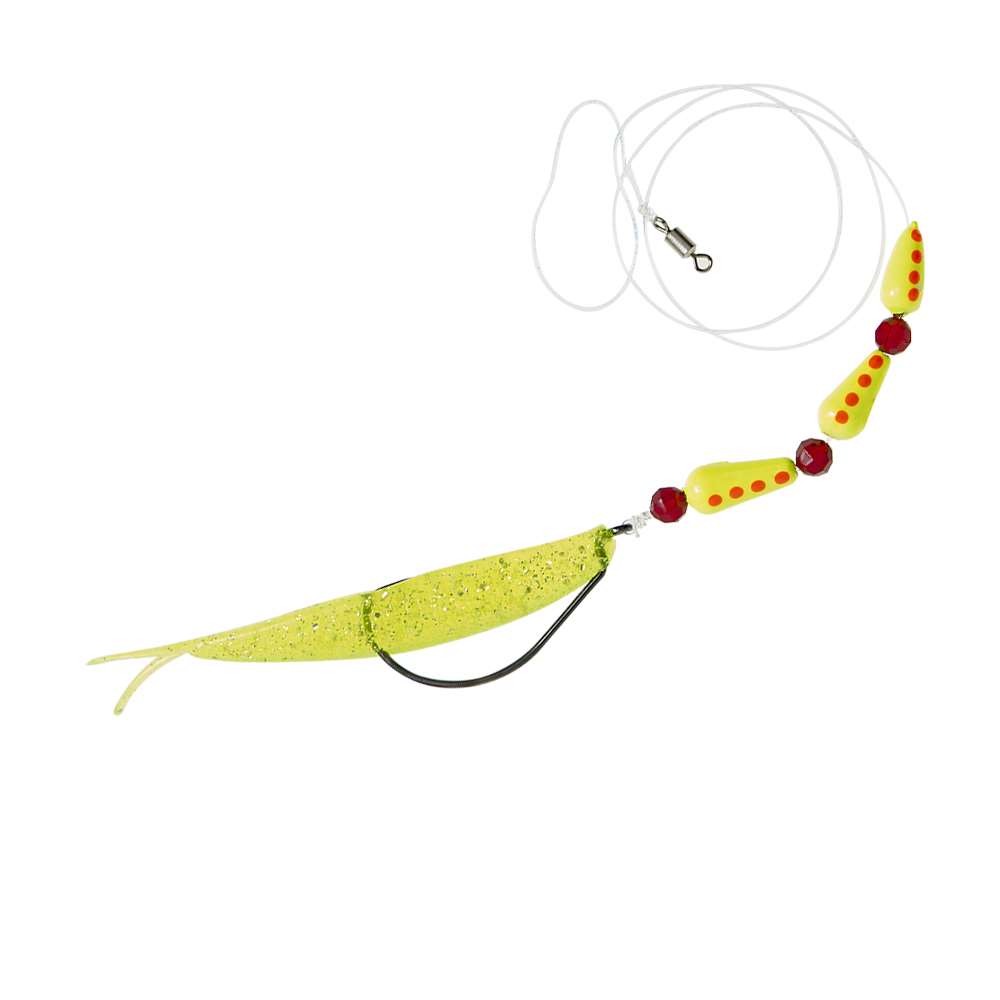 French Cuisine
In France they consider frog's legs a delicacy, but then again, those people eat snails, too. We 'Mericans have a far more refined palate than those Euro-giggers, but our bass and snakeheads do not – so realistic frog lures are often a winner at the lake. One new frog on the market is Westin's Freddy the Frog wakebait, and this lure is a winner in a number of ways – not the least of which being its performance at the ICAST show, where it won the Best of Category award for new freshwater hard-bait lures. Freddy has an ABS plastic body and multi-jointed legs that create a realistic kicking action. Westin calls the way it swims "sexy," but we decidedly do not. (Miss Piggy may agree, but that's for her and Kermit to sort out). Again, however, it's what the fish think that counts. And their thinking is also influenced by a glass rattle chamber, a swimming lip, and hand-painted details. Freddy is 7.24 inches long, has a 1/0 belly treble hook, and single tail hook. Price: TBD. Visit Westin to see more of Freddy, or to check out his cousins Danny the Duck, Ricky the Roach, and Percy the Perch (we are not making that up).