Fluorocarbon leader has become a must-have in many fisheries, especially those in clear water for species with keen eyesight, such as when you chunk for tuna. But, how do you know if a fluorocarbon is up to par? We spent several days fishing with Yo-Zuri Topknot Fluorocarbon Leader, to give it a thorough test. Check out this short video we shot on the scene:
After the test we took it home, and fished with it some more - for months, actually, in a variety of fisheries. This stuff is 100-percent fluorocarbon and is available in clear and pink. The Yo-Zuri rep we were fishing with said that the pink coloration helps reduce visibility when the line chaffs, and during our initial test fishing for snook among oyster-covered docks, piers, and pilings, there was plenty of chaffing going on. The line held up great, however, and re-tying due to breaking off was only necessary when a certain Angler in Chief (who shall go nameless) managed to snag a bridge piling (hey, there was a lot of current).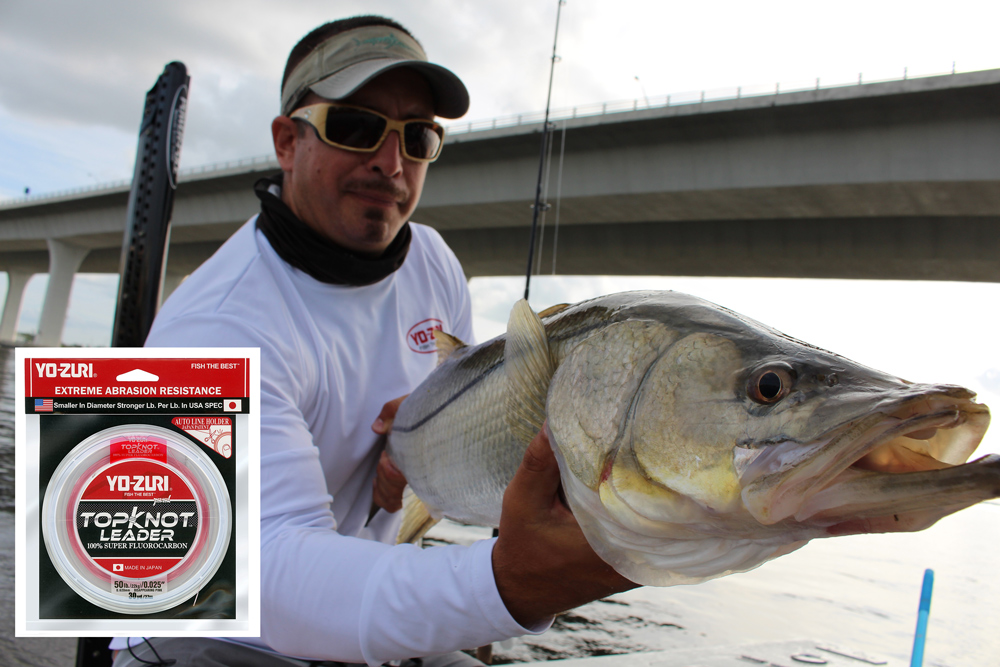 The 30-pound leader we were using has a diameter of 0.019-inches, or 0.47mm in Unamerican-speak. Match that up against the competitors, and you'll notice it's the lowest diameter around for that strength. We also felt it was a bit softer than some other fluorocarbon leaders, which made cinching down knots easier. 
So, is Yo-Zuri TopKnot Leader the best on the market? That we can't say. But we can tell you for sure that we had plenty of success using it, and fish that can certainly be line-shy at times didn't seem bothered by it one bit. Yo-Zuri Topknot is available in eight through 200 pound test sizes, and can be found in 30 yard and 100 yard spools. Trivia tidbit: the 200 pound line class world record yellowfin tuna, caught by Guy Yocum, was caught on Yo-Zuri fluorocarbon leader.
Price: Around $19 for 30-pound test in a 30 yard spool. Visit yo-zuri.com to hear the company line.