You may have seen our Top 10 Center Console Fishing Boats Under $20,000 article, and wondered if it was possible to pick 10 best fishing boats that cost half that much. In a word, yes – here's our run-down on the 10 best fishing boats for under $10,000.
Carolina Skiff JV 13
Gillgetter 7515
Hobie Mirage Pro Angler
Lowe Roughneck 1660
Lund WC 16
Native Slayer Propel 13
Sea Eagle FishSkiff 16
Skimmer 14'6"
Sun Dolphin Pro 102
Tracker Guide V-16 Laker DLX T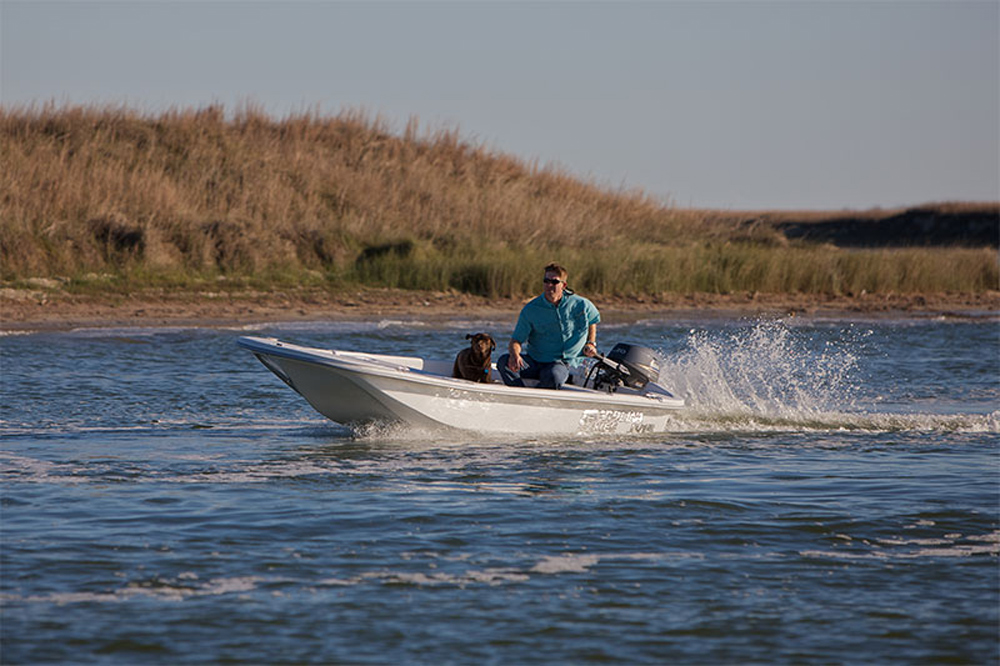 Carolina Skiff JV 13 Fishing Boat
The Carolina Skiff JV 13 goes for right around $10,000 with a 20 horsepower outboard and a trailer, and it's one of the few fiberglass fishing machines to appear in our round-up. It's become tough to find fiberglass boats at this price point these days, so if you want the heft and looks of glass, the Carolina Skiff is an option you'll want to check out. Note that this is a fairly stripped boat at this price, but it does come with a foredeck, a pedestal seat base with an eight gallon livewell built in, and 100-percent composite construction.
Visit Carolina Skiff, to learn more.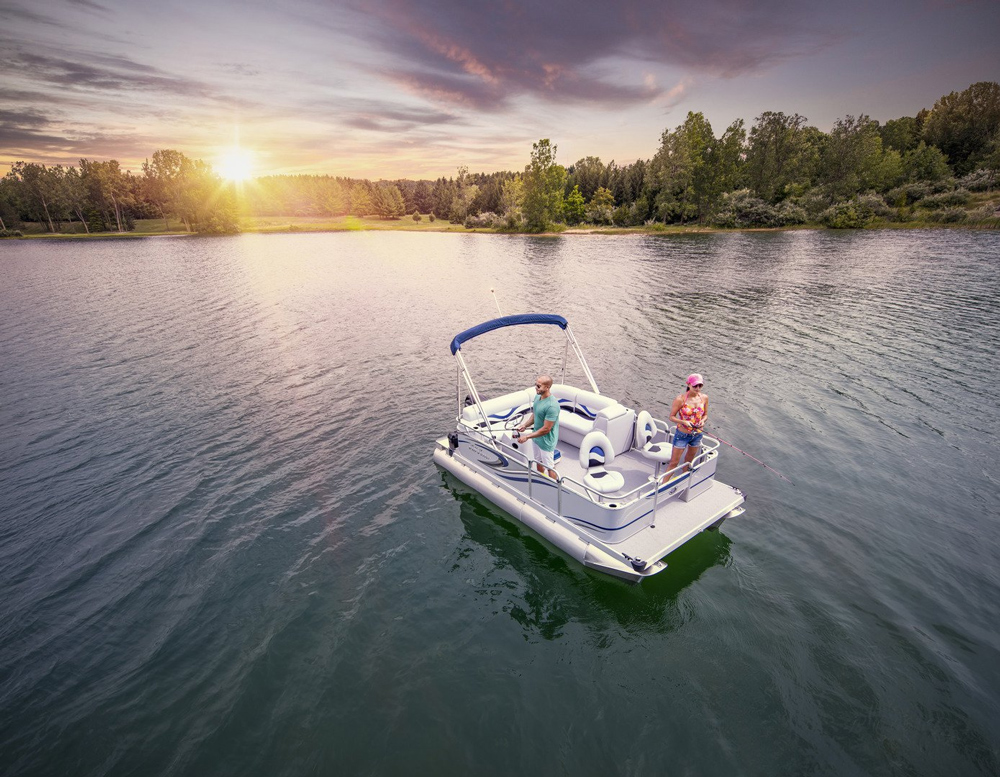 Gillgetter 7515 Fishing Pontoon Boat
The Gillgetter 7515 (made by Angler Qwest) may be small (LOA is 15"4") and simple, but you can get a tiller steer model with a trailer and stay within budget – something we can't say for any other fishing pontoon boats that can take a crew of seven people aboard, carry up to 30 horses on the transom, and come with two swivel seats and a pair of rodholders. If you want a pontoon boat that can be used for fishing and you need to keep the entire package under the $10,000 mark, the Gillgetter is your best option. Note for you El-Cheap-O people: Gillgetter has an even smaller model, the 13'5" 613 Tiller, which you can splash in the lake for several thousand dollars less.
For more information, check out Angler Qwest.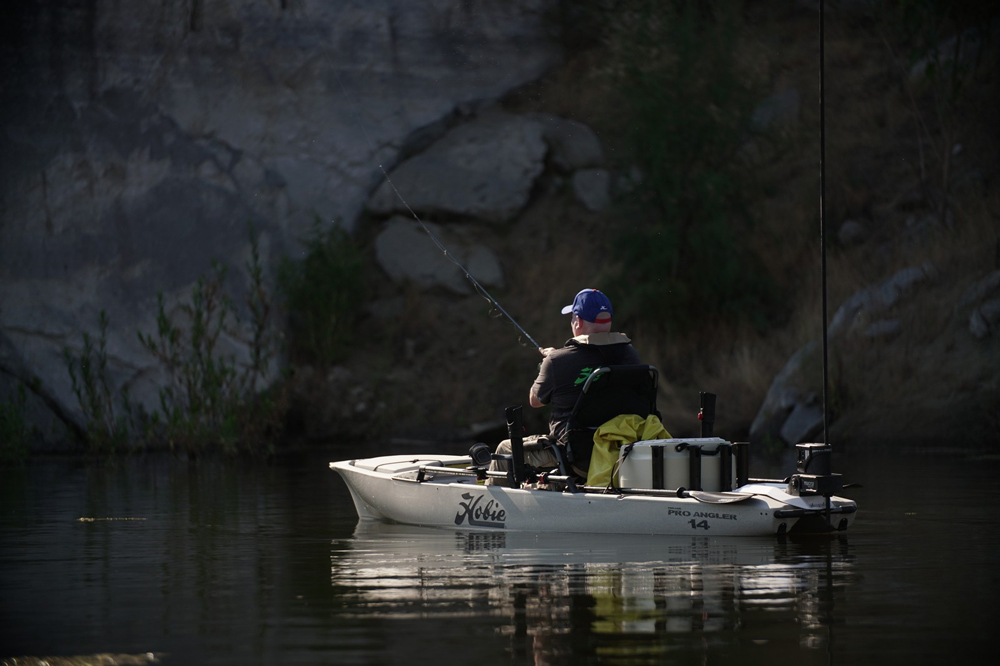 Hobie Mirage Pro Angler 14 Fishing Kayak
We liked the Hobie Mirage Pro Angler so much that we put it in our June 2017 Hot New Fishing Gear article and we've spent some time peddling to the fish on this amazing little kayak, but since you could buy two of these and stay within the $10,000 parameter set for these best fishing boats we think it belongs in this round-up, too. Aside from the pedal drive, our favorite feature is actually the seat – it's incredibly comfortable, and makes a full day of fishing possible despite the boat's small stature.
For more information, visit Hobie.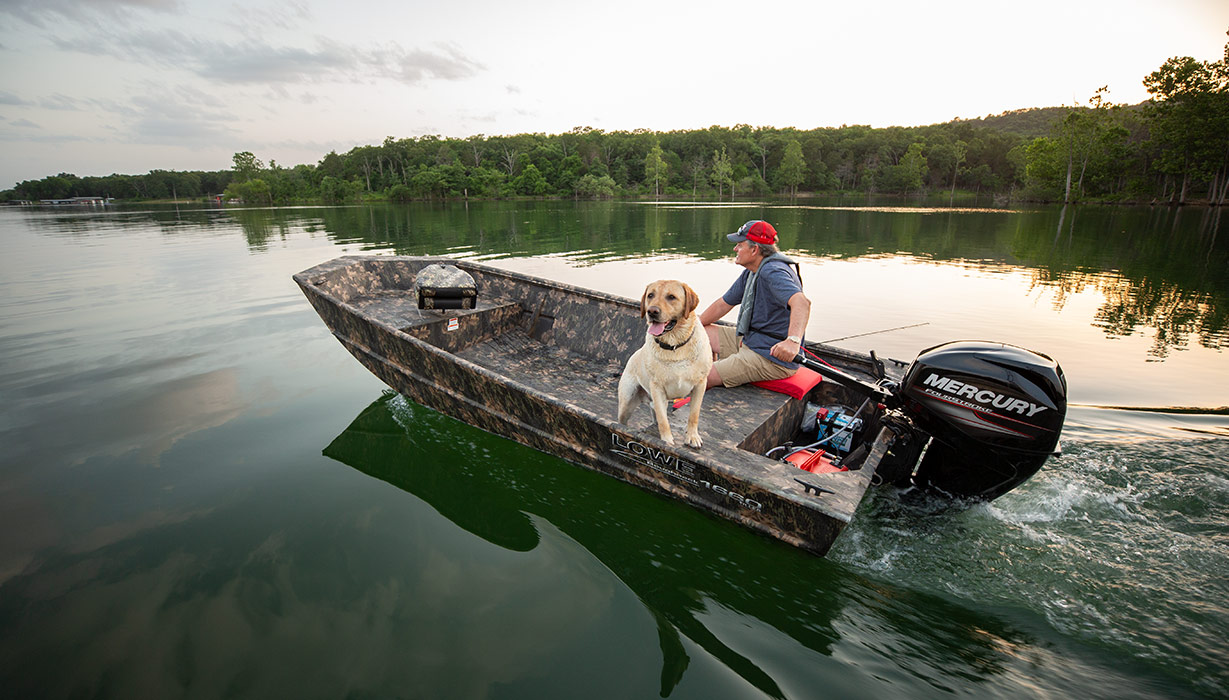 Lowe Roughneck 1660 Aluminum Skiff
When it comes to finding the best fishing boats for under $10,000, the Lowe Roughneck 1660 grabbed our attention – it brags a $82.66 monthly payment in stock form with a 9.9 hp outboard and a trailer. That equates to a sticker price of $8,750 with $500 down, which is pretty dang affordable for a brand new fishing boat. Plus, the camo finish means this little machine can do double-duty as a hunting boat, come waterfowl season. Wait a sec - is a 9.9 horse outboard really enough to push this sled? You can plan on planning and running at 16 to 18 mph alone and cruising at more like 15 or 16 mph with another person aboard. Three husky guys and gear may pull that down to 12 or 14 mph. But here's a shocker: you can upgrade to a 20 horsepower outboard and still make it in under the $10,000 cap! Editor's Update: Since the publication of this article the base price for the 1660 has gone up to $10,625, however, a 25 horsepower engine now comes standard. A smaller Roughneck 1546 with a 9.9 horsepower engine currently starts at $7,898.
Visit Lowe Boats to learn more.
Lund WC 16 Aluminum Skiff
With bench seating, an aluminum hull, tiller steering and no frills, the Lund WC 16 is about as simple a fishing boat as you'll find. But when the budget is tight simple is a good thing, and the Lowe WC 16 starts at a mere $4,966. That leaves breathing room enough for a trailer (the standard is just over $1,100) and a 15 or 20 horse outboard. Added bonus: this model can hold more people than most in the class, with a maximum capacity of five persons. Editor's Update: Since the publication of this article, the price of the WC 16 has increased by $144.
Visit Lund to learn more.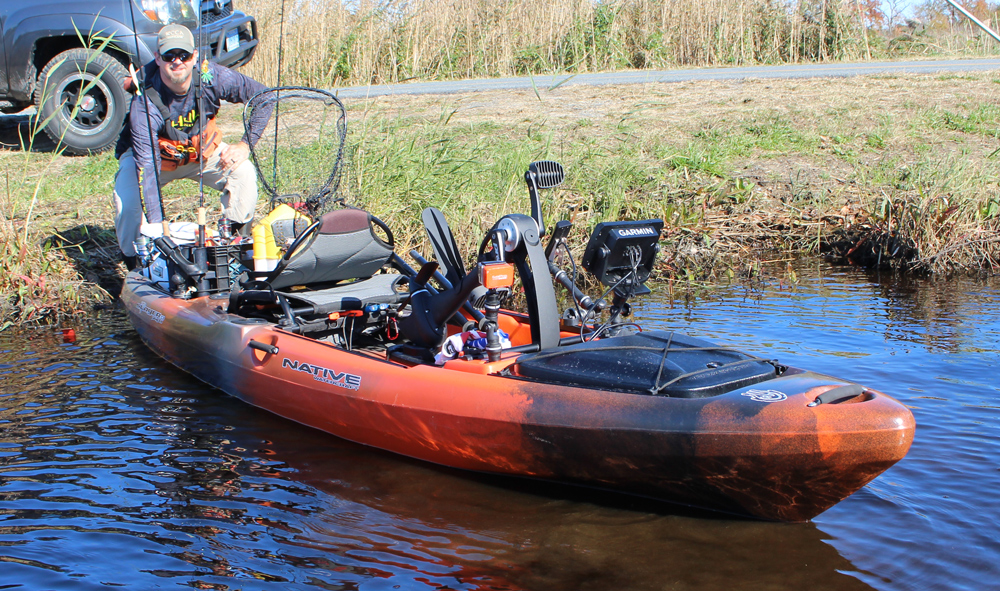 Native Slayer Propel 13 Fishing Kayak
Kayak anglers know the name Slayer, and the Propel 13 is one of their top pedal-drive offerings. Native says that the Propel 13 can go "4.2 mph all day, and can push to 5.2 mph when the thunderstorm rolls in." We say that the pedal drive is an amazingly sweet perk, we found trolling from this rig an absolute pleasure, and the speeds they quote seem about right to us. Price for the Propel 13 is about $2,400, but you should plan to spend another $500 to $1,000 on rigging; you'll almost certainly want to add items like mounting tracks, rodholders, and a fishfinder. News flash: the Native Slayer Propel 13 ranked at the top of Outdoor Life's 2017 Best Fishing Kayaks round-up – and is the kayak of choice of FishTalk Art Director Zach Ditmars.
Check it out at Native Watercraft.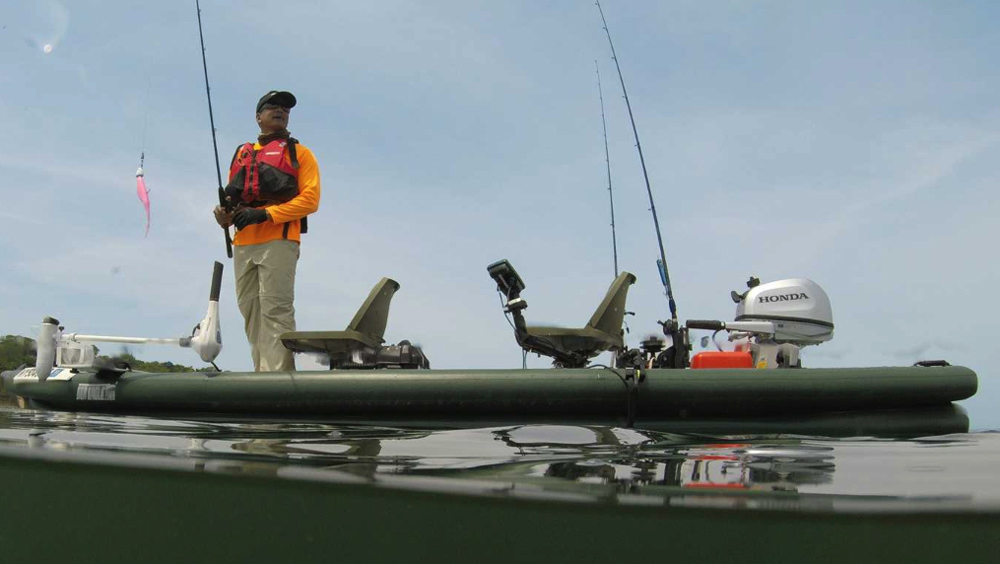 Sea Eagle FishSkiff 16 Inflatable
The only inflatable boat in our round-up, the Sea Eagle FishSkiff 16 can carry two anglers and an outboard of up to six horsepower. You can also deflate it, roll it up, and stow it under the couch in your studio apartment or in the trunk of your Prius. Thanks to the light weight even with two people aboard it can still plane out (expect speeds in the mid-teens) with a small outboard, and the boat's even self-bailing. Sticker price is a hair over $3,600 with a five-horse Honda. That makes this one of the least expensive options for a fishing boat that can carry multiple passengers as opposed to one-man craft – and the only one that you can stow virtually anywhere. Editor's Update: Since the publication of this article pricing for the FishSkiff and Honda package has increased by $249. Check out this short video we shot when we saw the Sea Eagle at the ICAST show this summer:
For more information, visit Sea Eagle.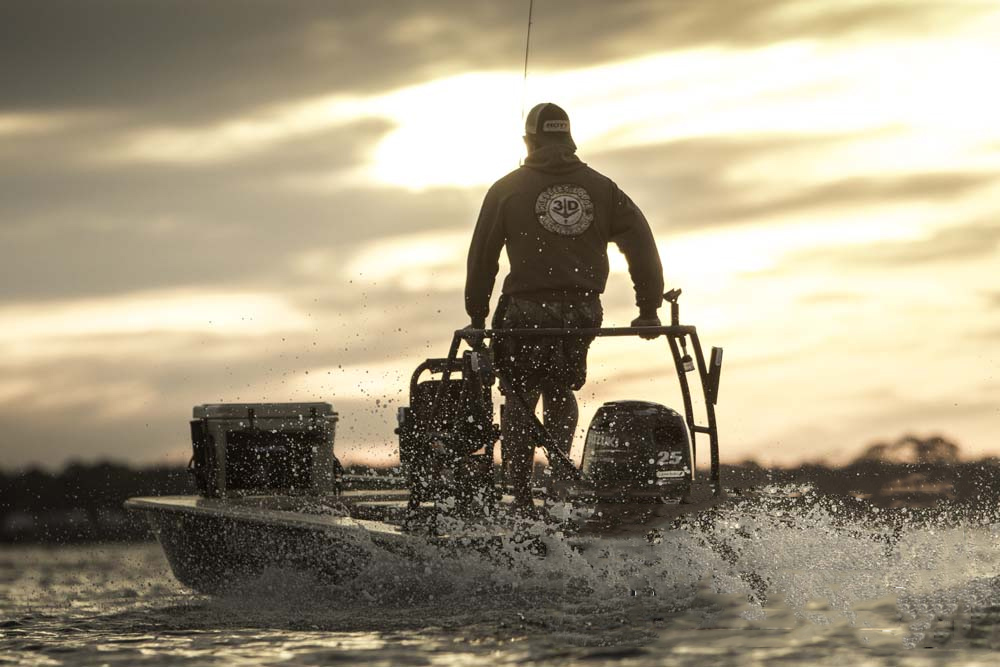 Skimmer Skiffs 14'6" Flats Boat
We love that the Skimmer Skiff 14'6" gets you out on a fiberglass shallow-water fishing machine with a mere four inches of draft. A $8,750 buy-in gets you the rolled-edge version with a 20 horse Tohatsu outboard and a trailer. Take the remaining $1,250 and choose options ranging from rod holders to fishboxes. We also love the all-composite construction, full height transom, and easy to handle 275-pound displacement. You'll have to plan in the cost of some additional but basic must-have features like a bilge pump ($140) and stainless-steel cleats ($255), but Skimmer's totally custom outfitting means you won't be paying for extra items you don't want in the first place.
Visit SkimmerSkiff Boats, to learn more.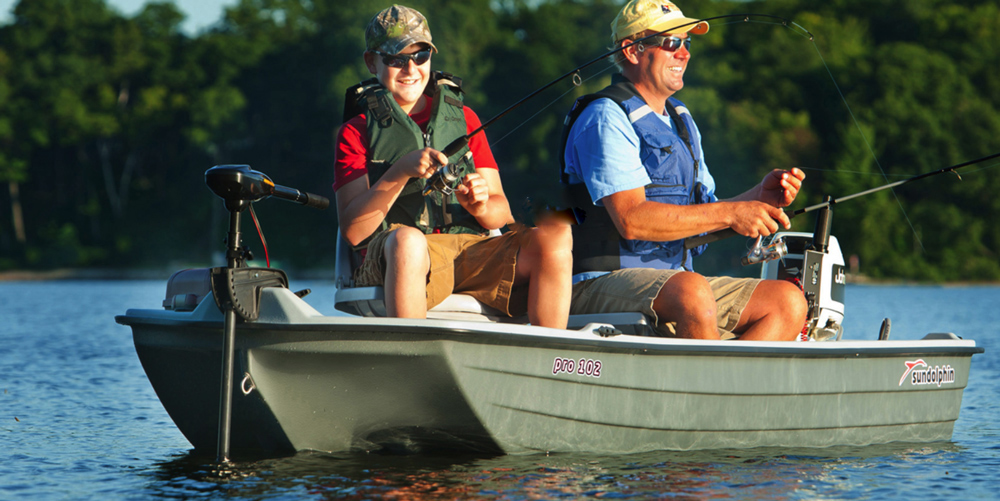 Sun Dolphin Pro 102 Mini-Fishboat
When Angler in Chief Lenny Rudow wanted a new pond-hopper, the Sun Dolphin Pro 102 was his choice. Having spend many a day at the lake on this boat, we can happily report that it's a ball for two anglers fishing in relatively protected waters. With a 55-pound thrust 12-volt electric outboard it goes jogging speeds, there's a livewell molded in, it has twin swivel seats, and the complete package including a trailer and a pair of deep-cycle batteries barely broke the $3,000 mark. News Flash: if you have a pickup you don't really need the trailer because it'll fit in the bed of the truck (but Rudow says "ooh, my aching back… that's fine for you young guys but I'll get the trailer").
Visit Sun Dolphin Boats, to learn more.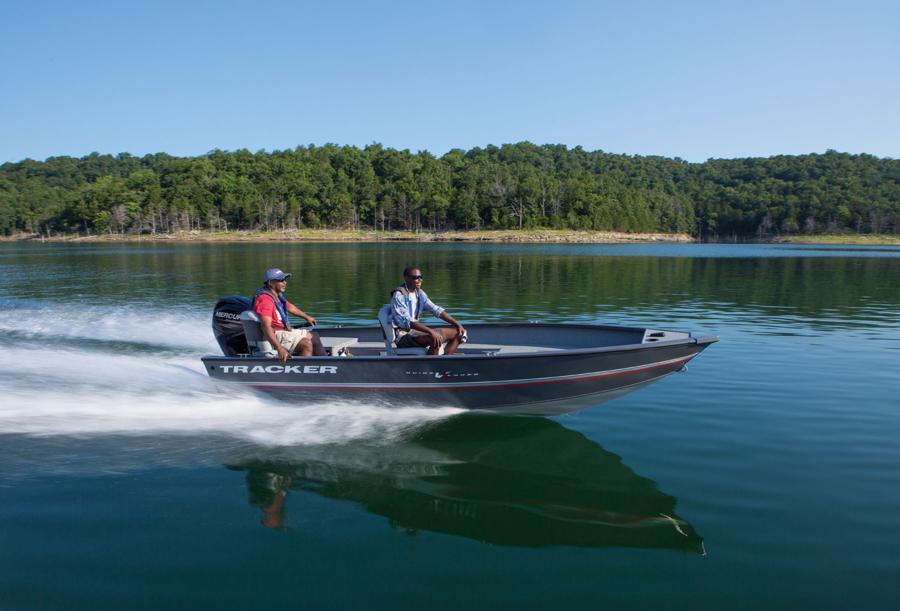 Tracker Guide V-16 Laker DLX T Aluminum Fishing Boat
Carrying a "no hassle, no haggle" price tag of $9,795, the Tracker Guide V-16 comes with a 20 horsepower Mercury FourStroke outboard and a trailer. No, it's not the fanciest fishing machine on the water, but with an LOA of 16 feet, a beam of 6'2", an eight degree transom deadrise, and a hull made of 0.10" 5052 aluminum, this is one of the most competent and seaworthy fishing boats around that slides in under the $10,000 mark. Editor's Update: Since the publication of this article the list price for the V-16 has increased by $1,200, pushing it slightly above the $10,000 mark.
For more information, visit Tracker.
Also be sure to check out: