By Staff
PowerPro Maxcuatro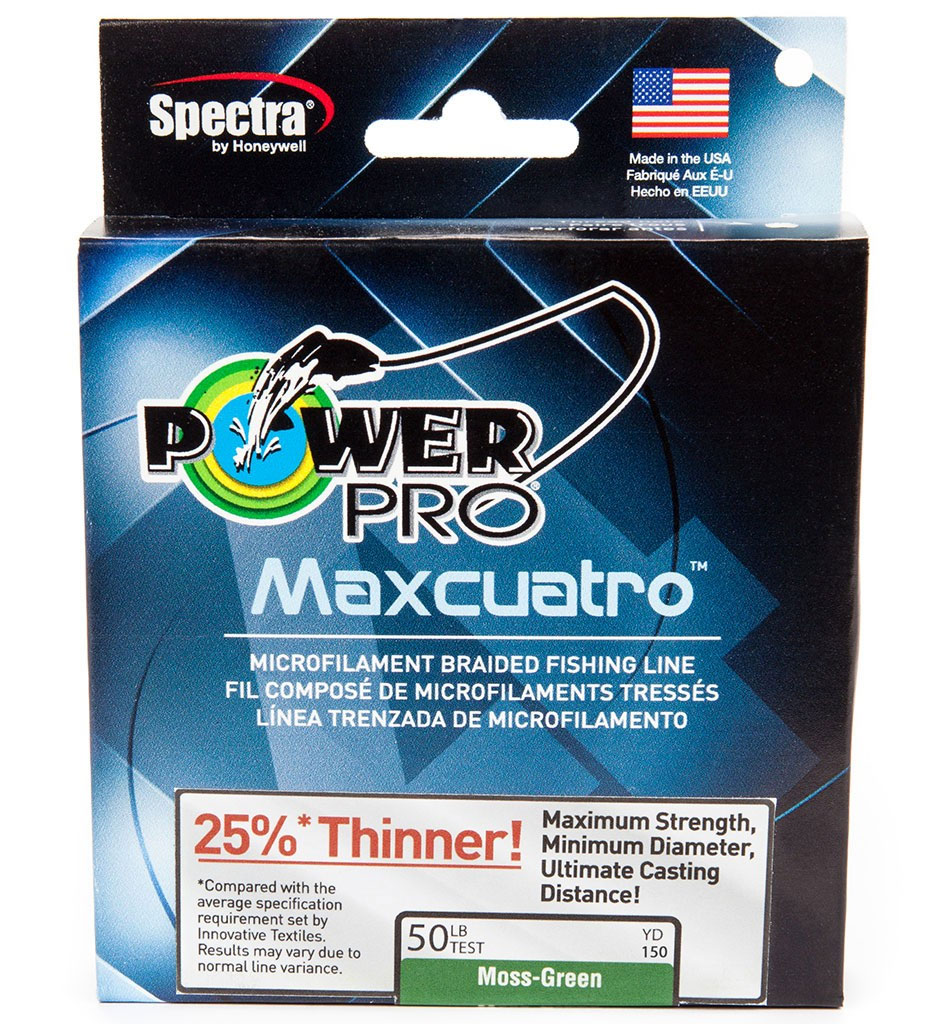 This braid hit the market last summer, but in the world of fishing line, it's still the latest and the greatest—and we've been testing it for many months, so we can now give you our take after some extended real-world use. Maxcuatro is 25-percent thinner than other braids, and is made with Honeywell Spectra in a "basket braid" construction. It looks, feels, and acts like PowerPro, but it is in fact thinner. Our bottom-line assessment (hah!) is that if you like regular PowerPro you'll like Maxcuatro, too. And if you lean towards mono, well, there's no reason this stuff will change your mind. That said, you can pack more length onto the same spool with this stuff, which is always a good thing. It's available in 20- to 100-lb test, in moss green, hi-vis yellow, and aqua green. Prices vary quite a bit depending on line size and spool size (ranging from 150 yards to 3,000 yards) but as you might expect, this stuff doesn't come cheap; a 150 yard spool of 50-lb test breaks the $30 mark. Visit www.powerpro.com to learn more.
Sealime Lures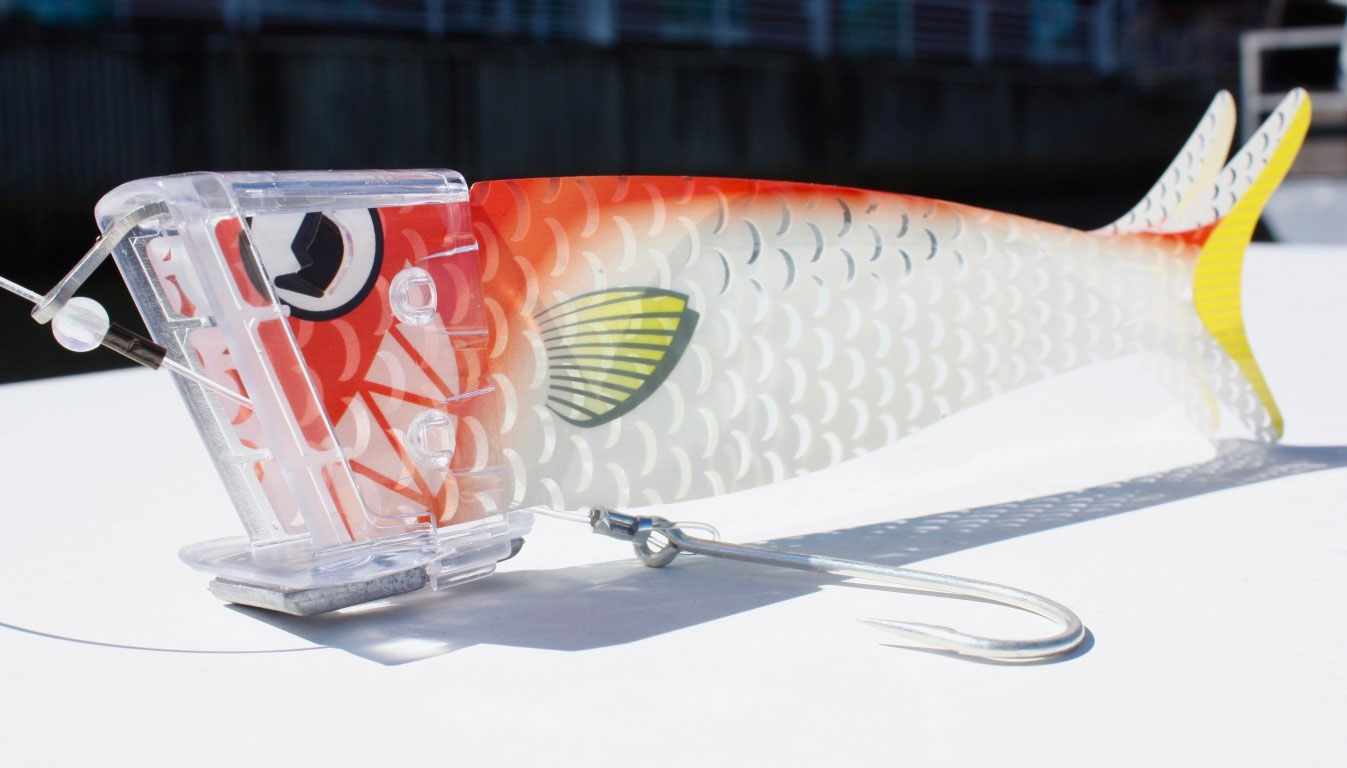 It's not often you see a lure that isn't just new, but is really an entirely new concept. That's the case with Sealime. Unlike other lures, which cut or swim through the water, the Sealime lets the water pass right through its open mouth. Yes, mouth. The lure consists of a plastic rectangle with tiny wings. The wings give it stabilization as it runs through the water, and water goes right through the open rectangle. Attached to the back is a two-piece Mylar "fish", with a hook rigged through the middle. Net result? Water running through the plastic rectangle—the fish's "mouth"—causes the Mylar body to swim like crazy. If you don't believe it (we had trouble at first, too) visit the web site and watch the underwater videos. It's pretty cool stuff. Note: when the Mylar gets eaten by a toothy fish, you un-clip it and replace the strips. Cost: $32 for the head and three Mylar bodies. Refill packs of six go for $25 and the plastic head is stout, so it should stand up to years of use. Check out www.sealimelures.com
Raymarine Axiom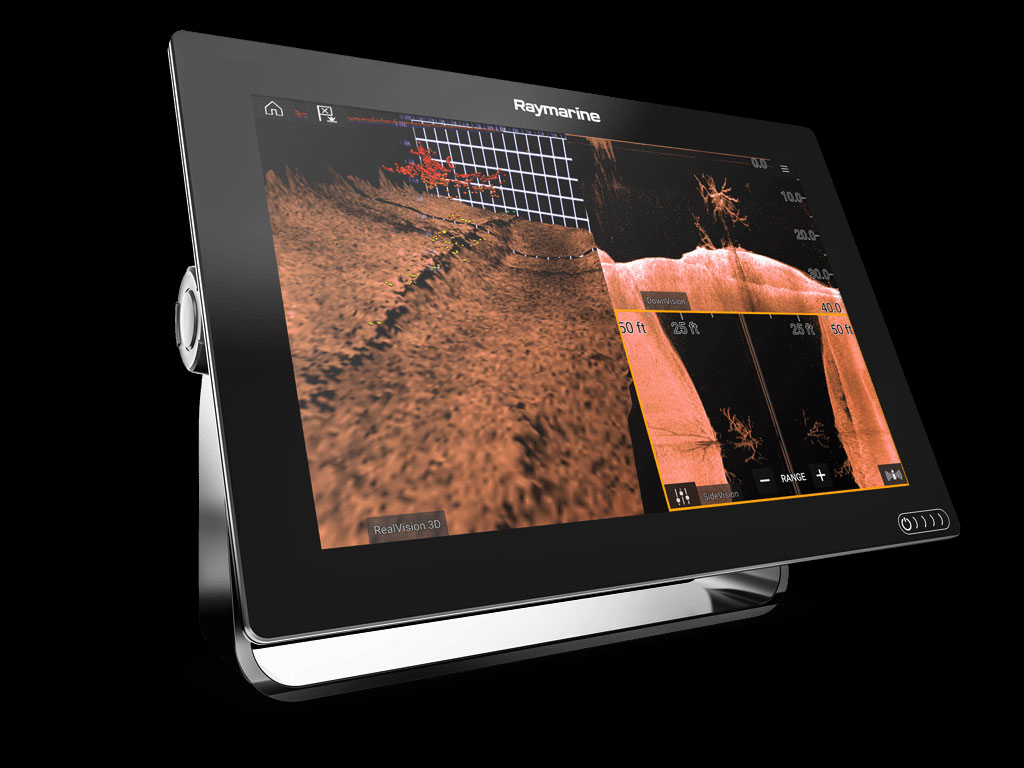 Among the hot new electronics to hit the water at the 2017 Miami International Boat Show was a new line of MFDs from Raymarine: the Axiom. These are touch-screen units (though keypads are available to go-with) in seven, nine, and 12-inch sizes. Processing power has been doubled from older Raymarine MFDs with a quad-core processor, and the systems run on LightHouse 3 software. Just about everything you can imagine is built in: 3-D fishfinding, side-scanning, CHIRP, Wi-Fi, and Bluetooth. Networking in radar, autopilot, video cameras, FLIR night vision cameras, and NMEA2000 data is plug-and-play. We found the bonded-glass screens particularly impressive, as they don't fade out or turn black when you lean off to the side or wear polarized sunglasses. Pricing is also impressive; the seven inch model starts at $650, the nine at $950, and the 12 at $2,500. Go to www.raymarine.com for more info; read Electronic Countermeasures to learn how to better use your electronics to catch more fish.
Rapala X Rap Twitchin Minnow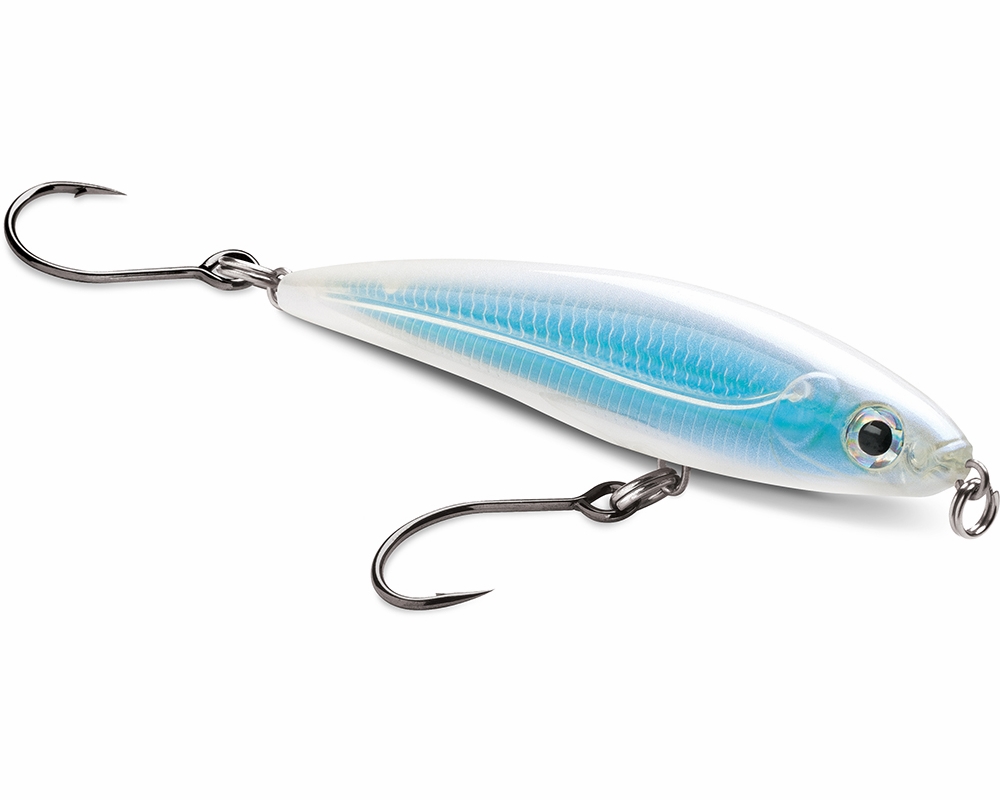 Fans of walking the dog will be interested in the Rapala X Rap Twitchin Minnow, which is designed to swim a foot or two beneath the surface. At 4.0" and 4.5" this one will catch a lot of schoolies, so thank goodness Rapala put swinging VMC single hooks on it instead of using trebles—that alone makes this a good choice for anglers probing shorelines that tend to hold a lot of throwbacks. It features 3-D holographic eyes, comes in a dozen different color patterns, and reflects light like there's no tomorrow. Price: $10 - $14. www.rapala.com.
Penn Slammer III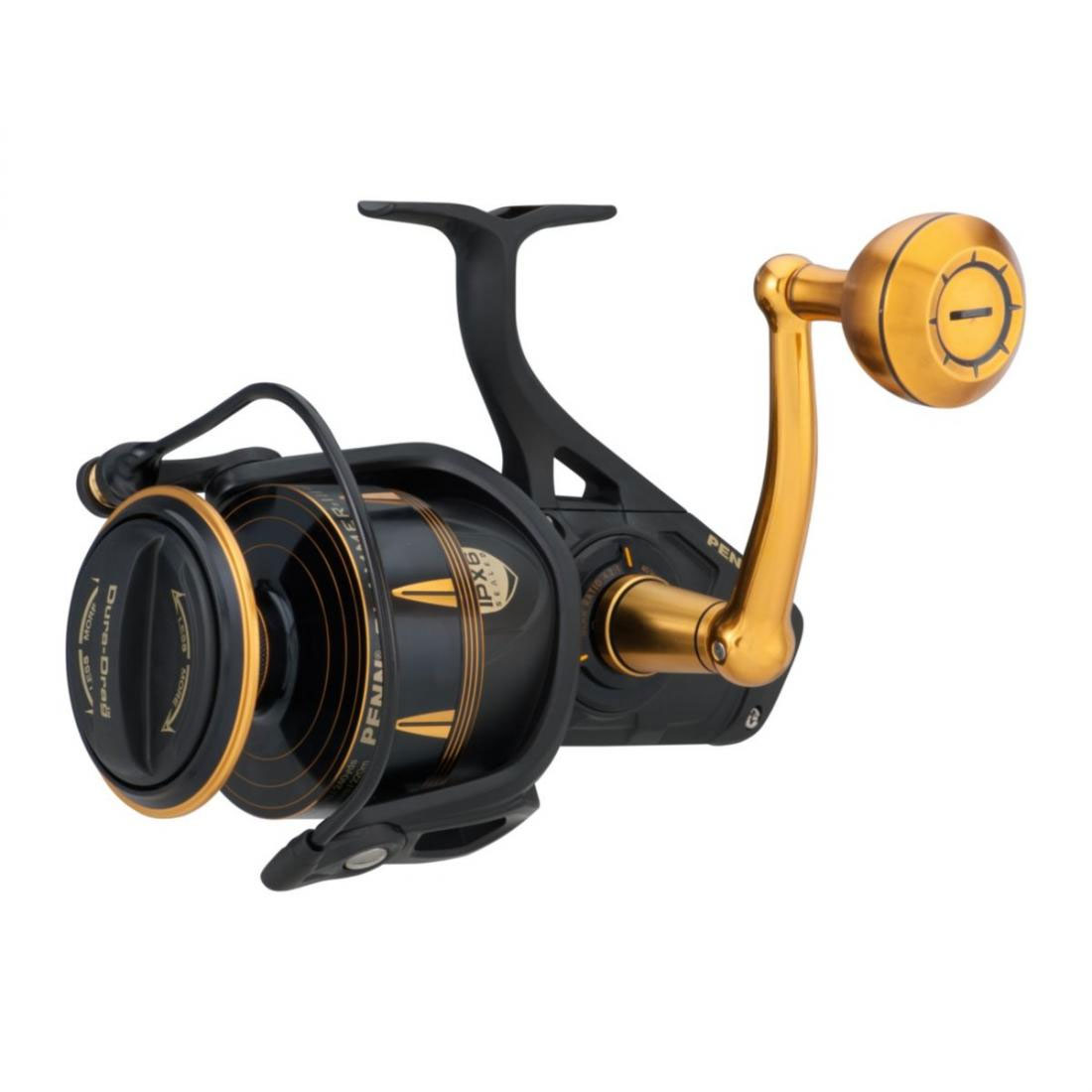 Sure, you've seen Penn Slammers before, but the III version is pretty dang cool. For starters, this reel actually carries an IP (Ingress Protection) rating. These ratings are usually reserved for things like electronics, which are commonly subject to water damage. The Slammer III is IPX6, which means it was sprayed with water at 100 liters per minute in every direction for at least three minutes, and didn't allow any water to get inside. So kayak anglers, surf fishermen, and guys who just like fishing in a driving downpour can rest assured that this reel won't take on water. Meanwhile, the drag system has been updated to incorporate Penn's Dura-Drag material, and those drags put out a ton of pressure—up to 30-lbs for the diminutive SLAIII3500 and up to 60-lbs for the beefy SLAIII1050. The reel's available in eight different sizes; the 3500 is a light model that can hold up to 220 yards of 20-lb braid, and the 1050 is a beast that takes up to 540 yards of 80-lb braid. Prices range from $250 to $350. Learn more at www.pennfishing.com.
Trapper Hooks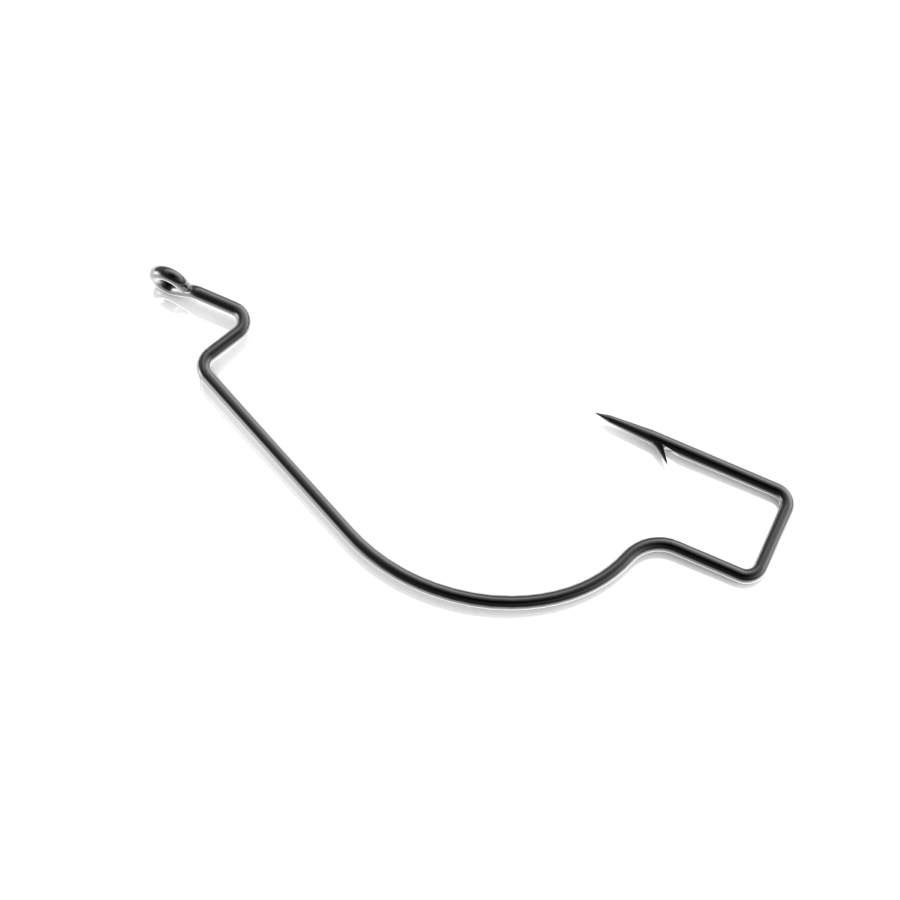 Hmmm… we agree, the new Trapper hooks look really weird. But if they help you catch more fish, does anyone really care what they look like? We didn't think so. These hooks have a squared bend that helps hold bait and soft plastics in place, and prevent them from rotating. They're available in a number of styles, sizes, gaps, and gauges, and are made from high-carbon steel. Cost ranges all over the place depending on size and the number you buy, but it's not out of line with what you'd expect to pay for a pack of hooks. Go to www.trappertackle.com for more info.
Hobie MirageDrive 180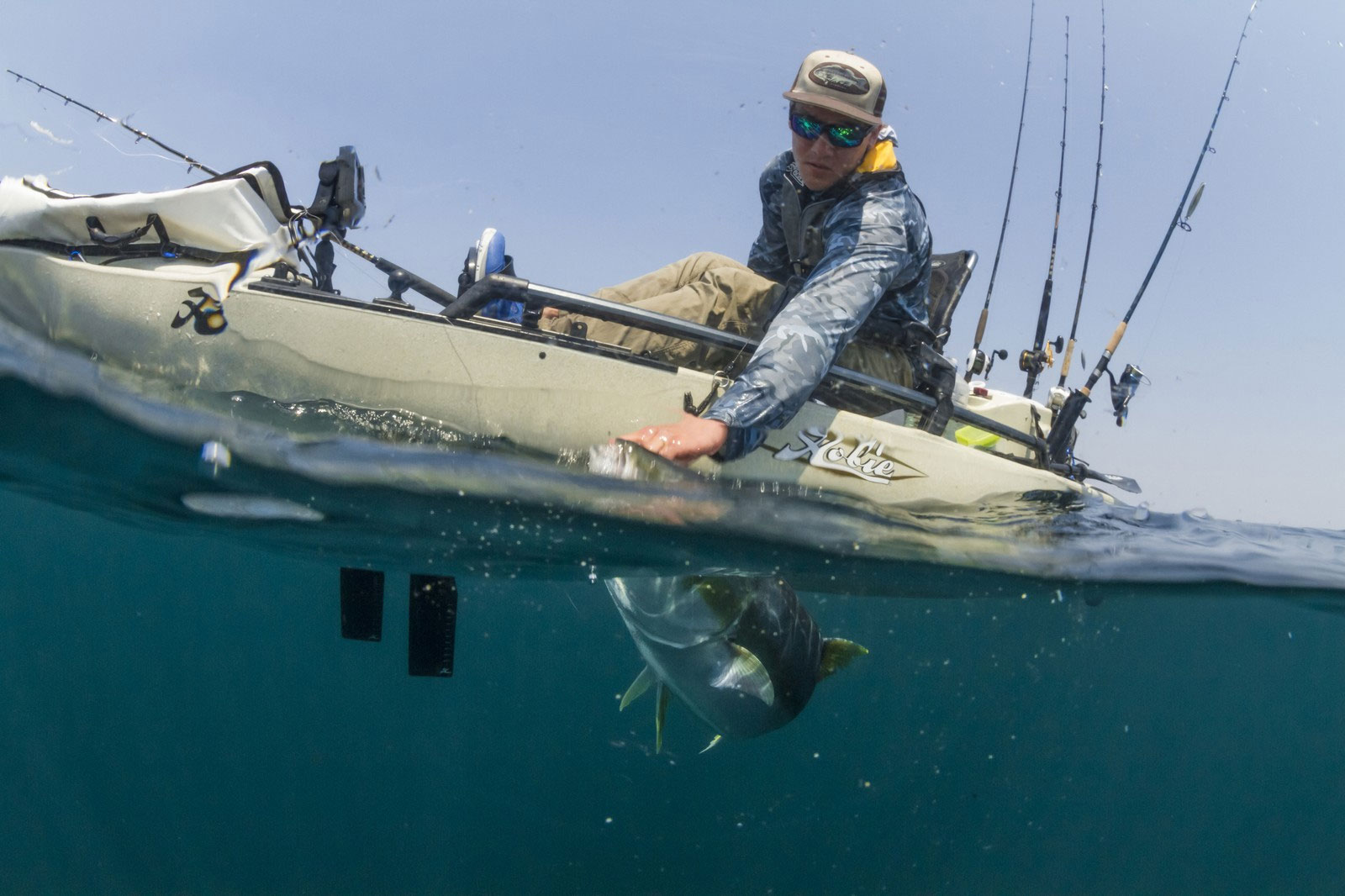 Any kayak angler who's paddled or pedaled has heard of Hobie's MirageDrive, the hands-free system that lets you pedal with your feet to propel the kayak. It's weakness? The lack of reverse, which some competing pedal systems do have. As of 2017, however, all MirageDrives have been upgraded to MirageDrive 180 and do have reverse. It's attained with a pair of small shifters, one green and one red, which are cabled to the drive unit with Spectra. Along with having reverse new MirageDrive 180 units also enjoy the benefits of more advanced fins. They have high-strength nylon on the leading and trailing edges, and a resistance adjustment knob. If you already have a Hobie you'll be happy to learn that the MirageDrive 180 is retrofitable to any existing MirageDrive kayak. Check out www.hobiecat.com to learn more.