Check out our Fishboat Reviews and you'll notice that the all new Blackfin 272cc shares one thing in common with many of the modern angling machines we've been aboard: they have something of a split personality. Most commonly, and again this applies to the Blackfin, they try to provide a mix of fishability alongside family features. As a boat-owning dad, I totally get it - mom and the kids are a lot less likely to put up with standing for 10 hours straight than your fish-crazed buddies are - but plenty of boats have trouble finding the right balance between canyon commando and cruiser. Did Blackfin hit it right? After all, historically Blackfins were pretty darn focused in on the fishing end of things. As usual, the answer to that question depends on your priorities. A short video of the 272cc will help you see just where they might lie, on this boat.
Those seat-backs are an ingenious way to please both the angler and the family, providing comfort without taking a toll on fishability. But while looking at the bow arrangement on the Blackfin 272cc, you may have noticed just how tall those gunwales are. They're above waist height, which is the first and possibly the biggest family-for-fishing trade-off found on this boat. Super-tall gunwales help you corral the kids, and make everyone feel safe aboard. But they also raise the boat's center of gravity, increase weight, act like a big sail when drift fishing, and make it more difficult to land fish. 
A close exam of the boat shows that the designers did take pains to provide as good a fishing platform as possible, though. Note the padding on the inwales behind the under-gunwale rodracks, which will prevent your treasured armaments from beating against raw fiberglass. The tackle station in the back of the leaning post is another nice perk, and the slide-out Yeti cooler is one of the easiest to access that we've found yet. We also love the rodholders in the transom, the flip-up bolster seats with fold-down arm rests at the helm, and the 54-gallon insulated fishboxes integrated into the deck. The livewell is a little square for our tastes, but with a 30-gallon capacity and slightly rounded corners, should be okay for the majority of the livies you haul.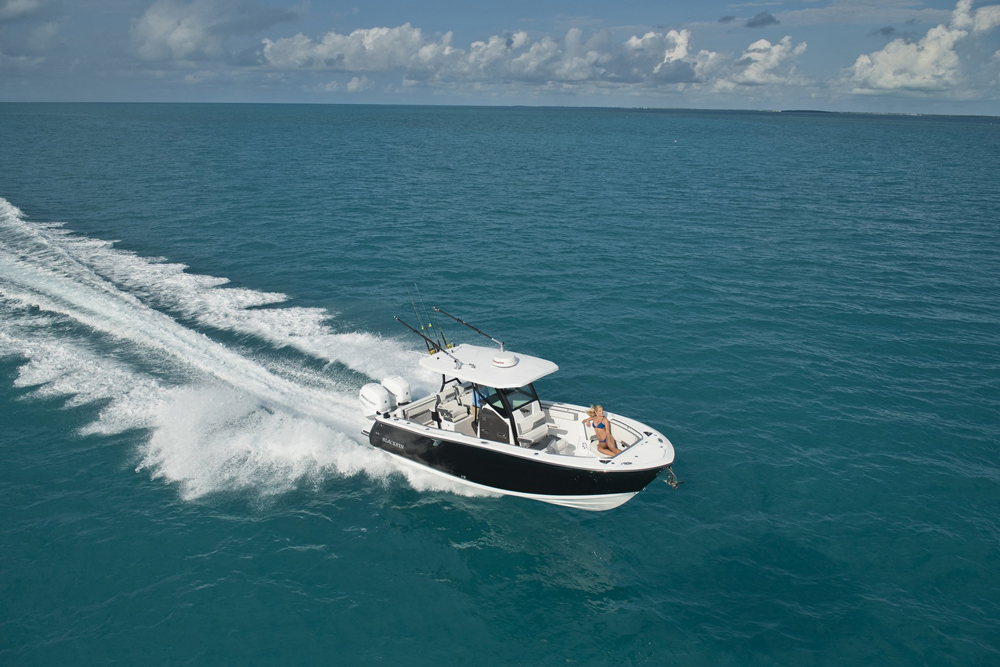 The console houses a head, which virtually every fishing boat this size does these days. However we'd strongly recommend that Blackfin replace the console door. With two submarine-like lever latches and pantograph hinging it's based upon a neat idea, theory being that you can swing it open and leave it that way without obstructing the walkaround. But it took a lot of head-scratching effort to get the thing open, we gave up entirely on closing it, and while the owner of this boat would probably get used to operating it his or her guests would be perpetually flummoxed.
The 272 CC we discovered at the show sported a pair of Yamaha F250 outboards, but the boat is available with either a pair of Yamahas or Mercury outboards (read Yamaha V-6 Offshore Outboards versus Mercury Verado Outboard Engines, before making a choice) up to 600 horsepower total. With the F250s set to 4500 rpm the boat cruises at 41.8 mph, while getting about 1.5 mpg. Slam the throttles down, and top-end reaches 56.5 mph. Most efficient cruise comes at 3000 rpm and 24.4 mph, where the boat gets 1.9 mpg.
If you need to walk that fine line between fishability and family-friendliness and you think the 272cc might be right for your needs, learn more at Blackfin Boats. Starting price for the Blackfin 272cc with a pair of 200 h.p. Verados was listed at $165,851 at the time of this publication. 
Quick Facts:
LOA - 27'2"
Beam - 9'4"
Draft - 2'0"
Displacement - 6,500 lbs.
Transom Deadrise - 22 degrees
Fuel Capacity - 180
Max HP - 600