Is there anything that generates a hearty "WOO HOO" faster than nailing the throttles on 1400 raging horses strapped to the back of a center console boat? Well, sure – doing the same with 1600 horsepower. And you can take your pick as to which you'd like, with the Blackwater 39 Sportfish. The model we spotted at the Annapolis boat show had quad 350s, and considering that this package (combined with the boat's twin-stepped hull design) gives you the ability to break 70 mph, we think it really is plenty of juice. There's just one problem: There's so much cool stuff to check out on this massive fish-killing machine that you might find yourself hooting and hollering even while you're still tied to the dock.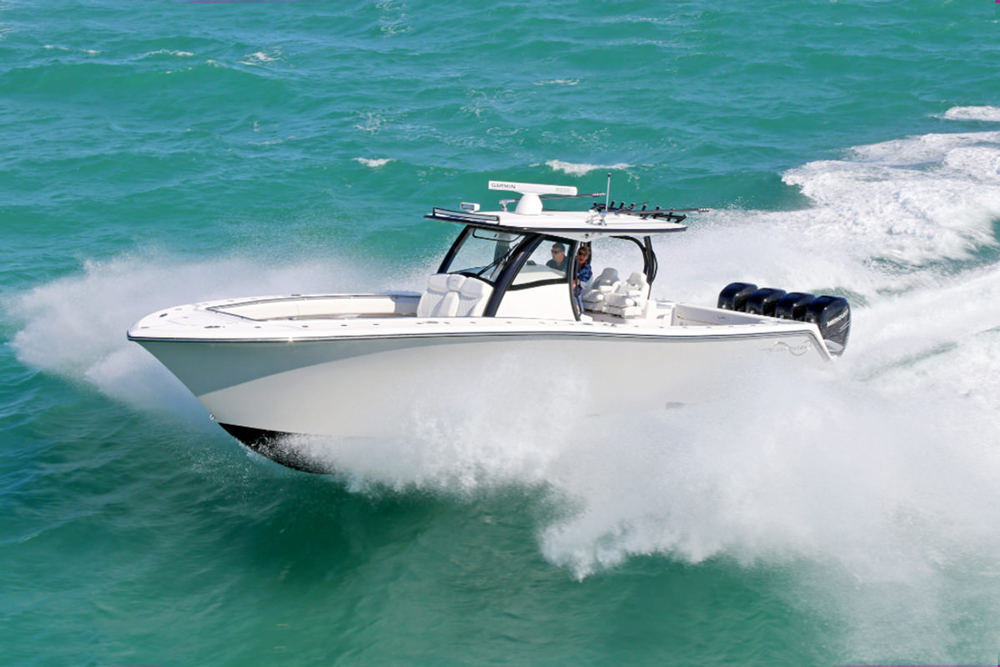 Unlike many center console performance boats that are equipped with a pair of gunwale-mounted rodholders and a bucket-sized livewell so they can be marketed as "fishing boats," the Blackwater is armed to the teeth. We counted an amazing 18 flush-mount holders running down each side of the boat, there are eight rocket launchers lining the back of the hard top, and the transom houses a pair of whopping-big 65-gallon livewells. You'll also discover built-in tackle stowage in the leaning post, a slide-out Yeti, a rigging station with a sink, and fishboxes fore and aft including one in the bow that's quite literally large enough to swallow up a giant bluefin.
We can't move on from those livewells too quickly; pop open the aft deck hatch, and you'll discover a sea chest intake system with multiple pumps. The boat we were on had a third livewell in the deck, too, and the chest fed each well via two pumps. Serious anglers who haul dozens of multiple species of livies know that a well fed by a single pump can be a tournament-killer when that pump fries, but this will never be an issue on the Blackwater. And we have to note that since Blackwaters can be customized to your tastes, this boat can be rigged appropriate to whatever type of fishing you like most.
We also felt like the console cabin design struck a nice balance between luxury and fishablity. It's large enough to house a forward berth, a compact galley, and a head, while also supporting a big double-lounger up top. But it hasn't been blown out so much as to ruin the bow cockpit's fishability. The bow can be wide-open as on the model we saw, or forward C-shaped seating can be added. That reduces deck space, but truth be told the boat's large enough that you'll have to load the entire Little League team aboard before you start feeling any space constraints. Added bonus: we love that they designed in backrests for the forward-facing loungers that pop up and fold down flush with the lounges, rather than going with the removable versions that get in the way and present stowage challenges.
In a sea of uber-big center consoles to hit the market in the past few years we've seen many builders focusing on luxury, cabin space, and "social areas," to the detriment of fishability. The Blackwater proves that some serious die-hard fishing machines still exist in this world – and it also proves that you don't have to give up on comfort or performance while providing a fish-centric boat. Can we get a collective "WOO HOO?"
Specifications:
LOA – 39'0"
Beam – 11'11"
Displacement – 14,000 lbs.
Draft (hull) – 3'0"
Transom Deadrise – 24
Fuel Capacity – 778 gal.
Max. Power – 1400 hp
Area Dealer – PYY Marine, Pasedena MD, (410) 255-1771