Boston Whaler Montauks have been prowling the Chesapeake and Mid-Atlantic coastal bays since the days of 20-acre bunker schools and mile-long grassbeds, but as Whaler marked its 60th anniversary this year, it decided to sink some time and effort into refreshing the line. Case in point: the 2018 210 Montauk.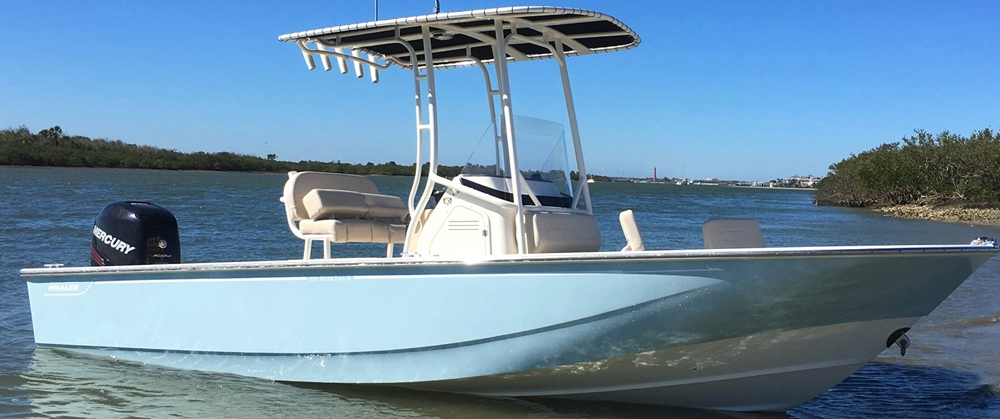 The aft casting deck and seating arrangement is where you'll see the biggest difference between older versions and the new 210. Instead of having a pair of fixed flanking stern seats with a bumped-out livewell in the center, the new version has flip-down jump seats on either side. As you'll commonly find on Whalers, the hinges are thick, beefy stainless-steel and as a result the seats flip and fold easily and smoothly. When they're closed you have an elevated aft casting deck, without having to remove and stow any cushions or seat-backs. The transom does still have flush-mounted rodholders where you can slide in a pair of backrests – if you're willing to find somewhere else for your rods.
What about the livewell? That can be found in the leaning post, depending on exactly which style you choose. Another big change for 2018 was adding a huge number of options to this boat, and there are five distinct leaning posts to choose from. It can carry the livewell in the post's base in a couple different configurations, or you can get a slide-out cooler or a flip-back cooler seat.
Another nice touch Whaler added to the new 210 is really a throw-back: the presence of teak. Before anyone freaks out at the prospect of maintaining actual wood on a boat, note that the teak is optional and consists only of boarding steps, the swim platform surface, and the helm footrest. Die-hard fishermen will likely go without it but slightly nostalgic anglers are going to love the aesthetic. On the flip side, you can give the boat a more modern look by opting for low-profile grab rails fore and/or aft, as opposed to the standard-height rails.
Look closely at the way the boat's constructed. Naturally, like all Whalers the main structure is an unsinkable glass-foam-glass sandwich. But the boat's pieces-parts are just as beefy. Remember those seat hinges we mentioned earlier? You'll find similarly stout stainless-steel at the bow, where the bowlight assembly – custom Whaler-made, not like the mass-produced bowlights you'll see on most competitors – is sturdier than the cleats found on most other boats. And as far the cleats on the 210 go, they're backed with composite Whaleboard phenolic backing plates, which will never rust nor rot. The bow fishbox hatch swings up on a gas-assist strut, and the console grabrail and steering wheel are all over-built as well.
The down-side to using Whaler's construction methods and materials is, plain and simple, cost. Like all of its kin the 210 Montauk does sit near the top of the range, with an MSRP just under $60,000 before you start adding taxes, options, or anything else (at the time of this publication). You want to play big, you've gotta play big. We do happily note, however, that the list cost includes a galvanized tandem-axle trailer with disc brakes.
More about playing big: with the standard Mercury 150 FourStroke outboard, the Whaler can cruise at around 30 mph and tops out at about 40. Family fishermen may want to add the optional ski tow-bar for pulling the kid around on water-toys, and yes, the console does house a head.
"New and improved" is a vastly overused phrase. But in this case, it fits. It's a Whaler and it's a Montauk, but it's also new and fresh – just as fresh as the fish you're about to swing over the gunwales.
Quick Facts:
LOA – 21'4"
Beam – 8'6"
Displacement – 2650 lbs.
Draft (hull) – 1'3"
Transom Deadrise – 16
Fuel Capacity – 66.5
Area Dealers – Taylor Marine Center, Milford, DE (and Ocean City, MD), (302) 422-9177; Chesapeake Whalertowne, Annapolis (and Grasonsville), MD, (410) 267-9731; Lynnhaven Marine, Virginia Beach, VA, (757) 481-0700. Chesapeake Boat Basin, Killarnock, VA, (804) 436-1234.
You say you need just a hair more LOA? See our Boston Whaler 230 Outrage review.