People, the Caymas 26 HB is now a reality and the world of center console bay boats has just changed. Radically, no BS. Earl Bentz, the guy behind such successes as Hydra-Sports, Stratos, and Triton, a National Marine Manufacturer Association hall-of-famer and two-time world champion boat racer, has come out of retirement and started up a new brand, Caymas Boats, and among their offerings are a pair of bay boats including the 26 HB. If you were at the US Powerboat Show in Annapolis or at the Baltimore or Miami Shows, you may have even been lucky enough to already lay eyes on one. If not, prepare yourself—it's a jaw-dropper. But before we dig into the details of the 26, check out this quick video we shot on its larger sibling, the 28 HB, to get a great look at what makes these boats so special.
When we first spotted the Caymas 26 HB at the Annapolis show, we knew it was something special even before learning the back-story and stepping aboard, because a quick glance at that double-stepped hull caused a double-take. A closer inspection proved fascinating. It's a Michael Peters design called SVVT, for stepped vee ventilated tunnel. The twin steps feed a center aft tunnel with vertical sidewalls, which are designed to boost lateral resistance and increase directional stability while also reducing roll and pitch. Net result? Awesome handling with a 15-percent increase in speed and efficiency. Full disclosure: we haven't had the chance to run the Caymas yet (it was on dry land at Annapolis and Baltimore), so we're going on what they're telling us, here. However, we have run the identical hull design on a larger boat, the Valhalla V-41. Yes, when Viking decided to start building outboard boats they also chose this exact design. In that case handling, seakeeping, and stability were all nothing short of phenomenal. And considering that we hit 73.6-mph, it seems safe to say that the hull design also does produce rather spectacular speeds.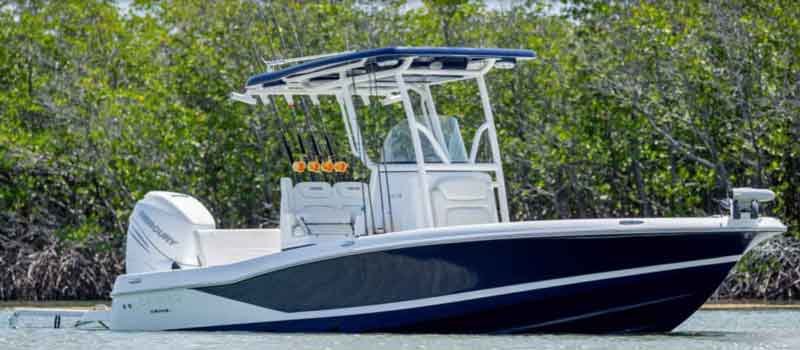 Those of you who've spent time on Hydra-Sports, Stratos, and Tritons already know that these companies knew how to build serious fishing machines, and in this regard, the Caymas won't disappoint. Ready for the list? There's a 35-gallon lighted livewell in the starboard aft deck plus the option to plumb a second 35-gallon compartment on the port side (do it); a 40-gallon fishbox under the forward seat; a 65-quart slide-out Yeti under the leaning post; locking rod and stowage lockers under the flanking bow seats; four flush-mount gunwale holders plus an option for two more (get 'em); four rocket launchers on the leaning post; five vertical rocket launchers on the hard top plus two angled kingfish-style holders; four vertical rodholders integrated into either side of the console; a pair of mop/gaff/rodracks under each gunwale; and the console's designed to accept a pair of 12-inch MFDs. IMHO Bentz only made one mistake when outfitting this boat for fishing and that was to put in lighted cupholders, which might be a distraction when I'm trying to night fish—dang it, Earl!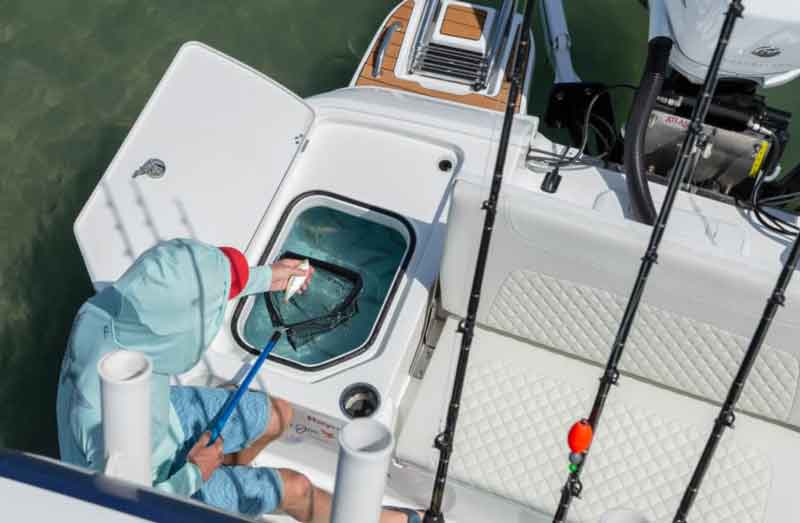 Construction-wise, again, the Caymas lives up to the reputations of the other brands we've mentioned. You can see it superficially when looking at pieces-parts like the hinges (which are recessed) and the hatches (light, strong, and finished on both sides), but more telling is the fact that the builder's willing to stand behind the structure with a lifetime original owner warranty, a 10-year transferrable warranty, and three-year coverage that's essentially stem to stern. That kind of confidence comes from hand-laying the hull and giving it a foam-filled stringer grid, coring with composites like Tri-Core, and laminating aluminum backing plates into critical attachment points.
Rumor has it that a 400-horse outboard (the maximum power) will cruise this boat in the upper 30s and take it to a top-end in the mid to upper 50s. Like we said, we haven't charged across the bay in a Caymas just yet so we can't attest to the numbers (Editor's Note - since this reports published we did get out on the boat, see below link to the on-water fishing test). But we can tell you one thing for sure—we'll be taking the 26 HB for a sea trial ASAP. And when we do, we'll report back to you here, on these pages. Because there's more to this story, and we're going to tell it.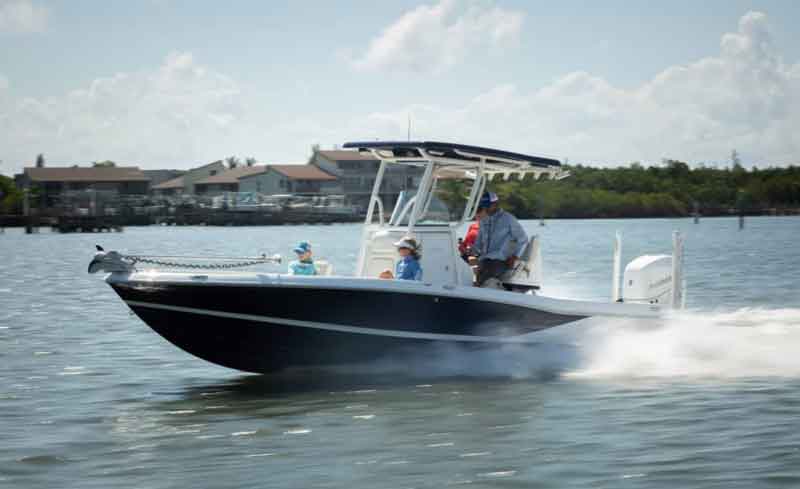 Editor's Note: See our on-the-water fishing test of the Caymas 26 HB.
Caymas 26 HB Specifications
LOA – 25'7"
Beam – 9'0"
Displacement – 4,100 lbs.
Draft (hull) – 1'4"
Transom Deadrise – 18.5 degrees
Fuel Capacity – 90 gal.
Max. Power – 400 hp
Area Dealers – North Point Yacht Sales, Annapolis MD, (410) 280-2038; Portsmouth and Gloucester Point, VA, (804) 885-4090.
-By Lenny Rudow