Cape Hatteras is aptly known as the Graveyard of the Atlantic, but Cape Henry at the Chesapeake Bay entrance has collected its share of wrecks - which have become fishing reefs - as well. A cluster of them from losses during wartime, marine casualties, and adverse operating conditions offer some interesting fishing structure. Those who fish these features must be careful. Thimble Shoal Channel is a main shipping lane through the entrance for commercial and naval vessels. Many of these ships are very large, and recreational boats can quickly disappear from view under the bow. There are also bow and stern wakes to ride out. So, give the big guys plenty of room.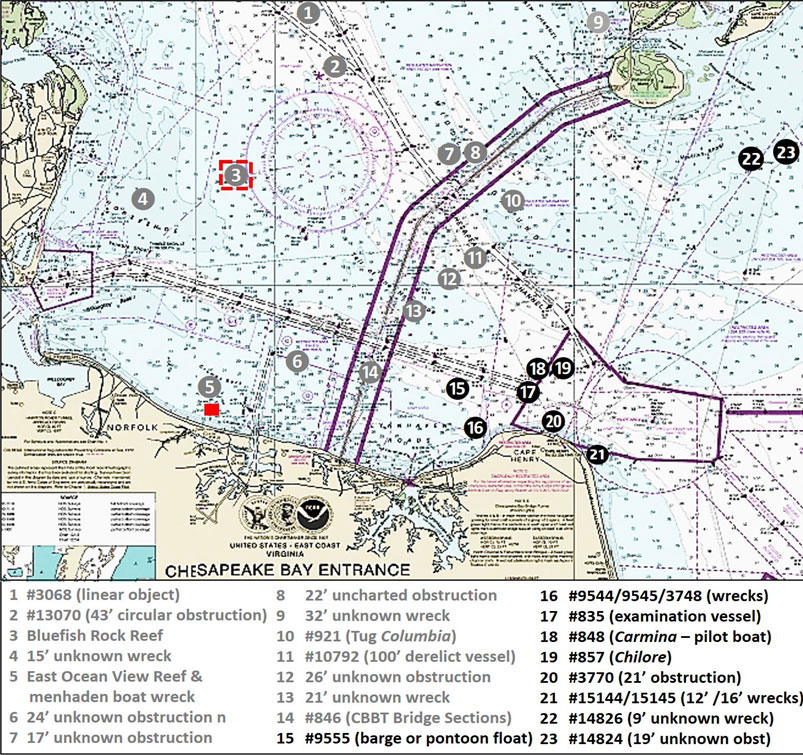 Working from west to east, Site 15 is a wreck described by divers as a small barge or pontoon float that is resting upside down with a least depth of 40 feet. The divers found it rising about five feet off the bottom. A color multibeam sonar image included in National Ocean Survey (NOS) shows the wreck intact and lying in an irregular scour hole. Distance scale suggests that the feature is about 30 feet long and 10 to 15 feet wide.
Site 16 includes a wreck described by divers as a mostly buried steel-hulled vessel with a wooden mast and beams. The divers also found that the wreck was scattered and only rose about 0.9 meters off the bottom, so the best chance for a sportfish catch here will probably be flounder. Least depth is charted as 32 feet. Multibeam sonar images show evidence of sedimentation and there's a lot of energy at Cape Henry, so changes in bottom conditions are common. Using BDV distance scale shows a length of about 60 feet and a width of 15 feet. It sits right in the center of the charted wreck circle. Between this wreck and the shoreline is a charted 27-foot wreck. It's uncertain how much of this feature is showing. It is an amphibious craft that is 30 feet long and 10 feet wide. According to the records, when it was surveyed in 1995 the craft rose about five feet off the bottom, was highly corroded, and heavily covered with marine growth, so this one should attract fish.
Site 17 is identified as an "examination vessel" that sank in 1944 (shown on Chart 2). Beyond that, the identification is unknown. The wreck appears highly deteriorated in both BDV images and a color multibeam sonar image. The wreckage is substantial, rectangular in form, and measures about 140 feet long and 30 feet wide using the BDV distance scale. There is an elongated scour hole on the south side extending towards the southwest.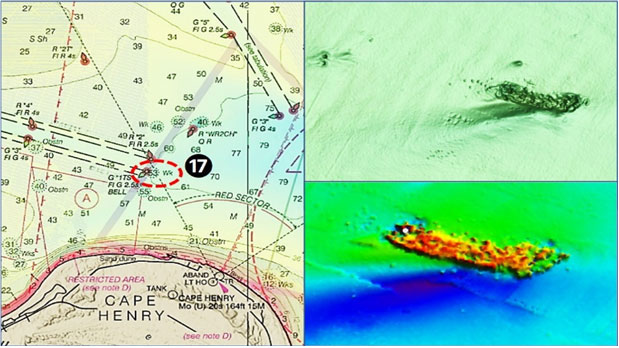 On the north side of the shipping channel at Site 18 (Chart 3) is the iron-hulled pilot boat Wm D. Sanner (originally the Carmina). This 140- by 21-foot vessel was struck while transferring a pilot and sank. Also shown on Chart 3 at Site 19 is the Chilore. With dimensions of 550 feet by 72 feet by 44 feet, this relic of World War II is the largest shipwreck in the Bay. Her story involves a torpedo, minefields, and capsizing while seeking safe harbor. There's no problem in locating this fishing destination, as it's about three times as large as the charted wreck circle. There's a deep scour hole along the western side. Try for any kind of reef fish here and for flounder alongside. Directly north of Cape Henry and closer to shore at Site 20, there's an unidentified obstruction. Using the BDV scale, it measures about 100 feet long and 20 feet wide. There is a huge scour hole on the east side indicating the location is swept by very strong ebb currents.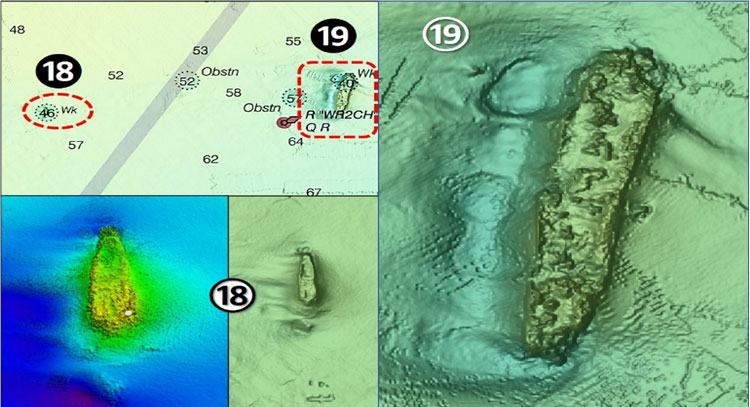 Site 21 is a cluster of three wrecks, although only two wreck circles are charted. All are mostly buried and deteriorated. The northernmost is a 16-foot wreck and is the most recognizable. The 12-foot wreck to the south is broken up and distributed across the site. The uncharted wreck lies to the east. NOAA opted not to chart this wreck and to label the features as wrecks due to the closeness. There is a faint outline and one high spot, possibly some type of deck gear. Very little scour is evident. So, drifting across the sites for flounder may yield a few bites.
North across the entrance is Nautilus Shoal and sites 22 and 23 off the southeastern edge, where there is broken up wreckage distributed across the site and an obstruction. At Site 22 BDV images shows four clusters of wreckage. Site 23 is simply listed as a 19-foot obstruction with no details.
These sites are on the way to the Virginia ocean artificial reefs, and passing over those more or less along your route and watching the fishfinder may put you on fish. Or, if conditions at more distant wrecks are forecast to become unfavorable due to wind, fishing this inshore structure may be an option that keeps you in the lee.
- By Wayne Young. As well as being a regular contributor to FishTalk, Wayne Young is the author of multiple books detailing wrecks and fishing reefs in the Chesapeake Bay, Delaware Bay, and beyond. All are available at Amazon.com, and you can find his Facebook page at Chesapeake Bay Fishing Reefs.
Editor's note: See Chesapeake Bay Entrance Structure Part I for details on the first batch of hotspots shown on Chart 1 at the beginning of this article.