During this leg of examining Delaware coastline structure and reef fishing, the focus is on a dozen offshore features shown by black circles on Chart 1 south of the Cape Henlopen – Five Fathom Bank. Wrecks and obstructions marked by grey circles and light blue circles are the subject of separate articles but are included here as a general area reference.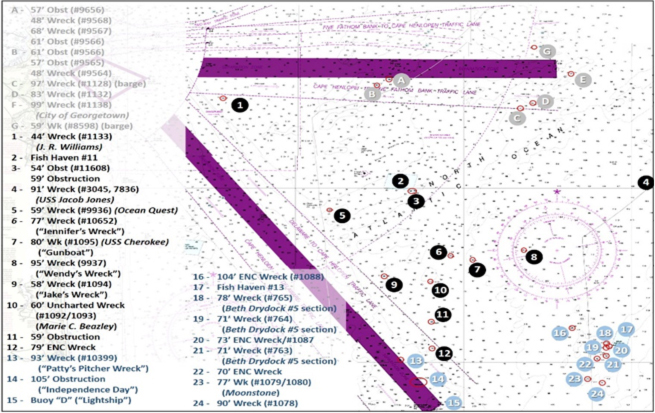 Just east of the precautionary area at Site 1 is the 44-foot least depth wreck of the J. R. Williams. Divers found scattered wreckage of this steel-hull barge during a 1993 hydrographic survey. The wreckage is in three main pieces at coordinates 38'45.177N x 74'54.398W. There are also indications that a tug sank at the same location in 1942 as the result of a marine casualty. Site 2, shown in detail on Chart 2, is the Delaware State Reef Guide drawing overlayed on a nautical chart. The guide's grid drawing is not to scale. So, it was electronically stretched to align with the chart to show the approximate layout. Of 22 placements through 2016, only the first 12 are included in the guide drawing. Six vessel deployments were added to the illustration showing approximate locations.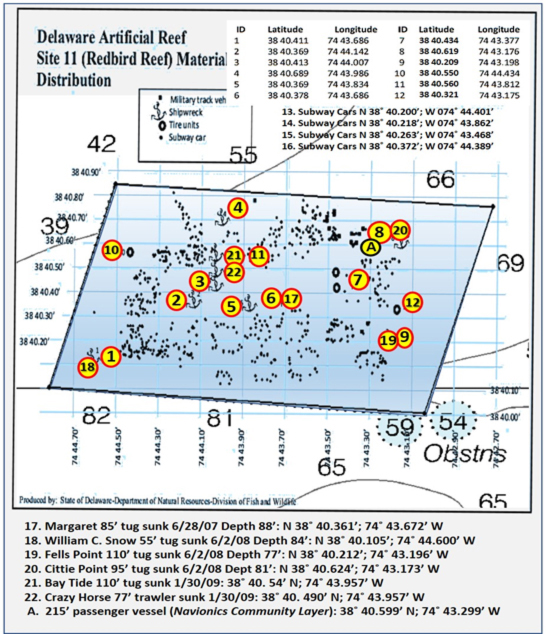 Just outside the southeast corner of the reef site at Site 3 are two charted obstructions, one of which is a 54-foot least depth feature at coordinates 38'39.864N x 74'42.908W. The other is a 59-foot obstruction at coordinates 38'39.834N x 74'43.167W. No descriptive information is available for either.
Running due east brings us to Site 4, the final resting place of the 91-foot-deep USS Jacob Jones. This 314-foot-long, 31-foot-wide four-stack destroyer was torpedoed and sunk by U-578 in 1942. The bridge section and hull below were torn apart by an exploding torpedo which appeared to have caused a secondary explosion of the magazines. The bow was blasted off by the explosions. One or two more torpedoes hit further aft adding to the carnage. Some of the depth charges that were aboard exploded as the ship sank. The bridge is charted at coordinates 38'28.835N x 74'31.765W. The bow section is uncharted but in the general vicinity of coordinates 38'41.006N x 74'28.976W about a mile away. The ships namesake predecessor, also a Navy destroyer, was torpedoed and sunk in 1918. U-578 was attacked elsewhere and lost with all hands later in 1942.
For fishing, details at NJscuba include underwater pictures taken in 2007 and an observation that the widely distributed wreck has deteriorated significantly leaving not much of interest to dive. But, there's a lot there to fish. The wreck was imaged by "wreck detective" Ben Roberts, Eastern Search & Survey in 2020. One of his high-definition side-scan sonar images showing the main section of the wreck is included as part of Image 1. Be sure to visit the Eastern Search & Survey Facebook page for a link to his online wreck map and for sonar images and descriptions of many wrecks off DelMarVa and the Chesapeake Bay Entrance.
Site 5 is the 59-foot wreck of the fishing vessel Ocean Quest at coordinates 38'38.765N x 74'47.985W. The vessel, lost in 1987, is over 60 feet long. A side-scan sonar image from NOS DR H10989 (2000) shows the vessel is broken up. About 4.2 nautical miles southeast of Fish Haven #11 at Site 6 is a 70-foot feature known locally as "Jennifer's Wreck." It's an unidentified wooden 77-foot-deep wreck at coordinates 38'36.118N x 74'40.774W. The wreck is also known as the "Bingo" wreck according to Aquaventures. Divers say it is mostly large ribs and has deteriorated into a small wreck site.
East southeast is the so called "Gunboat" at Site 7. This is the 80-foot wreck of the USS Cherokee at coordinates 38'35.895N x 74'39.490W. A detailed account of the wreck is in Gary Gentile's "Popular Dive Guide Series: Shipwrecks of Delaware Maryland" (2002). This 120-foot Navy tugboat foundered and sank during a winter gale. According to historical information reprinted in H. Richard Moale's "Notebook on Shipwrecks: Maryland Delaware Coast" (2007), the skipper had objected to the transit due to the vessel's unseaworthiness. Looks as if he was unfortunately correct. The tug is intact and upright.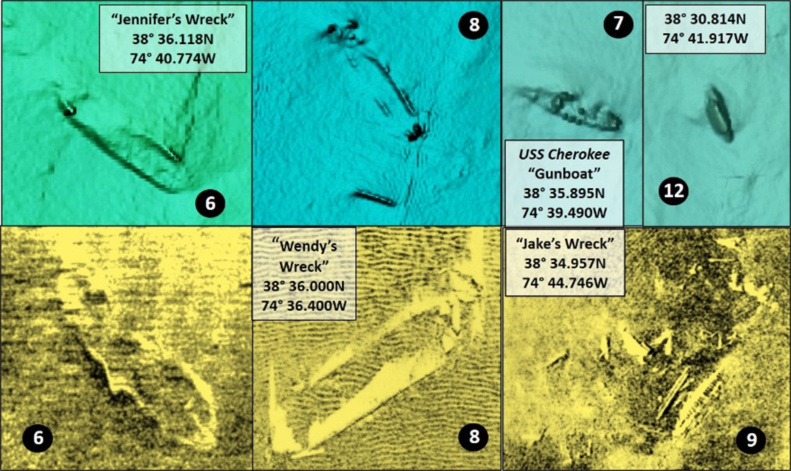 East northeast of the USS Cherokee is "Wendy's Wreck," marked as Site 8 at coordinates 38'36.000N x 74'36.400W. This is a large, unidentified wooden wreck that is distributed on the bottom. It's a popular fishing and dive site.
At Site 9 is one of the better-known wreck sites, "Jake's Wreck," a 58-foot wreck at coordinates 38'34.957N x 74'44.746W. This is unidentified and scattered wreckage, as shown on Image 2 by a side-scan sonar image taken from NOS DR H10989 (2000). At Site 10, there is the uncharted wreck of the schooner barge Marie C. Beazley. The wreckage is not on the edge of a low-relief mound where it is annotated in hydrographic surveys. The reason is that the wreck was displaced along the bottom onto the mound at 38'34.400N x 74'41.500W. Moale (2007) included this wreck in his research, finding that the vessel with a cargo of coal struck a mine or mines in 1927, burned, and sank. If correct, this was an after-the-fact World War One U-Boat mining victim. U-Boats placed mines in these coastal waters during both World Wars. Although this is a small, deteriorated wooden wreck, try drifting across it and the little trench trailing off from it for flounder. There might even be some sea bass or tautog on the wreck.
Moving south to Site 11, there is a 59-foot obstruction but not enough showing to justify much prospecting effort. Just inside the edge of the traffic lane at Site 12 is a 79-foot wreck at coordinates 38'30.814N x 74'41.917W. Very basic charting details for the wreck can be accessed online but the files don't tell us much about the structure. Although not a big wreck, reef fish such as sea bass sometimes relate to, and suspend over, small structure in a large school. So, as true with virtually all structure in the ocean, it's worth a peek on the fishfinder when passing through the area – fish are where you find them!
Editor's Note: Also see Delaware Ocean Wrecks and Reefs Part II: East of Fenwich Island and Delaware Ocean Structure Part III: Cape Henlopen.
As well as being a regular contributor to FishTalk, Wayne Young is the author of multiple books detailing wrecks and fishing reefs in the Chesapeake Bay, Delaware Bay, and beyond. All are available at Amazon, and you can find his Facebook page at Chesapeake Bay Fishing Reefs.
Sign up here to get the weekly FishTalk Chesapeake Bay and Mid-Atlantic fishing reports in your email inbox, every Friday by noon.