Look through our Fishboat Reviews and you'll see mostly center console fishing boats, rather than dual consoles. Though the dual console isn't commonly the top fishboat design choice for die-hard angling, in reality, it's the right pick for a huge number of bay and coastal fisherman. It gives you the flexibility to enjoy watersports with the kids (only when the bite is slow). It provides an easier-to-access head compartment (she cares, and sometimes he does too). And it offers more protection for the crew when running (which means less feedback from those not-so-hardcore anglers in the family). Truth be told, for family anglers in particular a DC is going to be the right pick. So let's check out three options of varying sizes which may not represent the pure fishing genetics of center consoles, but will for many of us be the best boat to buy. Here are a few good choices that will give you the flavor for this genre of fishing boat.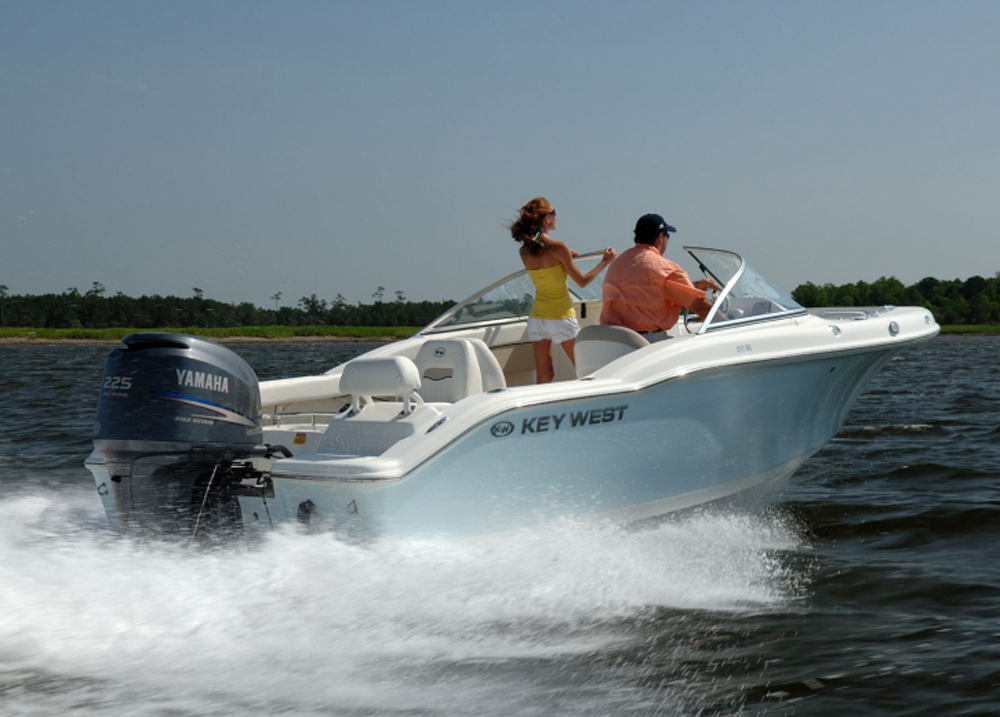 Small Wonder: The Key West 211 DC
The Key West 211DC is a simple, straight-forward dual console that's an excellent starting point for a family angler on a budget (plan on spending in the neighborhood of $40,000) or a first-time boat-buyer. It's built with Key West's foam-injected stringer system, Coremat and Klegecell coring, ProBoard composite or aluminum backing plates, and a high-density foam transom core. The hull design is similar to that of the Key West 219FS, with a 19/24 degree variable transom deadrise. We've spent extended time standing atop this hull in varying conditions, and can attest to the fact that it's a shockingly smooth-running design for its size.
For the Fish-Heads
As for fishing, the boat checks all the important boxes and then some. Most boats of this nature come with two stainless-steel gunwale-mount rodholders, but the Key West has four standard holders plus two more behind each aft jump seat, which do double-duty as the removable seat's receiver mounts. There are also under-gunwale rod racks, coaming bolsters, a raw-water washdown, and a large in-deck stowage box you can use as a fishbox. Live bait anglers are in for a pleasant surprise, because the 211DC goes well beyond normal bare-necessity expectations for the livewell in this type of multi-purpose boat. It has a copious 20-gallon capacity, an 800 GPH pump mounted on a seacock, a high-speed pick-up, and it's even lighted.
For the Family
A freshwater shower, molded-in swim platform, and three-step telescopic ladder give you the basics, but to enjoy watersports you'll want to add the optional removable ski pylon. Family members will also appreciate it if you opt for the portable MSD in the passenger's-side console compartment. A 12-V outlet, stereo system with MP3 port and four speakers, and courtesy lighting are standard features.
We Love
How the jump seats can be completely removed, not only opening up more fishing space in the cockpit but also doubling the number of rodholders.
We Wish
The head compartment was bigger (it's tight in there).
Quick Facts:
LOA – 21'1"
Beam – 8'6"
Displacement – 2300 lbs.
Draft (hull) – 14"
Transom Deadrise – 19/24 degrees
Fuel Capacity – 80 gal
Max HP – 250
Area Dealers –  Annapolis Boat Sales, Chester, MD and Berlin, MD, (410) 973-2552; Anchor Boats, North East, MD, (410) 287-8280; Port Side Marine, Baltimore, MD, (410) 682-2998; Gootees Marine, Church Creek, MD, (410) 397-3122; Bob's Marine Service, Clarksville, DE, (302) 539-3711; Garrett's Marina, Bower's Warf, VA, (804) 443-2573.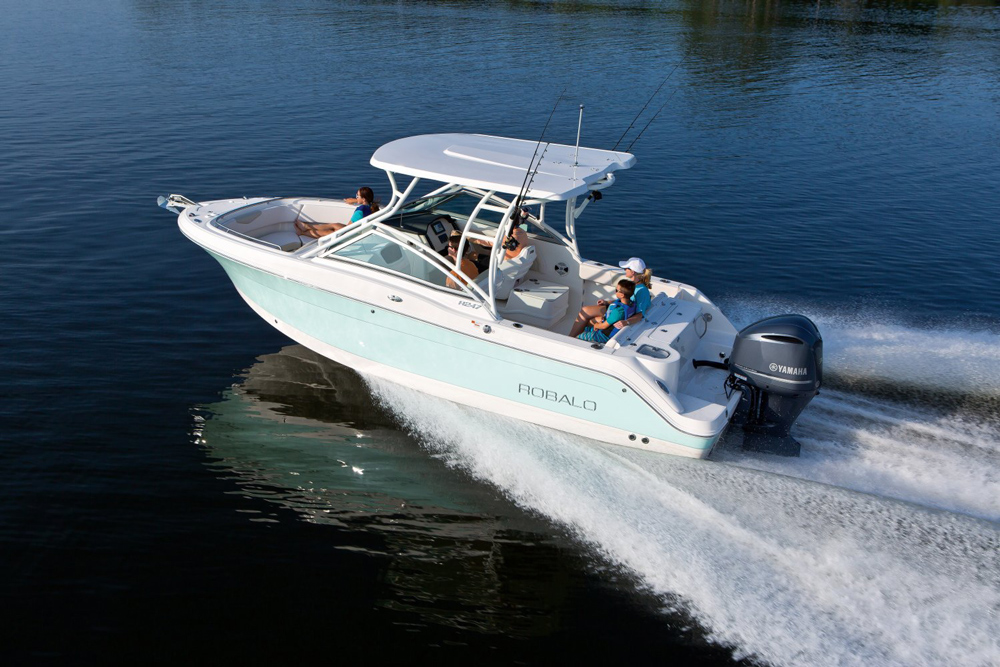 Enhanced Capabilities: Robalo R247
The Robalo R247 represents a doubling in approximate cost as compared to the 211DC, but it's also a quantum leap forward in capability. It's large enough to head offshore for pelagic big-game species on good weather days, can be rigged with big-boat features like a hard top with rocket launchers or an anchor windlass, has a very roomy and comfortable head compartment, and can handle up to twin 200-hp outboards on the transom. The boat's built with Kevlar reinforcement in the hull (and carries a lifetime limited hull warranty), and a poured ceramic transom core. You'll also notice an excellent fit and finish on this model, plus plenty of high-end touches like gas-assist struts supporting the hatches and stainless-steel toe-rails in the cockpit.
For the Fish-Heads
The bow is designed to allow the boat to be used for light-tackle casting; just remove the cushions, drop in the filler section, and every inch from gunwale to gunwale becomes a solid casting deck. We appreciate that the aft bench seat folds away into the transom, which also holds a 19-gallon livewell and a fishbox. Four gunwale-mount rodholders come standard, the hard-top supports four rocket launchers and can be rigged with Taco Grand Slam outriggers, there are tube-protected under-gunwale racks for four rods, there's a raw water washdown, and coaming bolsters line the cockpit. Robalo even adds rod racks in the ski locker, so you can swap out the water toys for more angling gear before heading off on a serious fishing mission.
For the Family
Add on the optional ski pylon and this boat will have everything the kids demand for a day of play on the bay: a Bluetooth stereo system with four speakers, a 12-V power receptacle, a removable 25-quart cooler, and a walk-through transom door leading to a large swim platform with a telescopic ladder. The boat's also ready and able for entertaining on a more adult level, with a removable pedestal-mount cocktail table (with receivers in both the bow and stern cockpits) and plenty of seating. One of the most under-rated family perks of a DC this large and the R247 in particular, however, is the ability to seal off the helm and cockpit via a swing-out door and folding windshield. This eliminates much of the flying spray and chilly breeze that can make some family members uncomfortable and even down-right miserable, when the seas and/or winds unexpectedly kick up.
We Love
How the boat allows not just for multiple uses but also for multiple fishing styles and situations, with features and design perks appropriate for everything from trolling at the canyons to casting topwater in the shallows of a tributary.
We Wish
The ski pylon was a standard feature. Almost everyone will want it, and at this price-point we think it should be included.
Quick Facts:
LOA – 24'0"
Beam – 8'9"
Displacement – 5000 lbs.
Draft (hull) – 1'6"
Transom Deadrise – 22 degrees
Fuel Capacity – 135 gal
Max HP – 400
Area Dealers – Waterfront Marine, Edgewater, MD, (443) 949-9041; Cedar Creek Marina, Milford, DE, (302) 422-2040; Whelan's Marina, Farnham, VA, (804) 394-9500; Centerville Waterway Marina, Chesapeake, VA, (757) 547-4498.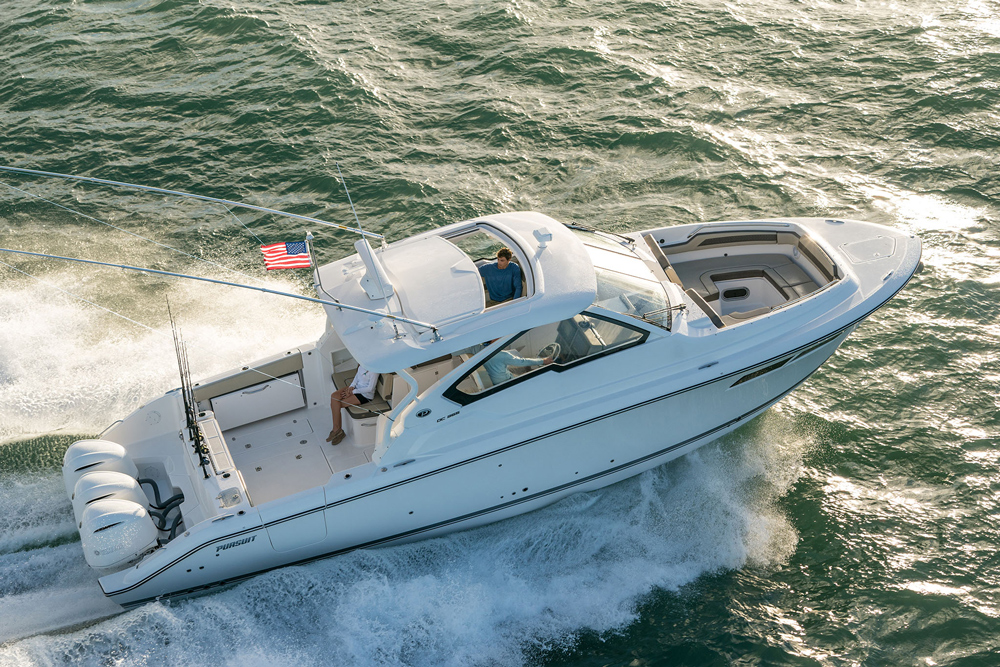 Grand Slam Home Run: Pursuit DC 365
Not only is the Pursuit DC 365 one of the largest dual consoles on the water, it's also one of the newest, having just been introduced to the world a few short months ago. With a brace of triple Yamaha V-6 Offshore F300 outboards lining the transom it can cruise in the mid to upper 30's, and threatens the 50 mph mark at wide-open throttle. Construction touches include the use of infused fiberglass molding, vinylester resins, and a transom backed by a reinforcement grid. More eye-opening is the fact that the 365 DC is so utterly huge for this genre of boat that it adds an entirely new dimension to dual console versatility – add cruising and weekending to your list of possibilities. The passenger's side console houses a full cabin with a settee, a 28" LCD TV, and two full berths that run athwartships under the deck. And while there's a microwave oven in the cabin, the boat also has a full galley outside in the helm-deck entertainment center, including an electric grill, a sink, and a 1.3 cubic-foot refrigerator. The starboard-side console houses a full stand-up head with a shower and linen closet.
The one area in which the boat's sheer size doesn't translate into added capacity is in the bow, where like the smaller DC's we've looked at, the arrangement is best for two people. It is, however, rather enhanced in the luxury department, as those two people will be fully reclined rather than seated upright, while enjoying fold-down arm rests with built-in cupholders, USB ports, and a stereo remote control. More luxury can be found on the helm-deck, which can be bathed in 16,000 Btu's of air conditioning via helm and lounge vents. Yes, that's an option, but if you're gong to drop close to a half a mil on a dual console boat we frankly think you'd be nuts not to get it.
For the Fish-Heads
It's obvious that this boat is 100-percent capable of going wherever you wish to take it, and hunting for whatever aquatic beasts you might lay your crosshairs on. Standard features include nine flush-mounted rodholders (four in the gunwales and five in the transom), a 28-gallon livewell in the transom, an integrated tackle center, tuna-sized integrated fishboxes, and interior rod-racks inside the cabin. All of the cockpit seating folds flush against the transom or inwales to maintain open deck space for battling fish, and 18' Revolution outriggers are an option you'll want to have on this boat.
For the Family
While the one down-side to owning a dual console this large is that it becomes a bit less appropriate for some watersports, on the flip-side it's also a competent dive boat. The DC 365 has a side-access dive-door, and dedicated tank stowage racks. The back of the boat also offers easy entry and egress, with swim platform wings that extend all the way to the back of the outboards. Whatever the adventure de jure may be, there's enough comfortable seating to invite a huge crew. Along with the bow seating and fold-out cockpit seating, the passenger's side of the helm deck is an L-shaped settee that can serve as forward-facing seating for two and an aft-facing lounger for one. There's also an aft-facing seat for two built into the back of this lounger (which houses the tackle-center behind its backrest). All in all, a dozen people can kick back on this boat without ever feeling short on elbow-room.
We Love
The utterly obscene level of comfort. Oh yeah — and you can go fishing, too!
We Wish
There was an option to get rocket launchers across the back of the hard top. It's instead designed to accommodate a retractable sun shade, which to our fishing-focused minds is a significant sacrifice for a small family perk. We also wish the (optional) underwater lights were green (which attracts the most life at night) as opposed to blue/white (which merely looks cool).
Quick Facts:
LOA – 37'11"
Beam – 12'0"
Displacement – 16,600 lbs.
Draft (hull) – 2'2"
Transom Deadrise – 20 degrees
Fuel Capacity – 320 gal
Max HP – 900
Area Dealers – Grande Yachts, Grasonsville, MD, (410) 286-1350.