We all want a boat that fishes well, we all want a boat that makes the entire family happy, and we all want a boat that's well-built. And when it comes to the Edgewater 320 CC we can't begin a conversation about these traits without first discussing what's in this boat's heart and soul: SPI.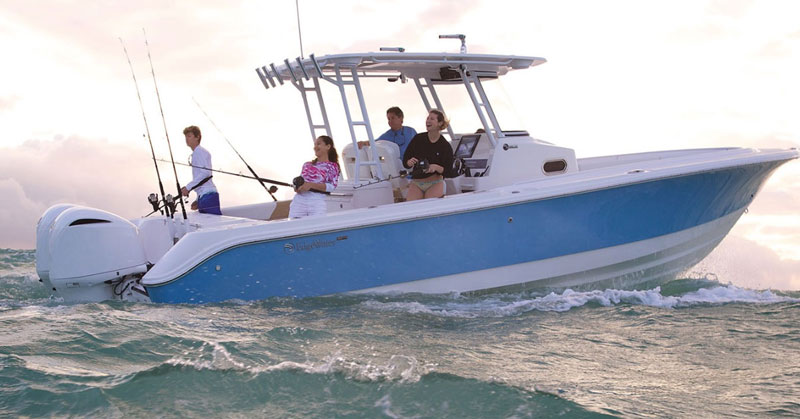 SPI stands for Single Piece Infusion, and it's how the 320 CC (among other Edgewaters) is built. First, they start with high fiber-content fiberglass including bi-, tri-, and quad-axial cloths. The hull, stringers, and transom are all laid out dry. Then the entire structure gets bagged, and vinylester resin is infused through everything at once in one shot. That creates one single solid chunka-chunka fiberglass. If you've ever had a boat that suffered from stringer or transom separation, you can conceptualize just what this means – structural issues like this can't arise, because all the pieces-parts of the structure are actually one single piece in the first place.
The process uses about half the resin used as compared to a wet lay-up, and remember, excess resin adds weight but it doesn't add one iota of strength. Meanwhile, coring in the boat is all cross-linked PVC and/or honeycomb and all belowdeck voids get foam-injected. Net result? The 320 CC is significantly lighter than traditional construction methods would result in, but it's every bit as strong.
Yeah, yeah, and blah, blah, blah. It's easy to make any boat sound great, right? Sure it is – take one for a sea trial when it's blowing, and feel the 320 CC underfoot as this hull chops through some waves. There simply is no substitute for on-the-water experience when forming your own opinion of how big an impact the SPI process has on a hull.
Shedding excess resin and thus excess weight has an effect on performance, too. If you can stand to cruise it at 3000 rpm and run in the mid-20s (um, good luck showing that kind of restraint) you can get close to two mpg with a pair of Yamaha V6 F300 outboards on the transom. In the real world, the Edgewater will zip you to the hotspots at a hair over 40 mph at 4500 rpm while making about 1.4 mpg. Top end is around 57 mph. Note that some very popular competitors in this size range run with twin 350s, peak at around 1.5 mpg, and top-out in the low 50s.
Fishability-wise the Edgewater scores high but does take some measures to remain family-friendly. The leaning post is large and comfy, it houses a ton of stowage drawers, and there's a big fold-out transom bench seat. There's also a forward console seat plus U-shaped seating in the bow. As usual, this much seating results in a boost in comfort levels but does require the sacrifice of some fishing/deck space. Live-baiters will be shocked at just how many livies they can haul, however, as the 66-gallon transom fishbox does double-duty as a livewell in addition to the dedicated 28-gallon transom livewell. Ready to take a look at some feature on video? Here ya go:
More family fun: the console houses a roomy head compartment with a rack of stowage drawers, and up by the bow seating you'll discover cup holders, 12-volt outlets and USB ports. Oh, and did we mention the Fusion Bluetooth stereo system with four speakers? That's the standard-issue system, and if you want you can upgrade it to include eight speakers, an amp, and a pair of sub-woofers. Check out the other options available with the 320 CC, however, and you'll note that there are very few, thanks to a standard equipment list that's quite long and comprehensive. When you match up this boat against a competitor remember to add in all the cost-adding options that you'll want in order to get a real apples-to-apples comparison, because many other manufacturers don't include them in the price-tag.
Then again, maybe an apples-to-apples comparison is more or less impossible to make. Because when it comes to finding a boat featuring SPI construction, Edgewater's the one and only.
Edgewater 320 CC Specifications
LOA – 31'10"
Beam – 10'2"
Displacement – 8716 lbs.
Draft (hull) – 1'10"
Transom Deadrise – NA
Fuel Capacity – 300 gal
Water Capacity - 30
Max HP – 700
Area Dealers – Annapolis Yacht Sales, Annapolis, MD (410) 267-8181; Stevensville MD, (410) 941-4847; Deltaville, VA, (804) 776-7575; Virginia Beach, VA, (757) 512-6456.