Editor's Update: As of 2020, Evinrude ceased production of outboard motors.
The Evinrude E-TEC G2 outboards, now available in the 150 to 300 hp range, often stir mixed emotions among anglers. They look radical—some would use different words to describe the optics—and can be color-customized to match your boat. But while this is the first impression they make, it's also the least important. Efficiency, longevity, maintenance requirements, and many more factors come into play. Before we dig into the details join us for a conversation about the G2 outboards and some on-the-water testing.
As to these outboard engine's torque, there's no arguing. But this factor is far out-weighed by a trait like fuel efficiency. And we're not about to accept an Evinrude representative's claims on this account. However, our Angler in Chief Lenny Rudow has run at least 20 different boats rigged with G2 outboards. And in every case, when comparing fuel burn to that of a four-stroke, has seen a 10 to 15 percent fuel efficiency advantage.
"It's not always as great as 15 percent," Rudow said. "But it's in that 10 to 15 percent range and when you start crunching the numbers, the E-TEC G2's have a clear advantage when it comes to fuel economy."
"The strike against them is sound levels," he continued. "Two-stroke outboards in general, including the E-TECs, are louder both at idle and when up on plane. You don't notice it as much when cruising because of all the wind noise, but at slow speeds it's quite evident."
There is, however, more to this story. The G2 line also enjoys an advantage over four-strokes (as well as other two-strokes) in the steering and rigging systems. You may have noticed how clean the transom of that Ocean Master looked, in the video. That's because Evinrude designed the G2 motor bracket to incorporate hydraulic helix power steering and trim systems. The lone rigging tube carries one fuel line and one cable—that's it. There's another advantage to be found in these engine's maintenance schedules. Evinrude says that a G2 can go for five years or 500 hours with no dealer-scheduled maintenance. At the same time, they back the engines with a five year warranty.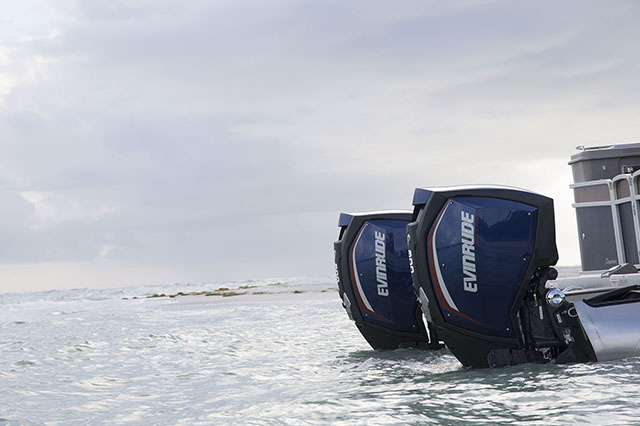 A surprising trait is weight. While two-strokes were historically lighter than four-strokes, manufacturers have been shaving weight off of their engines for years and this is no longer necessarily true. At this point, you can find four-strokes both lighter than and heavier than the G2s. Compare, for examples, the Yamaha V-6 Offshore and the Mercury Verado. The Yamaha weighs in between 562 and 571 pounds (depending on shaft length); the Verado comes in between 668 and 635 pounds. The G2 300 comes in at 558 to 580 pounds, plus the weight of a tank of two-stroke oil (two gallons, or about 14 pounds). For more comparative info, read Yamaha V-6 Offshore Outboards Versus Mercury Verado Outboard Engines.
Finally, consider pricing. The G2 models do tend to cost a bit more than their four-stroke counterparts, though by hundreds, not thousands, of dollars. And you have to remember that the price tag includes power steering, a potentially costly add-on for some outboards. Also consider the cost savings of the long maintenance-free period between check-ups.
Long story short, the Evinrude E-TEC G2 outboards are pretty dang attractive. If you thought two-strokes were going the way of the dinosaurs, think again. And if you're looking at a new used fishing boat with an Evinrude, don't dismiss the possibility.