The bass namesake is one that is shared by many species of fish, but none are quite as coveted by countless anglers as the largemouth bass – including many anglers who enjoy Chesapeake Bay fishing in the Bay's brackish and freshwater tributary waters. Their love for clear, calm, and warm water make them an easy target for interested anglers. These fish can grow to be very large and aggressive, making them an extremely popular sporting fish among anglers. Largemouth bass can be known by a variety of other regional names, such as widemouth bass, green bass, or "bucketmouth." For beginners who are looking for an exciting trip, fishing for largemouth bass is their answer.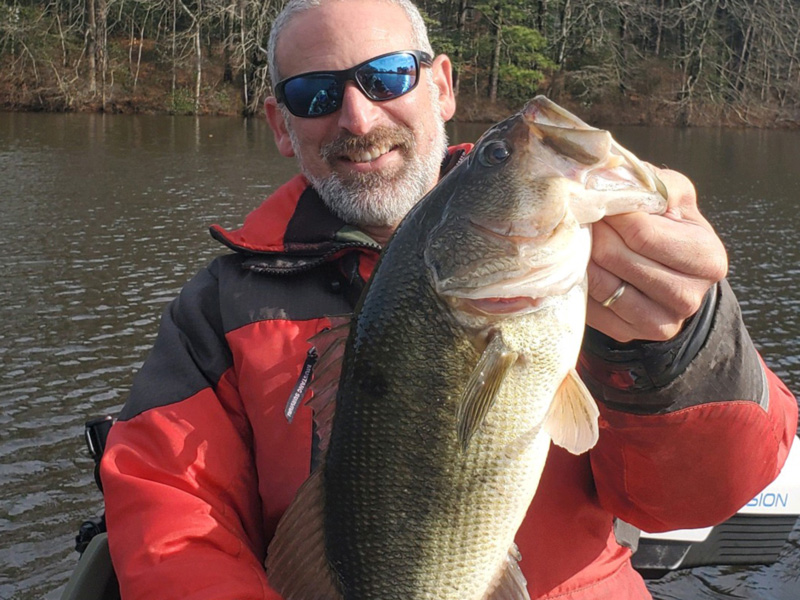 Belonging to the Centrarchidae family, largemouth bass generally average about 15 inches in length. Largemouth bass can be found in all freshwater and brackish waterways throughout the DelMarVa region, due to their adaptability to different environments. Depending on the temperature of the water, female largemouths will lay their eggs throughout the spring months from March to June, where it is the father's responsibility to build and protect the nest from predators.
Largemouth Bass Identification
Largemouth bass can be identified by these characteristics:
Large mouth with jaw structure stretching back past the eyeball of the fish
Separated dorsal fin configuration
Dark green on top portion of body and silver located on their underbelly
Dark-colored band running horizontally across their body
Largemouth Bass Regulations
States throughout the DelMarVa region contain different regulations on the length and bag limit of largemouth bass.
Record Largemouth Bass
Virginia's state record for largemouth bass is held by a 16-pound, four-ounce fish, caught by Richard Tate at Connor Lake in May of 1985. The Maryland state record for largemouth is currently held by Colton Lambert, reeling in an 11-pound and four-ounce fish at Huntingtown Farm Pond in July 2013. Delaware's current-standing record holder of largemouth bass is Andrew Klein, where his catch back in 2016 weighed in at 11 pounds and 1.6 ounces.
Best Largemouth Bass Baits
Due to their aggressive nature, largemouth bass are not usually super picky when it comes to what's on the menu. Anglers who fish with bait will commonly have the best luck catching largemouth bass with:
Minnows
Nightcrawlers
Crawfish
Frogs
Snails
To learn a very simple but effective method of bait fishing for bass with minnow, watch the video in our How to Catch Bass, Simple and Easy post.
Best Lures for Bass
There are a variety of artificial lures that are great for catching largemouth bass. As to which is the best for bass, that can vary from day to day. Remember; these fish are opportunistic foragers, so don't be afraid to experiment with different types of bait and lures in your quest to catch one. Some top choices include:
Crawfish Imitators
Jigs
Crankbaits
Topwater plugs
Plastic worms, rigged in Ned rig, Wacky Worm, Texas rig, and other forms
Techniques for Largemouth Bass Fishing
Fishing for and catching largemouth bass can be very exciting to beginner anglers, especially if they are using light spinning tackle. These aggressive fish are great fighters so be prepared for a challenge. Largemouth bass can be caught from shore in just about any area, including private ponds, rivers, streams, or lakes. Fishing with bait will usually give you the best chances of catching one, when you're casting from one location on the shore. If you walk the shoreline and cast as you move, fishing lures will become more effective.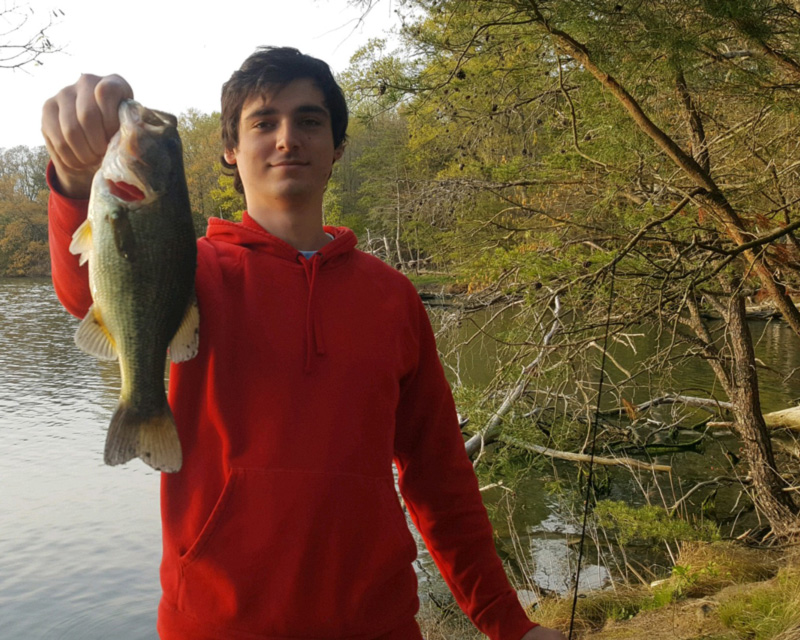 For the more daring adventurer, kayak fishing can also bring some great largemouth bass action. Whether on a boat or kayak, most anglers will work along a shoreline and look for structure to cast to. At cooler times of year when the fish move deep, boat and kayak anglers may switch to sinking lures and intercept the fish by jigging and casting along underwater points or channels.
Largemouth Bass Hotspots
Largemouth bass prefer calm waters and stable weather conditions. These fish are sensitive to light, so they tend to feed more frequently during the early and late hours of the day. It is good practice to look for fishing spots located around shaded areas like in between rocks, sunken trees, and vegetation, where they can often be found looking for shade.
Largemouth bass often move closer to the surface in early spring, and move into shallows to spawn. During this timeframe you may have better luck catching something if you cast out close to shore.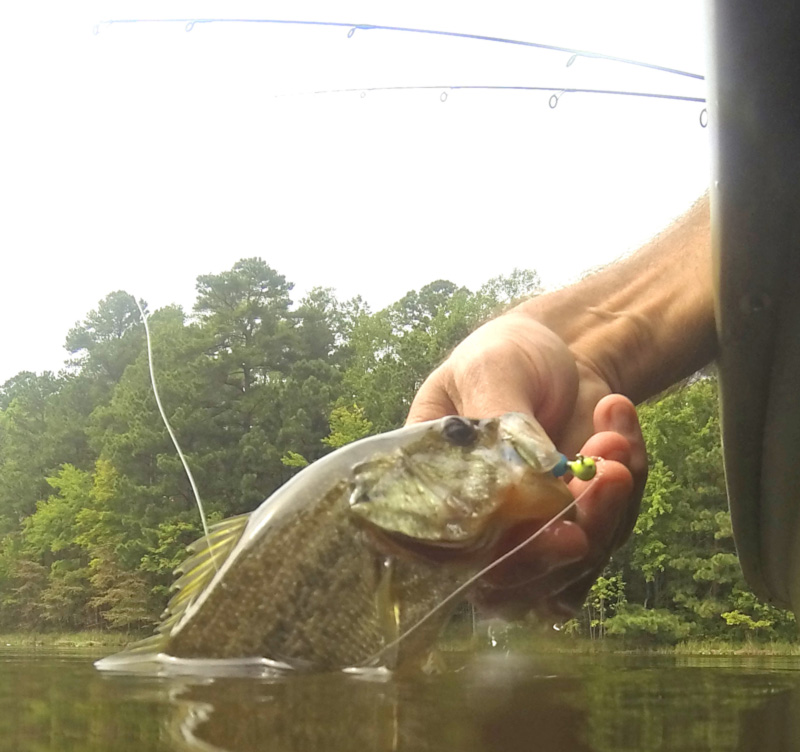 Whichever place you choose as your destined largemouth bass spot, it is likely that you will get some bites from them, and possibly even reel some in. These fish are always eager for a quick meal, making them one of the most popular species to catch for both beginner fishermen and seasoned veterans alike. Check out our freshwater fishing reports to remain updated on current fishing news, and remember to have some fun on your first largemouth bass fishing trip!
-By Cameron White