Freshwater Mid-Atlantic Fishing Report, April 18 Update:
Anglers throughout the region have been plucking away at stocked trout, as thousands more fish were planted just in the past week. Visit the various state stocking sites (all listed below in earlier updates this month) to find out where the latest batches went in. As far as the wild ones go, District Angling noted that trout fishing has been good in the Shenandoah, although rivers are running high thanks to the recent rain. Due to the high water levels, they mentioned that using minnows and Kreelex size two and Game Changers has been most effective. Meanwhile, many area anglers have been enjoying the shad run. Stand-out areas to hit include the Gunpowder, Deer Creek, the Potomac, the Rappahannock, and the James. Although rivers from the Potomac south did get a bit muddied up after the rains, reports of solid bites were still coming in. District Angling also reported that fishing was a bit more difficult after the rain, but despite muddy conditions, hickory shad were biting strong in the Potomac. They suggested using Ultimate Shad and Steele's Fly Shad and weighting lines to get down into the current, where the fish have been hitting. We also had reader reports this week that small pink darts and small spoons were effective, again when fished deep. Tochterman's also fingered small spoons as very effective right now.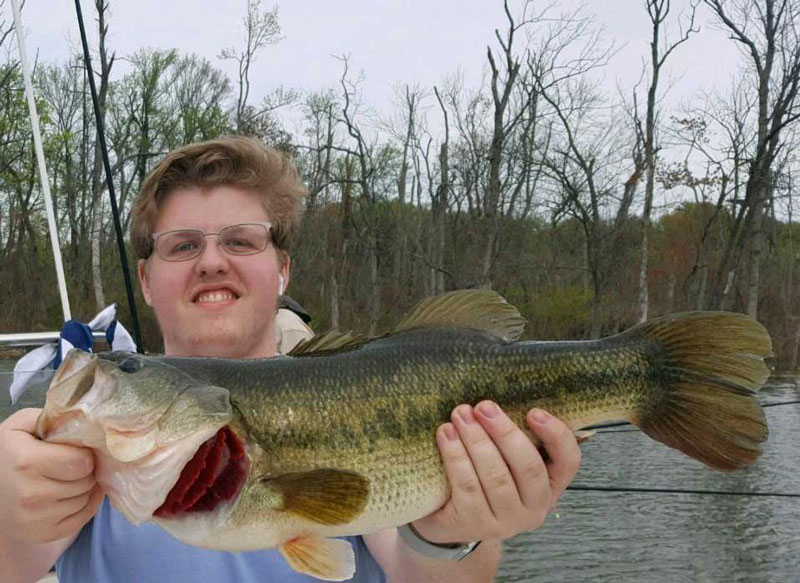 Area reservoirs and lakes are still in high gear for spring, with bass fishing thoroughly hot in pre-spawn mode. Anglers fishing the Baltimore-area reservoirs have been having good success, especially with swimbaits fished a few feet down early in the day and in shallow water in late afternoon. In southern Maryland, fishing at St. Mary's Lake remains stellar. Crappie, bass, bluegill, and pickerel are all abundant and able to be accessed from shore and by boat. The Tackle Box suggested using small lures or minnow to target the crappie. FishTalk Correspondent Eric Packard reported steady bites in multiple southern Maryland lakes and ponds this week, mostly for bass and crappie but also some pickerel, with many of the fish moving up into shoreline brush-piles and structure. Paddle-tail swimbaits were a top choice.
From the Virginia reservoirs, this week we heard of excellent largemouth and crappie fishing at shoreline and adjacent structure, but a lackluster striper bite. As always, catfish also remain a reliable option. There are also a number of options in the upper tribs right now headlined by shad and catfish; check the Way South and VA report for the low-down on that action. In addition, snakehead have been active in the tributaries and local creeks as well, and are taking minnow like there's no tomorrow. The creeks off the Potomac and Back River both produced this week, but the lower Eastern Shore remains the epicenter of the snake-bomb; see the Tangier and Lower Shore report, for more detail.
---
Freshwater Mid-Atlantic Fishing Report, April 11 Update:
Before we dig into the update, we'd like to welcome our new freshwater fishing report sponsor, District Angling. Thanks for jumping aboard, we know all the freshwater fishermen out there appreciate your support of these reports! Now let's get down to it: Stocked trout remain a reliable option for anyone who wants to enjoy some put-and-take fishing. Last week we gave you an update from the Mason-Dixon area including some great action using Float-N'-Fly tactics and since then we had the time to do some video editing. Here's the scoop, in video form:
Meanwhile, the Baltimore area reservoirs and the Gunpowder have all had active crappie, bass, and pickerel fisheries. Although these areas have been crowded, most anglers are able to find a spot on shore and get in on the near-shore bite. The crappie have been taking minnow under bobbers, and are also hitting shad darts. Pickerel have similar tastes, and although somewhat more elusive than the smaller panfish are being consistently caught in each of the aforementioned areas.
St. Mary's Lake has been a killer spot for both local anglers and those willing to make the drive – crappie, bass, bluegill, and pickerel are abundant and have been biting throughout its waters. Contributor Eric Packard and The Tackle Box both reported solid action from the lake, both from boat and from shore. Using a minnow suspended by a bobber has been a great way to pick up crappie, bluegill, and pickerel, whereas bass are preferring soft plastics, such as crawfish. Little crankbaits, white spinnerbaits, and swim baits have been popular choices, as well. The fish have been structure-oriented, often near the shoreline.
Another killer bite right now is the shad run, going off in multiple tribs. Deer Creek and the Gunpowder have seen some, they're on in the Rap and in the James, but the king of the shad run is of course at Fletcher's on the Potomac River, right in our nation's capitol. Multiple sources have confirmed their arrival in good numbers; District Angling reports that chartreuse shad flies are producing, along with pink, white/red, and orange. They also mentioned that the water's running clear and you may need to drop tippet size a bit to get them biting. Anglers casting spinning or conventional gear are sticking with small spoons and shad darts.
Word from Lake Anna is that water conditions have improved significantly and fish are moving shallow, both the bass and the crappie. Bass were hitting swimbaits and crankbaits, while minnow were the ticket to a crappie-fest. Bass are also hitting in Bugg's and Smith Mountain, where there's a great spring striper bite going off as well.
On the far side of the Chesapeake Bay, most of the chatter is still about snakehead fishing in the Blackwater, Transquaking, and Chicamacomico rivers. We're pretty darn sure the crappie bite is on fire right about now in the Eastern Shore millponds, but the snakes have sucked all the air out of the room in this area and we couldn't find anyone who fished them this week. That said, historically, a minnow drifted three feet under a bobber in these ponds, particularly those in Salisbury, normally produces some of the best crappie fishing of the year in this entire region during mid-April.
---
Up towards the Mason-Dixon line and into central Maryland trout are headlining the news, with a return of more normal water levels and less runoff than we've been dealing with lately. Angler in Chief Lenny Rudow had the chance to fish with Freshwater Contributor Jim Gronaw mid-week, and they found rainbows and goldens were suckers for Float-N-Fly tactics. Rig a bead-head fly about three feet under a small bobber, let it dance on the surface, and try adding a meal worm for added enticement if the bites don't come fast. They note that the bite started slow and picked up through the afternoon, peaking after 3:00, once the sun had time to heat the water. Check the Maryland trout stocking web site to see where those fish have been dropped overboard.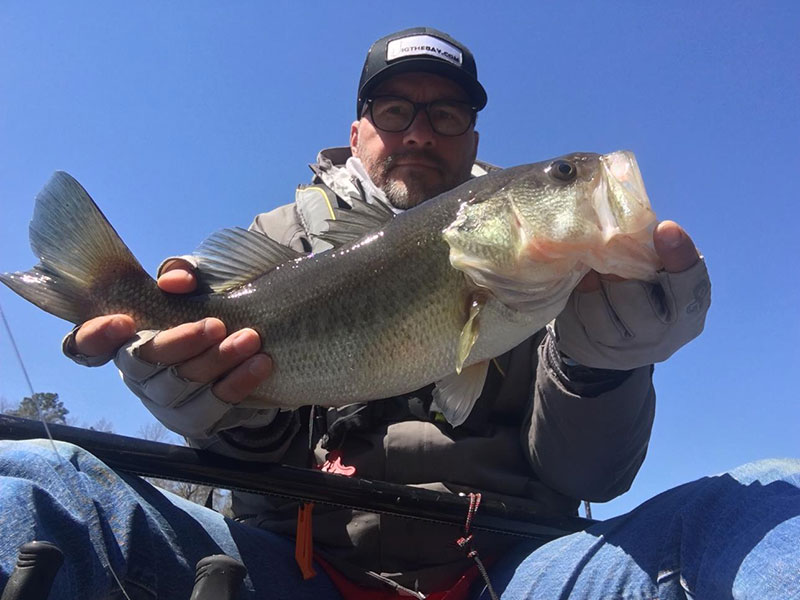 The Baltimore reservoirs and St. Mary's Lake, meanwhile, are also shifting into a solid spring bite as the waters warm up. Reports should start coming in from Piney Run this week as well, where 1,300 trout went in on Tuesday. This week we had the first reports come in of fish stacking up along beaver dams and fall-downs on shorelines adjacent to sharp drops to five or more feet of water. Bass, crappie, and pickerel were all reported to hit swimbaits. Out west at Deep Creek, Deep Creek Outfitters also reports solid action with largemouth hitting crankbaits, spinnerbaits, and plastic crayfish. Farther south at Lake Anna, the muddied waters are finally beginning to settle out and fishing for largemouth are crappie is prime.
Straddling the border between freshwater and tidal, the Blackwater, Transquaking, and Chicamacomico rivers are nonetheless quite popular right now among anglers of all types thanks to a snakehead bite that's going off like an atomic bomb this spring. Reports of shoreline anglers catching snakes by the dozen has fishermen loading up on jumbo minnow, suspending them under a bobber, and heading to the Eastern Shore for a snake-hunt. FishTalk sent a contingent over there last Sunday, where we shot this how-to snakehead fishing video.