Freshwater Mid-Atlantic Region Fishing Report, October 23 Update:
With the change in weather, many freshwater species are beginning to hit their fall stride. Bass in most local creeks, rivers, ponds, and streams have become significantly more active, and are active later in the day. Mossy Creek Fly Fishing has reported an increase in the number of wild trout biting in Virginia's mountain streams, and fall stocking has now taken place throughout the region. Contributor Eric Packard says he checked the MD trout stocking schedule one day last week, jumped in the car, and ran to a local pond that had just received its allotment. There he caught four rainbow trout in short order. He noted that there were only a handful of anglers around and unlike spring stocking season, there was low competition and plenty of fish to go around. If you're looking to find where the DNR has stocked near you, the Maryland DNR trout stocking info can be found here. From the 16th to the 23rd of October, the Maryland DNR stocked 7,800 trout! The Virginia DNR's trout stocking information can be found here. From October 1st to May 31st, they'll release nearly one million trout throughout 200 bodies of water. Pennsylvania's trout stocking schedule is here.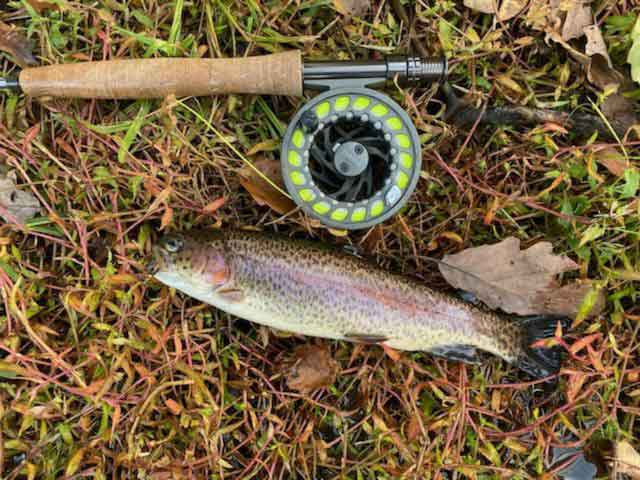 Largemouth bass are on a rampage everywhere they're found in the region, as they fatten up for winter. Recent brisk air has pushed them a bit deeper, to the edges of drop-offs and points where they have access to both shallow and deep areas. Topwater is still productive at daybreak and more so at sunset, when the water's a bit warmer, but much of the day working plastics and swimbaits gets more attention. The Potomac bass bite is in full swing with fish here also staging in areas where they have access to both shallow and deep water, and spinnerbaits are producing as well as the aforementioned baits. The Potomac is also producing plenty of blue catfish, along with the James and upper Rappahannock. The Patuxent north of the 231 bridge has also been producing blue cats lately, though the whoppers found in those other rivers don't seem to be present. On the bright side, that means many of those being caught are of an ideal eating size. Catfish of the channel persuasion have been biting cut fish in the Susquehanna and also in the C & D canal. (Hey, it's basically freshwater). And Captain Bones notes that anglers fishing small jigs and minnow up in the fresher reaches of most of the tidal rivers are finding plenty of crappie. Like many other species crappie are gearing up for winter and eating relentlessly. They can be found around structure and edges, fished with a bobber. Shad darts or marabou jigs tipped with a small bull minnow are tough to beat.
Deep Creek Outfitters reports a dramatic increase in the number of not only bass, but walleye and perch being caught on the lake. Most anglers are targeting bass with plastic worms, diving plugs, and topwater at sunset, but for the walleye and perch large shiners can't be beat. Freshwater stripers continue to be a good bet in the Virginia reservoirs, with live shad and shiners being the best baits but many anglers trolling lipped plugs and plastic shad with success.
---
Freshwater Mid-Atlantic Region Fishing Report, October 16 Update:
Fishing in the lakes and reservoirs has been steadily getting better, with great bass and crappie action. St. Mary's Lake, Deep Creek Lake, the Baltimore reservoirs plus Piney Run, Lake Anna, and the tidal Potomac have all been great areas popping up in the conversations. Smallmouth bass and largemouth bass have moved into winter mode, however, and are moving to deeper water. Drop offs, edges, and submerged structure have been great places to locate them. Both species will take crankbaits and grubs. Deep Creek Outfitters suggested using imitation crayfish to tempt the smallmouth right now. Crappie in the lakes and reservoirs are headed to deeper water, and are holding around structure. Using live minnows or shad darts are great ways to land them. Chartreuse, orange, pink, and yellow shad darts are proving the crappie's favorites right now. On overcast days, switching to a darker color could be helpful if you're not getting bit on the neons.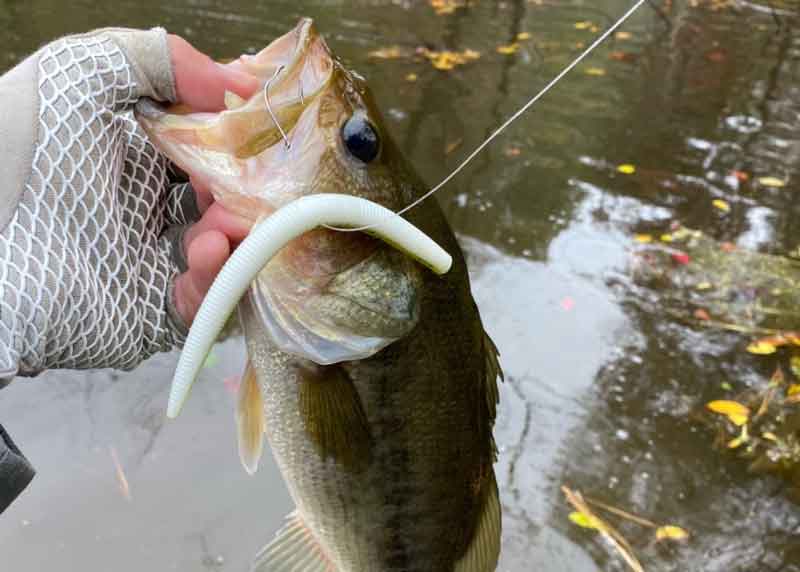 FishTalk contributor Eric Packard spent some time this week confirming that wacky worms would still get the largemouth biting. They did (white/speckled chartreuse being the effective offering), though he noted that with the unstable weather he did also have a skunk trip this week.
Things were fairly quiet on the snakehead front this week. Though readers reported a few from western shore hotspots including the Gunpowder, Back, and Rappahannock rivers, we also heard from three different kayak anglers who hit the Blackwater with disappointing results (0-0-2). If history is any indication a slow bite is likely until we get a brief, sunny warm-up to kick them back into gear.
Fall trout stocking is in full swing! The Maryland DNR has stocked a number of locations with golden, rainbow, and brown trout. If you're interested in learning what types of trout are stocked where, as well as when water near you is being stocked, please check out their Trout Stocking Webpage. Virginia's DWR also has stocking underway, again taking place in too many waterways to list out; see their Trout Stocking Webpage for the details.
---
Freshwater Mid-Atlantic Region Fishing Report, October 9 Update:
Freshwater fishing is picking up steam fast as the waters of reservoirs and lakes have cooled. Set's Sport Shop let us know that anglers searching for bass around points, structure, and remaining grass beds are having great luck. Tochterman's suggested using crankbaits and spinnerbaits for the largemouth, as they've been great lures all throughout the day, and mentioned that action in the Baltimore area reservoirs has been hot. Contributor Eric Packard confirmed that bass are hitting still wacky worms too, which provided lots of action at both reservoirs and ponds this week. Crappie also continue to be a worthy target for reservoir anglers, with the fish now schooled up around structure in deep water. Packard noted that last week he caught a 15-incher, which inhaled a wacky worm intended for largemouth.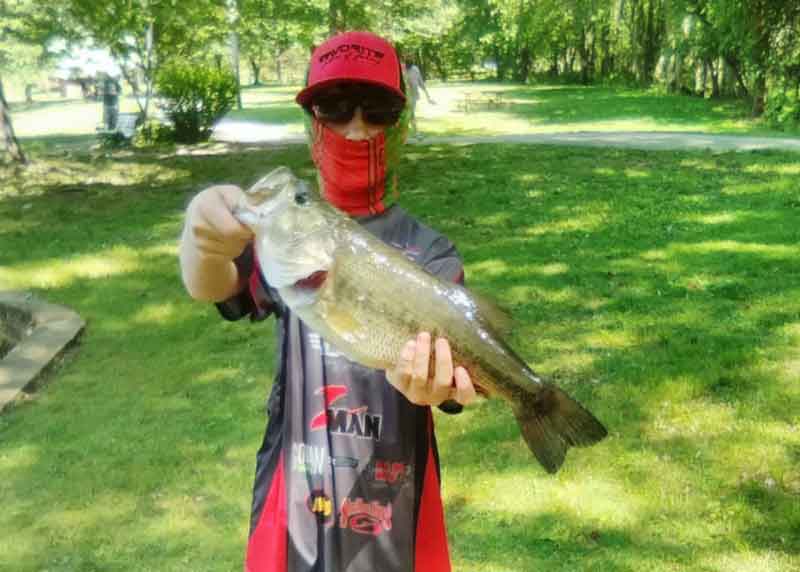 With many anglers look to get in on fall trout action, we thought we'd pass along that many area waterways in the region were recently stocked. The Maryland DNR has dropped loads of fish into: Lake Habeeb (Rocky Gap State Park), Piney Reservoir, Stansbury Park Pond, Rainbow Lake, Great Seneca Creek, Blairs Valley Lake, Greenbriar Lake, Morgan Run, and the upper Gunpowder Falls (all stocked with between 400 and 1,000 rainbow or brown trout this week). Virginia's DWR also has stocking underway, taking place in too many waterways to list out; see their Trout Stocking Webpage for the details. The DWR also announced that yearly samplings at the Jackson River tailwaters have found excellent numbers of fish including brown trout up to 20" and rainbows from 12" to 18".
Snake-hunters hitting the eastern shore are reporting mixed results depending mostly on the weather; the water's cooled enough that you need a sunny day right now, and the bite tends to be best later in the day after water temps have gone up a bit. On cloudy, chilly, windy days it's been much tougher to come across fish willing to feed. On the western side either the bite remained slow or few people were trying for them. Last week Contributor Eric Packard hit Mallows to no avail (though blue cats were biting like nuts and he caught a half-dozen fishing lures only, no bait!) and a reader reported a one-strike/one-fish day "way up" on the Rappahannock. Across the board, minnows under bobbers have taken over as the most effective offering.
---
Freshwater Mid-Atlantic Region Fishing Report, October 2 Update:
Snakehead hunters are enjoying an excellent fall pretty much everywhere. The Bush River, the Gunpowder, the Rappahannock, and of course Blackwater all saw a jump in bites this week. Many different offerings led to success (topwater, spinnerbaits, and chatterbaits were all mentioned) but big bull minnow a foot under the bobber sounded like the winning offering.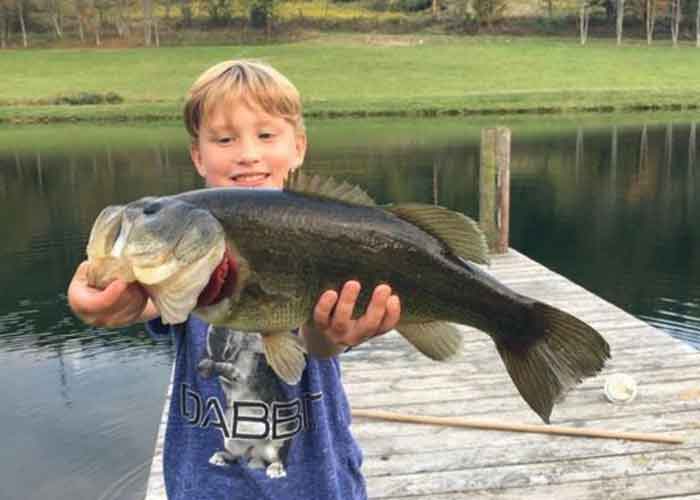 Meanwhile, bass are now clearly in their fall mode of behavior. Reports from Deep Creek and the Baltimore area reservoirs are strong, with a topwater bite in low light and jigs or divers working best around drop-offs and submerged points after the sun's high in the sky. And in Lake Anna, both stripers and largemouth are prowling around schools of shad. Trolling white or pearl shad-shaped deep-divers or jigging spoons and plastics beneath the shad should tempt them to strike. We also had a reader report come in this week of double-header stripers at Anna, on a mini-umbrella rig. Along with the bass, crappie are in the mood to eat as much as possible right now, and The Tackle Box is reporting that anglers accessing St. Mary's Lake via hiking (the road in is still closed) are enjoying steady bites. Small minnow on hair jigs, shad darts, two-inch tubes, and small twister tails will all get the crappie biting.
Trout anglers will be getting psyched as fall trout stocking begins for October. In Maryland stocking dates aren't scheduled in advance, however, the DNR says they will be publishing stocking info on their website trout stocking page and social media. Virginia trout anglers can check the Virginia DWR trout stocking webpage, which is already listing six sites stocked this week.