Freshwater Fishing Report, July 18, 2019 Update:
With oppressive heat bearing down on the region, depth has become the name of the game. There's been a bit of a slow-down in the area reservoirs for anglers who aren't shifting away from the shallows once the sun has cracked the horizon. (Though there is still a dawn bite on topwater, for early risers). Whether you're targeting bass, crappie, or perch, all the fish are looking for cooler pockets where there's structure in the depths. Species that enjoy cool but shallow water, like pickerel, are getting tougher to catch but The Tackle Box notes that anglers hitting St. Mary's Lake are still getting into some as they catch bass, crappie, and bluegill. Underwater points, standing or submerged timber in deep water, and deep bridge pilings are all go-to spots to try no matter which reservoir you're fishing.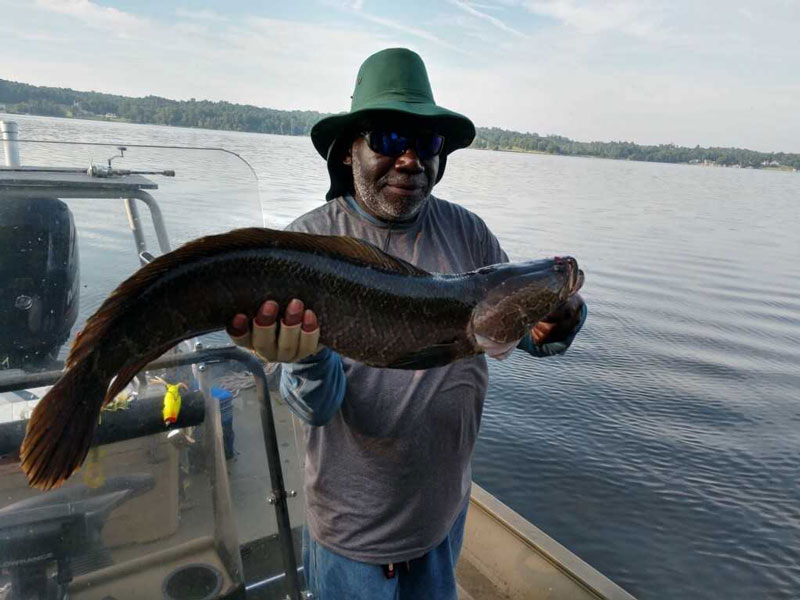 There's one species of fish swimming in DelMarVa's freshwaters that doesn't mind the heat one bit: snakeheads. In fact they thrive on it, and the reports coming in from multiple snakehead locations including the Upper Bay tribs, the upper Potomac creeks, Blackwater, and the Rappahannock creeks, have been excellent this week. Apex Predators has been reporting solid action on the snakes on the VA side of the Potomac, and as you can see from the above pic, they aren't kidding. District Angling notes that casting topwater including weedless rubber frogs has been a good bet. Many of the fish are pushing far up into grassy shallows and blasting through vegetation to get to the lures. Dragging Whopper-Ploppers along the periphery of the weeds also gets a thumbs-up.
In area rivers there are still some spots being affected by runoff, but for the most part it was a relatively calm week and conditions are decent. If you hit one area and find discolored water, moving on and checking out another is a smart move because the localized storms have been affecting relatively small areas. Mossy Creek is reporting good smallmouth action out west plus some largemouths, and are recommending sub-surface crayfish/baitfish patterns early and topwater once the fish get active and you see them jumping.
We also want to note that shoreline anglers may want to check out Contributor Eric Packard's latest article, Wade Fishing Tips. Packard spends a shocking amount of time fishing (yes he is retired and yes, he does fish virtually every day) and he has some solid info in there applicable to pond, lake, and river anglers.
---
Freshwater Fishing Report, July 12, 2019 Update:
Contributor Jim Gronaw reports that in the Mason-Dixon area lakes and ponds are producing a fair amount of bass and some quality bluegills as well. Bass are taking a variety of soft plastics with four- and five-inch stick worms leading the way. In both public and private waters, early and late in the day has been prime times for bass. Also try a five-inch swim bait like the Skinny Dipper or the Kie Tech swim baits on a number-two offset worm hook on light braid for longer casts and better hook sets. For panfish, try bait-tipped hair jigs three to five feet below a bobber or a plain earthworm on a number-six Aberdeen hook. Bluegills and red-ear sunfish are engaging in multiple spawns this year and you may find them actually on beds in many waters around the July 16 full moon. Jim notes he recently caught and released a gigantic female bluegill of 11 3/4 inches with a 14-inch girth, a fish estimated at 2-pounds - a trophy anywhere in the nation.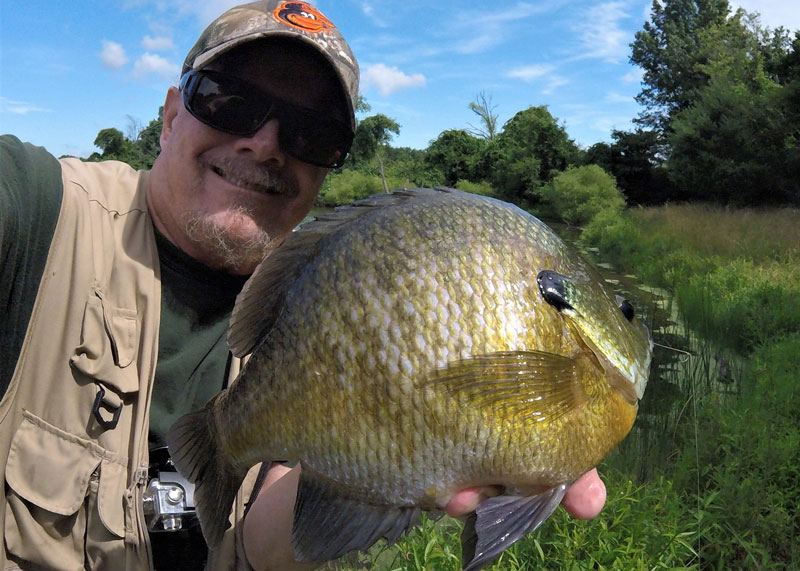 Freshwater fishing took a hard hit in Middle Maryland and down to Virginia in many areas. This weeks' storms absolutely wrecked water quality in many streams throughout the area, muddying the waters. Fly fishing has been seldom an option with the poor visibility, and many anglers are shifting their attention to more accessible and less-damaged lakes in areas that aren't as washed out. District Angling's hometown took the brunt of the storm, with massive flooding throughout their area near D.C. With some waters unfishable, many of their die-hard freshwater anglers have headed to the Shenandoah Mountains, Jackson River, and South-Western Pennsylvania. The Jackson River has provided by far the best fishing. Gronaw reported the same problem in the Monocacy and nearby tribs, with high muddy water and dangerous wading conditions.
Being a bit more sheltered from the effects of runoff, reservoir fishing has held up a bit better through the region. This week we heard from anglers probing Lake Marburg (where trolling night crawlers on spinner harnesses has been producing great white perch catches with eight to 11-inch fish in 25 to 35 foot depths), Deep Creek Lake, St. Mary's Lake, and Lake Anna, all of which are still supporting solid crappie, bass, and bluegill fishing. The shallows have been hot in the morning and at dusk, when topwater action is at its finest. During the day, fish have been moving into deeper water. This weeks' reports from Deep Creek and Lake Anna were a bit more spotty than previous weeks, however, the dip in fish being caught can probably be attributed to heavy holiday and weekend boat traffic and weather.
What about those snakeheads? Reports filtered in from around the area this week of a good bite with topwater frogs taking the pole position but many anglers still opting to toss big bull minnow suspended just six inches to a foot under a bobber. The week's best reports came from the Blackwater, where contributor Eric Packard launched his kayak this week. Most anglers checked in with two to five fish up to the 10-pound range in the boat, and twice that number of blow-ups during a day of fishing in shallow, weedy areas. On the western side the Potomac remains the epicenter of the action and Apex Predators reported some great fishing recently, but between runoff and crowds, it has been a bit more difficult in the western tribs recently.
---
Freshwater Fishing Report, July 5 2019:
With summer patterns now fully established and rainfall totals that can be described as "reasonable" recently (finally!) there's not a ton of news for freshwater anglers this week. As one would expect, the hot summer sun is driving fish into deeper water during the day and surface temps in some of the lakes and ponds in the area now exceed 80 degrees. You may experience a vibrant topwater bite in the early mornings and late afternoon as fish move back into the shallows, but otherwise plan on probing the depths in area lakes and reservoirs for just about all species. In all the reservoirs crappie are also now holding deep, with bridge pilings a focal point for those dropping minnow-tipped jigs.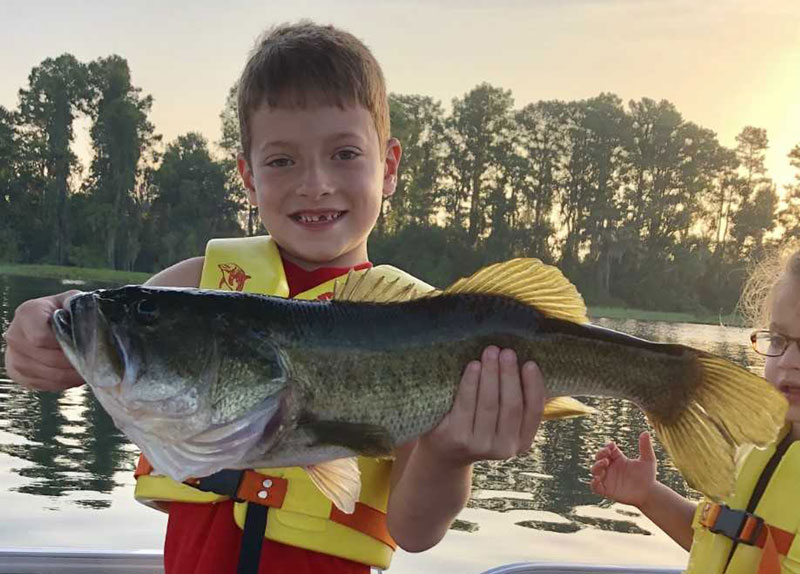 River fishing is rebounding a bit with only a few areas swamped out by thunderstorms this week and trout willing to take nymphs in streams and tailwaters in the western portion of our region. Smallmouth fishing has gotten a similar boost from the recent weather, as water clarity has improved in many areas ranging from the Susquehanna to the Shenandoah; crayfish-pattern crankbaits and tubes have been proving effective. (Check out Stream Smallmouth Bass Must-Haves, for a run-down on some of the most effective offerings).
Tidal bass fishing has been strong as well, with daybreak and dusk providing the best action but shaded areas also producing some action once the sun is high in the sky. Many anglers probing tributary rivers remain focused on snakehead, however, which are becoming tougher to catch as they move into shallow, weedy, clogged environs. Topwater frogs remain a top option for hauling them out of the goop but bowfishermen have been doing the best recently.