Freshwater Fishing Report, January 21 Update:
Just how long will it take a pickerel to feed again after getting a hook caught in its mouth? Not more than a few hours — angler Ryan Gullang had a bite-off and lost a black shad dart tipped with a minnow at 9 o'clock, and at noon, caught this fish with the black dart still hanging from its jaw. It was only about 100 yards from where the bite-off took place, and amazingly, he says the minnow on the dart was still alive and kicking!
We heard from a couple of readers who fished Western Shore MD ponds for trout this week and took home a handful of fish for dinner, one on Mepps spinners and the other fishing with Berkley Trout Nuggets. Trout stockings continue in the region and you know the drill, here are the links to the different state agency trout stocking web pages:
From the millponds, AIC Lenny Rudow says the pickerel bite remains strong recently, but the crappie bite dropped off as the water temps fell a bit more last week. Minnow under a bobber on a white jig are still triggering the bites. FishTalk kayak sharpie Zach Ditmars left his yak in the yard one day recently and instead tromped the shorelines of the Baltimore reservoirs, where he found a slow bite but did pick up pickerel on a chatterbait. He also noted that anglers fishing the Dulaney Valley bridge were catching crappie.
In other reservoir news, Contributor Eric Packard hit St. Mary's Lake but found the bite very slow early this week, catching just a single pickerel for his efforts, and a better bite later in the week when the sun came out and warmed the waters. At Lake Anna, both stripers and crappie remain active. Stripers have been hitting swimbaits and spoons, while the crappie are suspended in deep water and are being taken on small jigs and twister-tails fished near the bridges. At Deep Creek the water is hard and anglers are drilling holes to find perch and a few walleye in deep areas, and bluegill and perch in shallows over weedbeds. Be sure to check out Cheap and Easy Ice Fishing, if you want to give it a shot.
Both Angler's and Sea Hawk are reporting a mixed yellow perch/crappie bite up the tribs on both sides of the Bay, but note that the action should only improve in the coming weeks as more and more fish move from winter mode into pre-spawn mode. Bringing minnow to fish near bottom on a jig is said to be a smart move.
---
Freshwater Fishing Report, January 15 Update:
A big shout out to the MD DNR for making sure that anglers across Maryland have great fishing all winter — they've doubled down on their trout stocking efforts, providing Marylanders with 8,900 trout recently. All of the trout stocked were rainbows, and can be found in the following counties: Calvert, Garrett, Carroll, Howard, and Price Georges. The largest stocking occurred at Deep Creek, where 5,000 (!!!) rainbow trout were stocked. Note: as of January 1, Maryland now requires releasing all brook trout caught in put-and-take waters, and in all water east of I-81. Virginia also has stocking well underway, adding fish to a dozen-plus counties and municipalities just this past week. Scroll down to see the links to each state's stocking schedules!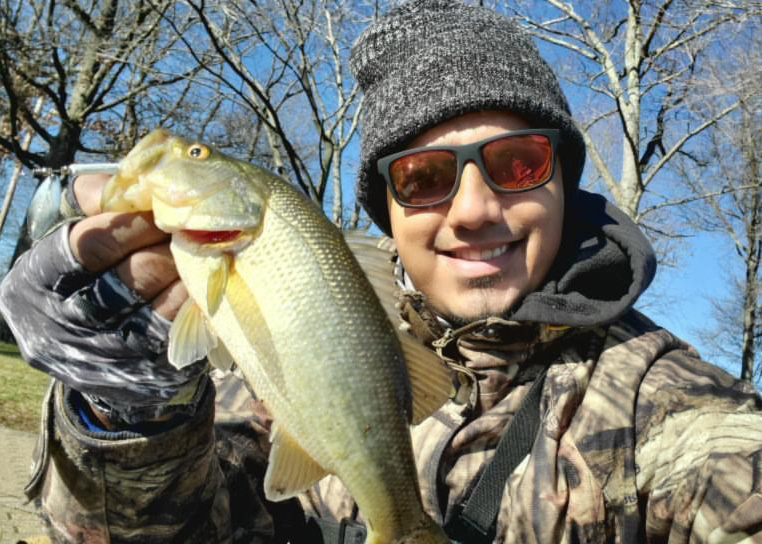 This week, reader Junior Jiminez investigated Allen's Pond and found some of the trout the DRN has been stocking, plus a bass. Rooster Tails were the lures that got the hits. Ice Shanty has reports that Deep Creek froze up and is fishable in the coves, too, and the first reports of solid ice have trickled in from a reader, but safe ice may be difficult to find as he noted it was under three inches once he left a cove and tried the main lake. The cove did, however, produce some yellow perch for his efforts.
In the millponds, AIC Lenny Rudow reports a depressed pickerel bite (for him) recently, possibly due to the bright, sunny conditions he encountered. Two weeks ago the count was 18 or 20 fish in a day; last weekend it was a whopping three, and FishTalk kayak sharpie Zach Ditmars reported similar results. That said, we also heard that someone going by the name of Kimbro caught an eye-popping 27.25-incher. So yeah, results may vary, but there are some big torpedoes being caught right now.
IMPORTANT NOTICE for anyone hoping to fish the Potomac for blue cats this weekend or next week: The USCG has established three security zones on the river for January 13 through January 25, as a result of the upcoming inauguration and the recent events related to it, going from the Francis Scott Key bridge clear down to the Woodrow Wilson bridge. According to the announcement entry into or remaining in the security zone is prohibited unless authorized by the USCG. Click to read the entire Maritime Safety and Security Bulletin.
---
Freshwater Fishing Report, January 7 Update:
Trout stockings continue through the region and have picked up the pace, as Maryland is once again adding fish into the waters. The central western shore area (Calvert, Charles, Howard, and PG counties) all received fish; details are on the Trout Stocking Page. Scroll down to last week's reports for links to the VA and PA stocking pages.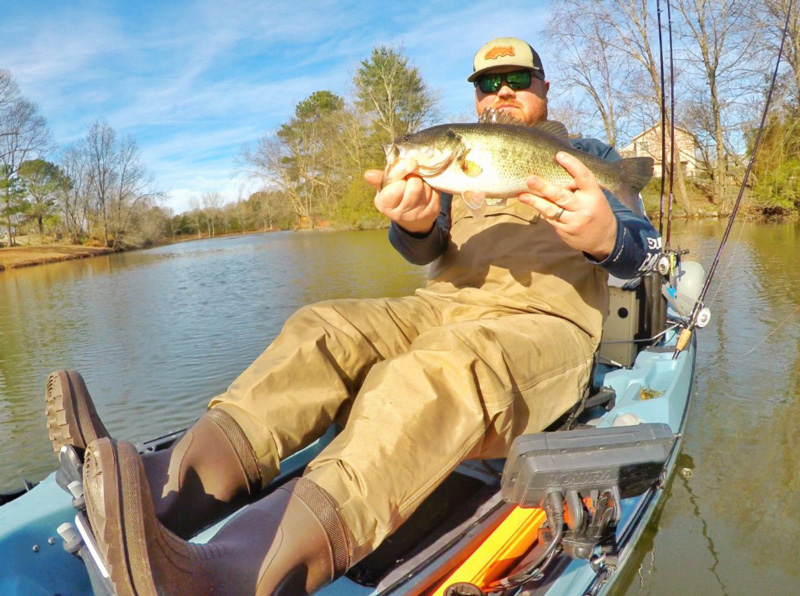 As you can see from the pic bass are willing to bite in sweetwater in SE Virginia, and anglers hitting the eastern shore millponds report steady success this week on a wide range of species. AIC Lenny Rudow reported that last weekend the mix included pickerel, crappie, bass, and yellow perch, and he notes that crappie in the 11- to 13-inch range have been rivaling the pickerel numbers recently. Minnow on a white marabou jig continue getting bites. However, Contributor Eric Packard (who we must note kicked Lenny's butt last weekend, pulling in two pickerel over 25-inches while Lenny topped-out at 24-inches) had the best success slow-trolling a dark green three-inch paddletail.
As we move into 2021, we'd like to thank all of our readers who have contributed their reports to FishTalk and those that have supported us by reading them. We love hearing from you and featuring the photos and reports from our readers who make FishTalk possible. If you'd like to send in your own reports, feel free to email [email protected]!
---
Freshwater Fishing Report, January 1 Update:
Welcome to 2021 anglers! We at FishTalk would like to wish everyone a happy new year and we hope you have some fabulous fishing adventures as a new season dawns. This week saw reduced reports thanks to weather, the holidays, and reduced tackle shop hours. We do know first-hand that the Eastern Shore millponds and tribs are holding strong yellow perch, pickerel, bass, and crappie bites. On New Years' Eve Angler in Chief Lenny Rudow and Dinghy Sailor Ryan Gullang headed to Salisbury and slammed yellow perch, pickerel, bass, and crappie. Although it's often taking a bit of time to locate them, once you're there, the bite is on using small shad darts tipped with a minnow. However, small swimbaits in varying colors have been working as well. In the cuts and coves, pickerel have eagerly been taking minnows suspended by a bobber. Bass have been hanging around as well— Team FishTalk caught them close to shorelines and near structure on shad darts tipped with minnows. Chartreuse and white shad darts were a plus for bass, and crappie seemed to like darker colors.
We had one report from the Baltimore area reservoirs that walleye and some yellow perch were being caught in Liberty, on live shiners cast near abrupt, rocky drop-offs; and a report from Lake Anna that a few stripers in the 18" to 24" range were hitting jigs and spoons fished deep. Those more interested in hitting stocked lakes, rivers, and ponds for trout will want to note that checking the Virginia Trout Stocking page is a good move as their stockings continue, and anglers farther north will want to take a look at the Pennsylvania Trout Stocking page. Maryland stocking is in a pause for the time being though sites away from large metro areas likely still have some hold-overs. Those ISO wild trout will have to play the water levels; some areas got significant rainfall over the holidays.