Freshwater Fishing Report, February 21 Update:
In the Baltimore area reservoirs, this week fish were acting as though spring had arrived… and maybe they're right? Bass have been off points and willing to ambush deep-diving crankbaits and divers in the reservoirs, and crappie remain suspended near bridge pilings. Same goes for Lakes Anna and Kerr, where they're also seeing a decent striper bite from suspended fish. Angler's Sport Center mentioned that the crappie have been loving pink, orange, chartreuse, and neon yellow shad darts tipped with minnow, while The Tackle Box says minnow are also good at St. Mary's but plastics are working, too. Alltackle specifically fingered the Baltimore reservoirs and the eastern shore millponds or rivers as good places to try, and specifically mentioned Wye Mils, the Pocomoke, and the blackwater. Most anglers headed there are also tossing out minnow and the catch includes perch, crappie, and pickerel. The traditional perch run hotspots don't seem to have taken off just yet for the most part, with many of the fish still hanging deeper in holes and channels.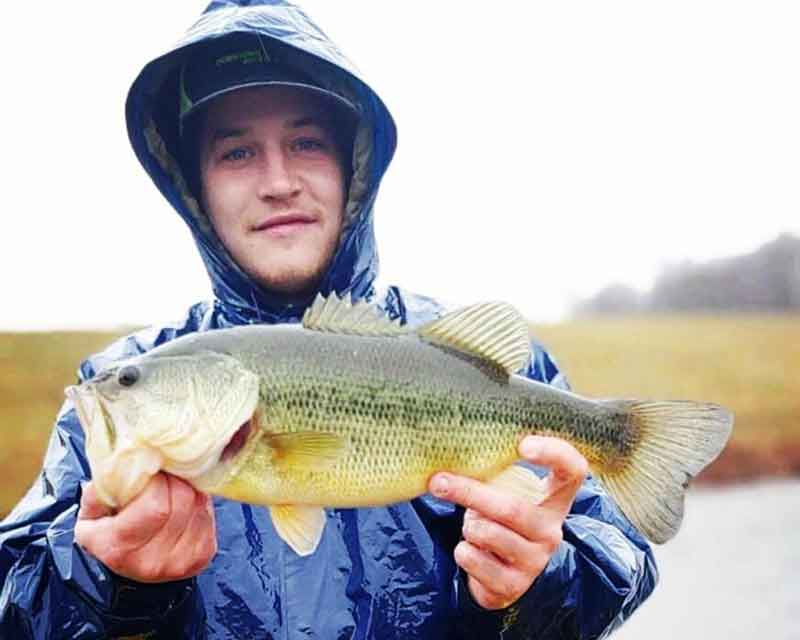 Tochterman's let us know that the wild and stocked trout bite isn't letting up. Wild trout have been happy to take midges, winter snow flies, nymphs, and streamers. Streamers are still standing out as especially tempting, requiring low effort for the trout to snatch. Stocked trout, meanwhile, have been especially fond of GULP! power baits, meal worms, corn, and artificial corn. This week, the Maryland DNR re-upped the trout stockings yet again, adding a whopping 6,800 goldens and rainbows. In Baltimore County, the Patapsco River and Daniels received 1,300 rainbow and golden trout; in Fredrick County, 200 rainbow and golden trout were added to Fountain Rock Park Pond and Frank Bentz Pond got 200 rainbow trout. In Washington County, Licking Creek received 450 rainbow and golden trout. The Middle Patuxent River in Howard County got 450 rainbow trout, and Elkhorn Lake was stocked with 750 goldens and rainbows. In Montgomery County, the Patuxent got 800 rainbows. In Allegany, Evitts Creek and Willis Creek received 900 rainbow and golden trout each. South Branch Patapsco River in Carroll County got a combined 850 rainbow and golden trout. Whew!
Reports from the Blackwater zone are of snake-attacks taking place on a regular basis, with some folks catching a half-dozen or more on sun-warmed afternoons. Big bull minnow suspended just a foot or two under a bobber is the killer. You have to time your trips right, though, to coincide with a day or two of warming weather, and remember that clear skies and a strong sun has a dramatic impact on raising the water temps in these shallow waterways. The bridges and the Transquaking all saw good action in the past week, but if you're hauling a kayak don't forget that several of the Blackwater area soft-launches are still closed. Visit the Maryland Online Water Access Guide, to see the details.
---
Freshwater Fishing Report, February 14 Update:
Tochterman's reminded us that "trout don't live in ugly places" and this week, there was no place better to be than trout fishing. Conditions were excellent and anglers fishing both stocked and wild trout were catching. Tochterman's let us know that the wild trout have been quick to take midges, winter snow flies, nymphs, and streamers. Streamers in particularly have been bringing in the fish, and the streamer presents an easy, low action meal. They also suggested heading to the Gunpowder, where trout have been willing to eat and highly active. GULP! power baits, meal worms, corn, and artificial corn have been the baits of choice.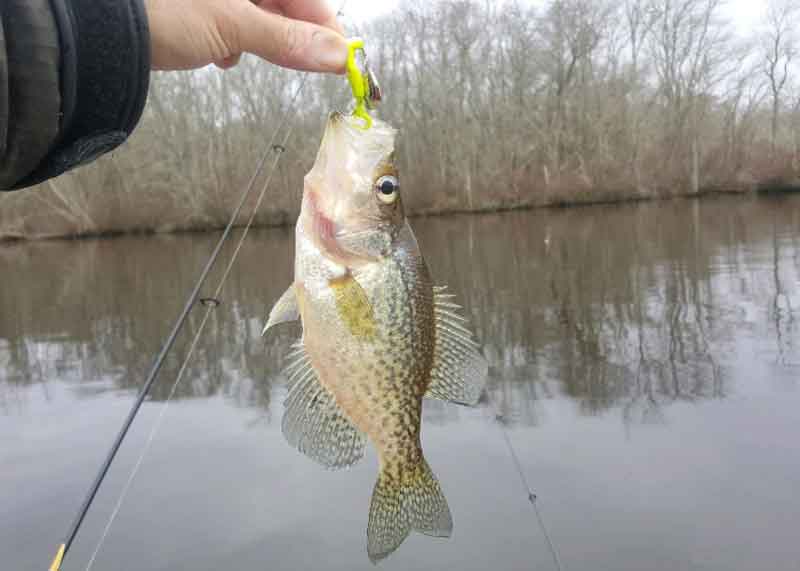 Aside from the trout front, freshwater has been excellent in Delmarva lakes and ponds. This week, FishTalk contributor Zach Ditmars headed to two ponds near Seaford, Delaware and landed 14 pickerel on chatter baits within two fishing days. Contributor Eric Packard also headed out this weekend, hitting St Mary's Lake on Friday, and Smithville Lake over the weekend, catching 14 pickerel and five largemouth bass. Loch Raven, Piney Run, Liberty, and Prettyboy all have excellent crappie bites right now. They've been happy to take pink, orange, chartreuse, and highlighter yellow shad darts tipped with minnows near shore and structure. A few yellows are biting, the bite has been bluegill and bass-heavy. Most of our correspondents and report contributors suggested heading to the eastern shore and hitting Wye Mills, the Blackwater, Smithville, or Johnsons Pond. The fishing in these areas has been far more reliable, and a bucket of minnows won't last you very long in the best way possible.
St Mary's Lake has been sustaining the fishing community in southern Maryland recently, providing reliable crappie and pickerel bites, with minnow being the top offering. In another southern Maryland lake, despite 40 degree air temperature and cold water, reader Dalton reported over 20 largemouth bass caught on a Rapala deep dive jerk bait this week, using a slow retrieve with slight twitches—nice!
In the Potomac, Rappahannock, and James, blue catfish remain a top target. We didn't hear of any monsters getting hauled up this week but anglers fishing cut gizzard shad have been hauling up good numbers.
---
Freshwater Fishing Report, February 7 Update:
Freshwater lakes and reservoirs have remained hot this week, as they have been for much of the winter—Deep Creek Outfitters let us know that the lake's waters of Deep Creek Lake have been hit by anglers as the walleye bite has picked up significantly in the past few weeks, and the lack of ice makes fishing from a boat a reality more often than usual this season. They've been hanging around Harvey's, weedy areas, and structure, taking minnow and jigs. Yellow perch have also consistently been biting, hitting minnow dropped into deeper water. This holds true in other areas around DelMarVa and Pennsylvania. Loch Raven (anglers fishing from Dulaney Valley Bridge have found an on-again, off-again bite), Lake Anna, and St. Mary's Lake have all had reports of good bites. Crappie have been a prime target in these waters, with Contributor Eric Packard and The Tackle Box both reporting some pickerel biting in St. Mary's Lake, as well.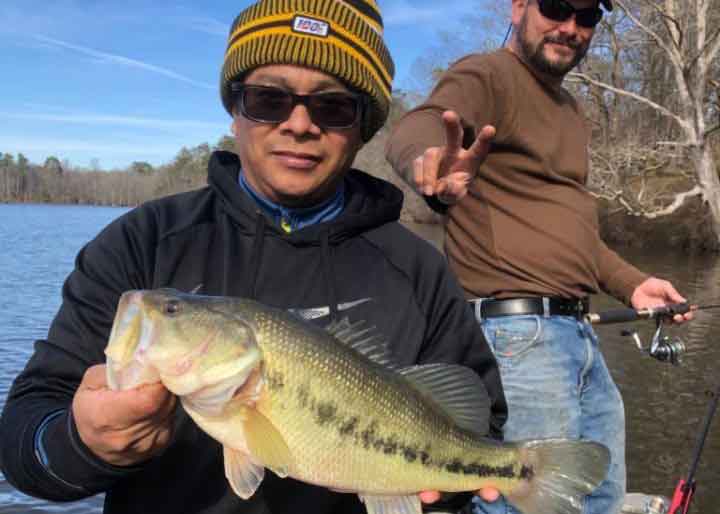 The Eastern Shore millponds have also continued to produce bass, crappie, and pickerel, along with up-river tidal areas (see the Tangier and Lower Shore report, for more on the action in the rivers). Minnow (small for the crappie, large for bass and pickerel) fished behind an eighth-ounce jig or dart in white, chartreuse, or pink, continues to be a top producer. Small spinnerbaits and Road Runners are also doing the trick.
In local streams, the water has been ripping through due to the rain we've had. It doesn't look like it's going to let up, so anglers should expect high water levels and difficult conditions over the weekend.