Tangier Sound and Lower Shore Fishing Report, April 18 Update:
For anglers targeting snakeheads, the lower half of the Eastern Shore and the tributaries of the Tangier and Pocomoke has been the place to be. These waters have been chock-full of them – and they haven't been picky lately, although on some days they have been biting in waves of chaotic spurts and fits. If you're in a spot you know to be good and the bite's slow, waiting them out has been a good move. Most guys have been opting for the biggest bull minnows they can find, suspending them a foot or two under a bobber on a 1/0 Eagle Claw, and adding a split shot a few inches above the hook. But chatterbaits, Mepps, and plastic frogs have been in use as well. Tochterman's reported that top choices have included the Blackwater, Tuckahoe, and Marshyhope. We also had reader reports of (photo documented) success from the Transquaking, the Chicamacomico, and Monie Creek. There are a lot of snakes out there, people!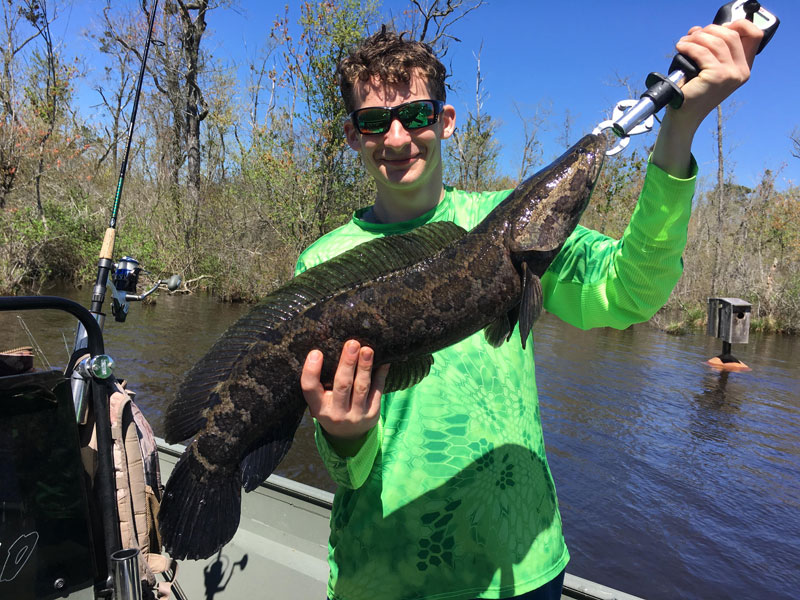 We want to remind everyone that the snakehead explosion has brought an unusual number of people into the area, and the impact is being noticed. It's CRITICAL that anglers not only make sure they don't leave any trash behind, but carry in a trash bag and remove any garbage carelessly left by others. Another item to keep in mind is parking; in the past week some people have been ticketed for parking in such a way that they are partially blocking the roadway. The shoulder is fair game but remember, if a part of your vehicle is not off the roadway you may get a ticket. Also remember that there are some marshy shoulders in this neck of the woods, and you should check the condition of grass shoulders before pulling onto them. Finally, in a few of the popular spots there are boat ramps with limited parking for trucks with trailers. If you're not hauling a trailer and can leave those spots open for people who are, they would appreciate the courtesy.
In addition, catfish have been in great abundance in these same waterways, and similar to the snakeheads aren't too picky about what they eat. As per usual, they're taking menhaden, chicken parts, and other cut baits.
---
Tangier Sound and Lower Shore Fishing Report, April 11 Update:
With warm weather this week, anglers eager to get out fishing have found themselves filling the bottoms of their boats with snakeheads and catfish. Both species are strewn throughout the area, from the Blackwater down through the Sounds' tribs, and aren't too picky when in a feeding mood. The key for landing snakehead has been using minnow, plastic frogs, spinners, chatter baits, Mepps, buzz baits…. To be honest, it doesn't seem like it's actually mattered much. When the fish have been on they've been on and when they've been off they've been off. This seems a difficult fish to predict, with Angler in Chief Lenny noting that last Saturday there was an unusually slow bite in the Transquaking, Sunday being better, then Monday providing banner catches in the exact same spots. He also noted that both bass and channel cats were active in the same waters, however, to keep things interesting when the snakes were napping.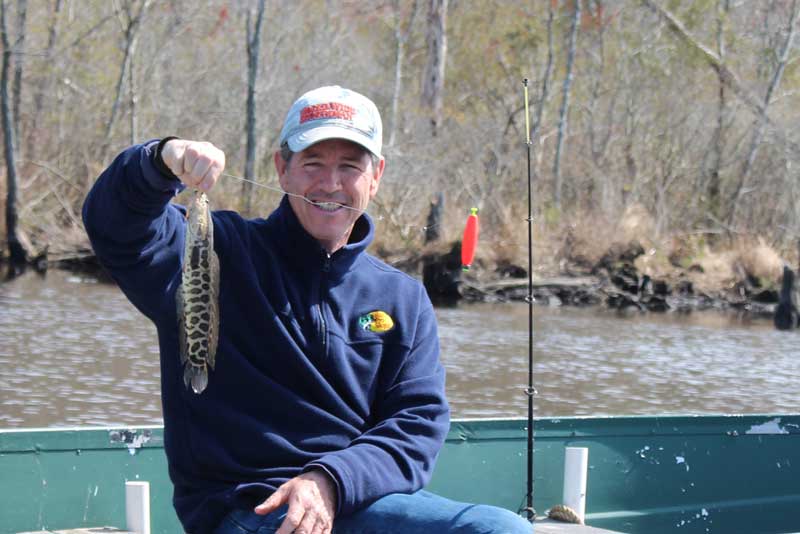 Similarly, the catfish are taking a wide variety of baits. Peeler crab, cut menhaden, and chicken liver or breast have all been working well. If minnow were put near the bottom for the snakes, cats were slurping them up as well.
---
The up-river areas feeding the Sound, especially the Blackwater complex, the Transquaking, and the Chicamacomico, have one of the hottest bites around right now: snakeheads. The species is on a spring warm-up rampage, and anglers have been catching them in large numbers – sometimes very large numbers. Note that many of the popular pubic access shoreline and kayak launch spots are becoming elbow-to-elbow crowded on weekends, and it's imperative for everyone partaking in this unique fishery to not only clean up after themselves, but also bring a bag and haul out any trash they see. Also be sure to stay off private property and stick to the verified access points. The Dorchester County Public Boating Access Page maps much of the public access, and there's more info on the Blackwater NWR page. If you're ready to go on a snake hunt, first check out this how-to video we shot when the FishTalk team visited Blackwater last weekend.
Sea Hawk Sports Center also reported that some perch are being caught in the Sound's tribs, though the fishery has been dominated by anglers taking advantage of the lively channel catfish bite that this season has brought. Channel cats can be found throughout the area, and aren't particularly picky. Some guys fishing with bottom rigs and minnow hoping to catch white and yellow perch have been met with a stronger tug than anticipated. Those targeting catfish are using cut baits such as menhaden and chicken breast or gizzard.