Tangier Sound and Lower Shore Report, July 18, 2019 Update:
Spot! The waters of the Sounds have become a common destination for anglers looking to stock up on spot this week. They've been on solid bottom in eight or 10 to 20 feet of water, and will eagerly pick up bloodworms on a bottom rig. A few (undersized) croaker and some oddball species are also in the mix including blowfish, sea trout, and even some flounder. Unfortunately, the desirable types in that list all seem to be thoroughly undersized. For trollers, Spanish mackerel are the name of the game. There are some blues in the mix but the majority of the fish are mackerel and they've been quick to hit small silver and gold spoons, especially when trolled behind number-one or number-two planers. The fish are scattered through the area in open-water schools that are sometimes marked by working birds, so plan to cover lots of ground until you find fish as opposed to heading for any specific hotspot.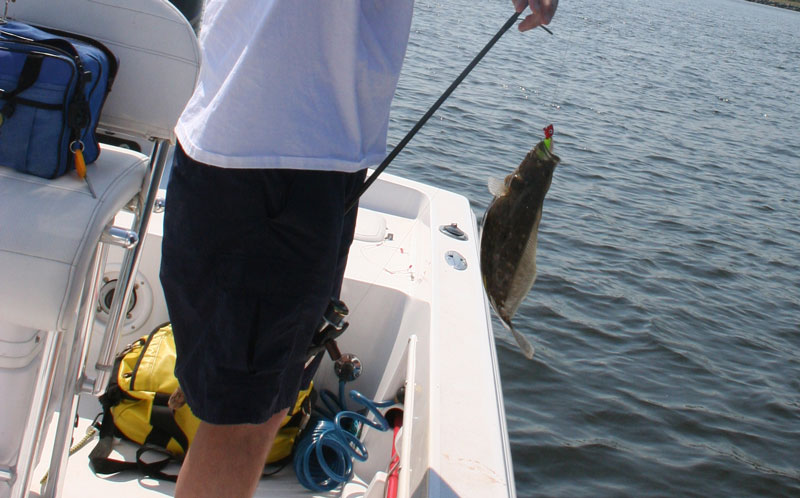 From the Pocomoke south cobia anglers are having success, and the farther south you head, the better your chances of encountering these fish. Chummers using menhaden with live eels and bunker chunk baits are still doing a bit better than sight casters, on the whole.
The Tangier's tribs have continued to hold a fair number of catfish, and of course snakeheads as well. Catfish will pick up cut bait on the bottom, while snakehead have been more inclined to hit minnow or plastic frogs.
---
Tangier Sound and Lower Shore Report, July 12, 2019 Update:
The Tangier and Pocomoke have become hotspots for anglers looking to get in on the Spanish mackerel bite. Sea Hawk Sports Center reported that the recent bite has been the best in ages, and a fair number of the fish being caught are whoppers. Trolling the Sounds with Clark spoons pulled behind number-one planers has been the best option. Aside from the Spanish mackerel, a healthy population of croaker has made its way into the Sounds. They're primarily holding on hard bottoms, and can be caught with bloodworm on bottom rigs. Many anglers have had spot mixed into their catch. Some are opting to live line smaller ones for the cobia and rockfish (north of the state line) in the Bay.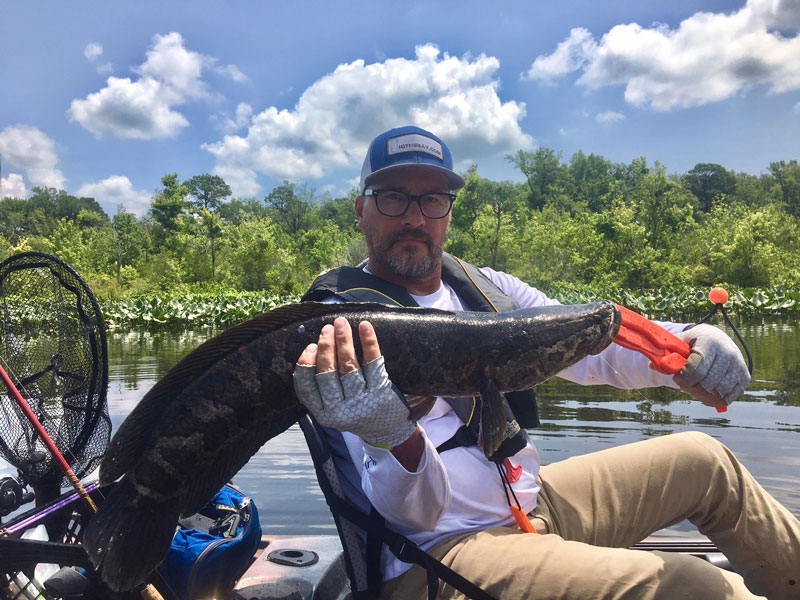 Those still enraptured by the snakehead fishery have had a decent week; Taylored Tackle suggested heading out in the morning to Philip's Landing or up the Nanticoke, where snakehead and bass are hiding under the lilypond lines. Local anglers have certainly picked up on what a delicacy snakehead can be when cooked right, and are slamming them in the shallows. Snakehead have begun moving far up the creeks and coves, providing shoreline anglers even more opportunities to target them. Topwater and live bull minnow have been the ticket to landing them. Bass have been hanging around many of the same areas that snakehead are being caught. Morning and evening when the water is a bit cooler have been ideal times to target them in the shallows around structure. Contributor Eric Packard spent some time in Blackwater this week and reported similar action with topwater frogs and white flukes generating snake hits.
Crabbing report: Crabbing in this zone is much better than up the Bay; full bushels are in store!
---
Tangier Sound and Lower Shore Report, July 5, 2019:
With fishing in the Sound experiencing a bit of a slump the week before last, we were glad to hear that the croaker bite has improved and is making up for previous shortcomings. Croaker have been hanging around a hard bottom and are eagerly snatching up bloodworms fished on bottom rigs. Some perch have been in their midst, as well as the occasional catfish. Still, the Sound has been a bit slow lately and though rockfish and specks are being caught here and there in the shallows, and a few or Spanish mackerel bites have appeared in open water for trollers pulling spoons, both fisheries have been hit or miss.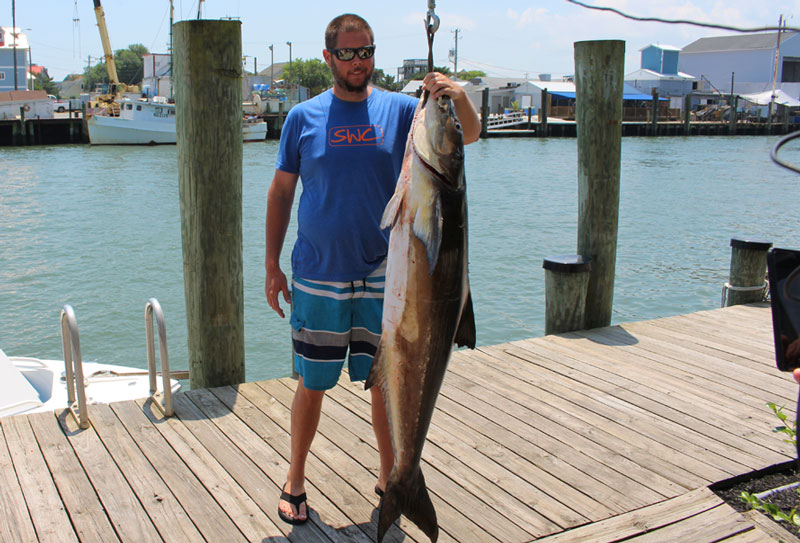 Many area anglers are running south and probing ledges and drop-offs from 18 or 20 feet down to deep water from the mouth of the Pocomoke down to Cape Charles, for cobia. Chumming bunker while baiting with a mix of fresh bunker chunks and live eels remains the strongest option for racking up numbers, though sight fishermen are hitting their stride. As a rule of thumb, the farther south you get the better the sight fishing has been. Live eels and bucktails dressed with twisters have been top offerings.