Tangier and Lower Shore Fishing Reports
Tangier, Pocomoke, and Lower Shore Fishing Report, September 29 Update:
The Sounds of the Chesapeake and areas of the ESVA can be a great place to fish this time of year but it is often weather dependent. The remnants of Hurricane Ian will likely make their way up the coast this weekend bringing heavy rain and persistent wind to our region, creating less than ideal water conditions for fishing in the next few days to come. Hopefully by the middle of next week conditions will return to normal and anglers will get back to their regularly scheduled fall bite. The shorelines of the Bay, tidal rivers, and sounds have a lot of fish feeding on an abundance of bait. Striped bass, bluefish, and speckled trout are all in the mix. Popping corks rigged with soft plastic shrimp or paddletails work great for the speckled trout. Rockfish are biting on a variety of soft plastic jigs and hard baits. Focus your efforts on rocky shorelines, points, and other shallow water structure as these fish will be waiting to ambush baitfish.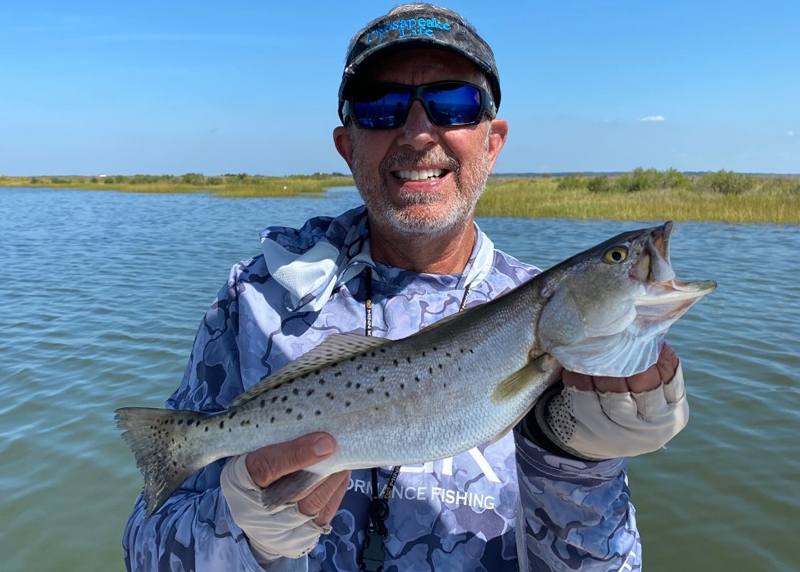 Sea Hawk Sports Center reports that the large red drum are still cruising around the sounds and there are also plenty of slot fish to be caught in the marshes or on channel edges. The lumps south of the Target Ship, shoals inside the sounds, and areas near Watts Island continue to produce a decent red bite. If you can locate some of these fish on sonar, try jigging large soft plastics over them. If you are bait fishing, cut spot, menhaden, or soft crab are favorite baits. Captain Harry Nield of Kingfish II Fishing Charters checked in to give us a report on his action this week. Nield says the big spot and most croaker are just about gone but there are plenty of spot in the smaller variety. Bluefish are still thick, and a few mackerel are hanging around still. Most of the blues are in the 12- to 16-inch range but some larger blues up to five pounds are in play too. Cooler weather will soon get the rockfish fired up to feed on bait in open water and on deeper water structure. Rocktober is almost here folks so make sure rods are rigged and boats are fueled!
---
Tangier, Pocomoke, and Lower Shore Fishing Report, September 22 Update:
The sounds of the Chesapeake and the ESVA is a great place to fish and with the official start of fall arriving, anglers are excited for action packed days ahead. Cooling temperatures have improved the speck bite and anglers are catching these fish on popping corks with real or artificial shrimp as well as paddletails on one eight to one quarter ounce jigheads around shallow grass beds and oyster rocks. The Virginia barrier Islands have been a hotspot for anglers as of late. Sea Hawk Sports Center reports that along with the specs, there have also been opportunities to catch puppy drum that have been tailing about in the shallows. When these fish are located, they have been willing and eager to inhale gold spinner baits with a paddletail trailer. Those looking to baitfish have had success catching the reds by throwing out chunks of fresh cut bait and soft crab. Fishing along edges of natural humps and shoals is where you can find the reds cruising about.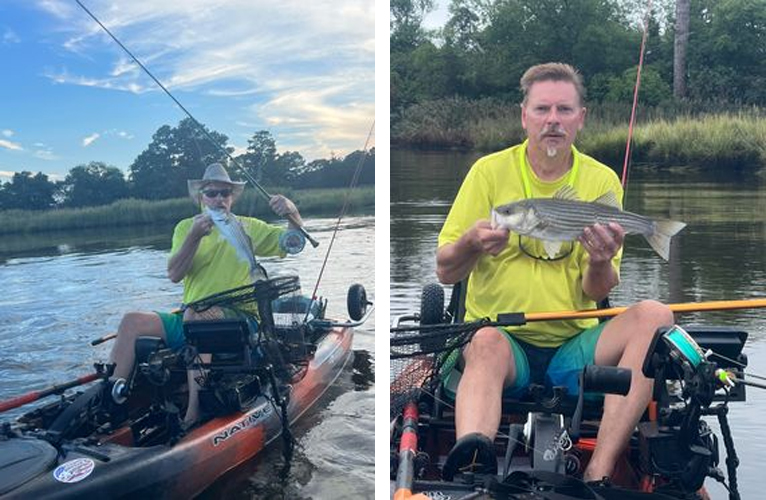 A reader checked in after launching the kayak near Saxis and fishing the shallows with both spinning and fly gear with excellent success. The catch included lots of stripers up to 22", plenty of specks (mostly small but with a few larger ones in the mix too), plus some white perch. Those anglers looking for some fast action can find aggressive blues near structure like the Target Ship, underwater breakwaters, and wrecks. We also had a reader check in to report that Kedges Straits was loaded with breaking blues this week. Cast out metal spoons or some x-raps and these toothy fish will be sure to put some stretch in your line.
---
Tangier, Pocomoke, and Lower Shore Fishing Report, September 16 Update:
Fishing in the Sounds of the Chesapeake and areas along the ESVA will provide some great opportunities for anglers as summer draws to an end and fall approaches. Creek mouths and points along Smith and Tangier Island are holding rockfish and some speckled trout. The best time to fish these areas is on a high moving tide. Cooler water temps will have these fish more willing to strike topwater lures but jerkbaits and paddletails will get the job done too. Sea Hawk Sports Center says the red drum bite is still consistent in the Sounds and should stay good into October. These fish have been cruising along shoals and channel ledges while feeding on baitfish. Watts Island has been a particularly good area to target the drum recently. Black drum and also starting to make their way into the mix. The farther south along the ESVA anglers go, the better chance they will have of eater-sized black drum. A reader fishing out of Cape Charles reporting catching red and black drum along channel edges using cut menhaden.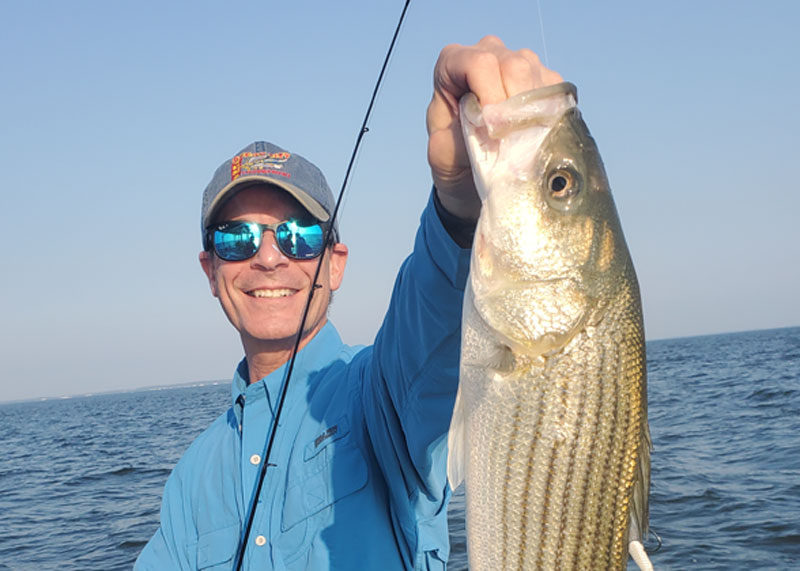 The trout bite in this section of the bay has still been hit or miss. Some anglers are having great days on the water while others are struggling to find fish willing to bite. As the water cools it should help with the bite. Grass beds in two to six feet of water have been holding decent numbers of fish but finding clean water is key for the specks. Your best bet is to throw popping corks or paddletails. An exciting report came in from Tangier Sound Charters that larger grey trout have moved onto shallow water shell piles across the region. You can drop down cut bait for the trout or if you can mark a school, drop down some metal jigs for some fun LTJ. These areas are also producing strong numbers of spot, small croaker, and snapper blues.
---
Tangier, Pocomoke, and Lower Shore Fishing Report, September 9 Update:
Captain Harry Nield of Kingfish II let us know the drum bite is still good and should remain that way through early October. More slot sized reds have been showing up in the sounds and ESVA. Captain Harry says bait fishing with cut spot has been the most productive method for targeting these fish. Anglers should focus their efforts in 15 to 30 feet of water around structure. Man-made reefs, natural shoals, and sloughs all provide baitfish a refuge from tidal currents and can be hotspots for the reds. Areas around Watts Island have been very productive through late summer. There are also reports of black drum and sheepshead making their way into the mix with the reds. Sea Hawk Sports Center recommends focusing on reef sites for those interested in hooking up on sheepshead. These fish have been lured by chunks of crab and fiddlers (if you can find them). Some recent catches have broken the 10-pound mark, so bring lots of bait and get ready for a fight.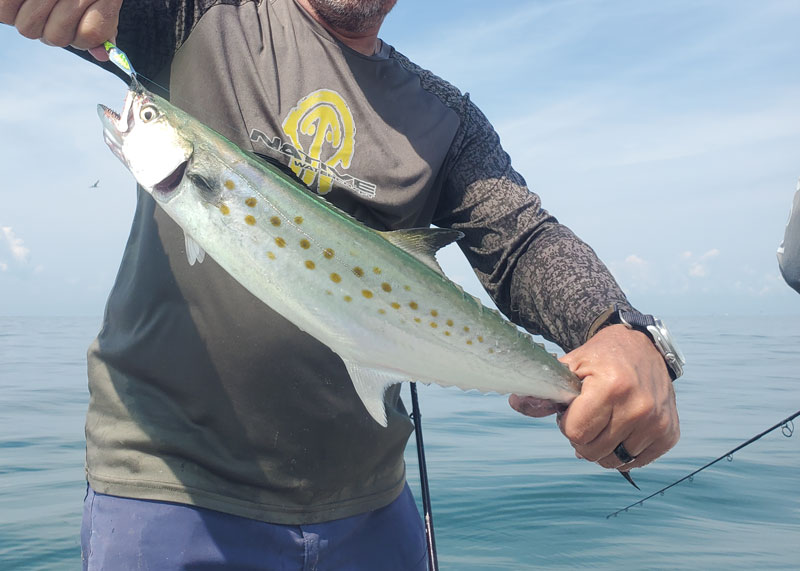 A reader fishing Kiptopeake last week reported a fantastic mix of species around the concrete ships, highlighted by sheepshead, red and black drum, and even a nearby cobia. Another who hit the same zone over the holiday weekend said much the same, noting that both cobia and sharks were shadowing the marauding schools of mackerel and bluefish in 20' to 30' of water. Farther north, on the bayside of the Tangier and Pocomoke Sound Islands, macks and blues continue to provide steady action for anglers targeting them. The macks are starting to get bigger with reports of many fish in the 22-to 24-inch range. If you get a calm day, casting to these fish with Gotcha plugs, Rain Minnows, and paddle tails under popping corks on light tackle rods can provide some awesome action. When searching for these fish, keep your eyes out for skying mackerel and bird action. It's always a good idea to bring a pair of binoculars to scan the horizon for any action that may be happening.
---
Tangier, Pocomoke, and Lower Shore Fishing Report, September 2 Update:
Cooler temps and some awesome fall fishing patterns are just around the corner, but the summer heat is still holding on for now. Fishing across the board in the Sounds and ESVA has been hit or miss though there are fish producing some steady bites for anglers. Bull reds along with some mixed in slot reds are still roaming about in the Bay and have been scattered from the CBBT all the way up to buoy 72 in Maryland waters, and the Tangier and Pocomoke Sounds have had good late evening bites for these fish. Sea Hawk Sports Center recommends soaking cut bait such as spot or hardheads in depths of 15 to 30 feet of water on fish finder rigs with 7/0 to 9/0 hooks. They also emphasize the importance of using circle hooks as many of these fish are trophy sized and will be released. Bring plenty of bait because bait stealers like sharks and blues will do their best to make sure your hooks are left bare.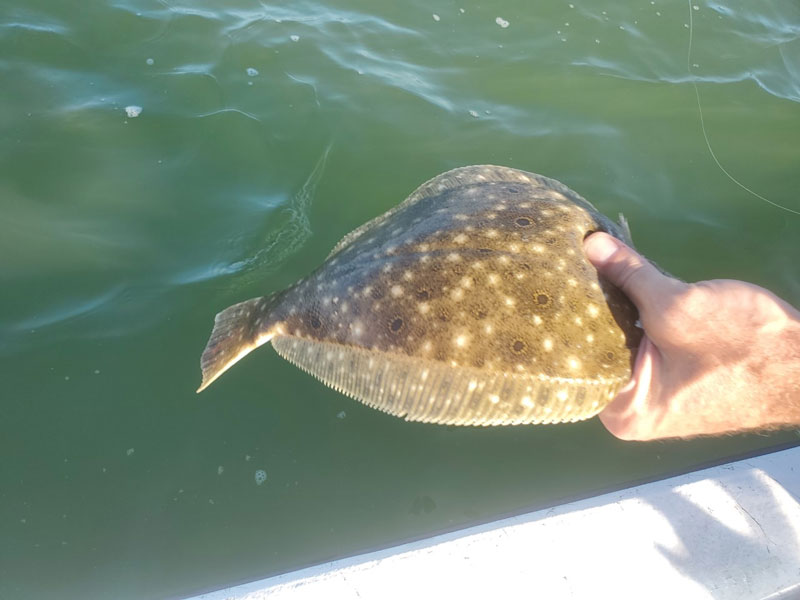 There are two weeks left for anglers in Maryland and Virginia to target cobia as the season concludes on September 15. Isolated catch reports have been matched with reports of other anglers swinging and missing. Bait fishermen and trollers near the Target Ship have been boating a few fish but they appeared to be very scattered for the most part. Hopefully there is a push of fish into the area as some giants are being caught farther south.
Anglers on the ESVA have welcomed a bite for sheepshead in the area. Anglers sending fiddlers and chunks of crab down to depths of 20 plus feet fished around artificial reefs and pilons are having the most success targeting these stubborn and tasty fish. Captain C.L Marshall of Tangier Sound Charters said the speckled trout bite picked up noticeably in the Pocomoke sound as they found specks using the Bass Assassin chicken on a chain soft plastic under popping corks in 3.5 feet of grassy bottom water. Small black drum fishing has been decent for fish in the 15- to 20-pound range and local anglers are reporting fish as far north as Crisfield. Peelers seem to be the preferred offering.
Spanish mackerel continue to please anglers working rips and fast-moving waters for those using inline sinkers or number one planers in front of small Clark spoons. Troll at speeds of six to nine knots for the best shot at hooking up on the macks.