Flounder are a popular target searched out by anglers who enjoy Chesapeake Bay fishing, anglers probing the Mid-Atlantic coastal bays, and even many who fish in the Atlantic's inshore waters. The name "flounder" is used to cover many different types of flatfish that live all over, but the species we're talking about specifically is the summer flounder (fluke). Flounder certainly aren't winning any beauty contests, but they taste better than they look. Mild tasting with a sweet undertone, they're fun to fish for food, and also for sport. Fluke is not a bad fish to start with for beginners; it's not too hard to catch, many times of the year work, and it's a great chance to try bottom fishing.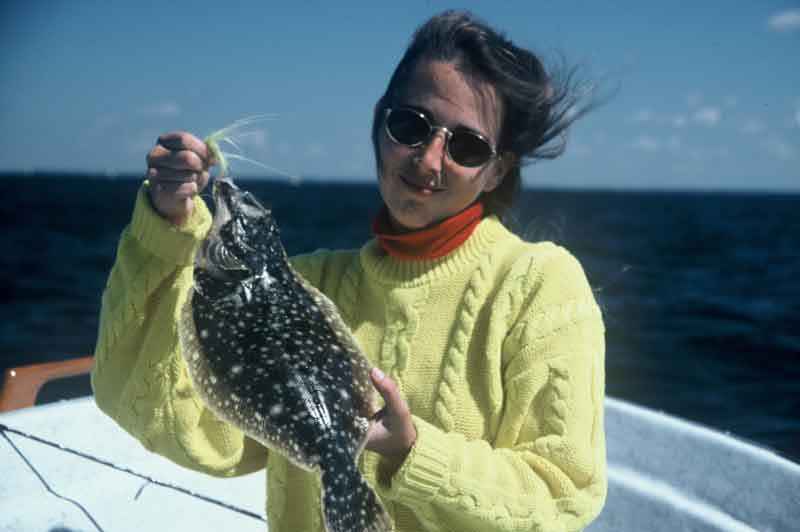 What are Flounder Fish?
Flounder belong to the suborder Pleuronectoidei, in which there are many families that flounder may be members of (Achiropsettidae, Bothidae, Pleuronectidae, Paralichthyidae, and Samaridae). However, Mid-Atlantic anglers only need to concern themselves with the summer flounder which belong to the Paralichthyidae family. Other than our area, flounder mainly live in estuaries and coastal waters along the Atlantic and Gulf coasts. In the Atlantic Ocean, they roam in inshore and offshore waters between Nova Scotia and the east coast of Florida.
Flounder have that typical funny-looking appearance that most flatfish have. They're flat, of course, and they swim on their side along the ground; this is why flounders' eyes migrate so that both are on the side of their body that faces up. Flounder also have the cool nickname "chameleons of the sea" because of their ability to camouflage themselves. All species have brown bodies, white bellies (the side facing down), and are covered in eye-like spots. However, the appearance of the spots and the side the eyes develop on varies by species. Summer flounder have around 10 to 14 large spots and they are always left-side up. Caution: Paralichthyidae flounder are also known for their large, sharp teeth.
Flounder Biology
The average weight of summer flounder is between three to six pounds. A flounder's width is typically half their length.
The average length of summer flounder is 15 to 22 inches.
A flounder's life span is about 12 to 14 years.
They reach sexual maturity around two to three years.
Record Flounder
The Mid-Atlantic is the place to set a record for flounder. The largest summer flounder ever caught was 24.3 pounds caught by Monica Oswald off the coast of New Jersey in 2007, but was disqualified for a record because the rod was rested against the boat's gunwales, a violation of IGFA rules. Here are the records for Mid-Atlantic states that FishTalk covers:
Delaware - In 1974, William Kendall caught a flounder weighing 17 pounds and 15 ounces in Indian River Inlet.
Maryland - Kenneth Grimes holds the record from way back to 1978 at 15 pounds, caught by Buoy 50.
Virginia - Charles E. Cross set the record at 17 pounds and eight ounces in 1971 while fishing in the Baltimore Channel.
Summer Flounder Seasonal Availability
Summer flounder do have a year-round open season in the Chesapeake Bay and most tidal waters. Potomac River tributaries are the exception, however, as the Potomac River Fisheries Commission establishes recreational fishing seasons there.
As for the best time to fish for flounder, this mostly depends on migration. If you're keeping up with our Fishing Reports you already have a good idea of when to expect flounder to hit the bay and coastal waters. Flounder migrate offshore in the late fall to winter months for the spawning season, so the best time for beginners to fish for flounder is from spring to fall when they move to the estuaries and near shore waters. A prime time to be thinking about fall flounder fishing at the coast is when flounder move from the back bays to the inlets because flounder will be very condensed in these areas as well as estuaries in the spring. Here's how the seasons break down:
Spring – Best in coastal bays and inlets.
Summer – Good in coastal bays and inlets, estuaries, and near-shore coastal waters near wrecks and reefs. Every season is different, and any one of these areas may prove most productive (keep your eyes on those fishing reports, to find out which is hot and when).
Fall – Good in coastal bays, estuaries and near-shore coastal waters; best during a fall run occurring in or around coastal bay inlets as the fish begin migrating.
State Regulations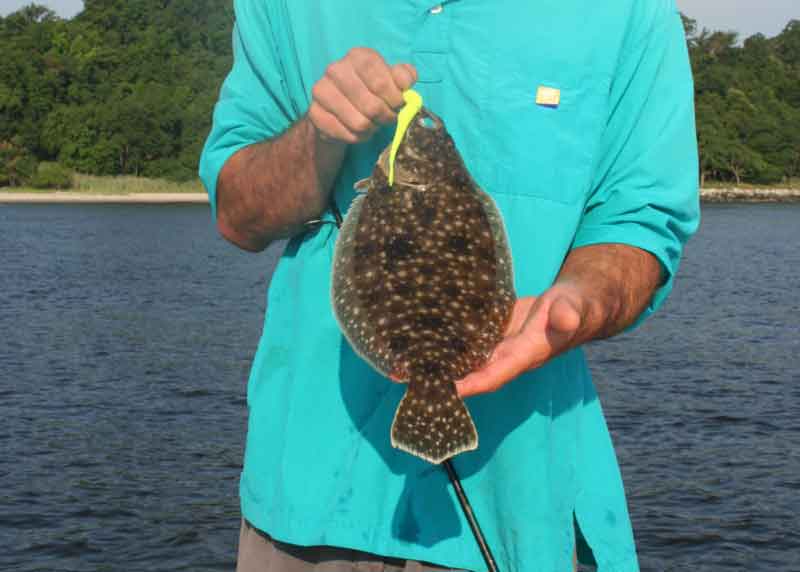 Flounder fish are managed by NOAA Fisheries, the Mid-Atlantic Fishery Management Council, and the Atlantic States Marine Fisheries Commission. Their websites provide information on the recreational and commercial regulation of flounder. Your state website will have more specific information of the catch and size limits in your area:
Where to Find Flounder
Although there is plenty of fishing in skinny waters, you will often find the real record-making doormats around wrecks and reefs between 10 and 25 miles out off the coast. However, this type of fishing can be hard for beginners because you need an ocean-worthy boat (or to get on a party boat) and then there are lots of snags, currents, and wind to contend with.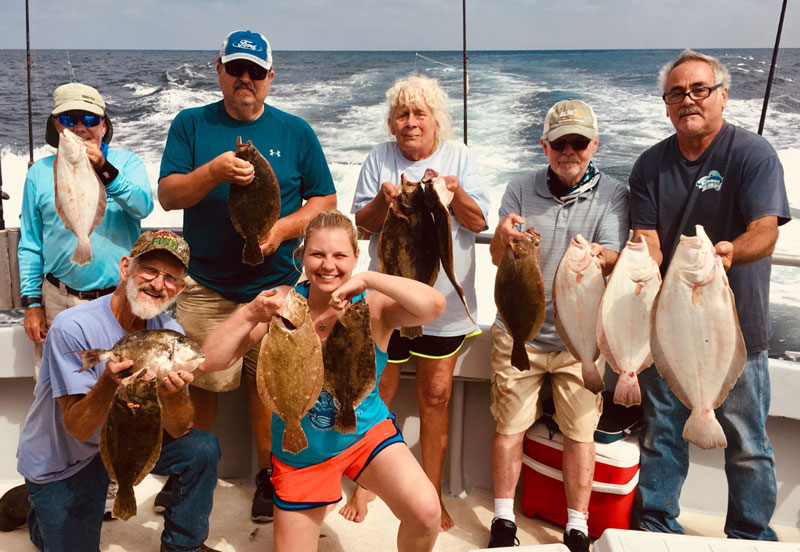 Early in the spring flounder are often found in very shallow waters, sometimes just a foot or two deep, in coastal bays. But once warm weather sets in most anglers fishing in bay and inlet waters find flounder between five to 30 feet of water. The best way to find the right depth is to follow a drift that will take you across a steep drop-off. Once you get a few bites and have a good idea of the depth the flounder are congregating at, then you can settle down and focus your efforts. Regardless of the location, it helps to adjust the target depth according to the tide. A high tide means most flounder will be found in shallower areas. When the tide is low, flounder move to deeper waters like channels.
Flounder Fishing Hotspots
There are a few perennial flounder hotspots in the Mid-Atlantic region, which we've focused on in FishTalk in the past. Five of the top ones covered in previous articles include:
How to Fish for Flounder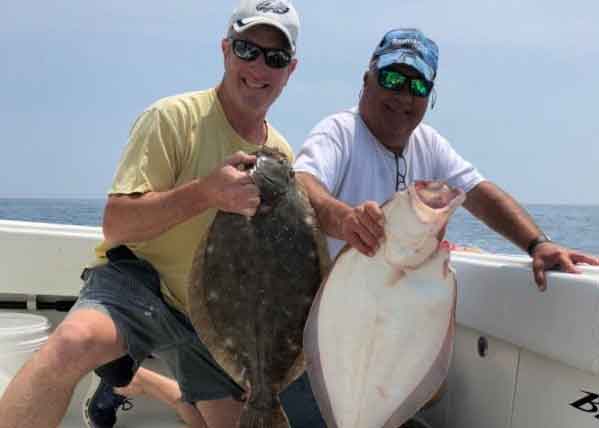 When fishing for flounder, you have a lot of options for how to catch the flatfish. The most popular flounder fishing methods are drifting bait on the bottom and jigging, but we recommend you start by reading KISS Flounder Fishing to see some basic tips you'll need to know.
Where you choose to fish for flounder will dictate the best the choices in bait, tackle, and technique, which will vary between bays, inlets, and the ocean. If you want to fish for flounder in the bays and inlets or other shallow areas, read How to Fish for Flounder in DelMarVa's Bays and Inlets and How to Catch Flounder on the Flats. Or if you prefer to try in those deeper oceanic waters, read Deepwater Doormats: 5 Tips for Catching Flounder at Ocean Reef Sites.
Best Bait to Catch Flounder
Here are the top picks anglers use when fishing bait for flounder:
The "minnow/squid" sandwich is a great bait combo for a beginner. Cut squid strips into a "V" shape then add a minnow to the hook.
Live finger mullet for fall fishing (as big as possible, for the real monster fluke).
Live spot
Live peanut bunker (menhaden)
Shrimp
Best Rigs and Tackle for Flounder
When bait fishing, these are the rigs and tackle you'll need:
Fluke killer rigs like those made by Sea Striker, Fin Striker, Bay Park, or Aqua Clear.
Fishing near reefs and wrecks requires heavier gear. Use 3/0 to 5/0 hooks rigged on three feet of 30-pound leader material and four to eight ounces of weight.
Double bottom rig for drift fishing a baited head or bucktail – a relatively light head or bucktail (a quarter to an eighth of an ounce), an eight-inch-long top hook leader, and a bottom hook leader between 24- to 30-inches with a heavier head or bucktail (two to five ounces). Use fluorocarbon in the 15- to 20-pound test range attached to the running line (usually braid) with a double uni-knot.
Rods and reels (either spinning or conventional) in the 15- to 30-pound class.
Best Fishing Lures for Flounder
For those using lures, these will do the job.
Jigs from one half to two ounces, with a four- to six-inch soft plastic body.
Five- or six-inch Berkley GULP! Swimming Mullet soft plastics.
Bucktails – chartreuse or white double-bucktail rigs work great, with or without plastic tails and/or bait added.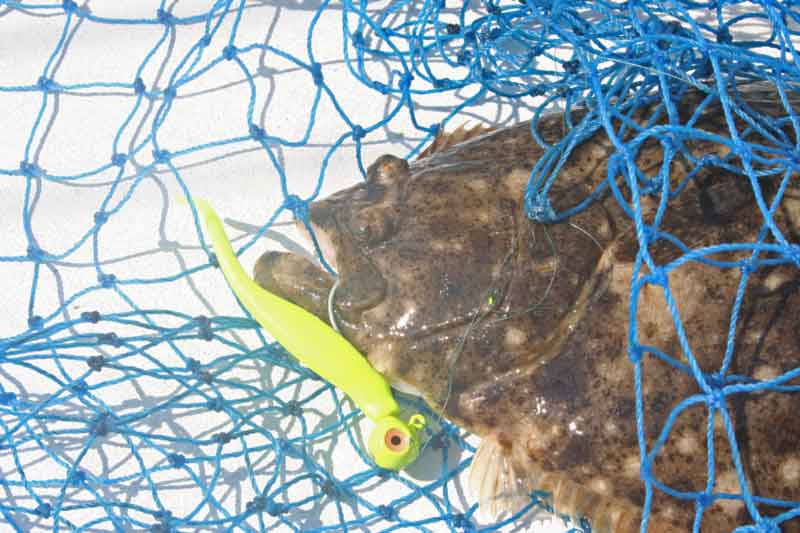 Remember that when fishing lures, most anglers use slightly lighter tackle in the 10- to 20-pound class.
Okay: are you ready to hit the water and try to catch some flounder? We certainly hope so! And when you're ready to expand your fishing horizons even more, check out all our articles in the Fishing For Beginners series.
-By Hannah McGee