Tangier and Lower Shore Fishing Report Update, March 27 Update:
Well anglers, we've been advised to stay home and keep at least six feet away from other people. Tough, right? We're already feeling a little cramped up. But, we've got some groovy weekend plans that allow us to heed directions from our all-powerful, all-mighty regulators while getting off of the couch and onto the water. Is there ever a reason you should be fishing within six feet of another person anyway? Heck no! And is there ever a reason your boat should be passing six feet within another? HECK no! As long as we're sticking by long-mandated water-going etiquettes – and only heading out with our families – fishing is a green light. And as Monthy Python reminds us, you've gotta look on the bright side of life!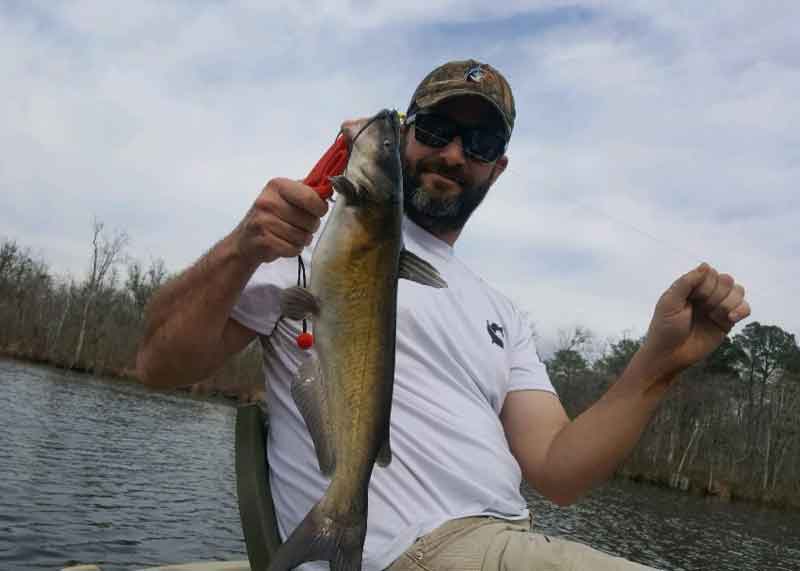 While many towns and roads have been quiet during these extraordinary times, the tributary waters of the Tangier and Pocomoke are rockin' and rollin'. Fishing has proven itself again a hobby (correction: life calling) superior to most. Anglers are able to abide by social distancing requirements, get some sunshine, and bring home dinner without hitting the grocery store. And really, with the white perch bite right now, you won't need to head anywhere but the water for food this weekend. Sea Hawk reported that the perch are showing up in vast numbers, and they're hungry. Hooks recently adorned with bloodworms are returning to the surface sporting chunky white perch. It hasn't been uncommon to fill a stringer or cooler in just a few hours on the water and plenty of guys have been extending their fishing time by being a bit choosy about what they're taking home. To many angler's delight, white perch aren't the sole recipients of their offerings, either. Crappie continue to run strong. If they're your preference, highlighter and neon shad darts tipped with a small minnow will keep 'em coming. Be sure to drop these tempting rigs near structure.
This week, we also caught some happy news of small striped bass showing up frequently. While the stripers seldom exceeded the length of your tackle box, they make us wistful for this summer season. Remember: catch-and-release striper fishing will be illegal starting April 1. While this is a major bummer, send positive vibes to the Fish Gods in hopes of another killer Spanish mackerel season. AND this just in from Reader Kevin - confirmation of the small stripers, but more importantly, lots of white perch in the Nanticoke on bloodworms, plus some blue and channel cats.
---
Tangier and Lower Shore Fishing Report Update, March 20 Update:
Yes folks, we know we're all tired of hearing about CV-19, but we need to mention that due to the current situation we had a tough time getting a hold of some of our usual contacts this week. We apologize for the somewhat abbreviated reports. The good news? For as long as it remains an option, the best way to practice social distancing is to go fishing!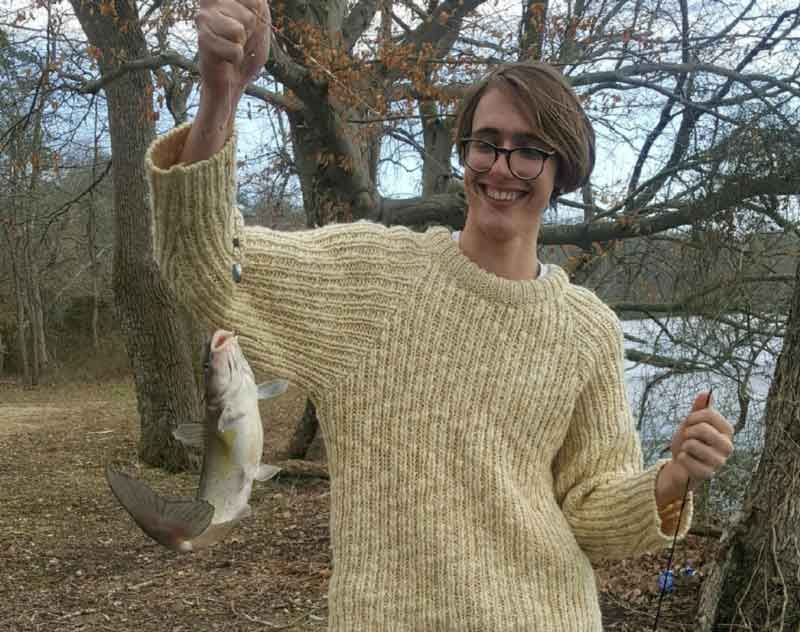 With the waters of the sounds and southern Bay still quiet, most area anglers have had their sights set on one of two options: heading up the rivers for the perch runs, or heading farther inland to partake in the snake action. And pretty much wherever you go, catfish make for an ever-present opportunity.
The headwaters of the Nanticoke and Pocomoke are still getting a mix of yellow and white perch (on both grass shrimp and minnow) though the yellows do seem to have mostly finished up and the whites aren't yet in prime form. We did have a photo-evidenced report from one reader who found a hole full of whites and loaded up on 'em (using grass shrimp on a pink/white shad dart) including some really big ones, so probing areas just downstream of the spawning sites might be a good bet right now.
On the snakehead front this week was good on afternoons when the sun was out and warming the waters. Word from Blackwater was of solid catches, sometimes as many as a dozen fish in an afternoon with a few crappie in the mix. Cloudy conditions made things tougher and regardless of the weather, minnow was the top offering. Angler in Chief Lenny Rudow reports a tough day on the Transquaking yesterday, with the snakes mostly unwilling to bite. Despite talking with four other boats and six or seven people fishing at the bridge he was only able to confirm three snakes in the coolers (two on minnow, one on a white swimbait). Judging by last spring, this bite should go nuclear at any time now so keep your eyes peeled for the right warm, sunny afternoon and be prepared to call in sick. Well, considering the news these days maybe that's not the best move… just turn on the answering service and don't pick up.
---
Tangier and Lower Shore Fishing Report Update, March 12 Update:
MARYLAND SUMMER/FALL STRIPER SEASON RED ALERT: The public comment period is open (but only until March 18) regarding summer and fall regs. See the full details on the options in our Summer and Fall Striper Maryland Season Emergency Fisheries Update, but it all boils down to this:
Option 1 – Recreational anglers and charter boat anglers get one 18-inch fish per person per day.
Options 2 and 3 – Recreational anglers get one 19-inch fish per day with a two-week summer closure and five days shaved off December, while charter boat anglers get two 19-inch fish per day.
Since these options are calculated to result in the same number of fish being harvested/killed, please do not be misled into thinking that any of these options are more or less conservation-minded. That being the case, we strongly support Option One and hope you will send the DNR your comments ASAP. If you feel that we need better science to understand the realities of catch and release mortality regarding striped bass in the Chesapeake, please also be sure to make this opinion known—and request that the state do something about it—in your comments.
We now return you to your regularly scheduled fishing report: The yellow perch run is going full-tilt, and the headwaters of rivers feeding the Tangier are providing absolutely stellar fishing right now. Plenty of crappie, bass, and catfish are leaving the water as well. Sea Hawk Sports Center let us know that the yellow perch and crappie bites have been particularly excellent, with baits seldom remaining in the water for long. The reliable bite for both species has been dependent upon locating the fish, which hasn't been too difficult with the aid of a depth finder. Sea Hawk suggested switching up spots when the fish aren't biting—they're oftentimes just a little ways away. Small minnows or grass shrimp on bottom rigs and brightly colored shad darts have been the top offerings. Occasionally, anglers are reporting catching both species with small spinners. Bass have been hitting bass assassins and imitation soft plastics along drop-offs and in shallow water during the days. Catfish will still gladly take whatever you drop to them, but favor fresh cut menhaden, gizzard, and chicken breast.
The recent warming weather has also kicked off an early snakehead bite in the Blackwater complex and the surrounding areas, with a number of folks reporting decent catches of two to five fish. Minnow under a bobber is still the best bet, but we also had some reader reports this week of angry snakes slamming swimbaits and chatterbaits worked slowly just off bottom.
---
Tangier and Lower Shore Fishing Report Update, March 6 Update:
Yellow perch are on, people! The run's started in all the tribs with the Pocomoke remaining a hotspot for anglers, particularly those hoping to catch a variety of species including bass, chain pickerel, and crappie, on top of the perch. Sea Hawk Sports Center reported the crappie and yellow perch bites have been especially hot for anglers fishing two-inch twister tails in pink, white and chartreuse on 1/16 ounce jig heads. Tipping them with blood worms or grass shrimp has been common. The panfish have been schooling around and in holes. Areas with plenty of structure have been best for crappie. Yellow perch have typically a bit deeper than the crappie as they prepare for the spawn. Sea Hawk also let us know that a few small stripers were caught in the mid-Pocomoke this week, when the crappie bite was slow.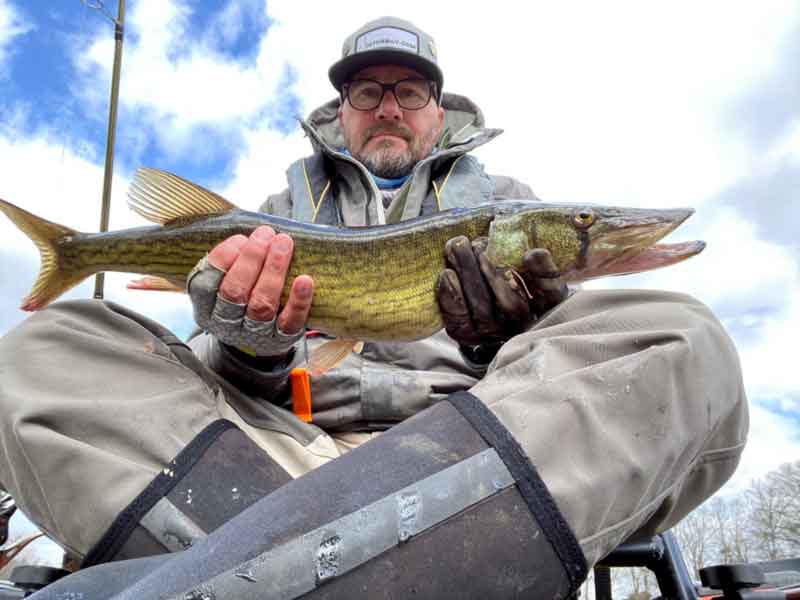 Be sure to check out our Perchapalooza 2020 article to get the scoop on targeting the yellows, if you haven't already checked it out. Throughout both the Tangier and Pocomoke tribs, blue catfish remain a consistent companion. They aren't shy about taking cut baits off the bottom, and will snatch up everything from cut menhaden to your leftover Royal Farms chicken.