Lower Chesapeake Bay Fishing Report, July 10 Update:
The Tacklebox reports that cobia are now spread out from Hooper's Island Light south, all the way down the Bay. Angler in Chief Lenny Rudow backs up that account, and notes that although he did better last week than this week while hunting cobia close to the State line, the fish can be found all down the channel edges and near the Target Ship. He also mentioned that last weekend they spotted notably more cobia out over deep water than they did up on the shoals while sight-fishing and it was the chumming bite that seemed to drop off. He mentioned that chumming was made tougher by an influx of some small blues which were biting the live eels in half, and the ever-present hordes of rays. Reports from the Windmill fleet of chummers are of better cobia numbers with most of the fish being caught breaking the 40-inch mark and some boats limiting out, but again, a constant battle with rays. As a result, more people are opting for trolling or sight fishing, as the conditions allow.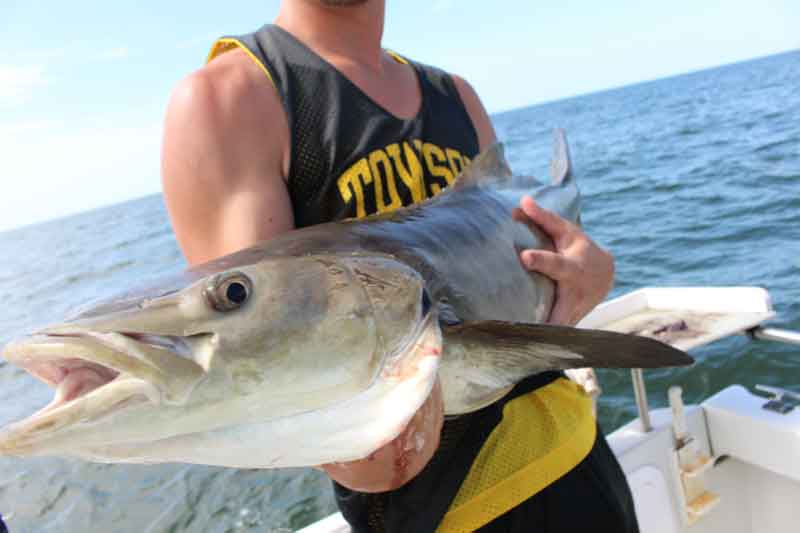 The Tackle Box also noted that there were stripers in the shallows of the Potomac at dusk and dawn, moving to deeper water mid-day, but remember that as of July 7 (through August 20) stripers are closed in Potomac River Fisheries Commission jurisdictional waters. Fortunately, speckled trout also continue to be caught in the lower tributary rivers and creeks, and we had numerous reader reports this week from anglers casting four and six inch soft plastics, small silver Rat-L-Traps, and Mir-O-Lures who enjoyed a nice mix of mostly just-legal specks with small stripers adding to the action. The speckled trout action also got a thumbs-up from readers fishing in the lower Rap below the Rt. 3 bridge, with one reporting seven keeper fish plus a snapper blue on his boat during a half-day trip casting four-inch paddletails on half-ounce jigheads. He also mentioned that a neighboring boat came in from the Bay with a couple of Spanish mackerel. Just a couple, but it's the first we've heard of the species moving this far up the Bay so far, so we're happy to hear it.
Late breaking addition: After last night's Live with Lenny broadcast on Trolling for Spanish Mackerel we had two viewers report that they'd caught Spanish mackerel in the Lower Bay in the past week, one fishing east of Gwynn Island and the other at The Cell. One had "a few" and the other had one fish mixed in with small blues.
---
Lower Chesapeake Bay Fishing Report, July 3 Update:
BEEP-BEEP-BEEP - Attention Anglers: Everyone should be aware that there's currently a bit of a bloodworm shortage, and you may have trouble locating this uber-expensive but uber-effective bait. Anglers around the dial are reporting that Fishbites Bloodworm flavor has been the next best thing. So if you call around and come up blank on the bloodies, reach for the Fishbites. We now return you to our regularly scheduled fishing report. - BEEP-BEEP-BEEP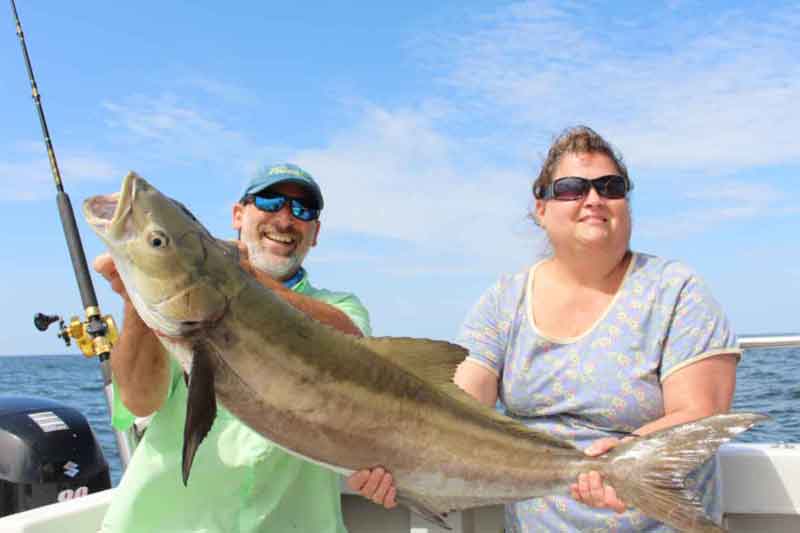 Happy Fourth, anglers! We're sure you'll be spending some time on the water this weekend celebrating the holiday and catching 'em up. With a great bite and opportunity to get out on the water, we're expecting one heck of a fleet this weekend. While you're showing off the red, white, and blue, stop into your local tackle shop and load up on eels. You're gonna need them. The cobia bite is happening. Our Angler-in-Chief Lenny Rudow fished near the state line this week and found both chumming and sight fishing for cobia productive at times, and so-so at others. One day the fish hit both live eels and bunker chunks set on bottom in 20 feet of water, with four fish between 41 and 43 inches grabbing the baits on the end of an incoming tide. Another day chumming produced a lone 41-incher (on bunker) and a ray. Sight fishing proved tougher, with two fish spotted at the surface and one in the 50-inch class willing to bite. A green Striper Sniper under a white skirt on a 1.5 ounce jighead triggered the hit. Back at the ramp both days, other sight fishers working from the Target Ship south to the Windmill Point zone reported similar results, with a lot of searching to spot the fish and a 50-50 bite ratio when offered jigs. Those who tried chumming also mentioned that rays proved problematic.
Sad note: Rudow also reported that they found the filleted body of a blatantly undersized cobia in the 34 to 35 inch range, at the fish cleaning station at Point Lookout on Thursday. Not only did the angler keep the undersized fish, he or she left the carcass and cuttings sitting on the fillet table rather than tossing them in the dumpster, 20 feet away. Whoever you are, if you're readying this quite frankly we hope you're ashamed of yourself and "you're welcome" for cleaning up your mess... not.
The Tackle Box also reported that cobia hunters are doing well, despite sometimes hefty crowds at the Middle Grounds and Mud Leads. They let us know that with so many chum lines in the water, at times there just aren't enough fish to go around. After a thorough cost-benefit analysis, however, they decided that the risk of watching your neighbor be the one to hook up is totally worth the potential of an awesome catch. The fleet setting up at Windmill Point is experiencing similar results while chumming, with better sight fishing results in this area. However, we also heard from a reader fishing out of the Rap who said he was darn glad he hauled chum because it saved the day Thursday afternoon, when the weatherman's report was wrong (as usual) and the surface was simply too choppy for productive sight fishing. We also had a smattering of reader reports of success on cobia from the Wolf Trap area, off Gwynn's Island, and The Cell.
The Tackle Box also reported that trollers are also enjoying good fishing for stripers in the Potomac. There are fish all the way upriver, and trollers have been cruising all the way to Port Tobacco to get in on the action. Additionally, the shallows have been great for stripers at dusk and dawn. Schoolies can be located just about anywhere, a favorite right now for lure casters.
The summer invasion of bluefish and Spanish mackerel in the Lower Bay hasn't really heated up yet north of Wolf Trap, though they are now showing up in good numbers south of that zone. Assuming no major changes in the weather and the fish's usual patterns, they should work their way northward in short order.
Crabbing report: Crabbing is good in the Lower Bay with many people filling the bushel basket. One caveat, we are hearing that lots of females are chewing up the baits.