Lower Chesapeake Bay Fishing Report, July 18, 2019 Update:
The Lower Bay is packed with a variety of species right now, all of which are on fire. Going from north to south, the standout in northern parts of the Lower Bay has been cobia, which are slowly working their way further up north. Although they're not quite at the Middle Grounds yet, the Tackle Box reported fishing below Smith Point can be solid – that said, the closer you are to the mouth of the Bay the better your chances of landing a cobia and we've also heard from some seriously good anglers who have targeted cobia in northern VA waters and caught just one or two undersized fish. Meanwhile, in the lower Potomac the best rockfish bite has been best in the shallows around structure, but utilizing the tides and going out when the heat isn't overbearing has been crucial to catching. Live-lining has been a great option. In addition, huge schools of spot have invaded the Potomac and Patuxent. As the Tackle Box put it, if you can see water in these rivers you are in the presence of spot. With a dozen bloodworms, a double hook bottom rig and a little effort you can fill a cooler.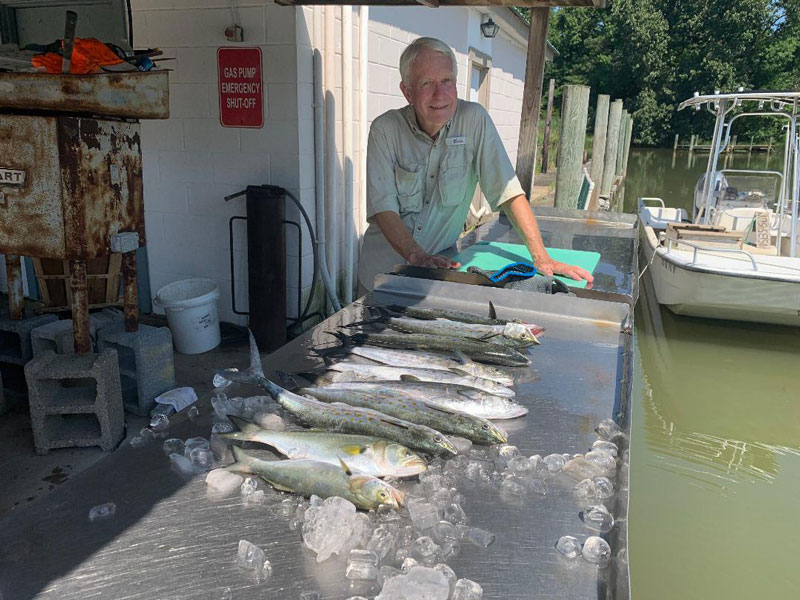 Spanish mackerel remain another strong option for Lower Bay anglers – very strong. Reports of several dozen fish in an outing have come in from trollers pulling small gold and silver spoons, and at times they're visibly marked by working birds. There are some blues in the mix as well. As they've been scattered throughout the Lower Bay hitting a specific location doesn't seem to be as important as covering lots water until you find a school of fish.
Meanwhile, catfish are still heavy throughout the rivers, and eager to take cut bait. Snakehead have also continued a steady bite and are in the headwaters of the St. Mary's River, in the Potomac, in St. Jeromes Creek, and in the Rap. Apex Predators, fishing the Virginia side of the Potomac, has kept up a steady stream of snake pics right through the heatwave.
Crabbing has been solid in the Lower Bay tribs, both eastern and western sides. 
---
Lower Chesapeake Bay Fishing Report, July 12, 2019 Update:
If I wasn't work-bound in Annapolis, I'd be making the drive south to fish seven days a week. The season has broken open, with a variety of stellar fisheries going on. The Tackle Box let us know the spot fishery is on, found on hard bottoms in the Potomac, where they've been readily taking bloodworms on a spinner hook or bottom rig. Most are suspended just above the bottom. Although some of the spot have been filet size, there's a fair number of smaller ones and little croaker in the mix. Many anglers have been taking them to Point Lookout, St. Georges Island, and Piney Point, where then live-lining them has been producing stripers. These areas have also been hotspots for trollers trolling a tandem rig with medium sized bucktails and twenty-ounces of lead. On top of that dusk and dawn are providing exciting topwater opportunities; Morgantown Bar to Port Tobacco have been hot areas.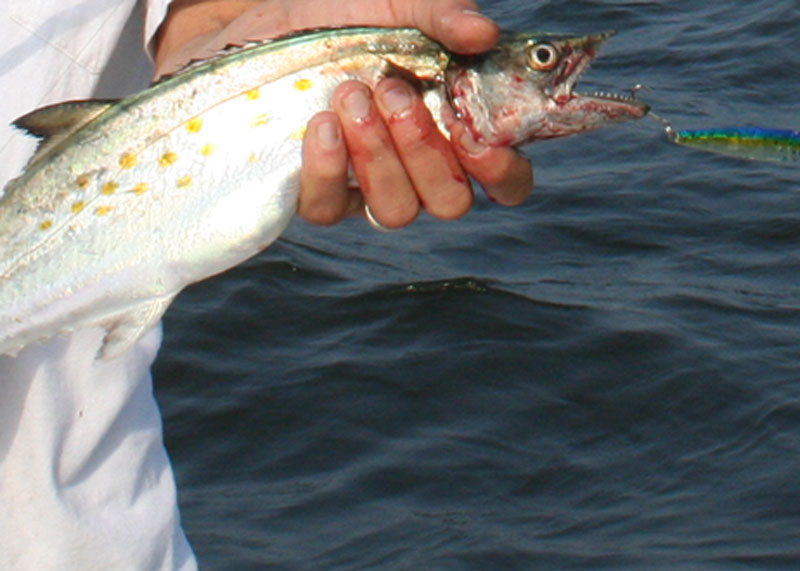 J&W expressed that this Spanish mackerel season has already become one of the best in years for the Lower Bay. The area from the Rappahannock to Windmill Point has been on fire. Most anglers are using Clark spoons and number one planers. Fish are varied in size, with a smattering of decently sized fish. Large ones haven't been as common as they have been a bit farther south, but the fishery is healthy and providing ample action. The Middle Grounds has been a great area as well, and many anglers fishing there are also now picking up bluefish while chumming.
A little further south, the cobia bite is not only solid but picking up. They're more commonly being spotted, though it does seem the low salinity in northern areas of the Lower Bay has kept them from moving far up; some have been caught at the Target Ships and the Middle Grounds but Windmill Point has been the northernmost reliable area for loading the cooler with multiples, with the stretch from Wolf Trap to Cape Charles producing better fishing. Generally speaking, chummers using bunker, live eels, and live spot have continued to out-catch sight-fishermen, though this is very dependent on the conditions encountered in specific areas. When spotted up top, a white or chartreuse bucktail dressed with a pink twister tail has been a prime offering.
Crabbing report: There are good catches coming in from the Potomac south on the western side, and the Choptank south to the east.
---
Lower Chesapeake Bay Fishing Report, July 5, 2019:
This week, The Tackle Box let us know that the report in the lower regions of the Chesapeake remains stellar. Although rockfish have been the stars of the Bay north of the VA line, focus down south is of course on the Cobia bite. They've spread throughout the Lower Bay in greater numbers, and many anglers who fought wind and the pop-up storms this week were rewarded with action. Windmill Point has been the northernmost reliable hotspot, however this week they did make (sparse) showings near Point Lookout, the Middle Grounds, and the Target Ships, as well. Sight fishing in northern areas is very spotty, however, and a couple readers who gave it an attempt north of Windmill reported spotting just one or two fish. Chumming alewife has been a better option. Chumming has also continued to work well to the south although sight fishing near the CBBT, Cape Charles, and the Wolf Trap area, is solid. Live eels or bucktails dressed with twisters have been top offerings.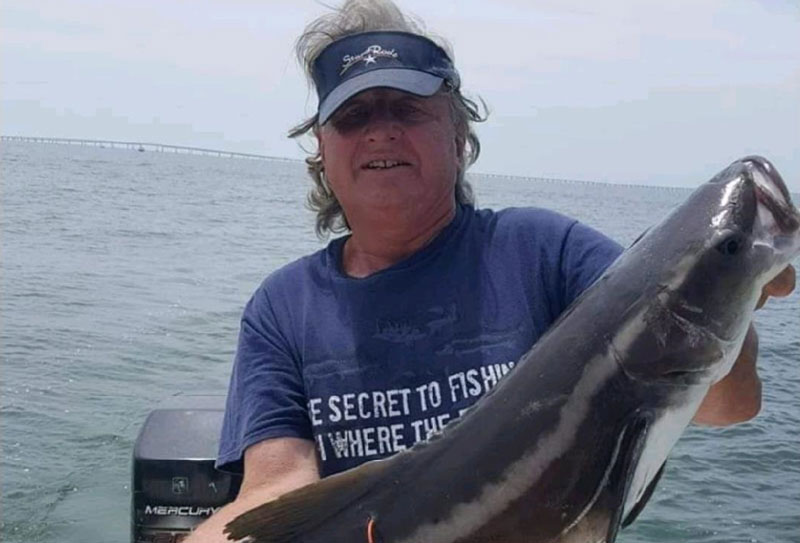 The Tackle Box also mentioned the Middle Grounds in their red drum report – two big bruisers were confirmed there this week, and as we move through July we're looking to find more.
Anglers up by the Potomac and Point Lookout have been holding steadfast on the rockfish bite, which continues to shine. They're plentiful in both the tribs and the Bay, and a variety of tactics are still being employed to land them. The channel edge from St. Georges to Piney Point continues to provide good fishing. Chummers, trollers, and live-liners are doing well there, and when suspended fish can be located, jiggers are doing well too. Fewer chummers are being catfished than this time last week, as heat and increased salinity is finally beginning to run the cats up the rivers where they're retreating to fresher water.
Speaking of the rivers: in the tribs dusk and dawn have been great times to get on a shallow-water striper bite, as they're likely to smack topwater lures during these hours. Bottom fishing in the lower sections of the tributaries has also been picking up, with a mix of spot, croaker, and perch to varying degrees in different areas. Some of the spot are eating sized which is also true of the croaker, though the bigger croaker mostly remain south of the Rap.
Crabbing Report: Crabbing remains consistent in Lower Bay tributaries, and is far better than it is in the Middle and Upper Bay areas.