Lower Bay Fishing Reports
Lower Chesapeake Bay Fishing Report, September 29 Update:
There are a lot of great bites going on right now in the Lower Bay with water temperatures dropping due to cooler fall air coming into the region. Many fish are feeding hard and fattening up on the abundance of baitfish in the area. Bluefish are feeding on schools of peanut bunker and bay anchovies all over the Bay and Lower Potomac. Most of the schools are full of smaller bluefish but anglers are getting some bigger fish up to five pounds in the mix, too. Many are catching these fish on small spoons trolled behind number-one planers. There are still some Spanish mackerel being caught by trollers, but those fish will be heading south shortly as water temps continue to drop. A reader checked in after fishing the lower Potomac and reported that dropping cut fish baits resulted in snapper blues, one after the next. The 12" to 16" fish are so plentiful now that limit catches can be made.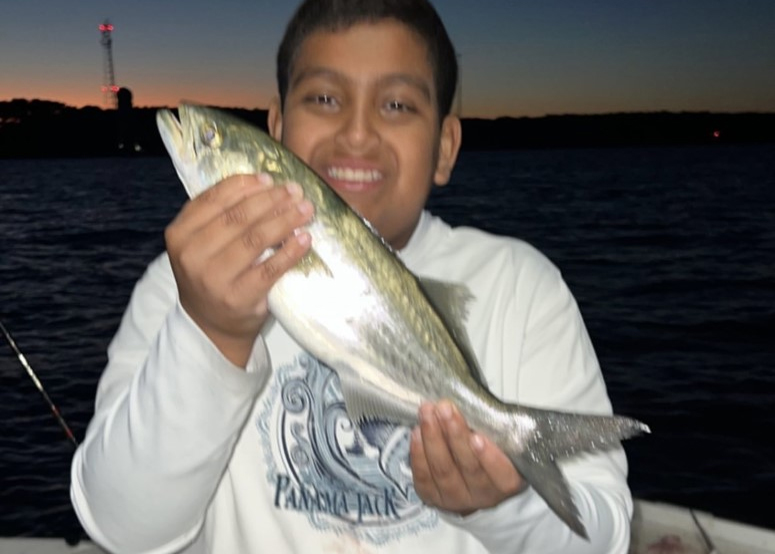 Ken Lamb from The Tackle Box reports that stripers are everywhere in the shallows ambushing baitfish in the Potomac, which is holding rockfish in the 19- to 30-inch range making for some great action. Hopefully after Ian passes through the waters of the Lower Bay will settle out in time for the October 4 opening of rockfish in Virginia waters south of the Potomac. Lure casters and trollers are having lots of success using small bucktails with plastic shads or curly tail trailers. The key is getting close to shoreline with rocky bulkheads and points on moving tides in the early mornings and late evenings.
Ken also let us know that white perch fishing is excellent right now. Many perch are in the 10- to 12-inch range and are really fattening up. Casting lures like perch pounders or jigs along creek and river shorelines is working well, but the perch also love live minnows and grass shrimp floated under a bobber. Along deeper edges, the perch are hitting bottom rigs tipped with soft crab or Fishbites.
The bull red bite that was great for most of the late summer has slowed down and the fish are more spread out. However, there are still reports of bull reds being caught here and there. These fish will be cruising along lumps and shoals waiting to ambush baitfish, or may be found under breaking blues. Keep an eye out on your side scan and look for larger marks under breaking fish as these are good ways to locate the reds. Heavier rods rigged with one-and-a-half-ounce jig heads and large paddletails are a good idea to keep on the boat. Sea Hawk Sports Center reports that the large red drum are also being found around the lumps south of the Target Ship.
---
Lower Chesapeake Bay Fishing Report, September 22 Update:
Water temperatures are finally cooling off and action around the Bay is picking up. Captain Mike of Apex Predators says the rock fishing is on fire in the main stem of the Potomac. He has been catching many fish in the mid 20's while throwing bucktails and flat metal Rat-L-traps. The moving tides at Swan Point have been a hot spot. Contributor Eric Packard kayak fished the lower Potomac with a couple of friends over the weekend and reported a wonderful diversity of species hitting his Gulp! jigs on shaky heads and white ZMan paddletails, including speckled trout, puppy drum, bluefish, stripers, small black sea bass, and several less desirables like lizardfish. He also reported seeing Spanish mackerel jumping in Cornfield Harbor but said they wouldn't take his offerings. A trip midweek to the Piankatank led to a much greater number of specks plus a handful of puppy drum and flounder, though most of the fish were on the small side.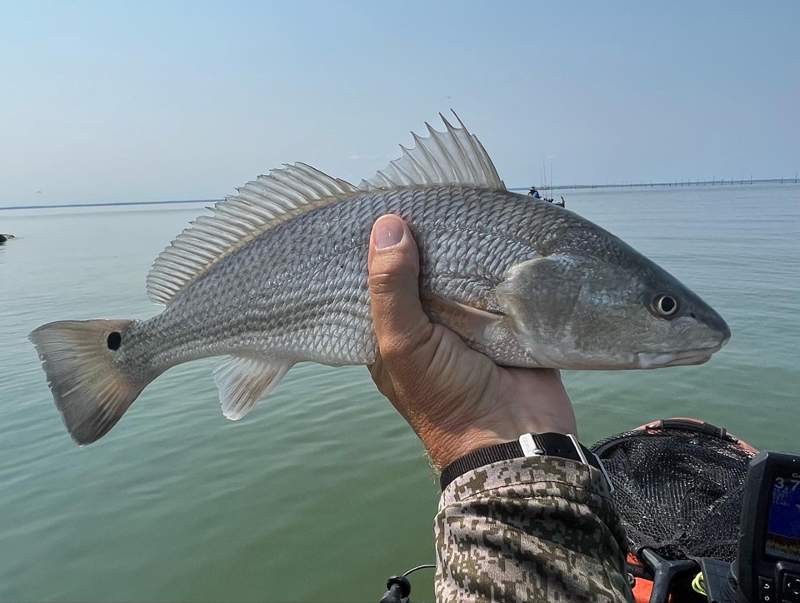 Spanish mackerel and bluefish are still swimming around in the Lower Bay but with the onset of cooler temperatures, the mackerel will be leaving soon. These fish can be found along the edges of the shipping channel from Buoy 76 South to the mouths of the Lower Bays Rivers. Schools of bay anchovies are being carried along by currents and the fish are feasting on them. Trolling small Clark and Drone spoons behind planers at a fast clip is the most popular way to fish for them but casting into breaking fish is exciting and action packed. Small heavy chrome spoons and metal jigs cast into the action, allowed to sink, and then speed-reeled in is a fun way to catch macks. The Tackle Box reports that bottom fishermen are still getting spot.
---
Lower Chesapeake Bay Fishing Report, September 16 Update:
The Lower Bay is an excited place to fish in the month of September and there is lots of action to report this week. Spanish mackerel and bluefish are ripping through schools of bay anchovies along the Bay's channel edges. East of Smith Point has been a hotspot for blues and macks and many anglers are catching fish on light tackle, so keep an eye out for breaking fish. Large groups of birds sitting on the water is a good sign that there are fish in the area and they could start breaking at any moment. A reader fishing near Cole's Point reported birds working and bluefish breaking water en masse this past weekend, including some nice ones up into the three-pound range. He said the action was so hot that in 45 minutes they had their limit on Kastmasters and four-inch white grubs. If birds aren't breaking, trolling small Clark or Drone spoons behind planers at seven to nine knots is a proven tactic for catching the macks. Slow your speed down to around six knots to catch more bluefish.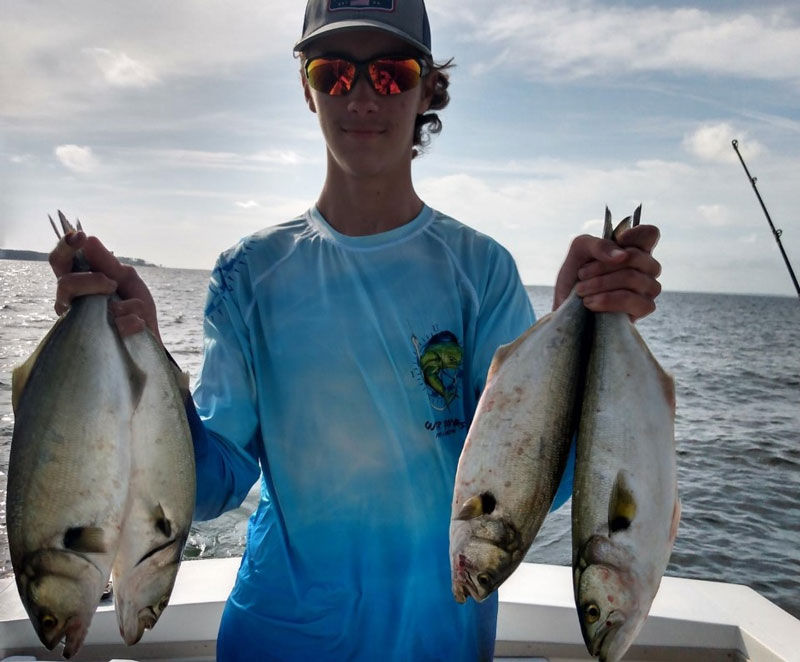 Large red drum are still in the area but won't be in big numbers for much longer. The Tackle Box gave us the report on the bull reds and cobia and said many fish are feeding under schools of bluefish and boats with side scan imaging have had the best luck in finding the large schools of reds. There have been reports of reds being caught while trolling spoons but jigging for them with large soft plastics is the most common method. Cobia season closed on the 15th but anglers can still catch and release these fish until they leave our waters for the winter. Boats fishing from Point Lookout south have had a bit of success with the cobia while trolling large surgical tubes on number two or three planes at around five knots.
Spot are gaining size and targeting them is a great opportunity if you enjoy lots of action while bottom fishing. White perch, croaker, and kingfish have also been in the mix. Rockfish are being found along the shorelines of the tidal rivers and are being caught on a variety of baits including topwater lures, jerkbaits, and paddletails. The shallow water bite should continue to pick up as we move later into the month, and it's just a little over three weeks before slot rock come back in (October 4, 20 to 36 inches) in Virginia waters (they remain open in the Potomac with a minimum of 20 inches in place through December 31).
---
Lower Chesapeake Bay Fishing Report, September 9 Update:
Fall is right around the corner on the Chesapeake which will provide good bites from a variety of fish. We are already seeing some good patterns shaping up. Two reader reports came in from the western shore tribs, one from a kayak angler on the Potomac and another from a boat angler in the Ware, both with very similar results while casting the shallows: lots of lizardfish and snapper blues are harassing soft plastics, but if you replace the tails often enough there are also good numbers of small puppy drum (some hitting slot size, some not) and specks to be caught. The report from the Potomac also included good numbers of small rockfish with one hitting the 21-inch mark. Three-inch white and electric chicken paddletails were noted as a top producer. Contributor Eric Packard also visited the Potomac via kayak and picked up four under-slot reds along with an assortment of small throwback species.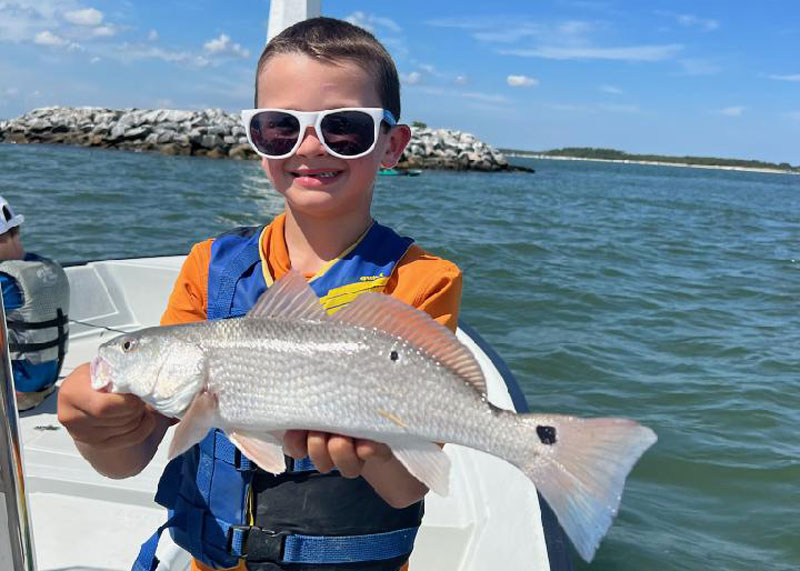 Another reader checked in this week after fishing Mobjack Bay. They encountered lots of redfish including some in the slot, and lots of other fish short of the slot. They also picked up some nice croaker and some puffer fish large enough for the frying pan, and noted that a boat returning to the ramp at the end of the day had a pair of cobia in the cooler, which were caught sight-fishing. Cobia season is still open until September 15th. There are scattered fish from Solomons south and most fish are being caught trolling surgical eels or sight fishing.
Spanish mackerel and bluefish are still in good numbers throughout the lower Bay. The Tackle Box reports that most of the bluefish are on the smaller size in the 12-to-15-inch range but there have been some reports confirming schools of hefty blues in the three-pound range near Buoy 72A. The mackerel are now getting bigger with many in the 22-to 24-inch range. Schools of these fish will continue to move about feeding on bait and attracting birds from Cove Point down to the York River throughout the end of the month. Those using planers and small shiny spoons will have a good shot at filling up their coolers. 
Lower Chesapeake Bay Fishing Report, September 2 Update:
Anglers fishing the areas of the Lower Bay have an abundance of species to target this time of year. The Angler in Chief says a run to the lower Potomac early this week didn't produce the intended reds and specks, but Spanish mackerel and bluefish were plentiful at the mouth of the river and the blues were larger than expected. He also noted that they caught several just-short flounder in Cornfield Harbor, and a plethora of lizardfish which along with the blues made fishing the shallows difficult — if you're using plastics, bring plenty of tails. The Tackle Box reports that bottom fishing is off the charts. Large spot are everywhere and will take most any bait including bloodworms, lug worms, and Fishbites. They also expect rock fishing to be good in the Potomac over the weekend as cooler nights, high tides in the morning and clean water are shaping up ideal conditions. The rock have been in the shallows at daybreak willing to hit topwater, then are retreating to deeper holes in the heated afternoon. Live-lining near structure with moving water is a good strategy for targeting them.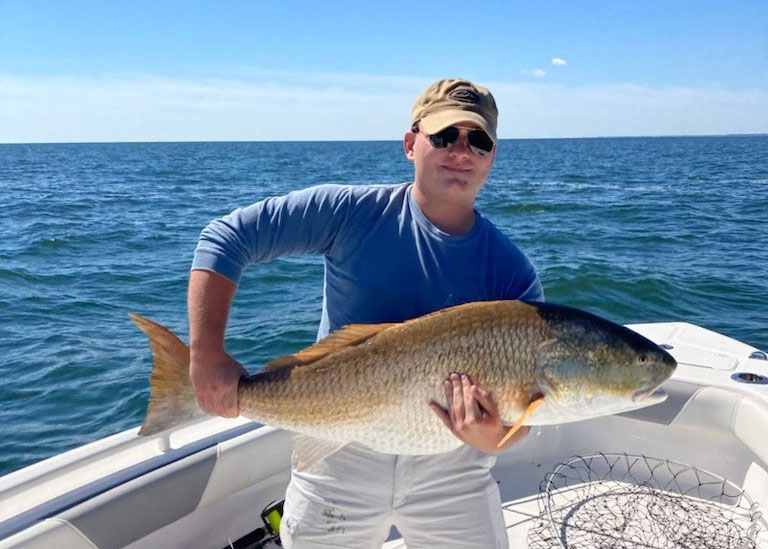 There are two weeks left for anglers in Maryland and Virginia to target cobia as the season concludes on September 15. Cobia still appear to be scattered with no big concentrations of fish. The areas producing a few fish for recreational and charter boats seem to be the lumps around the Target Ship and points south. Trolling large 18-inch tube hoses in tan, pink, or purple seem to be the preferred method as of late.
Plenty of mackerel and bluefish have been feeding on baitfish throughout the Lower Bay. Look for birds actively working breaking fish or for birds sitting on the water as the schools of macks and blues are likely close by. Two readers checked in after trolling near the mouth of the Rap, one to the north off Windmill Point and the other to the south off Stingray, with identical reports: mostly bluefish and some mackerel were hitting small spoons trolled in areas where birds were sporadically working. Blues ranged from 12- to 16-inches and the mackerel were in the 14- to 22-inch range. Bull reds along with some mixed in slot reds are still roaming about in the Bay and have been scattered from buoy 72 all the way to the CBBT.
A few reports came in this week from readers hitting the rivers. One checked in from the lower Piankatank near Gwynn, where bottom fishing with Fishbites in bloodworm and peeler crab flavors produced a lot of smallish croaker and spot (but some keeper sized), under-slot puppy drum, lizard fish, and a keeper speck. Another angler worked the Corrotoman and Rappahannock Rivers over the weekend where he caught a variety of species where he found clean water including speckled trout, stripers, bluefish, flounder, and puppy drum. He reported that water temps were in the upper 80's and visibility was around 24 inches. As we move closer to fall, anglers are anticipating cooler temps which should make for some great fishing this month.