Middle Chesapeake Bay Fishing Report, April 3 Update:
Fellow FishTalkers: We know you're all rearing to get out of the house and on the water like we are. We live and breathe fishing, and are quite bummed about the limits placed upon being on the water right now. While it's tough to keep away from the docks and shorelines, we encourage you all to abide by the regulations put in place by Governor Larry Hogan. If you're a substance angler, remember to abide by social distancing requirements while keeping in mind that all the normal fishing and boating rules and regs are still in effect. With such stringent limits put in place regarding who can be on the water right now, as well as reduced hours and customer contact in most tackle shops, we'd like to forewarn you that the reports are going to be a bit thin this week and probably will remain so until this blows over. We also know there's been a lot of confusion over exactly what the current regulations are regarding who can and cannot fish. We can't tell you the regs in this report because they differ by the area and are changing by the day, but visit our Social Distancing While Fishing page, and in the fourth paragraph you'll find links to the different state and federal agency websites and announcements regarding the legalities.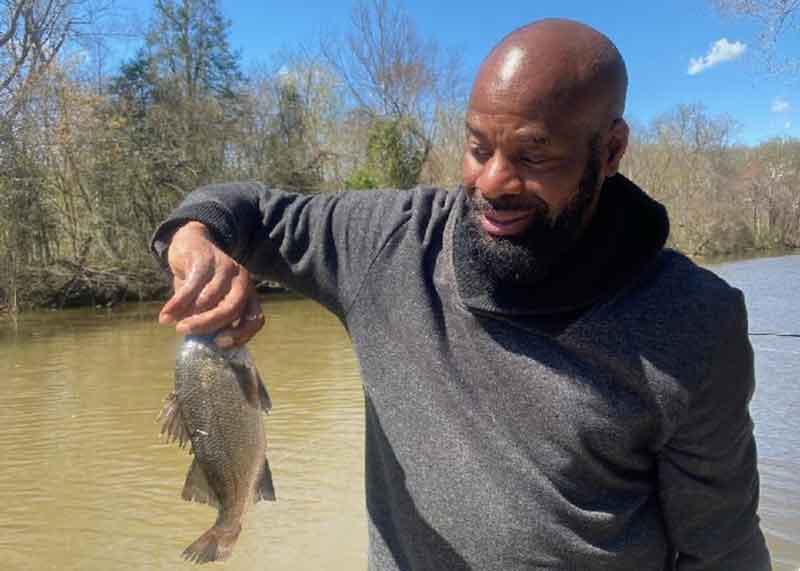 White perch are your best bet for a fresh fish dinner; Angler in Chief Lenny Rudow reports that last weekend some were being caught in the Western Shore salt ponds that sustain a run, including at Triton, but the bite was very slow. Grass shrimp jiggled on a shad dart under a bobber was the preferred bait. We also received some reader pics of catfish being caught from the Middle Bay tribs this week. Prior to the stay-at-home order there were some reports of shad caught on the Eastern Shore, however, as fishing for them would be catch and release only (and therefore a violation of the substance-only fishing order), we will not be reporting on this fishery for the time being (same goes for stripers).