Middle Bay Fishing Reports
Middle Chesapeake Bay Fishing Report, January 27 Update:
The mid-winter fishing blues are really setting in as we eagerly await spring. Fishing on the Bay is tough right now but some catch and release rockfish opportunities are available. Water temperatures have warmed up slightly which has pushed some of the rockfish into shallower water. Anglers Sport Center says a good starting point will be to look for them in 40 feet of water, but they have been found in as deep as 100 feet of water. The key to finding them this time of year is to locate schools of bait. If you are struggling to mark bait or fish in one area, it is a good idea to move on to search elsewhere. The big breeders are staging and will push up into the rivers in about a month or so and the open water bite will die down. Metal jigs up to three ounces have been working well. Larger seven-to-eight-inch plastics on two-ounce jigheads are also getting the job done.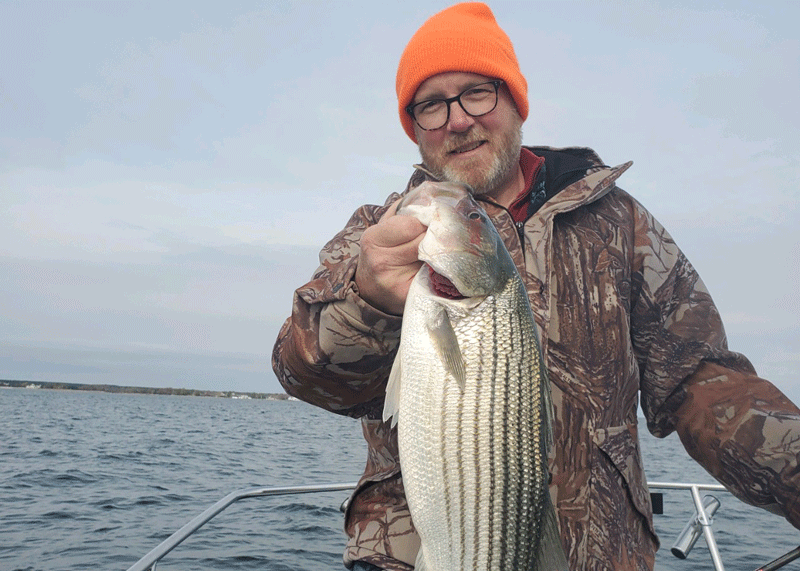 Captain Pete Dahlberg Four Seasons Guide Service has been targeting trophy rockfish in the middle and lower sections of the Bay recently. It hasn't been easy though with some days resulting in zero bites. Other days have produced decent bites with some fish over 40 inches being landed. Captain Pete says in the winter, you must be very observant. Rockfish generally hang around the deeper channels but some days the fish may be way off the channel and others they may be right on the ledge. Some clues to look for are birds sitting or birds actively working. Metal jigs and soft plastics like BKD's on heavier jigheads is the typical presentation that can get them biting. The CCNPP typically holds fish year-round near the warm water discharge and a few big rockfish have been frequenting that area. It is not easy to locate the fish and even if you do, they may not bite. However, the opportunity for a trophy rockfish is enticing.
Pickerel fishing is still good right now in the tidal tributaries. The West, South, and especially the Severn River all have decent populations of pickerel. Jerk baits and spinners are great artificials to throw for the pickerel. Shiny baits or baits that rattle work well at getting their attention and enticing them to bite. Live minnows work especially well in the colder temperatures.
---
Middle Chesapeake Bay Fishing Report, January 19 Update:
Fishing is slow right now in the mid Bay and it looks like colder weather will be arrive this weekend and stay through next week. There are still some schools of rockfish in deep water and large ocean run rockfish are mixing in with these schools to stage for their spring spawning run. Anglers Sports Center reports that these fish are moving around quite a bit from day to day. They recommend starting your search in 40 feet of water and drifting deeper while looking for marks on your meter. If you mark suspended fish, the bigger ones will likely be below them close to the bottom. Use one and a half to two-ounce jigheads or up to three-ounce metal jigs to get down to the fish. Most anglers are launching out of Solomon's or Point Lookout, but this pattern will exist almost anywhere in the Bay. Patience will be required when targeting these fish. Some days you can find them, some days you can't, and some days you find them but won't get them to bite. It is a frustrating fishery but also a very rewarding one!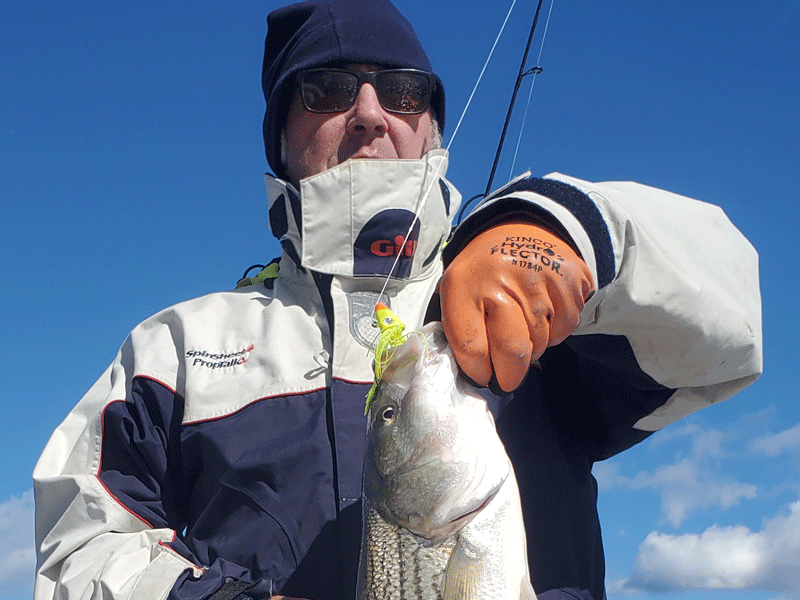 One angler launched out of Sandy Point on Monday this week in search of some mid Bay catch and release rockfish action. Water temperatures were in the low 40's out in the main channel. They searched for fish in 50 to 75 feet of water but found the best marks around 60 feet. Rod set ups included three quarter ounce and one-ounce jigheads with a mix of white, chartreuse, and albino shad color soft plastics. Their first fish was a fat 24 incher that hit a chartreuse BKD on a one-ounce jighead. The hits are a light tap at best and the best technique was to cast up current and let the lure swim along bottom. Over the course of a few hours, they caught six rockfish, with the largest being 28 inches, and missed about a dozen more.
It's a great time to remind anglers how important boating safety is during winter. Wearing a life jacket and keeping a close eye on the weather are extremely important in the colder months. It is also a good idea to fish with a buddy and make sure others know your plan for the day prior to leaving the dock. Water temperatures in the 40s will cause hypothermia to set in quickly if you go overboard so make sure to take all necessary precautions while on the water. We want to make sure everyone is safe while they search for some fish willing to bite.
---
Middle Chesapeake Bay Fishing Report, January 12 Update:
A mild first half of January has given us some great fishing days for anglers wanting to wet a line. A brief cold front is expected to come through this weekend, but temperatures look like they will be back into the 50s next week. Take advantage of the warmer days while you can because old man winter is sure to bring on colder weather soon. Pickerel fishermen are having success this week in many of the tidal tributaries all over the state. The Severn and South Rivers both have healthy populations of pickerel that are a popular target in the winter. Bladed jigs and spinnerbaits are other artificial baits that work well for pickerel, but you can never go wrong with a live minnow fished under a bobber. Rain Thursday night may have muddied up the water, so if that's the case, stick to dark, natural colors. Gold bladed chatterbaits create vibration and flash in the water which is key for getting pickerel to strike. Make sure to check out the CCA Pickerel Championship and enter if you'd like to compete for some great prizes. The tournament is open until the end of February, so there is still a lot of time left to enter and fish.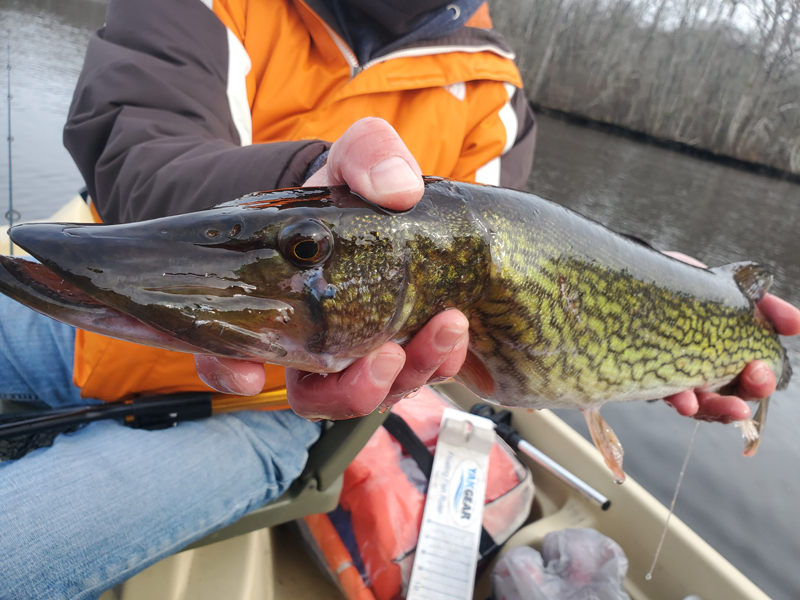 We didn't hear from any anglers targeting catch and release rockfish this week, but it seems as though most of that action has pushed south of the Potomac by now. The best chance for anglers to catch rockfish in the mid Bay will be the Calvert Cliffs Nuclear Power Plant. The warm water discharge there holds fish year-round and before the new year, there were plenty of schoolie rockfish to keep anglers busy. There still may even be a few speckled trout in the area to be caught. Light tackle jigging is the way to go at the discharge as the water drifts your boat. Fish will be holding tight to bottom so make sure your jig is heavy enough to feel bottom as you are jigging. Big ocean run rockfish are making their way into the Bay and it's not out of the question for a few of these fish to stage at the warm water discharge. There seems to be a few big fish caught there every winter, but it seems as though luck plays a big factor in catching one of the beasts.
---
Middle Chesapeake Bay Fishing Report, January 6 Update:
It was an unseasonably warm start to the New Year with near record high temperatures this week. We aren't complaining about it though because this weather has given us some great conditions for getting out on the water. We heard from a reader looking to catch and release rockfish in the middle Bay this week that searched zones from the West River to Eastern Bay resulting in zero bites. There were very few marks on the fishfinder, and surface temp had fallen all the way down to 42 degrees. We heard similar reports from another angler who launched from Sandy Point and ran to areas along the shipping channel from just south of the bridge up to the Baltimore Lighthouse. They only marked a few fish along the way in 65 feet of water, which unfortunately had no interest in biting. Water temperatures were as low as 39 degrees in some areas but for the most part remained in the low 40s.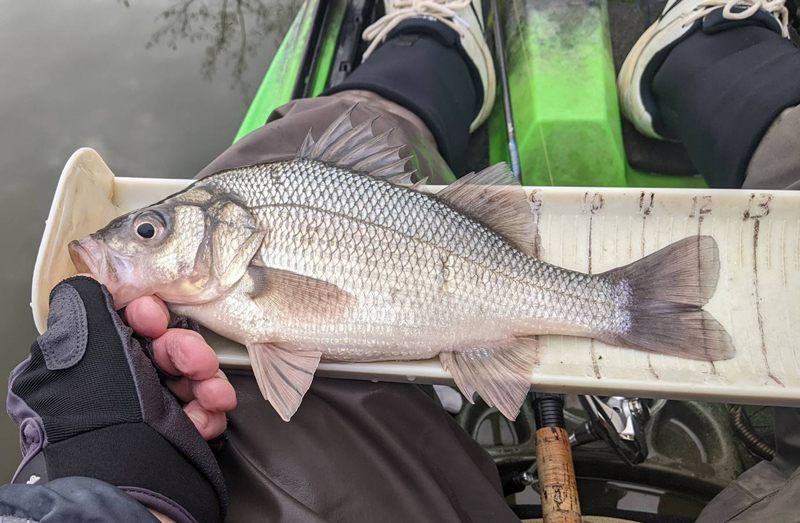 It's sometimes possible to hook a fish or two from down deep at the Bay Bridge in these conditions, and warming trends may bring some fish shallower and willing to strike on sunny afternoons, but from here on out it'll likely be a longshot with the possible exception of fishing the warm water discharge at the power plant. Rockfish and possibly a few speckled trout will be holding close to bottom in the warm waters of the discharge. Drifting in the currents and jigging soft plastic baits just off the bottom will be your best bet for catching any fish around the power plant.
Now that the ice has melted from the rivers and creeks, pickerel fishing has been good this week and the warmer temps should have the fish very active. One angler fishing the Severn noted a good pickerel bite in three to four feet of water, and caught a couple of surprise white perch in the shallow water as well. The creeks and coves in the Severn hold a lot of pickerel but the South and West Rivers also have pickerel in their upper reaches that anglers can target. Make sure to check out the CCA Pickerel Championship which runs until the end of February. There are plenty of divisions for anglers to enter along with some great prizes.