Late Breaking Update, October 11, 2019 (see below for full report):
Angler in Chief Lenny Rudow reports extremely difficult conditions this morning, thanks to the continued strong, gusty winds. Shallow water leeward areas in the river held some active throwbacks but shallow areas exposed to the wind are currently churned up. There were large numbers of birds working north of Thomas Point and also near the Green 1, but all were schools of diaper-stripers. It took a lot of looking to get keepers for the fishbox but they were found in eight to 10 feet of water over structure in areas deep enough that they weren't churned and off-color. White plastics on one-ounce heads did the trick.
Middle Chesapeake Bay Fishing Report, October 10, 2019 Update:
With action a bit sparse north of the Bridge, the Middle Bay has been a hotspot for anglers throughout surrounding regions – when, that is, the winds allow, which hasn't been all that much this week. Bluefish, Spanish mackerel, and schoolie stripers are all still throughout the region and providing ample action. Most notably, the Spanish mackerel have decided to stick around through the fall's initial cold front, and though their numbers have thinned, are still providing great days on the Bay for anglers trolling the channel edges with small Clark spoons, Drones, and Hard Head Bombers behind a number-one planer. The mackerel and the blues can also be found under the working birds that are popping up frequently to feed on schools of baitfish throughout the region. Tossing a metal lure into the mix and reeling quickly gives you a pretty good shot at landing them. Late last week they were still as far up as Thomas Point, but in the past week all the mackerel action we heard of came from the south side of Poplar, and down.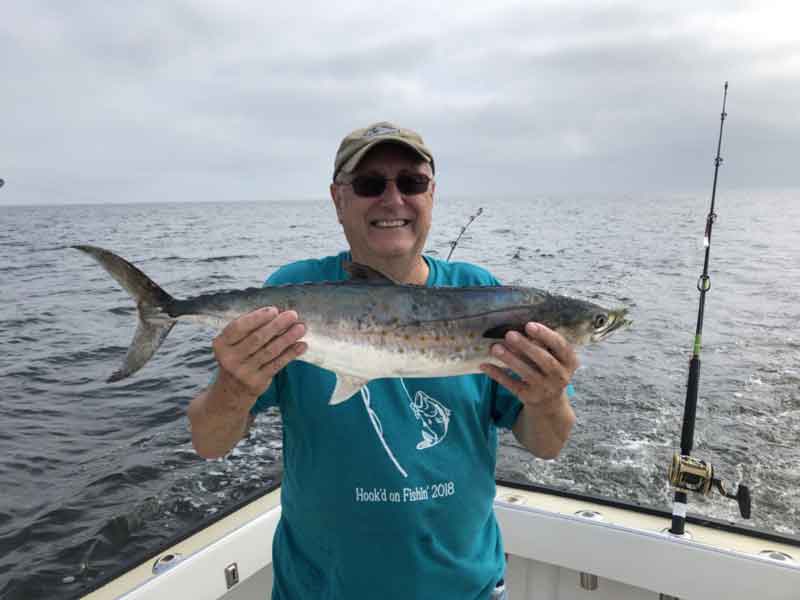 Stripers are also in the mix, though many have been undersized. There are also schools of very small stripers scattered around through the Middle Bay so if you reel in one 12-incher after another, move on and look for a different school. Fish have been spotted busting water around the ships, off Tolly Point, in the mouth of Eastern Bay, the mouth of the Choptank, and all along the Western side from Calvert Cliffs down. Anglers focused on getting stripers to the dinner plate have been gathering around Thomas Point, where the livelining bite is still doing well. Although it has slowed down a bit from last week (possibly due to the tough conditions more so than a lack of fish), Alltackle in Annapolis reported that good numbers of keepers are still coming from the area. Plenty of little guys are mixed in, but overall the stripers at the lighthouse and on the shoal have typically been of a higher grade than the little guys feeding on bait fish in open water. There are also some keeper fish showing up in the tribs, including the Severn, South, Eastern Bay, the Choptank, and the Patuxent, for anglers working the piers and rip-rap with topwater at first/last light, and jigs in between.
There are also some redfish reports coming in from the Gas Docks south, and from Point No Point, still hanging under schools of breaking fish. They've been found under the blues and macks but packs of small stripers are usually a blind alley. Again, there were fewer reports this week but that could be because of wind, not necessarily the departure of the fish.
In the tribs, white perch are highly active and easy to locate. They've been hanging out in most local creeks and around shorelines. Tossing a bottom rig with bloodworms near structure has been a consistent tactic for getting them out of the water. Catfish are present in these areas as well, and provide a bit more excitement. Monster cats are still showing up for anglers keeping clam snouts, chicken breasts, or cut menhaden on bottom.
---
Middle Chesapeake Bay Fishing Report, October 4, 2019 Update:
Fishing in the Middle Bay continues to be exciting, and while the Spanish mackerel bite has become a bit more spotty than in recent weeks – aw shucks, it's become just a good bite instead of a spectacular one - some larger bluefish have begun showing up in the mix. One and two pounders with an occasional larger fish are being caught by trollers towing spoons for a mixed bag, and are slicing the tails off of many jigged plastics. When you pull back a halfie, switch to metal or Zmans. Schools of breakers were spotted near the ships, the mouth of Eastern Bay, the south side of Poplar, and scattered from Calvert Cliffs down to the mouth of the Pax in the past week. The front moving through is likely to send the mackerel southward, so even though we had one reader report of Spanish at the Bay Bridge this week, expect it to become tougher and tougher to find them without heading south.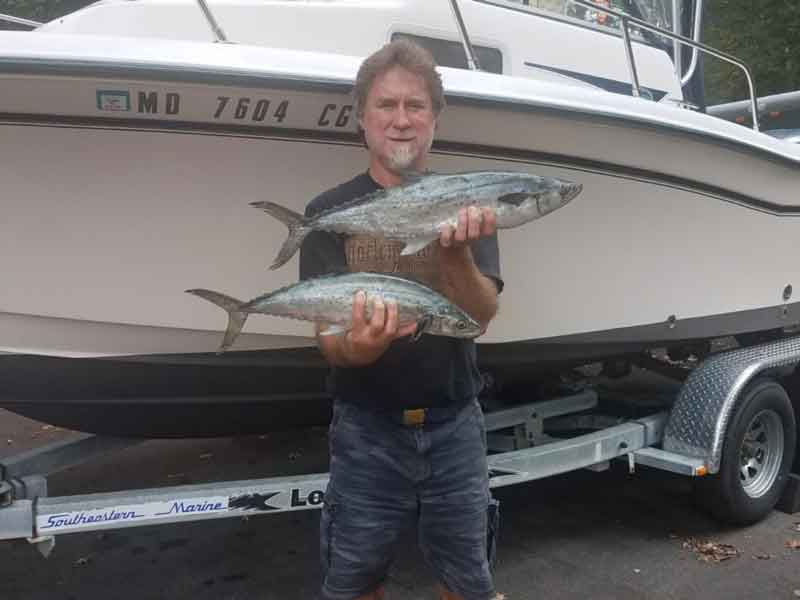 These same areas – throughout most of the Middle Bay zone, actually, are also riddled with small pods of small breaking stripers. Contributor Eric Packard reported finding pods of breaking fish from Solomons up to off the gas docks, and landing tons of schoolies using one and two-ounce jig heads with bucktails and paddle tails. There are here-and-there keepers but massive numbers of 12- to 16-inch fish are throughout the area and the best tactic is to move on quickly, when encountering one small fish after another in any one given school.
Thomas Point has remained a hotspot for live-liners, who are still finding spot easily accessible in most of the tributaries. That will probably change in the near future as temperatures drop out, so if you enjoy live-line fishing, get in your last licks while you still can.
Perch anglers are catching plenty of fish in tributary creeks on bloodworms and small spinnerbaits like Perch Pounders or Beetle Spins, though Angler's Sport Center is reporting that the fish are beginning to shift deeper at this point, which argues for bait methods if you want to load a cooler for dinner.
An alert for light tackle anglers willing to get up at dawn or fish until dark: the shallow water topwater bite in Eastern Bay, the Choptank, and the Western Shore tribs is kicking into gear. Rip-rapped points and rocky breakwater is the best bet.
Crabbing report: There are still plenty of jimmies to be scooped in the Middle Bay tribs, though the proportion of females is rising.