Middle Chesapeake Bay Fishing Report, August 23, 2019 Update:
I spent the past week in Chicago, and when I returned on Wednesday our fridge was absolutely packed with Spanish mackerel. We have Florida-style Spanish mackerel fish-dip, brined mackerel, baked mackerel, smoked mackerel, mackerel casserole… I could go on. I asked my dad where the heck all this mackerel came from, and was met with a lengthy explanation about how great the mackerel fishing was while I was gone. I did some digging to find out if the fishing was so good my dad actually managed to land something, or if he just hit up the seafood store (again). As it turns out, yeah, the mackerel fishing is pretty freakin' stellar.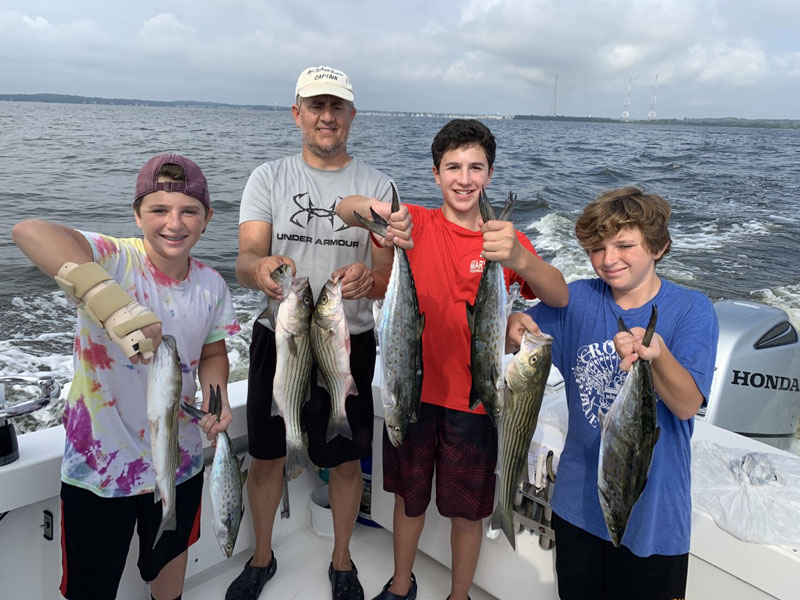 Anglers' Sport Center relayed tales of guys coming into the store absolutely stoked that they'd filled their fishboxes before noon, stocking up on more planers, Drones, and yellow and pink Hard Head Custom Baits before heading out to target the mackerel again the next day. The guys coming in to stock up on the pinks and yellows swear by them, but plenty of other boats are pulling gold and silver Drones and Clarke spoons with equal success. Silver with green reflective tape has been another hot option at times, and we received reports this week from anglers who had each and every strike on gold, only. The fish's exact preference seems to change on a day-to-day basis so start with a mix and change up to whichever color is producing.
Most of the boats are hitting Thomas Point, Bloody Point, the mouth of Eastern Bay, Poplar Island, and the stretch from the Power Plant down to the Gas Docks, but the Angler in Chief said he had his best luck out in front of the Radar Towers. He also mentioned that trolling over eight mph was important (thanks, Walt!) and slower speeds resulted in (mostly very small) rockfish after rockfish. Some anglers didn't have a destination in mind when they headed out, but opted to search for breaking fish and diving birds, a tactic that has served many well this week but has let others down on days when breaking fish didn't materialize. When you do locate breaking fish mackerel can often be found in the frenzy, but guys targeting them are also consistently pulling in a lot of micro-stripers as soon as their lines hit the water.
Another chunk of the fleet has been headed to the Bay Bridge, where trolling for mackerel and targeting stripers by live-lining have both been common. Spot are currently incredibly easy to find (they're all over eight to ten-foot hard bottoms) and livelining them is producing some keeper fish. Some others are heading for Thomas Point, where mostly beaten-up throwbacks are being caught but keeper fish are still getting pulled out of the water. Anglers also reported that (mostly small) croaker are showing up on hard bottoms, and will take bloodworms. They're making their way further north each day, and can be found just about anywhere south of the Bridge.
Bluefish have been quite scattered, making it hard to pin down an area worth heading to if you're looking to target them. Red drum, however, are also moving north, and we had a few reports of monster fish in the triangle from Chesapeake Beach to the mouth of the Choptank, down to Solomons this week. They've been taking BKDs and spoons jigged deep, often around and under schools of smaller breaking fish. If you get into them remember that they'll be well above the slot and should be handled with care – a quick picture later, they should be gently released.
Perch remain active in the tribs, and are still taking bloodworms or grass shrimp on a bottom rig. They've been most active at dawn and dusk in shallow, shaded areas. The lower Pax has been a hotspot, with lots of small croaker and spot also in the mix. Contributor Eric Packard also tipped us off to the presence of (yet more) Spanish, these in the Patuxent itself, between the bridge and the river's mouth.
Crabbing report: Crabbing throughout the Middle Bay has picked up significantly – it's time to bait up the trot line or snap-traps! Interestingly, some are reporting the best take in deep (eight to 10 feet) water, while others are saying the shallows are producing best, particularly at daybreak.
---
Middle Chesapeake Bay Fishing Report, August 16, 2019 Update:
As the Upper Bay's concentration of fish spreads out, the Middle Bay is stepping in with some of the best action around. Marty's told us most people coming in are live-lining spot on structure throughout the Middle Bay. They said the past week the bite at Thomas Point has been great, but if you show up on a calm weekend expect to be surrounded by an entire fleet. When live-lining the most effective method recently has been to hook the spot through the back, right in front of the dorsal fin. This tends to make the spot swim downwards, no weight necessary. If the bite's slow you should also try switching it up a little, if you hook the spot through the bottom jaw and out the top they tend to swim shallow and along the surface. Marty's also mentioned the bridge bite seems to be slowing down. They said although some people have been casting light tackle around Thomas Point shoal and around ledges in 20 to 25 feet, for the most part jigging hasn't produced the quality of fish people are looking for. Many anglers are instead switching to mackerel trolling gear, and tapping into the excellent bite that has moved northward from the Lower Bay region.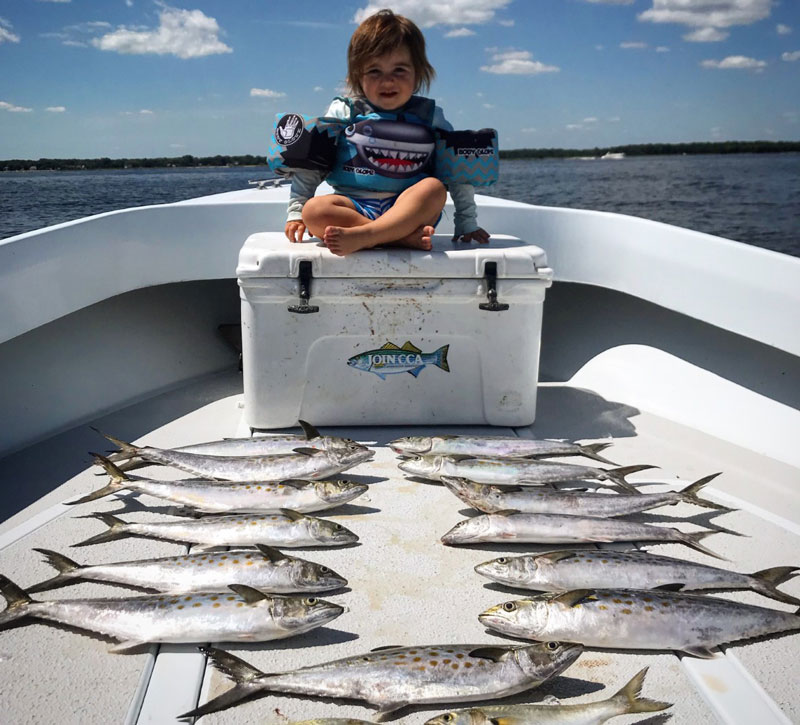 Angler in Chief Lenny Rudow checked in to say that they found breaking fish just south of Poplar this week and saw a few mackerel greyhounding through the melee, but caught small rock after small rock. Trolling off the mouth of the Choptank did produce a few Spanish macks, however, on two- and three-inch gold spoons behind number-one planers. Contributor Eric Packard did better on the mackerel on the Western side (over a dozen just yesterday, down towards the power plant) with small silver spoons. There are stripers, some keepers, also in the mix for mackerel trollers. Rudow also mentioned that there's a great daybreak and sunset striper bite on Thomas Point shoal, but most of these fish are throwbacks. And as for fishing the lighthouse, he says "you can catch plenty of throwbacks which all have multiple piercings in their jaws, and mostly look very skinny, underfed, and generally beaten up. There are some keepers in the mix, but these fish have been picked through by the masses and fish over the 19 mark are becoming harder and harder to come by there."
Alltackle mentioned that the live-lining from Thomas to Love Point has continued to be a stellar way to spend the day, and they also had heard reports of white perch and catfish in the South river on spinners and bait, along with a mix of small croaker and spot throughout the river and at the mouth using worms on a bottom rig. The Rhode and West also seem to be producing these panfish using the same techniques. The Green number-one can has held a consistent spot bite so if you're having trouble locating them in your river you can always head a little deeper. The Tackle Box told us there are plenty of perch are on the rip rap along the shoreline of the Patuxent from the bridge to Big Kingston along the piers. Apparently, the bigger perch are taking tiny spinnerbait lures on the rocks at the entrance to St. Leonard Creek. They also said rockfish "are in the hide and seek mode in the shallows" in the Pax, meaning they will only feed there at certain times of the day.
Crabbing: it has not been easy at all this year but if you're scooping in deep waters (eight feet or more) from the Severn down, you'll be scooping some jumbos. Crabbing should continue to slowly pick up over the course of the next couple weeks and people should be able to fill their bushel baskets. As for now, shallow all of the baits are being eaten by small crabs.
---
Middle Chesapeake Bay Fishing Report, August 9, 2019 Update:
There's a LOT happening in the Middle Bay right now, folks! Rockfish-wise, the trend of recent weeks continues, with the striper fishery being dominated by live-liners across the Bay. Loading up on spot before you hit up your favorite striper spot is a no brainer. Spot can be found in most areas with a hard bottom and between eight and 20 feet of water. If you're heading to Hacketts Bar, Alltackle in Annapolis let us know there isn't a need to go searching beforehand – the area around Hackett's has had a hefty spot bite, and anglers are loading up on bait in no time at all. Guys not spending their day at Hackett's should consider hitting up Thomas Point or the mouth of the Choptank. Once you're all loaded up, remember to make sure your livewell is well oxygenated and not boiling in the sunlight. Across the board, bloodworms on a bottom rig are the best spot bait. Then take 'em to Hackett's Bar, Thomas Point, the Bay Bridge, and the mouth of Eastern Bay, which have been providing for the bulk of the striper action for the Middle Bay fleet. There are also some keeper stripers coming out of the lower Pax, around the bridge pilings and structure. Anglers Sport Center reported that boats keeping their depth finders active while cruising between spots have had some success locating suspended fish, typically around channel edges. Suspended fish will often take jigs, and are favoring pearl or chartreuse, depending on the day. Angler in Chief Lenny Rudow mentioned that on a mid-week trip this week, there were hordes of stripers around Thomas Point light but the vast majority of them are throw-backs. Unfortunately, many of these fish appeared to be very skinny and worryingly underfed.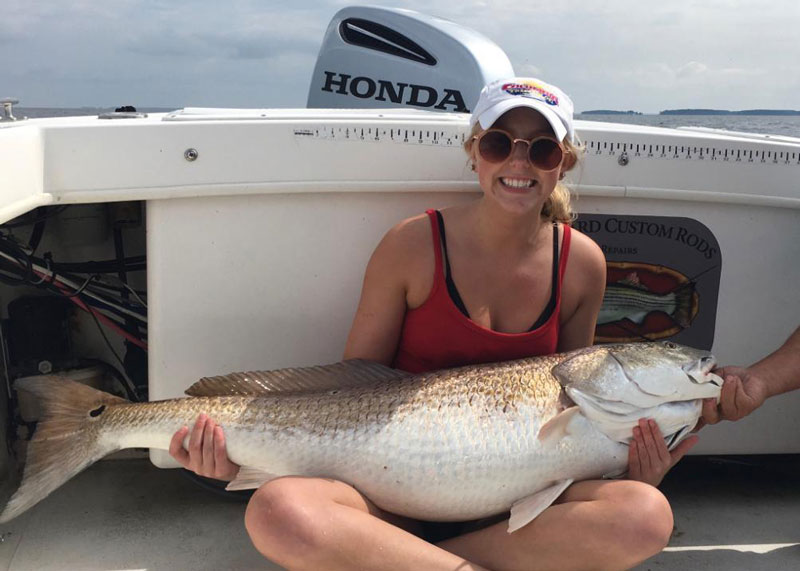 The first reports of bull reds in Maryland waters have trickled in, which is sure to get area anglers excited. However, the fish are very scattered and serious numbers aren't yet being caught. We spoke with Walleye Pete from Four Seasons Guide Service, who recommended jigging for them under schools of breaking fish but cautioned that as of now, he wouldn't call the fishery "reliable." As more reds move in during the coming weeks and this option improves, remember to check out Pete's Chesapeake Bay Bull Redfish article, to get the skinny on how to hunt for these fish.
Another option now on the board for a wide swath of Middle Bay anglers is Spanish mackerel. We received a slew of reports this week ranging from off Point Lookout to Chesapeake Beach, and all the way up to Thomas Point, of trollers pulling small gold and silver spoons behind number-one planers with success on mackerel. FishTalk team member Bob Daley chalked up a 23-inch citation-worthy fish (which hit a pink number-one Clark spoon) this week, off Deale.
In the tributaries, the perch bite remains steady but timing is important. Morning and evening have been the best times to go out or walk down to the docks. Oppressive heat continues to drive perch into the shallows looking for shade during mid-morning and afternoon hours, as well as inspiring severe lethargy in the fish. Meanwhile, catfish are hungry as ever, and will gobble up cut menhaden or chicken breast throughout all hours. They don't seem to be discriminating upon locations, however, as salinity levels are rising they're being driven further up the tribs.
Crabbing Report: Anglers hitting up the West and the South are enjoying excellent crabbing… on some days. On others, they're woefully freezing their fresh-bought chicken necks for the next morning they're able to escape dry land and start scooping again. Word is to work deep (10+) for bigger crabs as the shallows are full of little ones. Crabbers down south of the Pax are enjoying better crabbing.
---
Middle Chesapeake Bay Fishing Report, August 2, 2019 Update:
Before heading out anywhere on the Middle Bay to catch stripers this week, your first stop should be to load up on spot. The fishery has been absolutely dominated by anglers live-lining. Spot can be located on a hard bottom between eight and 15 feet of water and caught on bloodworms on a bottom rig with number-six hooks. Once you've gotten into them, it shouldn't take long to fill up your livewell. It isn't worth sticking around in an area where you're not pulling spot after spot out of the water – there are plenty of areas where you'll get into a school of them and be on your way within 20 minutes. After loading up on spot, the majority of boats are headed to the Bridge, Hacketts Bar, Thomas Point, and Eastern Bay. There have been consistent reports of stripers breaking 28-inches, and scattered reports of guys catching fish that break 35-inches with these crazy-big summer fish mostly appearing at the Bridges. Most action is occurring early in the day before wicked heat takes over and fish become lethargic. Anglers who aren't live-lining have been jigging these areas.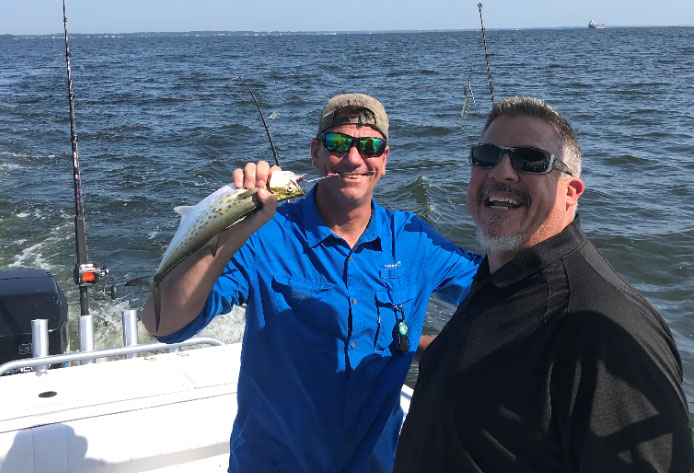 Angler in Chief Lenny Rudow noted that it's become common to encounter working birds and breaking fish near the ships, and it's worth a quick stop to check them out. Fish deep, though, because it's mostly sub-legal fish up top. Anglers who land undersized fish or are catch-and-release fishing should make sure that any fish that aren't going to be coming home stay in the water during the release. Being exposed to high air temperatures is detrimental to the fishes health, especially when coupled with the high temperature water conditions they're already experiencing below the surface. The best way to protect the fish is to unhook them while they're still in the water. Fish that must be brought on board before release should be handled delicately and returned to the water as fast as possible.
Our first reports of Mid-Bay Spanish mackerel poured into the email box this week, with a number of anglers trolling spoons behind number-one planers reporting success from Chesapeake Beach to the Choptank, and up as far as the mouth of Eastern Bay and Thomas Point. These catches weren't as spectacular as those we've been hearing about in the Lower Bay, but did include a couple of eight and nine fish trips – nothing to sneeze at, and this bite should only pick up in the immediate future.
Heading out when the sun is low has been the key to loading up on perch for dinner. They've been highly active in the shallows of tribs and creeks. Going after perch with bloodworms on a bottom rig or with tiny spinnerbaits is standard. Angler's Sport Center notes that Perch Pounders in Jamie's Haloween and Electric Chicken colors have been producing. (And don't forget, August 18 is the epic 2019 White Perch Open!) Catfish also have continued to hold in the tribs, and are eager to take cut baits like menhaden and chicken breast.
Crabbing Report: Meh. There are crabs around, but not nearly as many as south of the Patuxent. They still haven't made their way in up into the Middle Bay in mass numbers. The best way to supply your crab feast has been using a trotline with fresh chicken necks.