Middle Chesapeake Bay Fishing Report, June 21 Update:
As we move into summer the rockfish bite has continued to be a stable fishery. Jigging, trolling, and chumming have all been effective tactics this year, but if you're chumming expect a large mix of blue and channel catfish. Marty's lets us know that the Bay Bridge pilings have continued to produce a large number of fish along with the sewer pipe. They say throwing a six-inch white or chartreuse BKD or other plastic with an ounce or so jighead there will get some fish in your box. Many boats have also been fishing chunks of soft or peeler crab, and many others are chumming. The big problem here is, of course, the fleet – if you enjoy peaceful, quiet fishing, look elsewhere.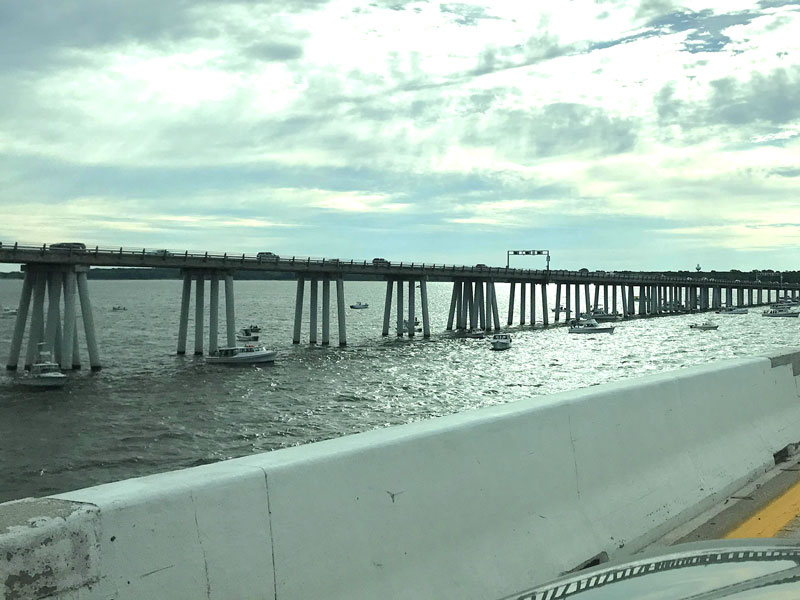 Along the mouth of Eastern Bay and Bloody Point has also offered the jiggers some stripers this year. If you're chumming and want to add in some catfish tacos for your next meal, try areas like Thomas Point or Hacketts in 25 to 35 feet. Alltackle mentioned that for trollers, using tandem shads (white and chartreuse) and silver spoons have seemed to do the trick. Apparently, however, red hoses the past couple of weeks have landed just as many if not more rockfish.
Angler in Chief Lenny Rudow reports that Thomas Point Light is holding both fish, and crowds. Unless you're fishing at daybreak on a weekday be prepared to share the rocks with four to six other boats, but casting white BKDs and white on pink skirted heads will produce strikes from mostly throwbacks but also a few fish up into the mid-20s. Inside the South there are some perch on the piers and pilings, but more of them are in deeper areas of the river waiting for bloodworms to be dropped down from above, on bottom rigs. A (very) few spot are also in the mix.
The Tackle Box sent in plenty of pictures from the Patuxent, sharing with us that the bottom fishing there has turned on fire. Spot, croaker, perch, and catfish were all eating cut bait and bloodworms off the bottom, and the fishing should only get better from here on out. Another spot that's been keeping the rods bent is the Bill Burton Fishing Pier in Cambridge, where white perch and catfish are biting well on bottom rigs with the same types of baits.
Crabbing report: It's gotten tougher, not easier, north of the Patuxent. Angler in Chief Lenny Rudow (while pointing out that he's not an expert crabber) reported that putting together a bushel for Father's Day required three separate forays into the South, stretching over two days and totaling over 14 hours. Eight feet was the best depth and the farther down-river he went, the better the crabbing.
---
Middle Chesapeake Bay Fishing Report, June 14 Update:
Anglers: we apologize for the technical difficulties experienced last week. Unfortunately it caused our website to crash multiple times over multiple days, but the computer wizards assure us that it's now completely fixed. We sure hope they're right!
Many anglers residing in the Middle Bay region have been flocking up north to get in on the bite around the Bay Bridges. As we mentioned in the Upper Bay report, a massive fleet of boats is consistently gathering around the eastern-side pilings and chumming for fish up into the upper-20s. Jigging has also been producing fish when you can find open water to cast in, and white, pearl, or chartreuse BKD's or other soft plastics have been the best bet for landing fish. Jiggers do seem to be finding a better grade of fish, but due to the epic volume of boats in the area we recommend that you remain ready to duck flying jigs and airborne bunker chunks at all times.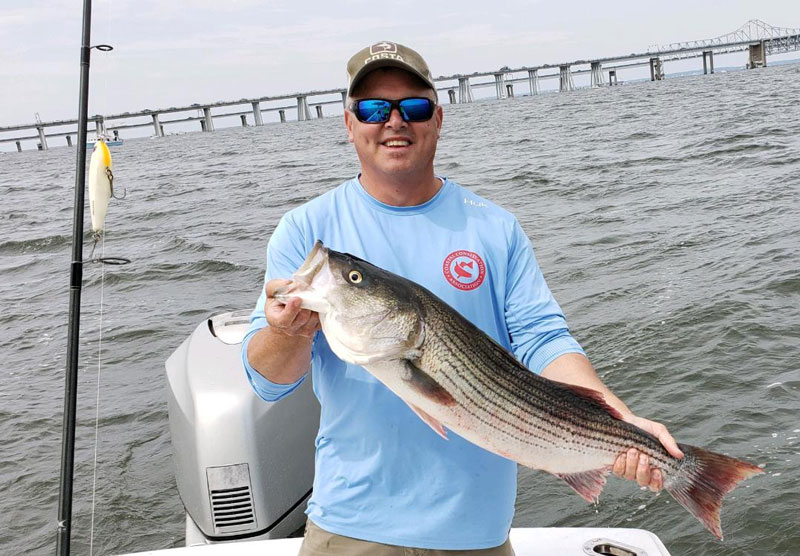 A fair number of boats are also hitting Hacketts Bar and Bloody Point, where Alltackle reported that trolling the channel edges has been providing some solid fishing for anglers pulling umbrellas, spoons, and hoses. Bloody Point light itself is holding fish as well, but is also feeling the pressure of a crowded Middle Bay on good weather-days. Heading south, the area off of Chesapeake Beach is producing as well. Jigging has been common along channel edges where suspended fish can be spotted with the depth finder, and most guys using this tactic are casting BKD's and other soft plastics. White, chartreuse, and pearl have been common colors. Although plenty of schoolie fish are being caught, there have been a few larger outliers creeping just upwards of 28 inches. Anglers' reported that there's also a bite focused around Eastern Bay. Jiggers and trollers are having some success at Hollicutt's and farther up between the red two-A and green three markers. Trollers have found red hoses are doing the trick.
The CCNPP is another option for Middle Bay anglers, but one we'd honestly consider avoiding right about now. There are plenty of stripers but the throwback-to-keeper ratio sounds like it's 30-to-one, at best. That's a LOT of small fish to handle, to find a keeper. Brush up on safe catch-and-release practices by reading Do's and Don'ts of Catch and Release Fishing, in case you find yourself in this sort of situation.
White perch fishing has been disappointing in the shallows and anglers casting lures haven't been finding great numbers. Hard bottom in Eastern Bay is producing some, however, for those dropping bottom rigs baited with bloodworm or grass shrimp. One surprising report considering how low salinity levels are: some (very small) flounder have also been in the mix for bottom fishermen.
Crabbing report: There are good numbers of larger crabs around in the tribs and creeks, although many of the biggest crabs are light white-bellies. Clam and necks are both working, and the six to eight foot depth range is a solid choice.
---
The Bay Bridge has been holding larger numbers of fish, mostly on the Eastern side, but even larger numbers of boats. Fishing six-inch BKDs and other soft plastics, particularly in white and chartreuse, has been productive at the pilings – if you can find a spot between all the boats to cast in. A few anglers reported using darker colors with success when stained water from the recent rain moved through. Most fish coming off the pilings and also from the Sewer Pipe have been schoolie sized, but some over 30-inches have been consistently reported.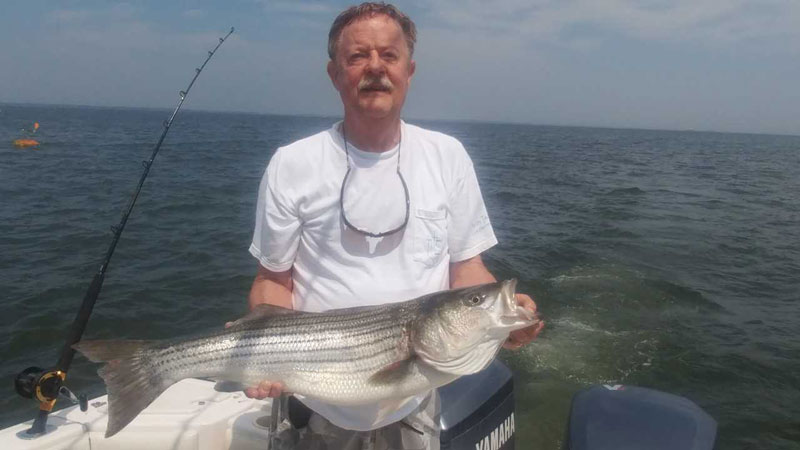 The channel edges of the Middle Bay have been hot for trollers, with Anglers' Sport Center in Annapolis mentioning that spoons, large bucktails, and umbrellas have been typical rigs. Thirty to 35 feet of water has been best, with the fish usually on the edges in 20 to 25 feet of water although some guys are still doing well outside the usual range. The channel edges around Hackett's, Thomas Point, Bloody Point, Gum Thickets, and on the western side from Franklin Manor down to off the Gas Docks have all been decent areas. Fish seem to be in relatively small schools that are fairly spread out so jigging them is tougher than trolling, but can lead to success with a sharp eye on the meter and a willingness to stay on the move.
Chumming and chunking also remain commonplace, with Alltackle reporting this week that anglers fishing in Eastern Bay were doing well. When rockfish haven't been biting catfish certainly are, keeping everyone on board busy. Jiggers up inside Eastern Bay have been gathering near Hollicutt's and at the green number-three, where good numbers of fish have been around. Many people are encountering large numbers of smalls, but culling through does lead to legal fish and a handful of stripers in the 30-inch class have been reported there, too. Angler in Chief Lenny Rudow reports that the bite there can get tough in the afternoon, but on a recent trip he found that a chartreuse/white skirted jig got 'em biting if you worked at it a bit. Vigorous jigging and maintaining contact with bottom were the key to success, when the fish were relatively inactive.
Jiggers have also been doing well at the Power Plant, though the vast majority of the fish are relatively small. Contributor Eric Packard noted that on a recent trip there out of over 100 fish caught only two were legal sized, a 19- and a 22-incher (silver/purple was the hot color). He and the other anglers on the boat wisely chose to switch to barbless hooks when they figured out just how many throwbacks were around. Remember folks, if you don't have barbless jig-heads you can always take a pair of pliers and crimp down the barb in a matter of seconds, which will have a significant impact on release mortality.
White perch are active in tidal rivers and easily accessible by boat or from shore, making them a popular target for anglers fishing local docks and ramps. The traditional grass shrimp or bloodworm on a bottom rig has been working well.