Middle Chesapeake Bay Fishing Report, January 15 Update:
Pickerel. Pickerel pickerel pickerel. Pickerel! We've gone pickerel crazy. The pickerel fishing is so off the hook right now, anglers who previously weren't into fishing for the bony guys are finding themselves hunting for them. The Magothy and Severn bites are absolutely off the hook right now — Alltackle mentioned that guys fishing these areas are doing well. They've both popped up steady in the reports for the past few weeks, and show no signs of slowing down, although the bulk of the fish are in the 20-inch or under range. That's clearly not the size angler Chase Savage is catching, as he currently leads the Winter Pickerel Championship with an inch and a half over David Rudow and an ego-crushing 4.25 inches over that other Rudow guy. We also heard that someone going by the name of Kimbro caught an eye-popping 27.25-incher. So yeah, there are some big torpedoes being caught right now.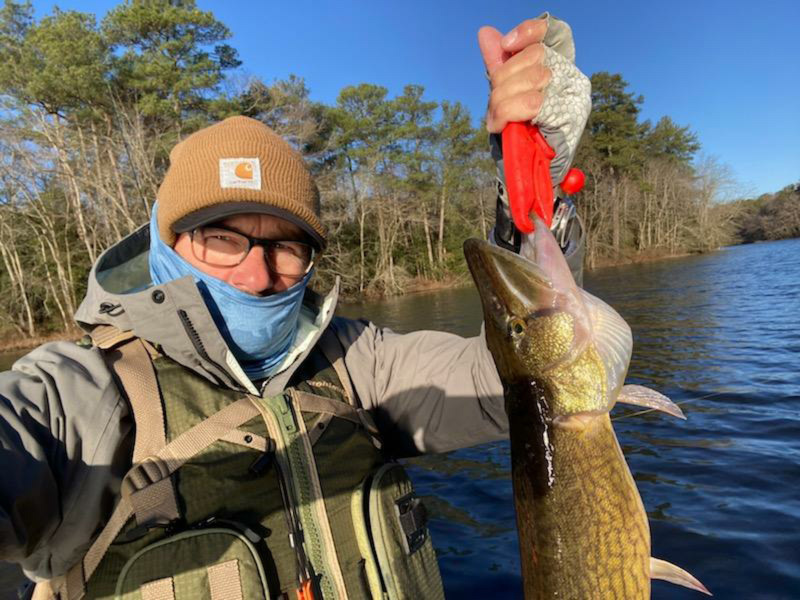 On the C & R striper front, the Solomon's area and Point Lookout are holding large fish. While the reports of them weren't abundant this week, that could be in part due to the frigid weather we've been experiencing, keeping anglers off the water.
---
Middle Chesapeake Bay Fishing Report, January 7 Update:
Several readers checked in this week to mention encountering nice fights with schoolie stripers up into the mid-20s in Middle Bay tribs. The Severn was included in a pair of reports with up to a dozen fish caught and released, and a reader fishing in a creek off the Pax plus contributor Eric Packard caught five between the two of them while kayak fishing. They also caught several white perch. In the Severn, local angler Eddie Weber hooked up a 25-inch catch-and-release striper. This was the best striper we heard of this week, and Weber noted that on the pickerel front, white or Beer Run color ZMan paddletails with 3/16 or 1/4 G-eye jig head with spinner on the tail have produced the most fish. Slow retrieves with a few quick reels mixed in has got them to strike most often. Finding clear, calm water has also been key.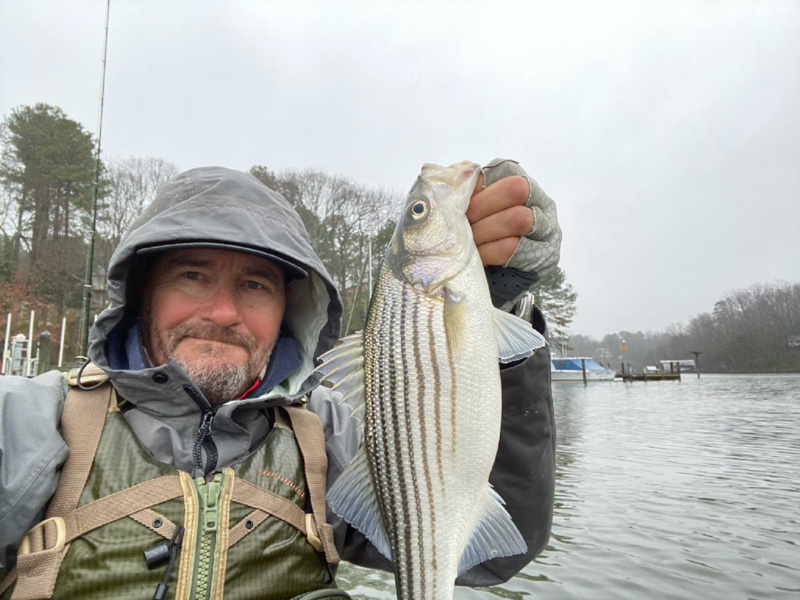 Those who want to take home a few fish for dinner will be interested to hear that Alltackle in Annapolis seconded the perch reports, suggesting that anglers head to the bridge pilings, where white perch are coming up from deeper water. They mentioned the schoolie catch and release bite as well, though most of the fish reported to them were between 16 and 18 inches.
Again, the CCA Maryland Pickerel Championship is pulling anglers from the Bay to the mill ponds and rivers, which are producing many of the 25-plus-inch fish hitting the scoreboards. Remember folks, the biggest fish of the year are often caught in February so it's not too late to jump in with both feet – anyone could win!
As we move into 2021, we'd like to thank all of our readers who have contributed their reports to FishTalk and those that have supported us by reading them. We love hearing from you and featuring the photos and reports from our readers who make FishTalk possible. If you'd like to send in your own reports, feel free to email [email protected]!
---
Middle Chesapeake Bay Fishing Report, January 1 Update:
Welcome to 2021 anglers! We at FishTalk would like to wish everyone a happy new year and we hope you have some fabulous fishing adventures as a new season dawns. This week saw reduced reports thanks to weather, the holidays, and reduced tackle shop hours. The pickerel bite has been good although we did receive some hit-or-miss reports from in the Severn, with tossing minnows suspended by a bobber and small paddletails in dark color patterns providing the action. Finding clear water has become an important factor as runoff had impacted some areas earlier this week. The Magothy and Beechwood have also been popular destinations for anglers to go after yellows and kayak anglers launching there and fishing up-river locations have had more consistent success.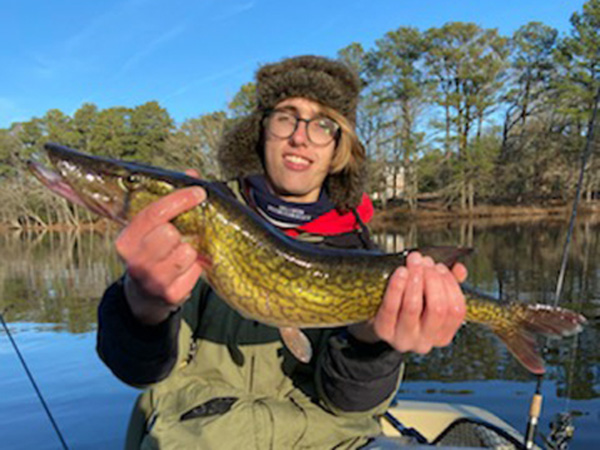 Some area anglers are turning more attention to the freshwater options and the Eastern Shore millponds are holding strong yellow perch, pickerel, bass, and crappie bites. On New Years' Eve Angler in Chief Lenny Rudow and Dinghy Sailor Ryan Gullang headed to Salisbury and slammed yellow perch, pickerel, bass, and crappie. Although it's often taking a bit of time to locate them, once you're there, the bite is on using small shad darts tipped with a minnow. However, small swimbaits in varying colors have been working as well. In the cuts and coves, pickerel have eagerly been taking minnows suspended by a bobber. Bass have been hanging around as well— Team FishTalk caught them close to shorelines and near structure on shad darts tipped with minnows. Chartreuse and white shad darts were a plus for bass, and crappie seemed to like darker colors.