Middle Bay Fishing Reports
Middle Chesapeake Bay Fishing Report, May 27 Update:
Good things have been happening in the Middle Bay, with multiple tactics proving successful in the region. Trollers, chummers, and anglers fishing light tackle are enjoying a healthy striper bite. Out in the main Bay, much of the fleet is trolling around the channel edges, pulling white and chartreuse spreads. Bucktails, umbrellas, and sassy shads are the most common gear you'll see trailing boats. Angler's reported Buoy 83, Bloody Point, and the False Channel all remained consistent areas for trollers throughout the week. A few anglers checked in with fish in the low 30s, and many catches have been in the mid-20s. Chummers are likewise enjoying a good bite when catfish aren't interfering— some anglers have been reporting that they're thick and tough to get away from, from Thomas Point north. Suspending baits up off bottom has been the move to reduce the catfish hits.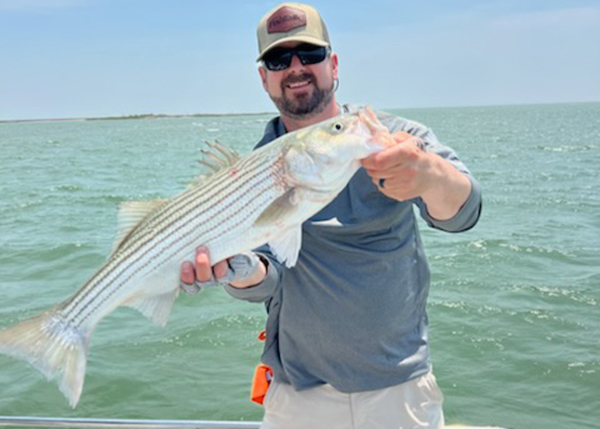 As for the light tackle front, contributor Eric Packard reports that there are plenty of schoolies in the creeks of the lower Patuxent, catching a dozen or so casting jerkbaits and jigs to docks and pilings in a short morning of fishing this week; two in the count were keeper-sized. Fish have also moved into the shallows, and there's now a topwater bite going on! Eastern Bay and the Choptank River are two zones we're hearing steady reports of success from (be sure to check the DNR maps to see where you can catch and release and where the rivers are closed until June 1, as some of these areas are still under restrictions). There are many dinks around but also many keepers being caught including some up into the low-30s in the past week. Several anglers also reported that for some reason last weekend the bite became abnormally tough on Saturday (after plenty of fish were being caught Friday).
White perch can additionally be found throughout the tributaries, settling into summer homes and patterns of behavior. They're schooled up around docks and piers, hitting jigs, small spinners, and bottom rigs with FishBites or bloodworms.
---
Middle Chesapeake Bay Fishing Report, May 19 Update:
Striped bass are on everyone's minds, and the fleet has been covering the waters of the Middle Bay hunting for them. Despite some blustery days this week, boats that got out were enjoying some fairly solid fishing. Angler's Sport Center let us know that boats headed to the Bridge were able to jig up striped bass, generally hovering around the 20- to 25-inch range. Fish in this area were a bit more consistently sized in this range than we heard of in other areas, with the bulk elsewhere seeming to be in the upper teens, particularly any further north. Angler's also let us know that key has been jigging with darker colors: shades of blue and black lures were dominating this week, compared to the whites and chartreuse that some anglers opted for. This is dissimilar to trollers, who are finding white and chartreuse spreads in their favor. At Poplar Island, they mentioned that plugs cast at the rocks were producing a mix of stripers in the schoolie range. Readers reporting success checked in from Eastern Bay, the lower Patuxent, and the Choptank this week. (Note: much of E-Bay remains catch and release only and parts of the Choptank are closed until June 1, so check the DNR Striped Bass Maps to be sure you're in keeper territory before putting anything in the cooler). Angler in Chief Lenny Rudow reports that an evening foray mid-week turned up plenty of (mostly 16 to 19 inch) rockfish near Poplar and on Thomas Point with a skirted white BKD doing the trick. In an unusual twist, we also had a reader report of spot already being caught in Eastern Bay.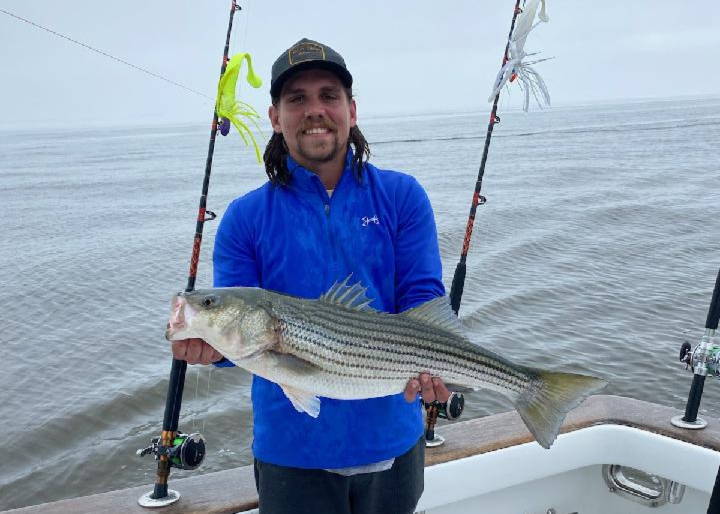 Trollers sticking to traditional areas and the main stem of the Bay continue to pull chartreuse and white umbrellas, tandem rigs, sassy shads, and bucktails. We heard less from trollers this week than last, with a lot of the focus shifting to chumming and light tackle jigging and casting. Chummers hitting Hacketts reported more catfish than rockfish.
Blue and channel catfish are just about everywhere and anywhere. They're a nuisance for chummers right now, as mentioned taking many of the baits laid out in areas north of Thomas Point. Tochterman's has had a few reports of blue cats breaching the 40-plus-inch range this week. Lacking predation, these invasive predators with voracious appetites are prone to growing fat feasting on our native species. You can do your part to clear our Bay of these harmful fish by targeting them, taking some pressure off our native striped bass. As you do so register for the Great Chesapeake Invasive Species Count, and you can win some cool prizes as you help de-catify the water.
White perch are around local tribs, but not in excellent numbers. Angler's reported that while fisherpeople are catching them, they usually aren't calling in stringers to impress. They are being caught on bloodworms and grass shrimp on bottom rigs. Hopefully some of why we aren't hearing much about them is attention on other species, but in general, white perch reports this year have been light thus far.
---
Middle Chesapeake Bay Fishing Report, May 13 Update:
Despite the windy weather throughout the week, boats that left the docks along the Middle Bay were seeming to more catching than in other regions. Several readers checked in this week reporting catches of one or two trophies. White umbrellas got the nod, as did white and chartreuse tandems. The catches were a bit more spread out with success being experience from zones including Bloody Point, Chesapeake Beach, off the Gas Docks, and the lower Potomac. Anglers tossing jigs reported catching and releasing solid numbers of fish in Eastern Bay (which accounted for multiple good reports), near Poplar, at the CCNPP, and also the area just outside of the Choptank. We note that the Choptank itself remains closed to all fishing (C&R included) until May 16, but you can fish just outside the river; the DNR Striped Bass Regulation Map shows the dividing lines. Striped bass fishing in all tidal rivers is closed throughout this weekend, but some will open for catch-and-release only beginning May 16th. The bite is definitely still hit or miss, but picked up from last week to this one.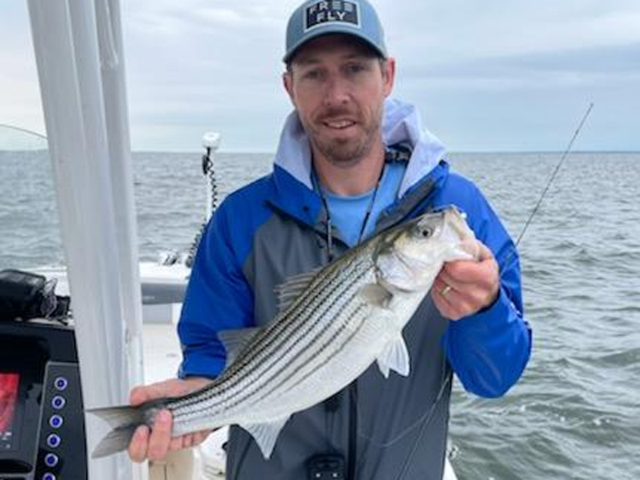 Catfish are another common target for anglers right now. From shore or by boat, there have been chunky cats coming from the water left and right this season. Anglers doing their service to the Bay by eliminating blue catfish are finding some absolute monsters, hefty fellows in the 30-inch range. Fish in that class haven't been incredibly uncommon for anglers putting in the time and targeting them; there are tons of big blue and channel catfish cruising around the Chesapeake benthos. Soaking fresh-cut chunks of menhaden, chicken liver, or clam snouts is a popular way to get them on your line.
The white perch bite remained fair in tidal rivers this week, as they've moved into shallows and creeks throughout the lower and middle tribs. Beginning to settle into these areas, they've been biting bloodworms and grass shrimp on bottom rigs. Some anglers are also opting for FishBites and finding them just as productive.
If you missed last night's presentation of The Past Present & Future of Striped Bass: A Chesapeake Perspective, remember, you can still watch it on YouTube!
---
Middle Chesapeake Bay Fishing Report, May 6 Update:
Rockfish Alert: Many of the reports and pictures we received through the past week indicate that many of the trophy fish have NOT spawned yet. When reeling up an obvious pre-spawn fish with a sagging belly, we recreational anglers need to make an individual decision as to whether we'll slide the hook out and snap off a pic with the fish in the water next to the boat, or put it in the box. While we at FishTalk would never criticize anyone for keeping a legal fish, we do encourage giving it some serious thought before boxing a roe-laden trophy. We'd also humbly suggest that even with post-spawn fish, if you choose to harvest, a one trophy per season self-limit might not be a bad thing.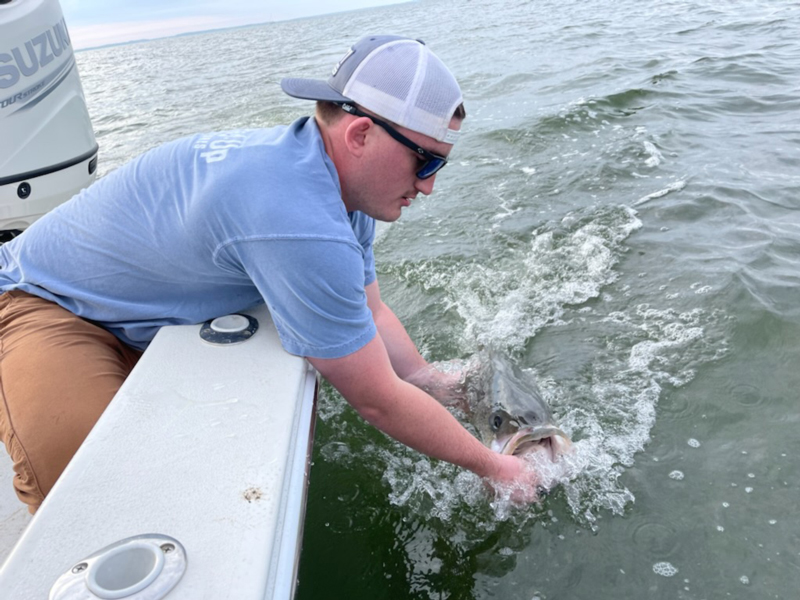 Judging by the reader reports, during this initial week of trophy trolling the Middle Bay held the best bite. It wasn't exactly hot and we spoke with many anglers who towed lures for entire days without a strike, but we also spoke with a good number who picked up a fish or two and a few who caught more, with six fish being the largest photo-confirmed catch checked in. The biggest we heard about was the Boatyard Bar & Grill tournament winner, a 50.75-inch rockfish caught — and released — by Team PYY Marine. (Thanks for the release, guys!) The vast majority of the reports of success came from the stretch from Thomas or Bloody Point down to Solomons. Angler's Sport Center also reported that striped bass were biting around Bloody Point during the week. We had two reports of fish north of 40-inches caught off of Tolley Point on 10-ounce white parachutes, and generally speaking most anglers are opting to troll the channel edges and traditional hot-spots with tandem rigs and umbrellas behind planer boards. The Tackle Box reported that they had a mixed bag of reports from opening week farther down the Bay, with plenty of skunks and others coming in with great tales to tell, as well.
Jiggers have also been a bit more active than usual for this time of year, with the power plant at Calvert Cliffs being the usual best bet for a trophy-sized fish on light tackle. We heard from a couple of readers plus Contributor Eric Packard made a venture there, and everyone agreed the crowds are thick when the weather is decent (13 boats were counted at one point on Tuesday with one trophy and a few throwbacks sighted caught among the fleet), so if you want to try fishing in the warm water outflow the best bet for success is to be there first thing as the sun rises, or hit the spot on a rainy, windy weekday.