Middle Chesapeake Fishing Report, December 5, 2019 Update:
Trollers and jiggers are enjoying a decent start to December, with fish still being found around the channel edges. Angler's Sport Center let us know that the bite between Buoy 83 and the False Channel has been hot, with plenty of fish in the 22 to 30-inch range coming from the area. Most boats are opting to troll umbrellas dressed with bucktails and sassy shads behind an inline weight. With the fish down low, keeping rigs close to bottom has been essential for catching. Many boats are also opting to up the size of their lures in hopes of catching a large striper on their way south. Jiggers are doing the same, bouncing soft plastics around nine-inches off the bottom. Alltackle in Annapolis let us know that no particular colors are standing out right now, probably because most boats are sticking with the traditional white, pearl, and chartreuse spread. Though reports of huge migratory fish are definitely not flowing in, we did see at least one major-league catch made in Eastern Bay last week, by the Heat Wave, which trolled up the 47.5-incher pictured below while trolling a Bloody Point Bait. We also heard from a second boat which got into several fish over 30-inches in the same area, though overall it was a slow day and the fish didn't start biting until late in the afternoon.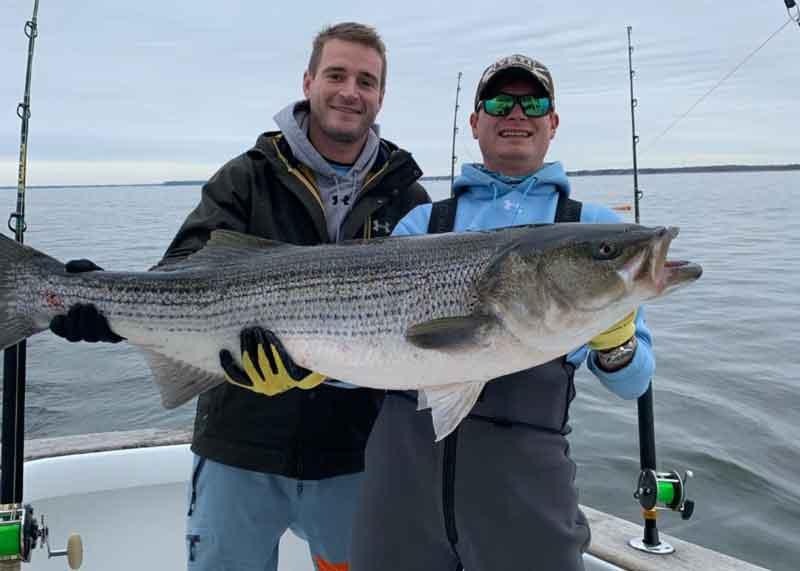 Meanwhile in the tribs, reports of pickerel are flowing in with some regularity. Perch seem to have become much tougher to find as they've moved to deep-water haunts. In deeper areas, white perch have been staying close to the bottom, so make sure you have a weight on your rig heavy enough to keep it down.