Middle Chesapeake Bay, August 7 Update:
Attention FishTalk Readers: Due to the impact of the storm Isaias on our region, we want to caution that regardless of whether you fish freshwater, the Bay, or the ocean, the fishing deck has been shuffled. Much of the intel we received this week was gathered prior to the storm so we have to question its efficacy. While we did also get some info in on Wednesday evening and through Thursday, we'd note that this week our reports may not be as helpful as usual in forming effective game-plans for the weekend's fishing.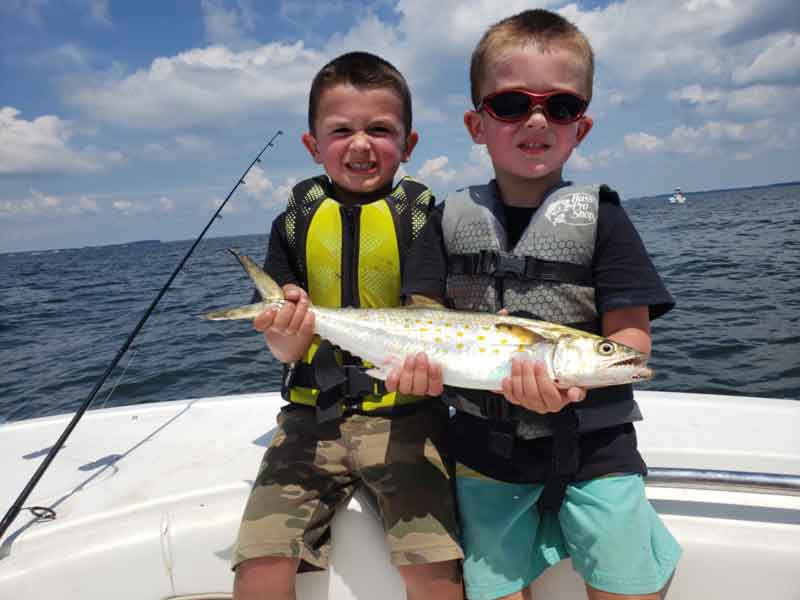 Before Isaias hit, fishing in the Middle Bay was on a clear upswing due to an influx of species. Alltackle in Annapolis and Island Tackle Outfitters both reported that tidal rivers, primarily on the eastern shore, are seeing more and more speckled sea trout in the shallows. While a fair portion of boats that headed out struck out on them, some found success fishing weedy, shallow areas. As per usual, the specks caught were reported on sparkly soft plastics. Pink, white, and pearl with sparkle were top producers. Alltackle mentioned that four-inch curly and twister tails were a top pick this week. Angler-in-Chief Lenny Rudow took a long cruise on a fast boat prior to the storms and said his crew enjoyed a fun morning of catching on the western side. The crew landed keeper rock up to 24 inches and a couple of speckled trout up to 20 inches, casting four-inch skirtless jigs in pearl and pink at the Power Plant. He said there was a small fleet anchored up in the discharge, including multiple charter boats. Due to the fleet, arriving early to get some bites before the fish got pounded was important. Rudow and his crew also ran down past the Patuxent and tried trolling tubes for cobia, but to no avail. Another small fleet was spotted just off Sharp's Island flats, trolling for what a couple of readers reported was mostly blues, undersized rock, and a few Spanish mackerel. Angler's Sport Center mentioned that plenty of little blues have moved up the Bay with a few keepers in their midst. The blues have been wreaking havoc on anglers using soft plastics. Getting into a little school of them can make for a quick demise of your soft plastic stock so either make sure you've got enough to beat 'em, put on Zmans, or switch up spots/tactics if you notice that the blues are doing a number on your supply. Or, consider switching over to a trolling spread of spoons. Spanish mackerel numbers are on the up-swing, and we had multiple reader reports (from the Choptank, off the Rhode, and even one from Thomas Point) of mackerel showing up. Most were twosies-threesies but the reader we heard from who did best had six. Another reader reported getting into a school of ribbonfish while trolling near the Choptank — and catching them all day. Yes, photographic evidence was taken!
REMEMBER: Maryland waters are closed for stripers from August 16 (next Sunday) to August 31. If you catch a rockfish, handle it with care and try to unhook the fish in the water to reduce stress on them.
Crabbing Report: Angler-in-Chief Lenny Rudow reported that there are zillions of undersized crabs in the creeks off the South, a sentiment that was confirmed by readers who tried crabbing in the Severn and Fishing Creek. The throwback-to-keeper ratio was around 20:1 but numbers were high enough in all these areas to put together between two and four dozen legal crabs, running necks in three to six feet of water. Readers also reported an up-tick in the crab numbers in the Severn.