Middle Bay Fishing Reports
Middle Chesapeake Bay Fishing Report, September 29 Update:
A variety of fish are being caught in the Bay right now with fall temperatures putting fish into feeding mode. We had a total of four verified reports in the past week of bull redfish popping up in Eastern Bay and had second-hand intel of one caught near the Rhode River, plus a mystery runoff off the mouth of the west that nearly spooled the angler before the hook pulled. On the rockfish front two readers reported excellent topwater action at daybreak including rockfish over 27", one from a nondisclosed location and the other in the Choptank. A kayak angler hitting the Severn also mentioned awesome evening action, catching almost 40 schoolie stripers (with keepers in the mix) trolling three- and four-inch paddletails in pearl glimmer on three-eighths of an ounce heads. Better yet, there was even a 15" puppy drum in the mix.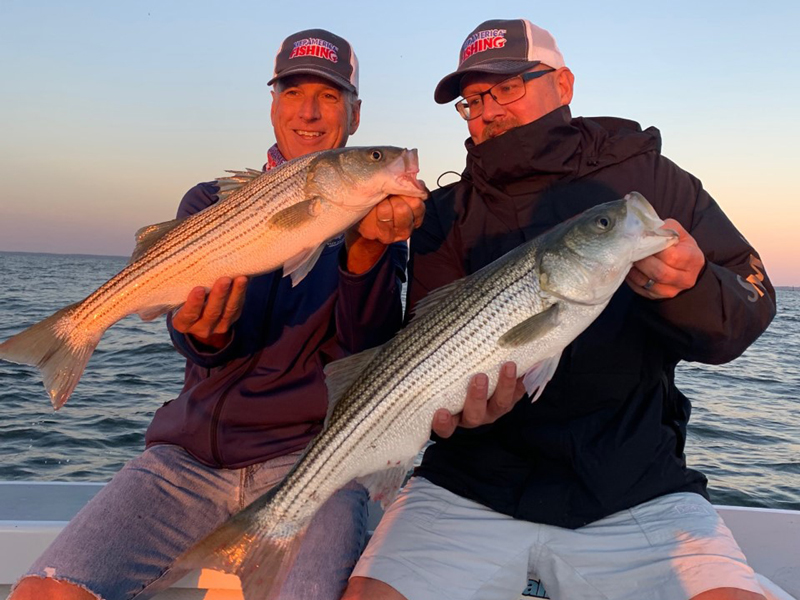 Anglers reports that there are plenty of white perch in the shallows of the rivers but there are reports of these fish moving into their fall pattern of heading to deeper water. There has been a great perch bite at Hackett's Point and the mouths of the rivers. Chesapeake Sabiki rigs tipped with soft crab or Fishbites is working great for those anglers bottom fishing.
Readers trolling planers and spoons continue taking a mix of bluefish (mostly in the 12" to 14" range but with some larger ones popping up) and Spanish mackerel from the Bridge down to south of Poplar. Clark spoons and similar lures pulled behind planers are doing the trick. The mackerel continue breaking water a few miles south of Poplar, though that action won't last much longer with the chill in the air and the incoming weather. Angler in Chief Lenny Rudow reported finding breaking rock and blues on the north-east side of Poplar midweek, including some keeper-sized fish.
Although cobia season closed in the Bay, we are still getting some reports of anglers catching and releasing cobia around Solomon's Island. Most are being caught trolling surgical tubes on number two or three planers, but some boats have caught them as a bonus while trolling for blues and macks using small Drone spoons.
Crabbing report: Angler in Chief Lenny Rudow says the crabs had moved a little deeper with the cool weather over the weekend, but they were plentiful in the South and the quality was excellent. Five runs down the line produced a half-bushel of #1s (though only a couple of jumbos) and Dr. Mike had started earlier and had filled the basket.
---
Middle Chesapeake Bay Fishing Report, September 22 Update:
The passing of the fall equinox means fall is officially here folks. Now can be some of the best times of the year to be out on the water so don't be afraid to use a few vacation days. Water temperatures are finally cooling off and action around the Bay is picking up. Angler in Chief Lenny Rudow says the striper bite in the shallows off the West River and Thomas Point are now producing a better grade of rockfish in the low to mid 20s and up to 26-inches, hitting white paddletails and green Krocodile spoons. He said snapper blues are swimming among them stealing paddletails (thus the Krocs coming out) and the five- to seven-foot range was the zone. Charters have been fleeting up where the shoals drop off to deeper water and live lining spot. An awesome catch from this week comes from Eastern Bay, where not one but two readers ran into bull reds. That's right, and they have the photos to prove it; one reported finding the fish under working blues. Another reader reported a keeper grade of rockfish caught on live spot near the West River plus a bluefish caught on a gold spoon while trolling. The AIC also paid a visit to the edges east of 82 last weekend, where a massive fleet of mixed trollers and LT casters were trying to get in on the mackerel and blues sporadically breaking water throughout the zone. Casting small olive resin spoons and gold Castmasters produced some mackerel and blues, but as is par for the course, trollers were doing better as the bird play was very short lived due to heavy pressure.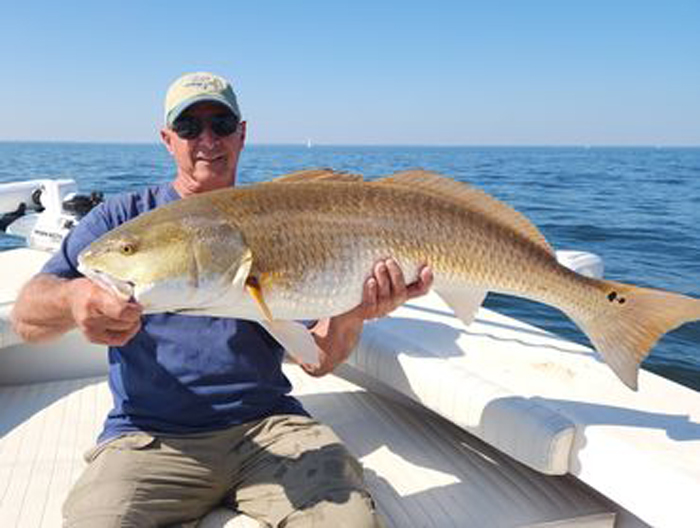 The shallows along the bay front have been producing a nice grade of white perch. A reader checked in near Deale with around 15 nice sized perch after an evening trip and mentioned catching a small seatrout, a puppy drum, and a few small flounder as well. One reader checked in from just south of the gas docks this week to report a very consistent bite on for blues and macks. While trolling over the tight schools of fish, their boat was getting 3 or more knockdowns per pass. In the Patuxent, The Tackle Box reports that rockfish are chasing around schools of peanut bunker. The mouth of Cuckold Creek has been holding rockfish that are breaking the surface and attracting birds. Most fish are undersized but every third or fourth fish has been of keeper status. Another surprise for one angler in the area was a 35-pound bull red caught while fishing for rock. Other areas of the rivers with sunken breakwaters, jetties, and points have been holding rockfish in the mid to upper 20s willing to hit topwater baits and bucktails. They also report that the Point Lookout pier is yielding spot, bluefish, drum, and some flounder.  The great thing about the Chesapeake this time of year is that you never know what you might catch — you just gotta get out on the water!
---
Middle Chesapeake Bay Fishing Report, September 16 Update:
The Angler in Chief says that in the shallows off the West River there was slow but steady action on rock into the low 20s, and he found nice mixed schools of mackerel (all sizes), blues (14 to 18 inches with some fat ones in the mix), and (mostly small) rock halfway between buoy 82 and Tilghman Island roving between 30 and 16 feet of water. When it was mostly deserted early in the morning there was some furious surface action, and gold and green spoons or grubs under popping corks tossed into the frenzy produced instantaneous hookups. But as is par for the course, when plenty of boats were on the scene during the afternoon, trollers pulling planers and spoons were taking far more fish and it was tough for light tackle casting. He also said there was still a bit of bird play at Poplar and also in the mouth of Eastern Bay. A reader pulling planers and Clark spoons at eight mph in the same zone reported five mackerel including a 26-incher, plus a bluefish. Another reported blues breaking water both behind and on the south side of the island and catching them until "the kids' arms were falling off" on metal and epoxy jigs.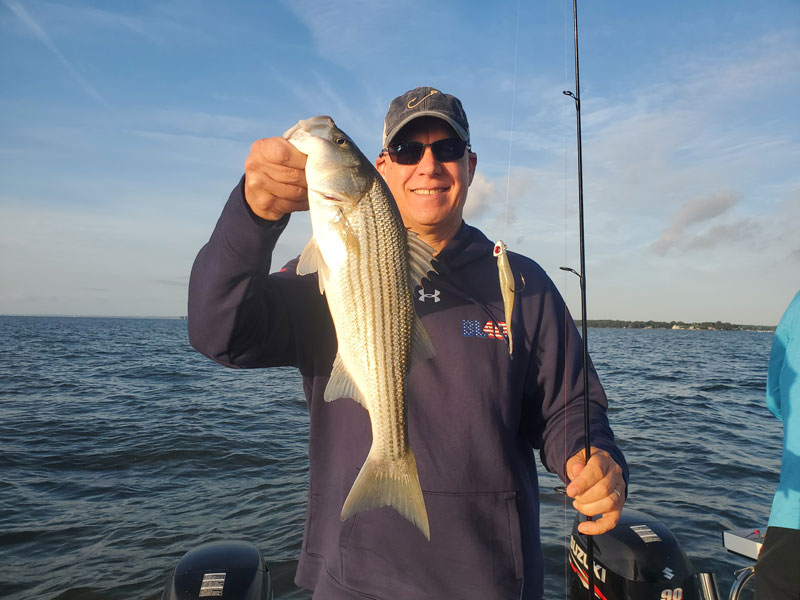 Several readers reported good action at Thomas Point and Thomas Point Light, despite fairly heavy pressure. Jiggers were catching a few fish, but live lining spot was triggering far more bites. Some of the fish coming from the lighthouse were up into the mid-20s. We also had a reader report from the vicinity of buoy 78, with a nice mackerel in the boat being topped by what was believed to be a snagged ray tugging like there was no tomorrow… which when cranked up turned out to be a big bull red that had smashed the spoon! Another reader reported hooking a bull red on a spoon while mackerel trolling near Sharps Island Flats, then going back the next day and hooking and landing a legal cobia. (Remember that they went out of season yesterday, the 15th). We also had a report from a reader who found a small redfish and a keeper(!) flounder along with throwbacks bit farther down on the west side, in the Herring Bay to Chesapeake Beach zone. A drop-off from seven to 12 feet was the hot area and Gulp! did the trick. There were also small flounder up to 13" reported on the north side of Poplar where it drops from 16' down to the mid-20s, caught on silversides.
A joint FishTalk/PropTalk/Spinsheet office bottom fishing trip using Chesapeake Sabikis tipped with Fishbites bloodworms in the Severn produced a mix of very small spot, some white perch of varying sizes, and not-quite-keeper croaker. Contributor Eric Packard reported better diversity while using the same rig in the lower Pax catching spot, croaker, lizard fish, and toadfish, with stripers, blues, and an under-slot red also in the mix on jigs.
---
Middle Chesapeake Bay Fishing Report, September 9 Update:
Fall is right around the corner, but the summer patterns still appear to be holding strong in the mid Bay. The Angler in Chief says the shallows near the mouth of the South and West rivers are holding a few decent stripers up into the mid-20s willing to hit paddletails, but their numbers are not anything to get excited about. He also mentioned that small blues are scattered throughout the area and plenty of lures come back to the boat with the tail missing. Readers also reported scoring a few keeper rockfish at Thomas Point and Poplar Island. Mackerel have been scattered around Poplar Island for the past few weeks and they can be found skying out of the water chasing bait on most days. Unfortunately, for many anglers, it has been difficult to get them to bite. Trollers and boats chasing the breaking fish have made for a lot of boat traffic in the area which is causing the schools to break up quickly. The AIC and this Reports Editor spent the better part of a morning this week chasing the macks around Poplar without any bites to show for their efforts. (AIC note to Dillon: Hey, wait a sec - what about that awesome seven-inch bluefish I caught?! Don't sell me short, man!!) These finnicky fish have been frustrating to say the least! Trollers have also been picking up macks and blues around the Sharps Island shoal. Throwing out number one planers with Drone or Clark spoons and trolling at six to nine knots will give you the best shot at picking up these fish.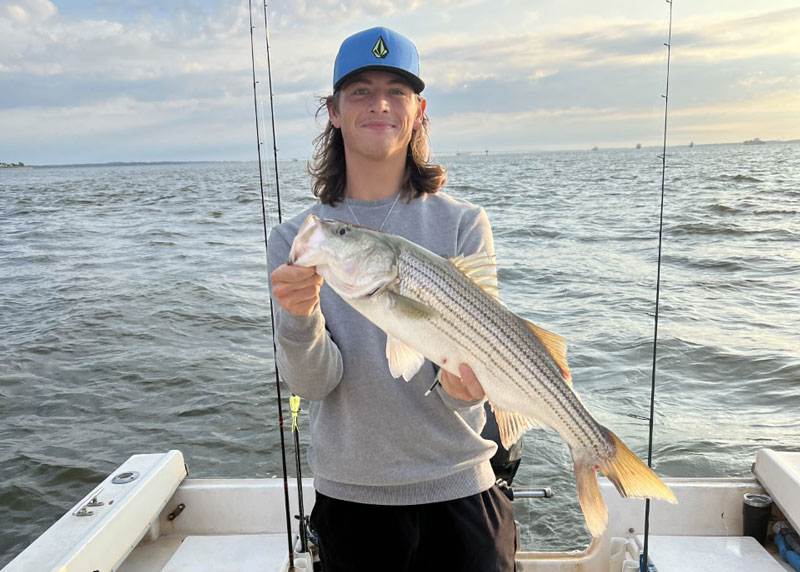 A reader checked in from Chesapeake Beach, where he found some keeper-sized rockfish willing to snap at metal jigging spoons. We also heard from several people fishing the west side between Chesapeake Beach and Deale who caught numerous flounder in the eight- to 12-inch range. Most were incidental catches made while filling the live well with spot or otherwise bottom fishing. Alltackle let us know that the perch bite in all the mid Bay rivers is still going strong. Schools of perch in the 10-to 12-inch range can be found along shoreline structure such as rock jetties, docks, and pilings. Casting to this structure with spinners, shad darts, and minnows floated under bobbers with get these delicious fish to bite. Anglers casting from shore at the mouth of the Patuxent have recently found slot reds, nice perch, spot, cutlassfish, and a few stray flounder. Cut bait and bloodworms are producing the most bites.
Crabbing report: The AIC says crabbing in the creeks off the South River in three to five feet of water with necks was on fire on Labor Day, and enough jumbo jimmies were being scooped that any crab not visibly well over the size limit got unceremoniously dropped right back into the water. He said there were also lots of doublers with (carefully released) paper-shell or semi-soft females. Three reports of similar action in the South, West, and Patuxent Rivers also came in from readers.
---
Middle Chesapeake Bay Fishing Report, September 2 Update:
We are right around the corner from one of our favorite times of year. Fall on the Chesapeake can make for some incredible fishing, and we are already seeing hints of that this week. Several readers checked in after trolling spoons in the Bloody Point to Poplar and Poplar to Sharps Island Light zones, reporting that a mix of blues and Spanish mackerel remain in the area. Blues seem to be out-biting macks by a ratio of around three to one, and most of the reports we heard included relatively low numbers of mackerel with one to three in the cooler. One angler put six mackerel in the box, and we also had one reported (no photo) to have hit 28 inches. Trolling small #00 to #1 size spoons on number-one planers at six to nine knots, and casting metal jigs, is still proving very effective. We also had a reader check-in from The Gooses, where trolling produced several mackerel and blues plus a small flounder and a smattering of lizard fish. Look for birds and breaking fish!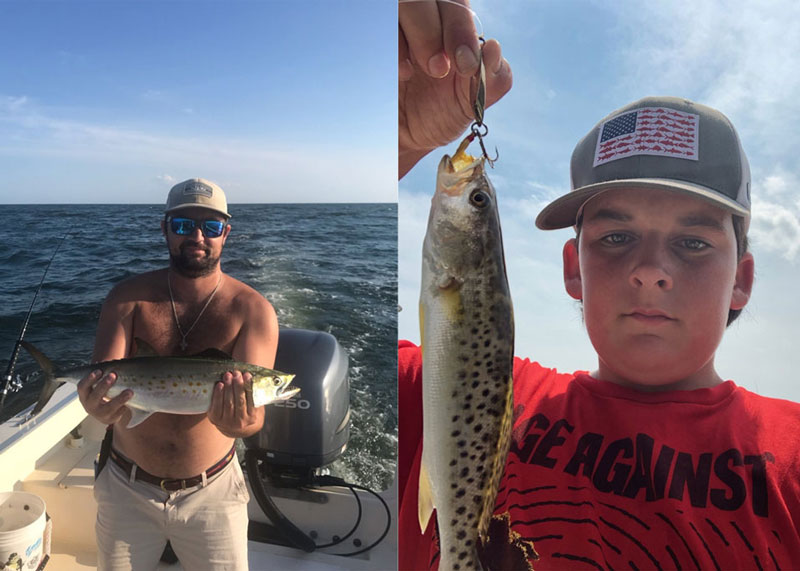 Chesapeake Outdoors checked in to let us know that the bite at the Bay Bridge has been great for a variety of fish including stripers, perch, big spot, and some croaker. Spot and perch can be found on the shallower pilons by dropping down bloodworms or bloodworm flavored Fishbites. It hasn't taken much time for live liners to get their spot and head to deeper pilons where the rockfish have been hanging. Some anglers are switching over to peeler crabs which has been working well also. In other areas, shallow water fishing has picked up in both the main Bay and local rivers including the Severn and South. Topwater baits at sunrise or sunset and jerkbaits or paddletails later in the day are preferred baits for the rock. From the creeks of the South River, Friend-of-FishTalk Mike Ditmars reports a good bite on a mix of pickerel and white perch.
Schools of big bull reds are still hanging around anywhere from Solomons and south. Anglers let us know that most boats are using their side scan sonar to locate the bulls. Once located, heavy duty one and a half once jig heads paired with seven- or eight-inch paddletails can be casted to them. Cobia are still few and far between. A few are being caught around the eastern edge of the shipping channel out of Solomons and at the lumps around the Target Ship, and Captain Drew on the Big Worm put a couple very nice ones into the boat late last week, but overall the season remains disappointing. Most boats are trolling surgical hose to cover more ground in hopes of locating fish willing to bite. Anglers will have until September 15 to target and keep cobia in Maryland and Virginia waters.
Crabbing Report: There has been a noticeable uptick in the number of doublers and crabs on pilons this week. A reader checked in from near the West River who caught almost a bushel in two and a half hours using open top drop traps baited with chicken necks.