Coastal Fishing Report, August 7 Update:
Attention FishTalk Readers: Due to the impact of the storm Isaias on our region, we want to caution that regardless of whether you fish freshwater, the Bay, or the ocean, the fishing deck has been shuffled. Much of the intel we received this week was gathered prior to the storm so we have to question its efficacy. While we did also get some info in on Wednesday evening and through Thursday, we'd note that this week our reports may not be as helpful as usual in forming effective game-plans for the weekend's fishing.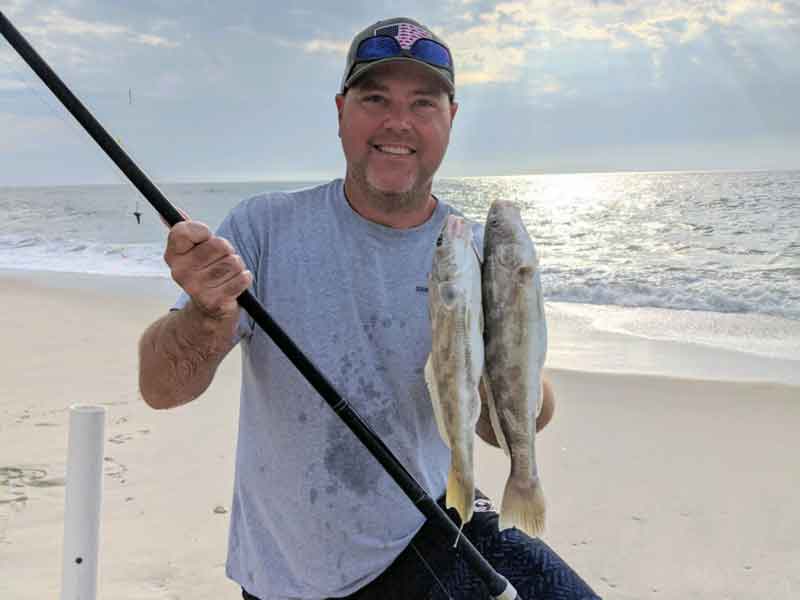 Offshore, boats who got out this week battled some turbulent seas after the storms passed by. The Ocean City Fishing Center reported that boats headed out as the White Marlin Open began were hitting the docks oftentimes empty-handed. The past few days have been rough, and boats that did come in with fish in the box (regardless of whether they were fishing the White Marlin Open or not) were predictably tight-lipped about where they caught.
Inshore, the sea bass bite remains unusually good. Limit catches are not uncommon or unrealistic and the sea bass must be feeding well, because they're chunky. Flounder are on the reefs and wrecks as well. We haven't had many dazzling reports of large flounder but Captain Cook on the First Light, fishing out of Indian River, reports a solid flounder bite and that some triggerfish have moved into the inshore reef sites. He also noted that a few cobia are now being spotted inshore on the coast as well. Also inshore, FishTalk team member Brooke King reports that casting bait and Gulp! for mahi around the bass pots off OC produced a handful of fish, though all were on the small side and rough conditions made the fishing difficult. Inshore off VA the bite is still dominated by Spanish mackerel and ribbonfish, however, more and more kingfish are showing up including some very nice ones. Remember that if you catch some ribbonfish close to home and then hit a deeper shoal and rig it on a harness with a long stinger, those kings absolutely love tearing into 'em.
In the back bays of DE and MD, (mostly throwback) flounder and small blues are in great abundance. Especially the blues, which are either terrorizing anglers or providing great fun if they're targeting them. Keeper blues are present, too. Flounder are taking soft plastics bounced off bottom and drifted baits. To the south, reports from Ocean's East are that that throwing a pink paddle tail has been producing some speckled trout here and there, while fishing bait has produced flounder and the occasional sheepshead, in Lynnhaven around the rip-rap.
In the surf Coastal Correspondent John Unkart continues to find kingfish, spot, and snapper blues all willing to strike including after the storms passed through. He reports doing best catching the spot on small rigs and then cutting it up fresh, to tempt the larger fish. He also picked up flounder in the surf again this week.