Coastal Fishing Report, July 18, 2019 Update:
Coastal fishermen are enjoying a vibrant fishery in the Atlantic waters. The yellowfin count is still up and down but most canyon-runners are scoring at least a few every day and hitting the lobster pots along the way has proven productive for anglers looking to score mahi, which will gladly take fish or squid chunks. Skirted ballyhoo have been the most popular baits. A decent number of boats are heading in with blue marlin flags, as well. All the canyons are producing, though the northern ones did seem to have better yellowfin action recently. There have also been a few reports of successful daytime sword drops, coming from the vicinity of the Washington and Norfolk canyons. Another interesting development has been a wahoo bite – although we're not seeing huge numbers as of yet, Virginia waters produced several the past week both at the canyons and also on some of the inshore lumps and one utter monster came in to OC.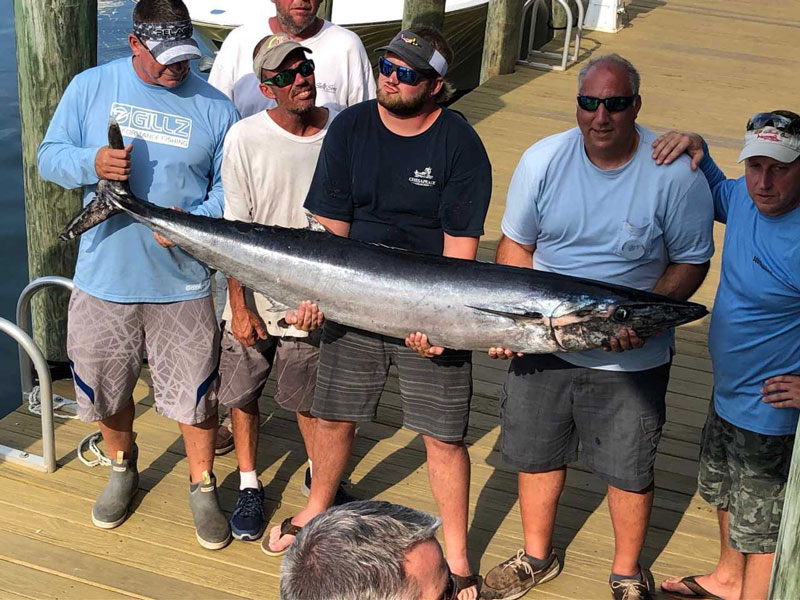 Inshore, the wrecks are producing seabass, but the bite is hit or miss. As has been the trend of this season, Capt. Monty on the Morning Star has reported that sometimes the fish just don't feel like biting. There doesn't seem to be much pattern behind it, but if you work at it through the course of a day you can usually find a time and place where they'll start snapping on clams. Some flounder also came off the wrecks out of Indian River and Ocean City this week with the better fishing for this species farther north, but few doormats are being seen (though a 10-plus-pound fish was caught about 16 miles east of IRI this week). South of the Delaware line most flounder are being caught in the back bay still, which is providing a comparatively nice fishery but proving problematic for navigation through the inlet and channels in Ocean City for all the obvious reasons. Gulp! Swimming Mullet on a Fluke Killer rig remains the favored offering.
Another inshore option that's getting some attention is fishing the inshore lumps 20 to 40 miles out off both Ocean City and Delaware, which produced some nice bluefin tuna and a smattering of chopper blues recently. Both chunking and trolling have worked, but most boats partaking in this fishery seem to be on the chunk. Trollers have also picked up some kingfish on the lumps closer to home, and some (mostly small) mahi have moved inshore as well.
In the surf, we're in a stable and common summer pattern: kingfish are taking bloodworms and Fishbites bloodworm flavor, and some snapper blues are being hauled up the beach for those casting doodlebug rigs with cut bait. Coastal Correspondent John Unkart added that some spot and undersized sea trout are also in the mix, on Assateague.
---
Coastal Fishing Report, July 12, 2019 Update:
Up north, anglers running out to the canyons are enjoying the opportunity to catch a few yellowfin tuna, plenty of dolphin, and better numbers of billfish. A good number of blue marlin release flags have showed up flying from outriggers passing through the Ocean City and Virginia inlets recently. Out of Rudee Inlet, Virginia anglers are headed out to get in on the yellowfin and mahi. Oceans East reported that guys running both north and south are catching tuna. Yellowfin have been primarily in northern waters, while the southern have also reported some blackfin. Some billfish have also been in the reports, and with the White Marlin Open just a few weeks away, anglers are already beginning to search far and keep an eye on the fish.
Anglers leaving Indian River are enjoying a decent sea bass bite at the inshore wrecks and reefs with growing numbers of flounder in the mix. A bit down the coast the Ocean City Inlet has been absurdly busy the past few weeks, in part because of anglers heading offshore, in part because of a great flounder bite in the back bay, and in part because, well, it's summer – you all know what summer can be like, here. Most of those flounder have been relatively small, but they're still providing steady action. Inshore at the wrecks and reefs, Captain Monty of the Morning Star reported sea bass are playing hard to get at times, but very good numbers are still in the area and with a little work the coolers get filled up with dinner plus flounder pop up here and there. From the VA line down there's similar inshore action, but the real news in this zone continues to be an utterly stellar Spanish mackerel fishery. Boats trolling small spoons over inshore shoals have been hauling in huge double-digit catches, plus some bluefish mixed in.
Surf fishing remains steady for anglers willing to put in the time up and down the coast. Small kingfish, blues, and croaker are providing most of the action in the surf. Spoons and cut bait are working best for the blues, while croaker and kingfish will snap up squid or bloodworms.
---
Coastal Fishing Report, July 5, 2019:
Fishing the coast has proven eventful recently, with a stellar bite in the surf, back bay, and offshore. We'll start with offshore then work our way in this week, however, just so we can put this picture of a beautiful blue marlin caught near the Washington Canyon on Wednesday right up front:
More marlin are definitely moving into our zone, particularly in the area of the Washington, although on the flip side the yellowfin bite has continued to deteriorate a bit and many that are being caught are on the small side. Angler in Chief Lenny Rudow reports that on an overnighter this week (the trip that produced the blue marlin above) fishing on a moonless night was very slow and during daylight mahi provided the most consistent action. Skirted ballyhoo took far more hits than spreader bars or bird rigs, and white/crystal colors seemed to dominate. The SST charts have been rather blah with high-70-degree water blanketing the area and no real dramatic breaks at the moment, so game-plans sticking to structure make the most sense.
Inshore, sea bass and flounder have been the name of the game according to Capt. Cook on the First Light out of Delaware, with flounder numbers picking up at the Old Grounds but filling the cooler still requiring some work. Capt. Monty on the Morning Star had a similar week to report, though in the Ocean City area flounder numbers are lower and while the sea bass have at times proved finicky, sticking it out has produced heavy coolers for most of his anglers. Some inshore after-hours trips have also produced bluefin on the chunk. Oceans East reported that the inshore flounder bite down towards Virginia Beach is good enough to have the back bay and inlet absolutely packed. Fishing has more so been a game of finding a spot and making sure no one tangles your lines than anything else recently. With that being said, pink, white, and chartreuse GULP! Swimming Mullet on Fluke Killers and Jerk Shad jigged on jig heads or bucktails are absolutely killer. Many VA anglers are also thriving on the Spanish mackerel trolling along the coast, near shoals, and up to the mouth of the Bay – small spoons pulled behind planers – which many are calling the best they can remember. Many of the macks have been very large, too.
At Indian River Captain Cook noted some action taking place at night, with blues, rockfish, and shad hitting in the darkness. Blues are also in the reports from Ocean City bayside, with big blues up to 11-plus pounds virtually sweeping the scales and being included in all the top three stringers at the Fish N Paddle Slam kayak tournament last weekend. The Rt. 50 bridge was a hotspot.
The surf has held a smattering of kingfish, croaker, small blues, and puffers recently. Bloodworm and fishbites have been the baits of choice across the board, with the occasional squid chunk thrown in the mix. Most fish have been a bit smaller, however there have been some sizeable croaker in the mix.