Coastal Mid-Atlantic Fishing Report, October 23 Update:
Angler in Chief Lenny Rudow spent a day offshore this week on the Wrecker, out of Ocean City, and reports that while the sword bite was off and they only had one hit that did no more than chaff the leader, there are still mahi at the canyons and some massive groups finback whales mixed with common dolphin were putting on a spectacular National Geographic-style show. It was so impressive that the entire crew set down the fishing rods for a while to watch as finger-length fish showered prior to whales breaching through the huge shoals of bait. But the real shock of the day came when a white marlin followed up a sword bait being reeled in, the quick-thinking crew tossed a whole squid out, and hooked him up on a light dolphin bailing rod. They did get the leader up to the rod before breaking the fish off, and the fish provided some very late-in-the-season billfish-jumping thrills. There were also reports from other anglers of an on-again, off-again bite from yellowfin being caught on the chunk and while jigging heavy metal in the 30-fathom range.
Captain Monty Hawkins on the Morning Star reports that the sea bass bite remains excellent. By noon, his whole crew had limited out one day this week. Hawkins also mentioned that he saw nine cutlass fish caught in one day this weekend, alongside quite a few trigger fish. Capt. Cook of First Light Charters confirmed that the wreck fishing off Delaware remains good for sea bass as well, and also still a surprising number of triggerfish. But he also says the night fishing out of Indian River is even better, with stripers and blues both keeping the rods bent. Inshore anglers out of Virginia are finding similar results and bottom fishermen pushing a bit farther out are encountering plenty of blueline tiles, plus a wreckfish here and there.
In the surf, reports are of kingfish are hitting bloodworms and snapper blues taking cut bait. No reports of big fish this week, but large stripers and blues should be heading south down the coast any day now. Smaller stripers are available in Indian River and behind Ocean City (fish the bridges) but we didn't hear of any keeper-sized fish coming in this week.
---
Coastal Mid-Atlantic Fishing Report, October 16 Update:
When boats can get offshore—weather windows are growing shorter and rarer—a few have been dropping rigged squid and skirted strip baits to depths of 1500-plus feet and hooking swords. Many are throwbacks but some monster fish have been caught as well, with three or four bites being the reported norm. Many anglers who get out are doing a few drops, hopefully icing a sword, then filling their limit of blueline tilefish. A handful of tunas and wahoo also hit the docks this week and Virginia Beach saw a couple grouper brought in by deep-droppers as well.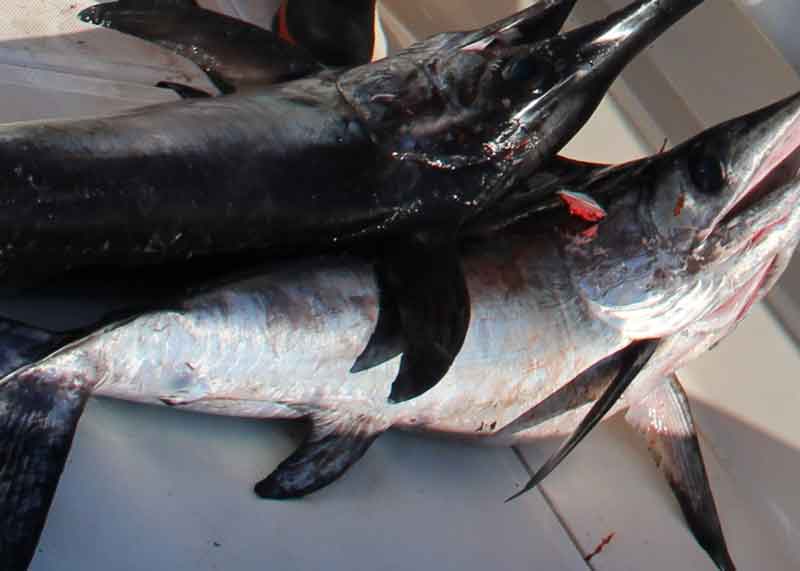 Anglers traveling to Indian River inlet are doing well targeting (generally smaller) flounder in the bay, while in Ocean City the sheepshead are still in the sights of a lot of anglers. The Rt. 50 bridge has been okay according to the Ocean City Fishing Center, but they say the south jetty is the hot spot when dropping sand fleas around structure. Flounder fishing around the back bays of OC and Assateague has also been good, though dwindling a bit at this point in the season. There are also lots of stripers in the bay and around the Route 50 bridge, mostly smalls. At the inshore wrecks, all around the dial from Delaware to Virginia sea bass remain cooperative for those dropping clam and squid baits. A few triggerfish and flounder are in the mix.
A message to all surf casters: the chopper blues have struck in preliminary numbers, so utilize some small cut bait or mullet rigs to grab 'em as they make their rounds through our parts. This bite should pick up as the water chills but is usually unpredictable and short in duration so get them while the getting is good. Meanwhile, kingfish and spot are also still around. A great way to get blues on the line is to catch some spot on bloodworms, and send chunks back out on a large Doodlebug rig with 7/0 to 8/0 hooks.
---
Coastal Mid-Atlantic Fishing Report, October 9 Update:
We have a new Coastal Fishing Report sponsor, FishTalkers, and we want to give a shout-out to Legendary Trailer Repairs. We're particularly stoked because these are the folks who have been caring for the trailers used by the FishTalk fleet (in other words, Lenny's three trailer boats) for over a decade. "I love Legendary because they do the job right — on time, every time," Lenny says, "and since I live within 25 miles of their shop in Glen Burnie they'll even come to me with their mobile trailer service. I don't have to lift a finger. Woohoo!" Legendary does it all (inspections, repairs, and regular maintenance) and will even work on non-boat trailers. Call 'em at (410)-349-3611. And thanks, Legendary, for supporting FishTalk!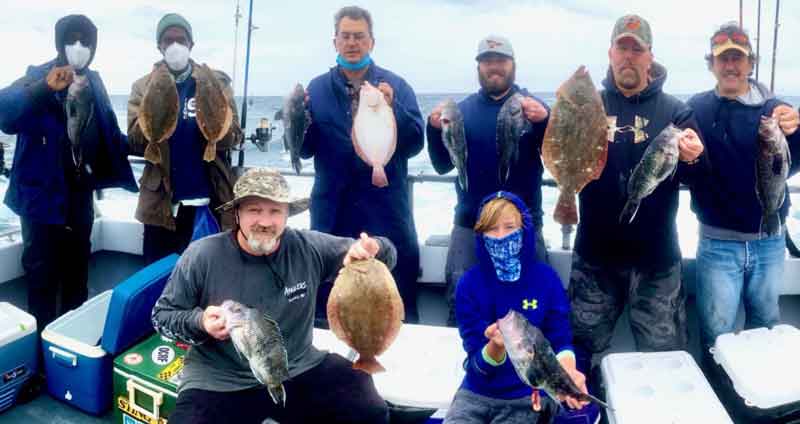 Inshore sea bass remains the hot topic. Keeping with the excellent trend we saw this year, boats headed home from bassin' often reported loading up. Captain Monty Hawkins of the Morning Star reported that after a rough morning this week, his boat limited out on sea bass. Eels and triggerfish were even in the mix, as well as plenty of flounder. Captain Hawkins reported that nine flounder in a row were caught one day, with three keepers coming over the rail.
Offshore anglers have turned their attention to swordfish, and in at least one case it's paid off big-time – a 597-pounder was brought into Virginia Beach the weekend before last and is pending as a new state record. Assuming it passes muster, it'll smash the old record of 466 pounds, set just last year, to smithereens. The Ocean City Fishing Center also let us know that the swordfish bite has got it going. They saw multiple flags this week, occasionally mixed in with mahi-mahi from the canyons. Those targeting mahi at the southern canyons have been loading up at times, recently finding a better mahi bite than they had mid-summer. This isn't likely to last much longer so enjoy it while you can.
Coastal Correspondent John Unkart checked in from the surf to say that the bite's been quite active at the turn of the tide and the first couple hours of the outgoing. Kingfish and snapper blues currently make up the bulk of the catch, but there were shark, juvenile black drum, a couple pompano, and also several keeper-sized flounder in the surf this week. Attempting to fish live spot for larger reds and rock resulted in the spot being "decimated" by the bluefish.
---
Coastal Mid-Atlantic Fishing Report, October 2 Update:
Calmer waters during parts of this week, at least, allowed anglers to leave the docks and hit the blue water. Boats that headed offshore traveled in hopes of loading up on some of the last mahi of this season were rewarded, and Contributor Kevin Thomas reports that there are still some mahi out at the canyons, including some very nice ones, as well as some large mystery fish that they didn't manage to put an eyeball on. The Ocean City Fishing Center heard that a lot of boats with chicken dolphin in the fishboxes were headed in from the Washington Canyon. Boats coming in with the few wahoo caught this week were tight-lipped about their location, but historically, this is a great time of year to target wahoo at the oceanic Deli. The Fishing Center also reported at least one white marline catch this week.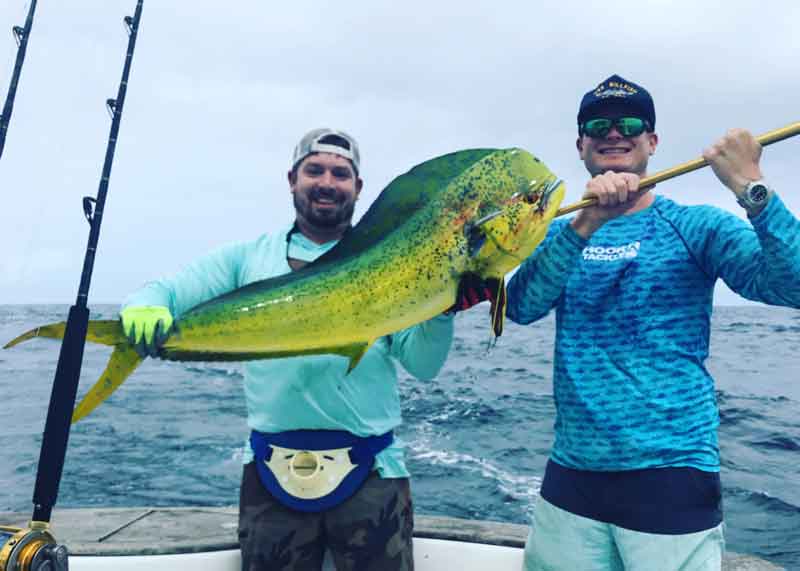 Further inshore, the waters were far more fruitful. The wrecks are holding just absolutely insane numbers of sea bass right now from the Delaware reefs clear down to the Triangle Wrecks. Boats are loading up on them within a few hours of being out, and limit catches aren't uncommon at all. Flounder are also still coming off the wrecks as well, larger than what we've heard of in the inlets. The inlet fishing has been solid in OC though, with flounder ready to bite and some sheepshead are also being reported around the jetties. At Indian River the reports are a bit thinner, with throwback tog and stripers providing a bit of action.
Coastal correspondent John Unkart reports a solid and extremely diverse bite in the surf at Assateague this week, with a decent catch of snapper blues, some kingfish, spot, another pompano, and a few undersized flounder and also a small sheepshead. A few nice sized sharks also made his rods double over. Old Inlet is reporting a similar mix in the Delaware surf, consisting mostly of small blues and smaller kingfish.