Way North Chesapeake Bay Fishing Report, July 10 Update:
Attention Maryland Rockfish Anglers: We are getting multiple reports of numerous striped bass floaters drifting downstream from the fleets of boats fishing the Tolchester area. Unfortunately, no governmental or scientific agency seems to be investigating or documenting the issue. Please help us try to gain an understanding of just how significant this is, by performing a count of how many dead rockfish you see floating if you go fishing in this area. We'd like to know:
The date you went fishing
How many dead fish you see
How many hours you were in the area
How many of the dead fish appear to be keeper size versus how many appear to be undersized
Please keep track the next time you go fishing, and report your observations to [email protected]. THANK YOU for your help, FishTalkers!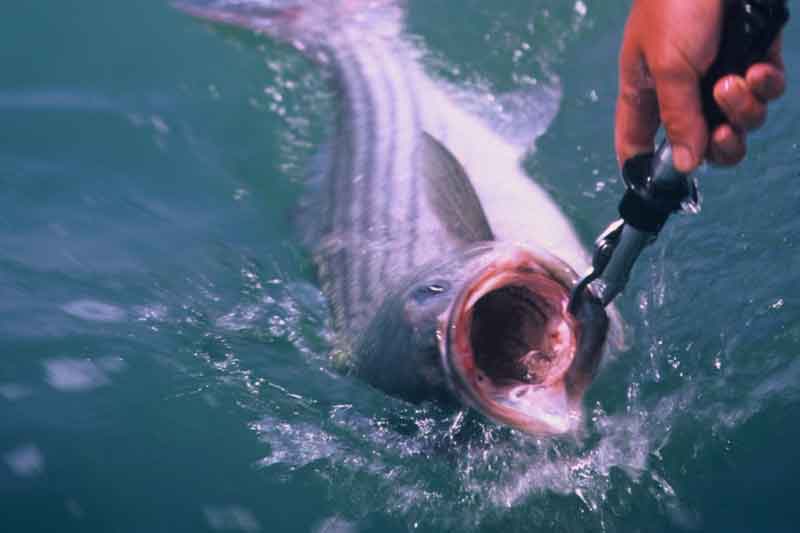 Action for stripers at the dam pool and on the flats continues to be mostly limited to sunrise, no surprise as the heat can be rather oppressive once the sun's up these days. A few anglers report picking up a striper or two while live-lining perch in the lower reaches of the river. The more common outcome of dropping any sort of bait to the bottom, however, is catfish, and those fishing the channels and holes anywhere within sight of the I-95 bridge are reporting nonstop action. We also had a reader report this week of hot cat action to the south-west of Turkey Point.
With the relatively slow striper action up north many fishermen are making the run down to Tolchester and Hodges Bar, where the fleet of boats has been setting up on large schools of rockfish. In fact, boats from Havre de Grace down to Deale have been converging here to get in on the action, hence the opening paragraph of today's reports. If you fish here we hope you'll take a count — and we also trust that folks won't catch and release while bait fishing and risk killing more fish, once their limit has been hit.
---
Way North Chesapeake Bay Fishing Report, July 3 Update:
BEEP-BEEP-BEEP - Attention Anglers: Everyone should be aware that there's currently a bit of a bloodworm shortage, and you may have trouble locating this uber-expensive but uber-effective bait. Anglers around the dial are reporting that Fishbites Bloodworm flavor has been the next best thing. So if you call around and come up blank on the bloodies, reach for the Fishbites. We now return you to our regularly scheduled fishing report. - BEEP-BEEP-BEEP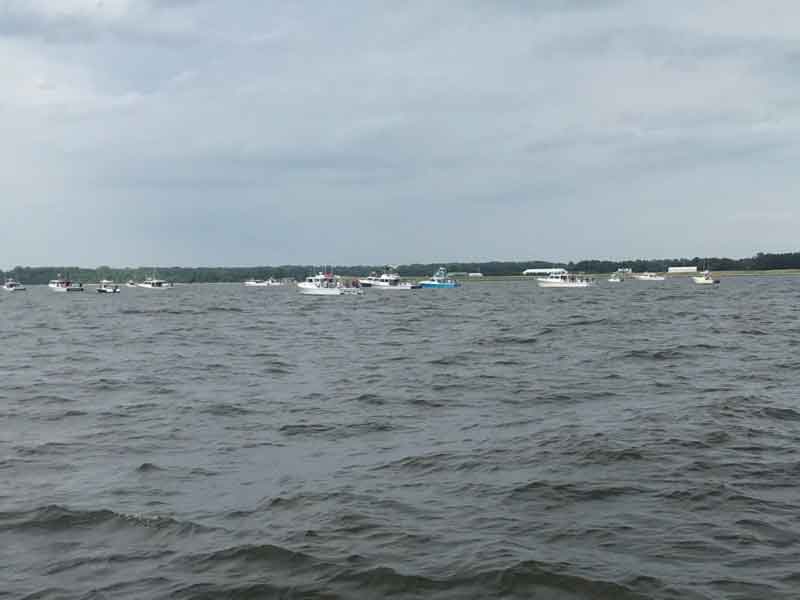 Happy Fourth, anglers! As in past years, we're sure the water is going to be PACKED this weekend as everyone celebrates the holiday. If you're headed out, remember to abide by social distancing regulations. This weekend is a time to celebrate the birth of our nation, and if you're anything like us, you're paying your respects to our forefathers by catching as many fish as possible. Many readers in the northern zone report making the run south to the Tolchester/Hodges area. Throughout Maryland's waters, this zone seems to hold the largest schools of stripers and if you want keepers in your fishbox the cruise is likely worthwhile; see the Upper Bay report for more details.
While you're sporting the red, white, and blue, also consider heading over to the Conowingo Dam, Susquehanna Flats, or C&D Canal for a chance at landing those holiday big ones. Reports coming out of these areas indicate that they're an all-systems-go for the bite. Fishing at the Dam is the usual, with topwater action at dusk and dawn. The bite primarily consists of undersized stripers, but there's no denying that it's fun to watch 'em smack topwater plugs. When the topwater bite expires, consider lugging chartreuse or white four- to six-inch soft plastics as far into the Dam pool as you can. Tailored Tackle recommended letting them sink before reeling them in. In the heat of the day, the fish aren't hanging out near the surface. Catfish, of course, are also present and ready to bite cut bait on bottom. On the Flats, the bite and the tactics are about the same. A reader this week reported that the bite seemed limited to topwater at daybreak. They let us know that after the sun was up, bites went from a few throwbacks and one barely-legal to non-existent.
While it's been tough to nail down keeper stripers up north, catfish are a different story if you're looking for dinner. This week, one of our readers had a killer day at the C&D Canal fishing for them with herring on the bottom. The morning produced over 25 cats, up to 10 pounds. At the Dam and on the Flats, Tailored Tackle let us know that the cat-fishing results were similar. Just toss out some bait, and wait for a hit.
The crabbing scene up north is… quiet. If you don't want to spend a week's pay on that bushel, consider heading to the Magothy and south. The catch is much better the further south you go. Be sure to stock up on *fresh* chicken necks or razor clams before your quest.