Way South Chesapeake Fishing Report, August 23, 2019 Update:
The past few weeks have been providing beautiful fishing for anglers at the mouth of the Bay, with a variety of species active. The Spanish mackerel fishery has remained excellent, and Oceans East reported that many anglers are coming in with reports of non-stop action. The vast majority of guys are trolling silver and gold Clarke spoons or Drones behind planers, sticking to channel edges. Just south of the CBBT has been a great area, and many anglers there are also enjoying steady bites from bluefish, as well. The Spanish mackerel have been high-grade and are excellent fighters, making trips exciting and providing wonderful dinners. However, many anglers are also trolling up ribbonfish, sometimes hordes of them. In fact, several anglers reported such excellent ribbonfish fishing that the mackerel became an afterthought. We also had a couple reports of some nice red drum coming from around the area this week, including this beautiful triple-header.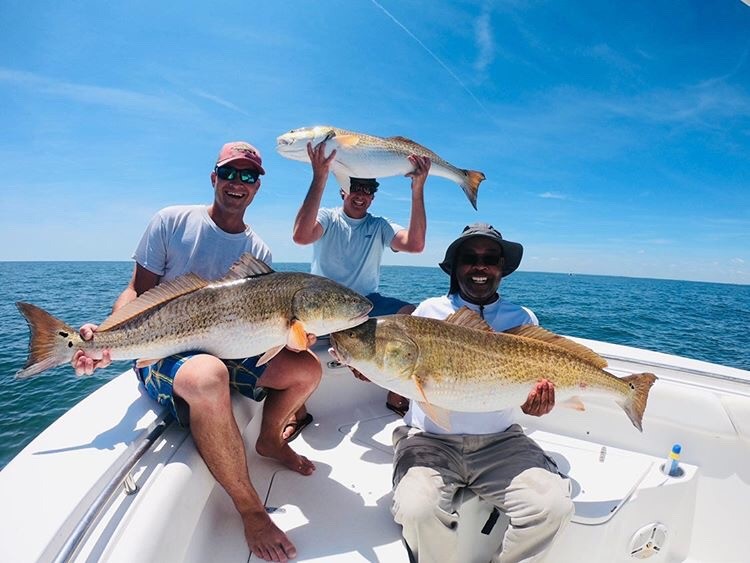 Cobia fishing has also been steady in the Chesapeake's southernmost waters this week. Sight casters are enjoying some beautiful days on the water, spotted with moments of excitement over seeing cobia just below the surface. Many have managed to land them by offering live eels. Unfortunately breezy conditions may make sight fishing a bit difficult this weekend, so hauling chum along with your eels might be a smart move. If you make this move be sure to bring extra eels, as some chummers are reporting that a good number of their eels are being bitten in half by bluefish. Other anglers are instead trolling red and green surgical eels in a mixed spread as they catch other species, but if you want to focus on cobia, the real deal has been a better bet. Also note that the throwback-to-keeper ratio has been relatively high. 
More good news from the CBBT – flounder fishing seems to have improved a hair, with some boats taking a handful of keepers both jigging and drifting. And one interesting note: some decent-sized weakfish have been caught near the cement ships recently. Wouldn't it be nice to have them come back "for real?" Fingers are crossed…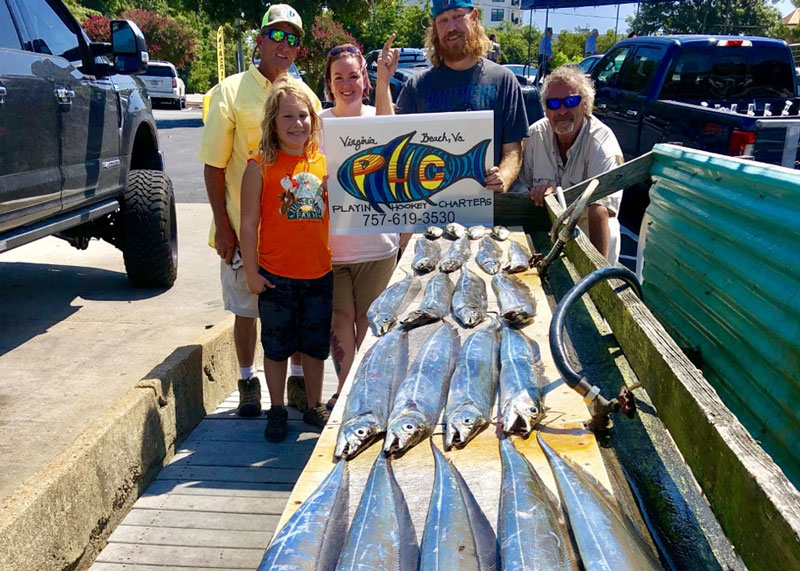 ---
Way South Chesapeake Fishing Report, August 16, 2019 Update:
Excellent fishing continues in and around the mouth of the Bay, and Oceans East reminded us that the south is where you should be! People have been hauling in a wide variety of species but the main news is still of LOTS of Spanish mackerel mixed in with some bluefish. The best way to target these species are by trolling little gold and silver spoons behind number-one and number-two planers, mimicking the schools of bay anchovies. Some anglers are also finding red drum mixed in with these schools, down a bit deeper. In fact, more reports of big drum have come in this week and Hampton Correspondent Chuck Harrison gave us a report after a recent trip that included landing a 48-inch red – nice fish, Chuck! – that struck his jig near the second island. He also said that trolling for Spanish between Cape Henry and Rudee Inlet resulted in a catch of 20-plus nice ribbonfish, plus blues.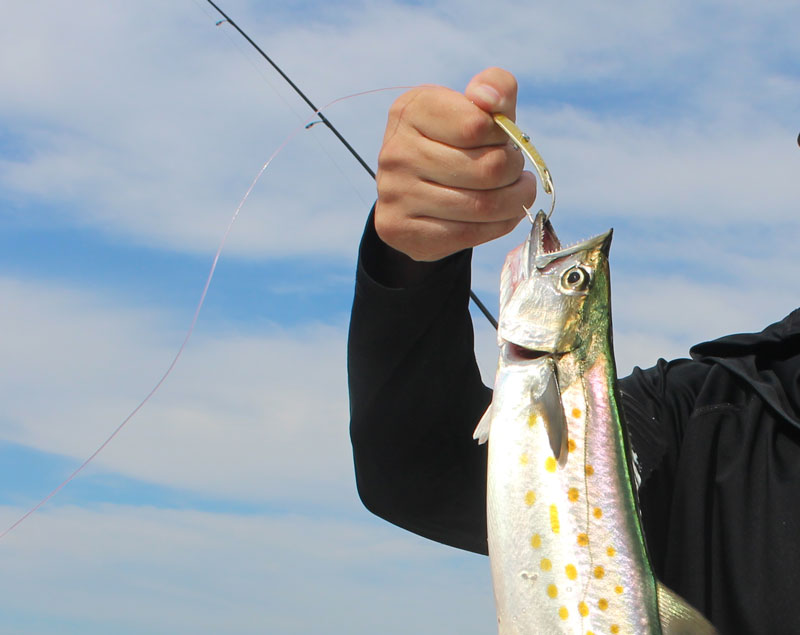 We also got reports this week that throwing a pink paddle tail has been producing some speckled trout here and there, while fishing bait has produced tog, flounder, and sheepshead around Lynnhaven on the concrete and rip-rap. Flounder fishing has been hit-or-miss, with some anglers probing the channel edges around the CBBT scoring two to five keepers while others are striking out.
What about the cobia? Around the mouth of the Chesapeake the cobia bite has been pretty constant, with most anglers using the fan-favorite eel, or some also doing well with live spot. They also mentioned sight casters have been somewhat successful, as well as chumming. However, the best of the cobia bite seems to have shifted to coastal waters and inshore shoals. Many anglers are also being tempted to run outside of the Bay to get in on the big smoker kings that have materialized on the shoals (see the Coastal Report, for more on this bite).
---
Way South Fishing Report, August 9, 2019 Update:
The Southernmost waters of the Chesapeake have been enjoying a healthy bite coming from a variety of species this week. Most notably, Spanish mackerel are still showing up all through the area, caught with little effort by anglers who are pulling silver and gold Clark number-one spoons behind number-one planers. They've primarily been a bit north of the CBBT, however, trollers sticking south of it and/or working shoals just outside the Bay are enjoying a consistent bite as well. A few reds are in the area too, and will take trolled silver spoons or cut bait. They're still not around in what we'd call awesome numbers but have been showing up more and more by the week, recently.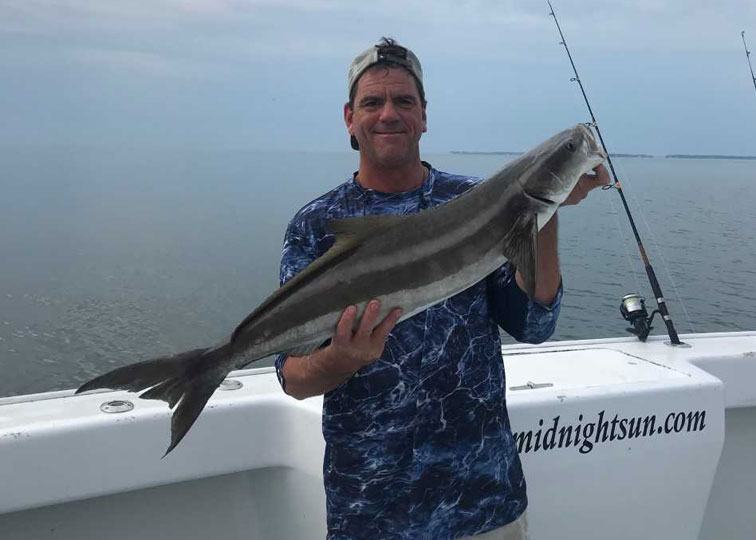 The cobia bite is on the slower side but steady. Each day we hear reports of guys catching just north and south of the CBBT, but we hear twice as many where guys came home empty-handed. It seems that most of the cobia in the area have been thoroughly harassed for the past month or so, its getting tougher and tougher to get them to bite, and those that do are often throw-backs. In addition, a fair number of boats are being absolutely punished by the pesky bluefish that are tearing into their eels. If you're chumming or throwing live eels, make sure you've got plenty to survive feeding the blues and the often-inevitable eel carnage. On an up note, the blues can easily be transformed into dinner by tossing some small spoons to get your revenge.
Bottom fishing has slacked off a bit recently and may have hit something of a summer doldrum, with most of the croaker being caught on the small side. However, there are still lots of ribbonfish being captured in the Cape Henry area. What about finding flounder? It's been tough the past week. That said, some anglers working the channels near the CBBT have been piecing together decent coolers with two to four keepers considered a good day.
---
Way South Fishing Report, August 2, 2019 Update:
The excitement in the southernmost waters of the Chesapeake continues to be dominated by the cobia craze. Trollers, sight casters, and chummers have all been doing well. The area around the CBBT has been good, and off Cape Henry to the Rock Shoals near the highrises continues to produce. Many anglers have opted to troll and have been pulling red and green hoses in hopes of a cobia, while gold and silver Clarks spoons are in the mix to load up on Spanish mackerel. And load up is the right way to put it - catches of dozens of mackerel at a time have become commonplace. Trolling seems to be been the most productive method overall, but if you want to focus solely on cobia, chumming with menhaden while putting live eels over the side is doing the trick. This tactic has been great, but make sure to stock up on live eels because bluefish are problematic, snatching away your eel (or at least it's back end).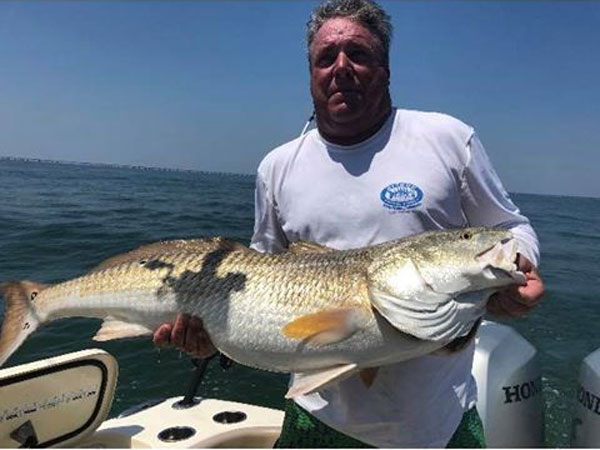 Speaking of the CBBT: Oceans East reported that the flounder bite has been "eh" at best, but a few are being caught by anglers bouncing pink, chartreuse, and white BKD or Gulp! lures off bottom. Dinner plates and doormats are seldom being reported. Hampton Correspondent Chuck Harrison checked in to let us know that a half-day trip last week produced Spanish up to 20-inches and lots of bluefish but nothing terribly exciting, around the second island at the CBBT. However, some big redfish are also popping up unannounced throughout the zone. And just to make matters even more interesting, ribbonfish have appeared in decent numbers from the Bridge complex down towards Cape Henry. Many anglers are catching them more or less by accident (they'll strike just about anything imitating a small baitfish - silver half-ounce Rat-L-Traps are a good offering) and we keep getting emails asking if these fish are edible. The answer is yes - ribbonfish are indeed good to eat!
Crabbing Report: Crabbing has been good, and bayside crabbers are enjoying crab feasts with minimal effort.