Way South Fishing Reports
Way South Chesapeake Bay Fishing Report, May 27 Update:
As we move into Memorial Day weekend, summer fishing has official kicked off in Virginia waters with plenty of action. These waters are alive with red and black drum, speckled trout, striped bass, sheepshead, and other species. Speckled trout are drawing many anglers and haven't been shy near the shorelines — Ocean's East reported that anglers using four-to-five-inch twister and paddle tails have been smashing them in increasing numbers this week. They're holding in shallow, grassy areas and the salt marshes. The specks this year are looking chunky too, with multiples in the upper teens and mid-to-low 20s common.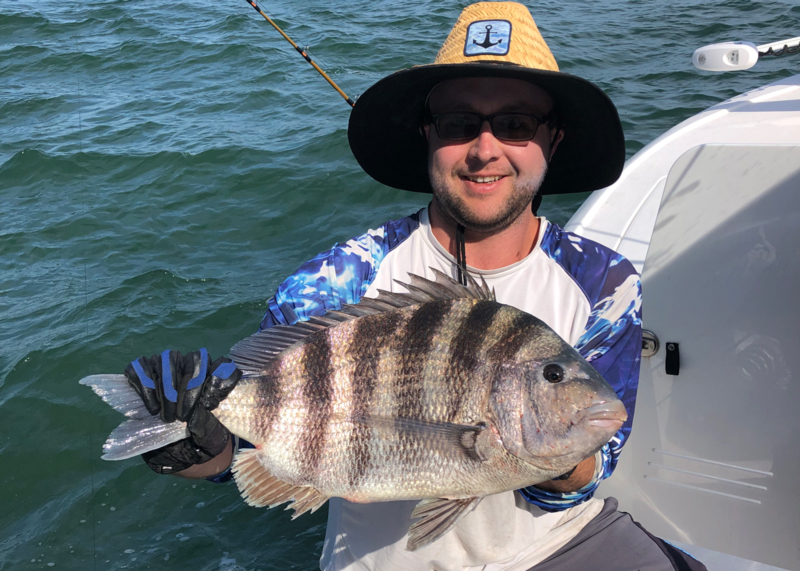 We had a couple more reader reports of sheepshead this week, including the nice one showed above which hit at Nine Foot Shoal on a whole clam and was followed up by a limit catch of bluefish trolled up on Clark spoons behind planers. Hampton Correspondent Chuck Harrison dittoed the bluefish report, noting that they came across a huge school of small ones chewing on silversides off Buckroe. He also mentioned that they found a bunch of small gray trout and an undersized flounder in a deeper hole. However, he also said that hitting the HRBT was a bit of a disappointment and didn't provide any action.
Anglers looking for some drum bites on the shoals off Cape Charles, near the CBBT and Fisherman's, and up to The Cell are catching a mix of bull reds and blacks. Fish are spread throughout the shoals and hotspots, with some black drum upwards of 50 pounds being reported and one reader fishing The Cell reported a pair in the upper-20s. Peeler or soft crab has been a favored bait for both red and black drum, with whole fresh clam preferred by the blacks. In the inlets and on the west side up to Poquoson, plenty of slot reds are being caught on jigs, peeler crab, and shrimp. Bait anglers are having a tough time with rays, though, which have moved into the Bay in force.
Striped bass haven't been as popular a target in these waters as areas to the north recently, understandably so with so many other species to target around and fewer rockfish being reported than other targets. Anglers who were after them this week had mixed results shooting for the slot and trophies, but were hooking up on fish with various tactics. Trollers did report a couple of large fish in the 40-inch range are still being caught here and there as they migrate northward.
The first reports of croaker arrived from bottom fishers and pier anglers this week, with catches scattered and in small number. A few spot have moved in as well but are also reportedly on the small side, with kingfish/roundheads rounding out the catch.
---
Way South Chesapeake Bay Fishing Report, May 19 Update:
We checked in with Ocean's East Bait and Tackle this week, who let us know that with the opening of sea bass season plus slot-sized stripers now legal in the Bay, along with some finally-not-blowing beautiful weather, there's plenty going on in the area. The opening of sea bass has been absolutely wonderful, with excellent catches coming in from the inshore and offshore wrecks. They reported that boats did wonderfully this week dropping down squid and flat fall jigs. Even though the sea bass are drawing lots of attention, rockfish are now in too, and on the minds of plenty of anglers. Along with reports of success on fish in the 20- to 28-inch slot we heard from readers catching over-slot fish, with the HRBT and MMBT both providing some action. One reader noted catching a few undersized rockfish, a 22-incher, three slot reds to 24 inches, and two keeper-sized specks on pink swimbaits, fishing "near Hampton." Now that's what we call some awesome fishing!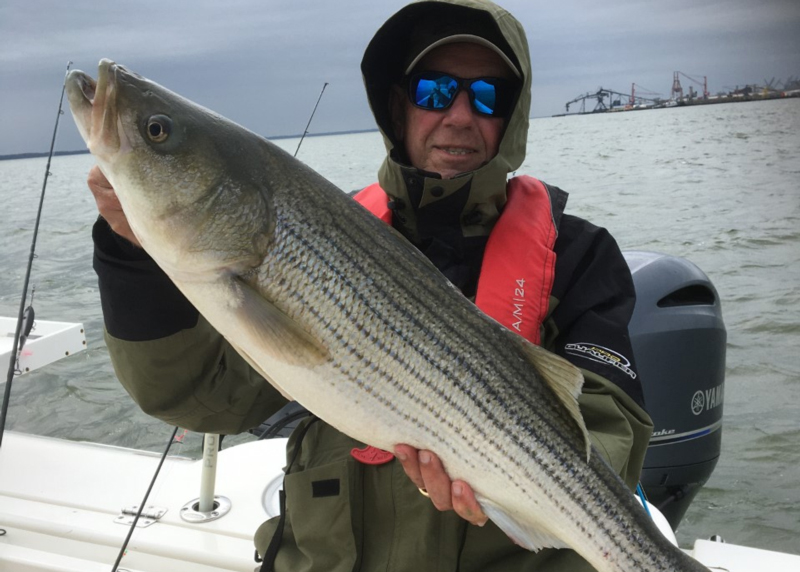 Speaking of awesome fishing: Ocean's East also reported that the drum bites are ON(!!!!!), for both blacks and reds. The fish are spread through the shoals and hotspots in the Cape Charles area, near the CBBT, and also have been caught at The Cell. We had a reader check in after catching three monster black drum on clam baits near Cape Charles, saying that every one of them was well over 50 pounds. Using hard or peeler crab or clam is common. Anglers fishing near the structure of the CBBT with crab baits are also reporting increasing numbers of sheepshead.
We're also happy to report that puppy drum and speckled trout remain lively in the inlets with speck reports going up in numbers day by day. They've been steadily gaining steam for a few weeks now, and seem to be in a spring mixed-species peak at the moment. Rudee and Lynnhaven are holding good numbers of both, as well as increasing numbers of flounder, drawing anglers sporting an array of Z-Man's and Bass Assassins. Reports indicate that colors wasn't of much concern this week for the specks, but that they were favoring paddle tails.
Also of note this week: we heard about a couple-few bluefish here and there and one early-bird Spanish mackerel. None were photo-confirmed but since blues have now been caught up the coast to Delaware, we don't doubt it one bit.
---
Way South Chesapeake Bay Fishing Report, May 13 Update:
With the iffy weather at the end of last week, when Hampton Correspondent Chuck Harrison had the chance to go fishing he opted to visit the Buckroe pier rather than launch his boat, and reports catching just one small bluefish. He also didn't observe other anglers doing any catching, however, an angler who fished through the night had reported catching some puppy drum and said there had been some spurts of action from the puppies in recent days. There have been good reports of puppy drum in Lynnhaven inlet recently, with speck bites reported throughout the inlets and marshes. As the bite picks up for the season, we should continue to see numbers of both species increase. Generally, the inlets have been good places to fish for both the puppy drum and trout. We also heard from a reader who hit Rudee this week during a (relatively) calm spell and reported catching his limit of slot reds in the 20- to 24-inch range by 10:00 a.m., using soft plastics.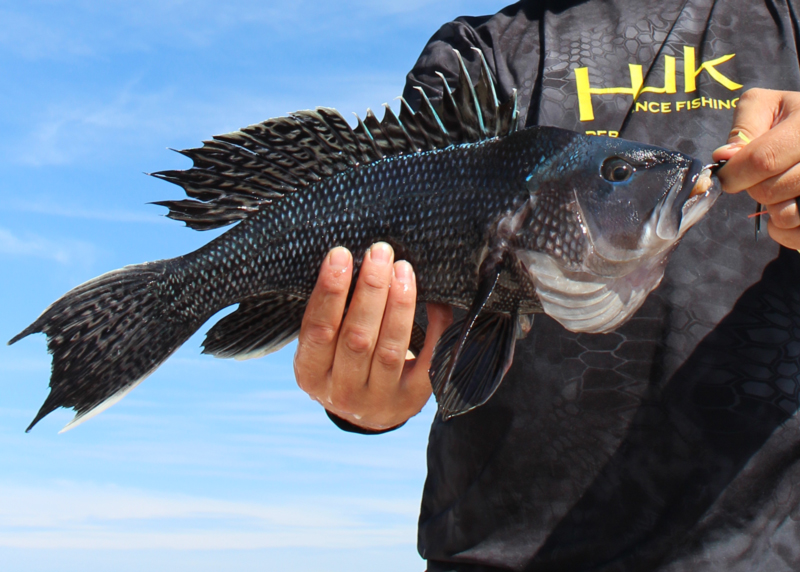 Notably, the Virginia sea bass season opens this week on May 15th. This is an exciting bite that we're hoping will provide some good action throughout the season!
If you missed last night's presentation of The Past Present & Future of Striped Bass: A Chesapeake Perspective, remember, you can still watch it on YouTube!
---
Way South Chesapeake Bay Fishing Report, May 6 Update:
With water temps on the rise the species selection is expanding, and this week we heard the first reports of sheepshead come in from the CBBT on fiddler crab and peeler baits. With the tog bite also picking up, at least one lucky reader had a mixed bag with both species in the cooler and as we enter the final days of tautog season — May 15 marks the close for spring — now's a prime time to drop those baits right up against the structure and set yourself on a hair trigger for the bites. If, that is, you can manage to resist the temptation of many other developing options…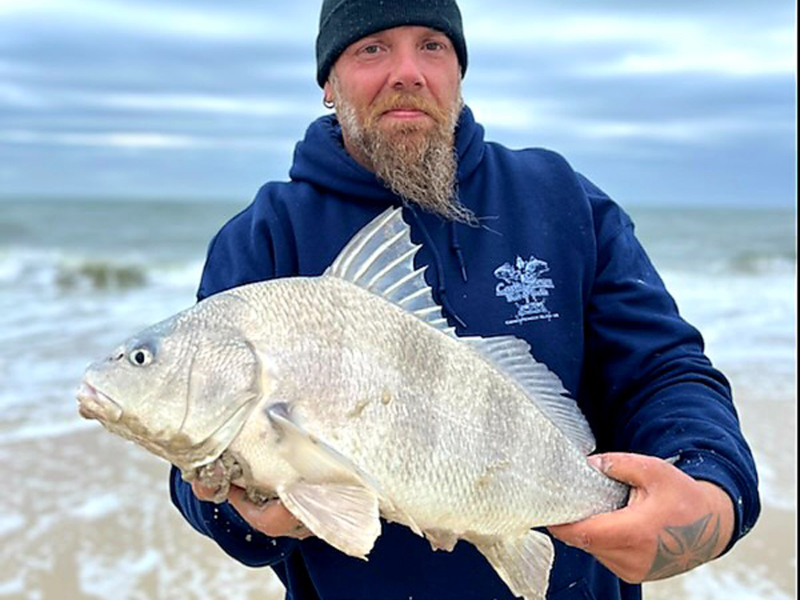 Along the beaches, the shoals off Fisherman's, and the shoals in the Cape Charles vicinity, drum of both species are in prime form. Reds have been moving in increasing numbers as black drum have been starting to scatter more, with soft or peeler crab proving a hot bait and clams picking up some drum as well. Setting out cut mullet is also starting to produce a few long, skinny "racer" bluefish on the ocean side and we heard of one from the Bay this week as well.
In the inlets, at the HRBT, and up to Poquoson a solid bite for slot redfish continues with plastics, MirrOLures, and gudgeon producing plenty of strikes. A few flounder are also pouncing on soft plastic bounced along bottom in the inlets and Oceans East is reporting a few blues are being caught in them as well. Day by day the speck count is increasing too, and this week we heard of two singles caught all the way up at the Tangier Sound. In other words, at this point you could potentially encounter them anywhere up the Bay and in the next week or two (once the incoming blow passes through) we'd expect to hear speck and red reports from throughout the state's waters.