Upper Bay Fishing Reports
Upper Chesapeake Bay Fishing Report, June 23 Update:
Striper fishing in the Upper Bay continues to be the rockfish highlight of the entire region this week. Anglers who checked in with us from the channel edges off Still Pond down to the Pooles Island/Tolchester zone, plus the Bay Bridge Pilings all reported bites. Most opted to live-line, but a few are still sticking to jigging and casting light tackle. The former are especially popular around the Bay Bridge Pilings — both methods have tended to be more effective here than in other areas, although there's a higher ratio of throwbacks at the Bridge and at time difficulty finding a productive piling that doesn't have multiple boats around it. White and chartreuse are good colors, and most anglers are sticking to four-to-six-inch jerk shad. Anglers at the pilings are additionally picking up white perch, and just north, are finding spot off of Sandy Point. They've been there for a few weeks now and boats hitting the area frequently have deemed it reliable. One angler who checked in with us mentioned that after hitting Sandy Point, they were able to get into the fish near Tolchester. However, they did note that they only landed one keeper for a boat of four, along with the dinks.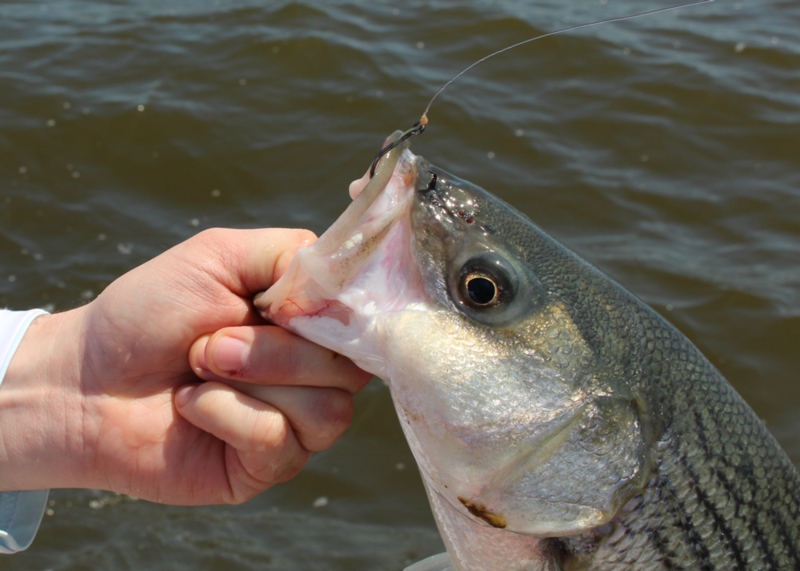 The Key Bridge also produced some nice reports this week, mainly from anglers fishing for white perch. Small stripers have also been caught around it, and a fair few catfish. Blue and channel cats are abundant throughout the Bay. Boats targeting them aren't frequently disappointed, and chummers can be sure they'll see one.
Snakehead anglers are reporting a mixed bag. Given that the fish may be moving into their spawn, that isn't too unexpected. Anglers are generally fishing for them in the rivers and creeks where vegetation and grassy areas are common.
---
Upper Chesapeake Bay Fishing Report, June 16 Update:
Striped bass fishing in the Upper Bay was generally solid this week, with good reports coming from many boats that hit the water. Although many of the fish have been on the small side, they do seem to be around here in serious numbers. Hotspots like Pooles Island and Tolchester remained favorite areas. Anglers heading to them often were trolling the channel ledges, live-lining, or chumming. Live-liners seem to be doing especially well and are finding their bait around Sandy Point State Park. We also heard a few reports of spot on the eastern side of the Bay in hard-bottomed areas, although they were unconfirmed. Chummers are either loving or hating the catfish bite. Many reports have indicated that they're unavoidable chumming.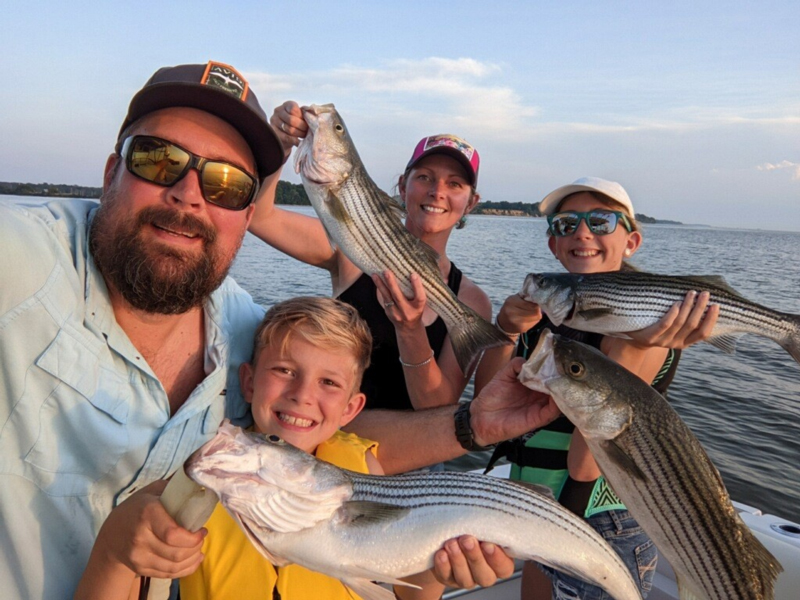 While some of the reports from the Upper Bay may be solid, we did also hear from some readers who had a tough time finding success recently; last weekend one reported trolling near the Bridge for just one knock-down, and another reported just a few throwbacks on jigs near the rockpiles. The AIC Lenny Rudow also reported a meh bite at the bridges midweek, catching a half dozen or so dinks and just one keeper on pearl paddle-tails. Then we heard from a reader who chummed the mouth of the Chester with just one ray to show for the effort (not even having catfish take the bait), and another who found only a few dinks near the bridge. Tolchester did produce for liveliners, however, and dolphin were being sighted north of the bridge leading some to posit that they may be chasing the stripers even farther north at this point in time. In any case, it does seem that the farther north in the Upper Bay zone you go, the better the bite is.
---
Upper Chesapeake Bay Fishing Report, June 10 Update:
Once again as June hits, the Upper Bay is enjoying the cream of the rockfishing action crop on the entire Chesapeake. Hotspots of note reported by readers to be hot this week include:
Hodges Bar, with liveliners reporting fast action and jiggers also taking their share of fish in the low to mid 20s.
Love Point on the Chester side, with one reader noting a 32-incher caught on chartreuse plastics.
On the lumps north of Pooles right along the drop-offs, with white perch chunks tempting the fish into biting and an incoming tide best; also near Pooles on bucktails dressed with paddle-tails.
The mouth of the Patapsco and the Key Bridge, which produced some nice fish into the mid-20s for a pair of kayak anglers trolling lipped plugs.
The mouth of the Magothy/Podickory area, where the bite was slower than last week and there were a lot of throwbacks, but 20-plus inchers in the mix.
The Bay Bridge pilings and the rockpiles, where slinging jigs and drifting back live spot is producing tons of throwbacks but fish into the mid-20s every 10 or so bites.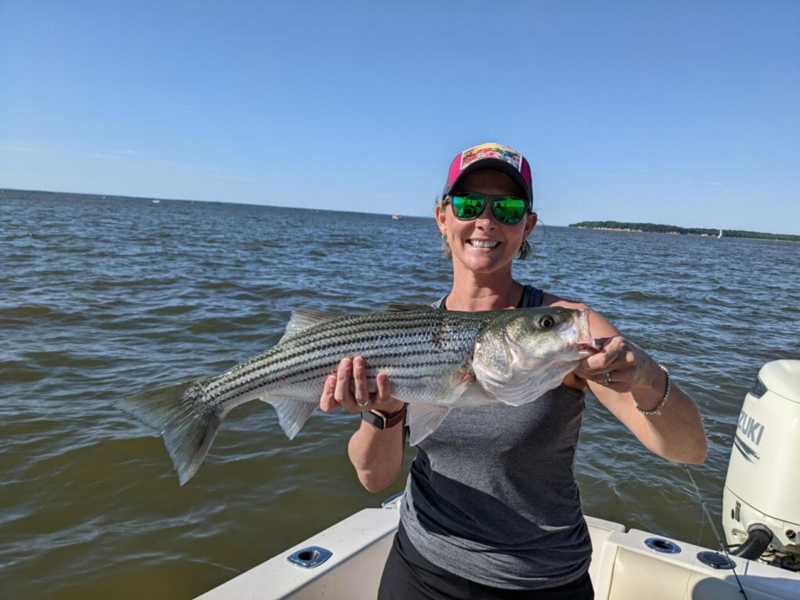 White perch are also beginning to bite in the tribs, with Perch Pounders or spinners as well as grass shrimp proving tempting. Angler's notes that it's still on the slow side as compared to normal. We also had a perch report from a dock fisherman in the Magothy that the bite was slow but steady one evening this week, and he managed five perch in a couple hours after work casting a dart with grass shrimp and jiggling it next to pilings.
Crabbing Report: we heard from a dock owner in the Magothy who said they've started to show up in his pots.
---
Upper Chesapeake Bay Fishing Report, June 3 Update:
The striped bass bite is on in the Upper Bay, with many positive reports indicating that plenty of stripers in a wide spread of sizes are around. Hodges and Love Point/the mouth of the Chester continue to hold lots of rockfish, as well as lots of boats. Numerous readers report both small and keeper-sized rockfish with some stretching the tape up to 30 inches. Trollers and jiggers report success, but more and more boats are now live-lining as more spot are showing up. Spot numbers are still sparse and it's taking some time, effort, and valuable-as-gold bloodworms to put them in the well, but anglers using them report a quick bite when livies are on the end of the line. Angler's Sport Center reported that all of these tactics are productive (note: Angler's is now selling live spot so you can "catch" your bait quickly if you so desire), with trollers doing well on some of the larger fish. They've generally been pulling white and chartreuse spreads comprised of bucktails, umbrellas, and sassy shad. Trolling the shipping channel up from the Bridge, Podickory Point, and around Swan Point was reportedly producing well. Much of the fleet is in this zone chasing fish, so hitting the water early is essential if you want to avoid the crowds.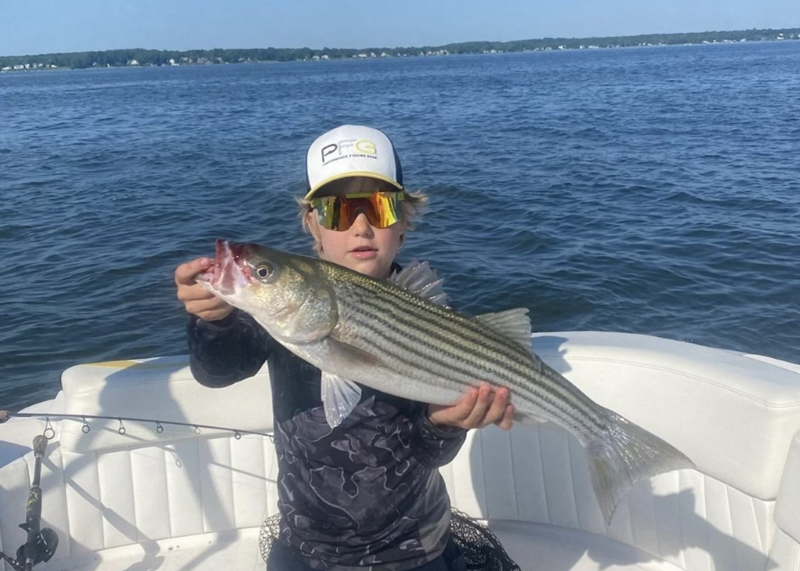 The Bay Bridge is another rockfish hotspot providing action to both Upper and Middle Bay anglers tossing jigs or live spot to the pilings. Most of the catch continues to be in the barely-keeper to mid-20-inch range but some 30-inchers are popping up as well. Light-tackle fishing is also picking up, with plenty of action in the tribs. Anglers casting topwater lures are getting good hits, and casting soft plastics in the shallows is producing schoolies. Angler's reported that the Bay Bridge has been a common location, and Tochterman's mentioned that a few jiggers have been catching around the Key Bridge this week. We also had a few good reader reports from the mouth of the Magothy.
The Key Bridge has also been holding some white perch, although most have moved into their summer haunts in creeks along the tribs. They're generally going to be in areas with decent structure and shade, or in deeper water. Casting small spinners around dock or pier pilings is a good way to wrangle some. Baiting up a bottom rig with bloodworms, grass shrimp, or Fishbites is also working.
In all of the aforementioned areas and all over the Bay and its tributaries, catfish are also biting. Large blue catfish aren't uncommon, stretching into the upper 30-inch-range. Dropping cut alewife, menhaden, and clam snouts are all doing it for the catfish.