Upper Chesapeake Bay Fishing Report, September 13, 2019 Update:
Throughout the Upper Bay, fishing the hotspots has been quite a lot easier recently as the fleets have dispersed a bit, and boats no longer need to be on high alert for casts and lines being trolled from other boats in close quarters. Tochterman's let us know that the newfound ease of navigation anglers are finding in these areas is a symptom of the bite's decline. This has been true for most of the hotspots, with the bite at Love Point, Swan Point, Podickory Point, and Poole's Island all a bit slower than last week. Most notably, the incredible bite around the Bay Bridge area has slowed down drastically. Although stripers are still being landed at all these spots, the rate at which this is happening has slowed down significantly. A bright spot is the Patapsco, which seems to be holding up better than most areas; there are fish in the harbor on structure and around rip-rap and also around the Key Bridge. The bulk of fish being landed have been schoolie-sized, however, the bite is peppered with better fish. The vast majority of anglers are still opting to live-line, which still is producing the best results. Spot remain in the tribs on hard bottom, still between eight and 10 feet of water. Some have been wicked large, and a few anglers have found themselves eating those too big for bait. Those determined to retain their dignity (a.k.a. not eat their bait) should consider staying on the move until they locate decent fish.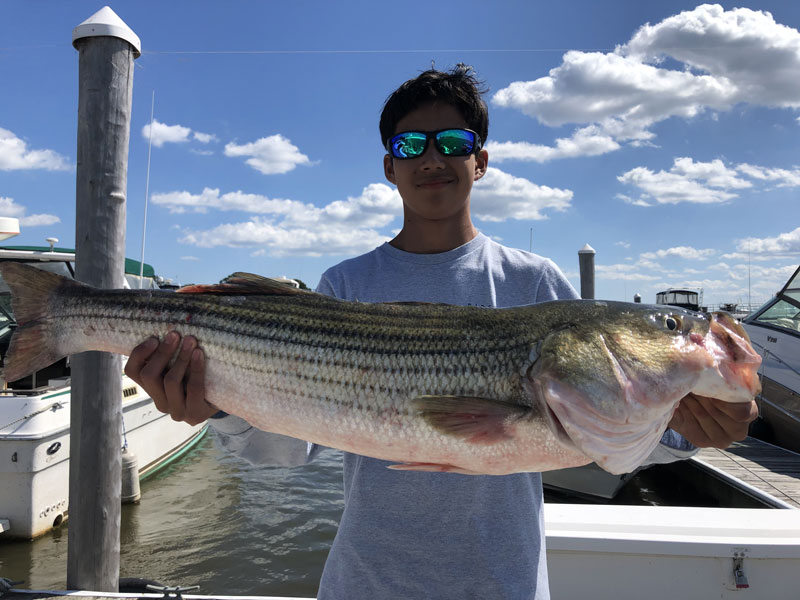 Jiggers are doing well too, and bucktails or six-inch white, chartreuse, or pearl BKD soft plastics have been popular. Some keepers are in the mix, caught through luck and persistence. Notably, some (mostly barley) keeper rock are now also showing up in the tributaries for jiggers slinging to rip-rap and structure. We heard of a few caught in the Magothy and the Chester, this week.
Speaking of the tribs, the white perch and catfish bites remain strong. They're both easily accessible from shore, with the perch primarily holding around docks and rip-rapped shorelines, and will happily snatch bloodworms or grass shrimp on a bottom rig during dusk or dawn. Catfish have been spread throughout the rivers and will eat cut menhaden or chicken breast on bottom.
Crabbing report: While it still isn't "hot" in the Upper Bay, crabbing has picked up and its possible to cobble together a decent catch. Those in search of a full bushel may want to head a bit farther south.
---
Upper Chesapeake Bay Fishing Report, September 6, 2019 Update:
Across the Upper Chesapeake, anglers have been heading out in hopes of enjoying as many days on the water they can fit in while the weather remains warm. Many of them are coming home appreciating days that were both beautiful and fruitful – the sky and markers are full of recently-fledged osprey and their parents, schools of menhaden are providing excellent fishing and sights of diving birds, and the striped bass fishery is highly active. In addition, the spot bite has been wonderful throughout the Bay, allowing little time spent catching bait. Many anglers are choosing to go this route, heading out early to areas with eight to 10 feet of water and a hard bottom for spot, and then cruising to Seven and Nine Foot Knolls, Pooles Island, Swan Point, Love Point, or the Bay Bridge pilings. Tochterman's let us know that all of these spots have been productive throughout the day, with the best bite during morning and evening hours. Although the action has been steady, the flow of keepers has been a bit less reliable. Undersized fish have become far more common in the past few weeks so make sure you've got plenty of spot on board, because the small fish have a habit of quickly diminishing your supply. Tochterman's also mentioned that the striper bite in Baltimore's Inner Harbor is still active, with live-lining spot and jigging soft plastics the main tactics being employed to land fish. Most anglers jigging have been using half-ounce jig heads with six-inch white or chartreuse BKD or Gulp! lures. On overcast days, switching over to purple is a smart move.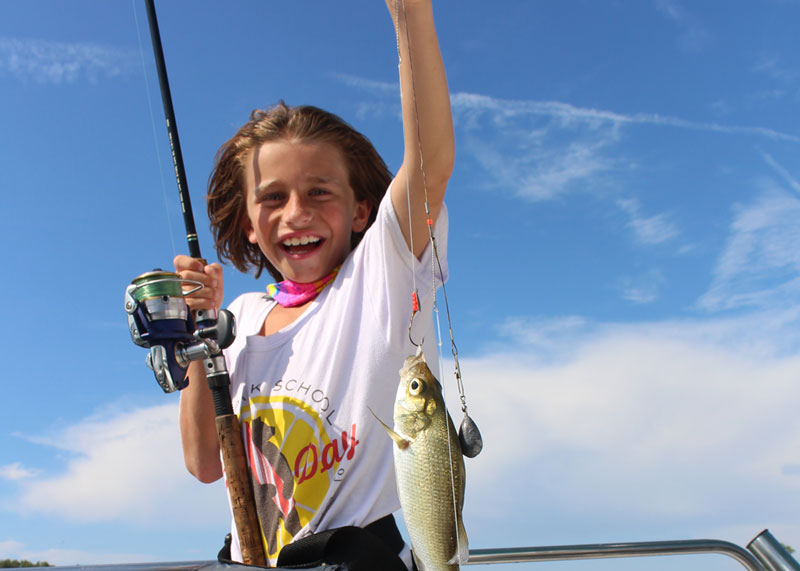 Not much has changed in the tribs – the white perch and catfish bites are still non-stop. A couple weeks of cooler surface temperatures have extended the time perch are biting, although the early morning and late afternoon are still the best times to go after them. Bloodworms on a bottom rig are ideal for perch, whereas catfish will take cut menhaden or chicken breast.
In other news, the scattered Spanish Mackerel bite just north of the Bridge has persisted. Anglers are catching them are trolling between eight and 10 knots, or about double the speed you would for stripers, and pulling small Clark spoons in gold. Small Drones and pink or yellow Hard Head Custom Baits are working, as well.