Upper Chesapeake Bay Fishing Report, July 18, 2019 Update:
What can we say? It's another epic year for Upper Bay anglers, and the traditional summertime hotspots in the Upper Bay have remained the go-to destinations for fishermen up and down the Chesapeake's shores. Tochterman's let us know that most boats headed out to Podickory Point, Love Point, Swan Point, the Bay Bridge Pilings, and the Sewer Pipe have been stocking up on bucktails with rubber skirts, small tandem spoons, and live-baiting spot. Around the points, trolling and bouncing jigs off the bottom has remained standard.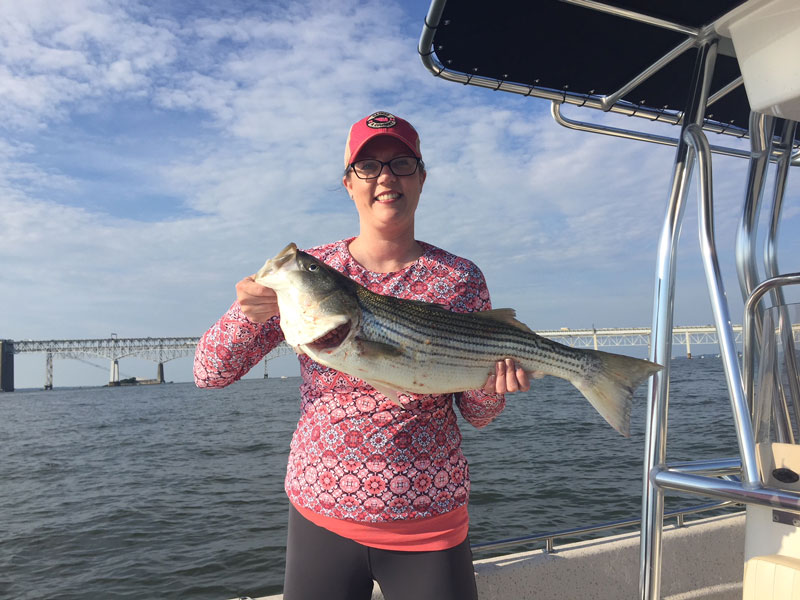 With the fishing so stellar in the Upper Bay many boats are crowding the popular areas on weekends. Trollers need to be extra cautious about crossing lines and tangling with other boats with so many lines in the water. Some guys have been live-lining spot, which seems to be how the bigger fish are being landed. The typical size right now is hovering around between 18 to 23 inches, the outliers belonging mostly to live-liners. Live-lining at the Bay Bridge Pilings is also doing well, but many guys are drifting soft crab or jigging soft plastics or bucktails. Tochterman's also let us know that many anglers are hitting up Baltimore's Harbor for spot. Spot and white perch have also been at the shallow end of Podickory Point's shelf. The bite on soft crab has been on or off – you'll know pretty quickly which, and if you're not getting hit within the first few drifts switching to lures is a good move.
The mouth of the Magothy has also proved to be a great area this week, and Fishbone's let us know that they had tons of reports of anglers catching at the deep hole. Both rockfish and catfish are present, with the latter more common. The mouth of the Chester has also been a great spot.
In the Magothy, the crabbing bite seems to have turned around a bit. This week we finally head some reports of anglers coming home with bushel baskets full. Trot liners are doing best, however using a pull trap with fresh chicken necks can also produce well.
---
Upper Chesapeake Bay Fishing Report, July 12, 2019 Update:
The Upper Bay has been a common destination for anglers looking to get in on a solid rockfish bite. The traditional summer hotspots are continuing to provide hot fishing, and have held steady the past few weeks. Fishbones suggested heading to Podickory Point in the evenings, where stripers have been quick to hit soft plastics jigged off bottom. Six-inch plastics in chartreuse, white, and pearl have been a staple of most anglers' tackle boxes. Locating fish and dropping on them has been a common tactic, with schoolies running thick. The channel edge has provided great fishing, and a few fish over the 30-inch mark have been caught in the area with most holding relatively shallow along the edges from 20-something feet and up.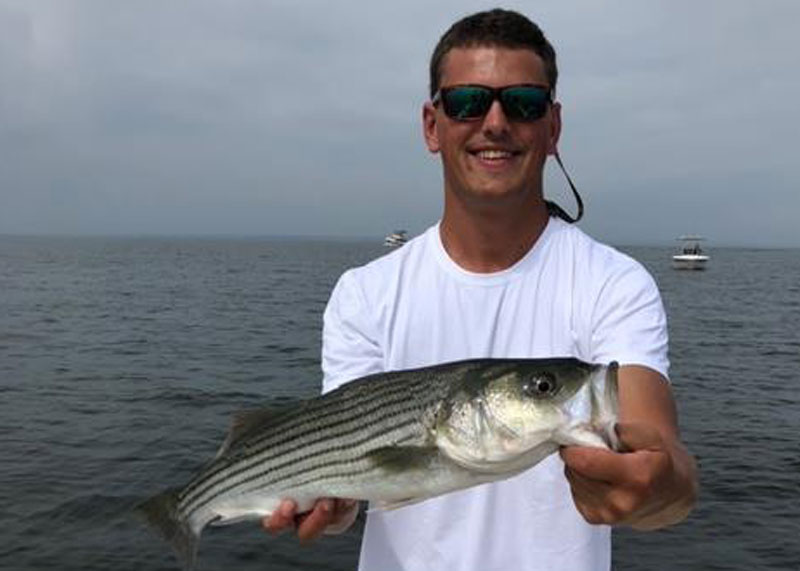 From Love Point to the Triple Buoys, the morning bite has been on fire. The same is holding true at the Bay Bridge, which of course has been the epicenter of the fleet for weeks, now. Many here have also been live lining spot, white perch, or pencil eels on a 40-inch leader just off bottom. A surprising number of boats are still hitting the docks with fish above 30 inches. Fishbone's also had a couple confirmed reports of 40-inch fish, which is a bit wild for this time of year. As per usual, this quality of fish only comes with a time and a whole lot of luck.
Catfish and snakehead are moving further up the creeks and the tribs, with catfish still actively biting. Snakehead have thinned out a bit, however, they're still taking minnow. Cut menhaden and chicken remain great catfish baits. Cats remain a factor in the main-stem Bay, however, many seem to have retreated into the tributaries. Perch and spot are hanging around the mouth of the Magothy, being caught on bloodworms. Spot have been smaller in size, while some of the white perch have been spectacularly large.
Crabbing Report: Crabbing has been dismally slow, with many anglers heading south to the South, Rhode, and West Rivers where the crabbing is a bit more active. These areas have also been hit or miss, however, and the best crabbing is still down south of the Patuxent.
---
Upper Chesapeake Bay Fishing Report, July 5, 2019:
Moving into July, the Upper Chesapeake Bay remains the top spot for striper action in our region. Podickory down to Sandy Point remains a good area, as does Love Point and the Triple Buoys. The Bay Bridge Pilings remain the top spot, however, despite being as packed with boats as they have been for the past few weeks. Being in the area is setting yourself up to play a game of bumper-boats, and one should be highly vigilant operating their vessel. In all of these areas, jigging has dominated the fishery. Most anglers are using Gulp! or BKD six-inch soft plastics, primarily in pearl, chartreuse, and white. Earlier in the day has been a better bite, and as the water heats up throughout the day it seems as though fish have been biting less. At this point, particularly, those fishing chunks of soft crab are gaining the edge.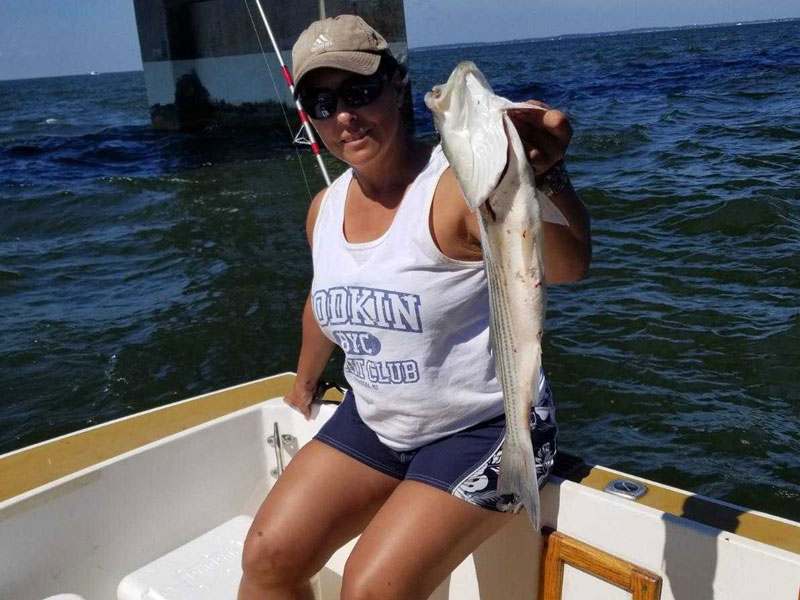 Trollers are enjoying action along the channel edges. Red hoses, umbrellas, and parachutes are common. The large fleet in the area has been deterring many boats from trolling anywhere near the bridges, however, with the risk of run over and tangled lines high. With high catfish populations in the Bay this year, many anglers are straying from chumming and chunking. At this point in the season, many of us are getting a bit exhausted with reeling in catfish. However, salinity levels have notched up a tiny hair so maybe this freshwater flush has bottomed out. If so, a few months from now the catfish blitz could be little more than a fond memory.
Crabbing Report: Although crabs are slowly making their way up the Bay, the bulk of the action is happening in the Potomac and south.