More than two decades ago famed bass angler Ned Kehde, of In Fisherman fame, created the now classic "Ned rig" for finesse bass anglers and multi-species fishermen. Basically, it's a light jig head pierced with any variety of small, soft plastics, fished on light six- to 10-pound monofilament for fussy large and smallmouth bass during tough conditions. He refined the presentation with a flattened jighead and a wire keeper to retain the plastics of choice. Later, ZMan would team up with ElazTech plastics that were all but indestructible and could last literally an entire season. The Ned rig as we know it today was born.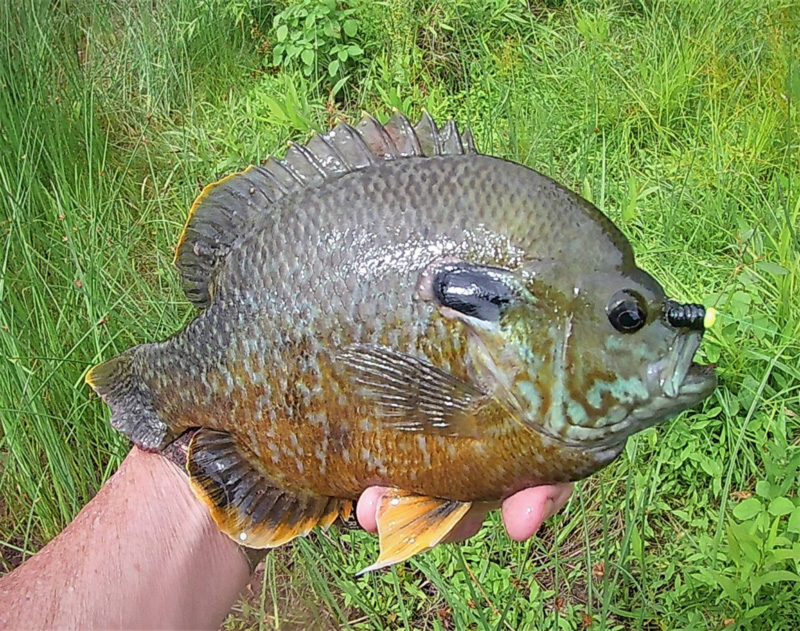 As the years wore on panfish and trout anglers began experimenting with small Ned rig options to entice giant bluegills, crappies, stream smallmouth, and trout. Nearly 25 years ago I began experimenting myself with what I called "jig worms" where a simple three-inch piece of plastic worm would be rigged on a 1/32-ounce jighead and fished through weeds and brush for bass and more. It was extremely effective on shallow fish but would also get deeper bass when teamed with the lighter braids of 10-pound test. Spinning gear was the weapon of choice and often ultralight outfits would suffice.
The jury is in, and the results are that micro-Neds are at least as effective, if not more so, than the already diminutive original. Today, there are many choices for the micro application. Here are a few top picks to get you on the road to using micro-Neds.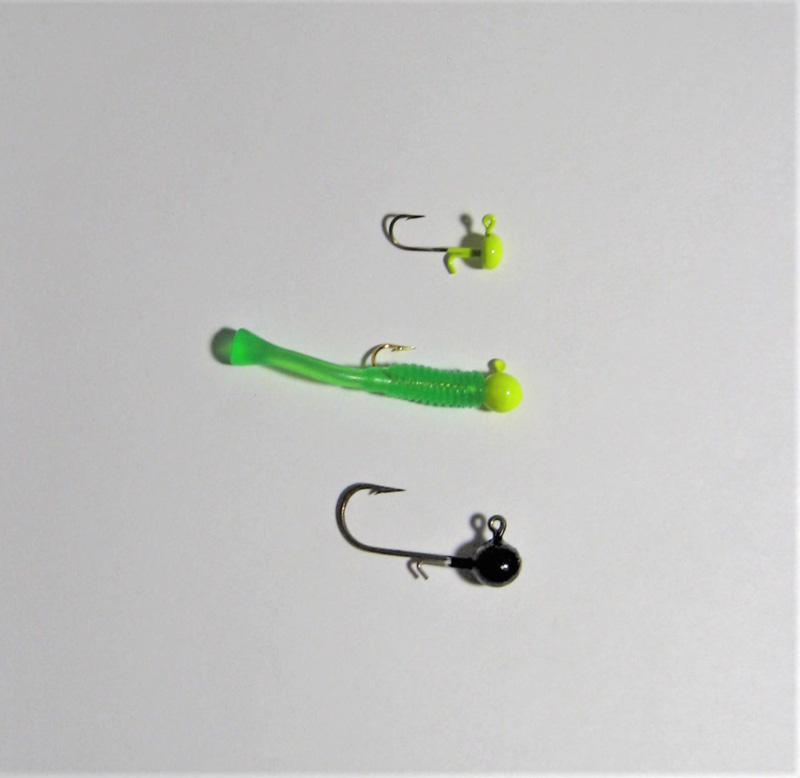 Cubby Mini-Mite Jigs
Though not exactly mainstream, this little panfish jig has been around a long time and is an American-made product. Known as the "jig-in-a-tube" panfish lure, the Mini-Mite is a 1/32nd ounce round jighead with a unique bell-shaped tail that is approximately one inch long and made of tough plastic. These can be fished with or without a float but are best served when simply cast and allowed to freefall on light mono in two- to six-pound test. Again, ultralight spinning gear will handle this lure best.
The action of the tail of the Mini-Mite is different than that of standard curly-tails or tube tails. It appears tighter and the lure can be fished through sparse weed growth when seeking big bluegills or crappies. In a stream, it works well when pitched under those deeper cuts or overhanging trees where terrestrial morsels fall in. Red breast sunfish, the king of creek panfish, slam the Mini-Mite with heavy strikes and often swallow the entire lure — bring along the hemostats. Visit Cubby Lures to learn more.
The Mule Jig
I wrote about this versatile ultralight jig option in The Mule Jig: There's a New Jig in Town. Lure maker and YouTuber Ethan Dheyvetter made tiny, mushroom-shaped jigs down to 1/80th of an ounce to score big on his local bass and panfish lakes in Michigan. They are designed to be fished with a variety of your favorite plastics and live baits as well. They feature a strong hook and a wire keeper to retain the offering of choice. I have watched the Mule Jigs in and around bedding bluegills and that "head down, tail up" dynamic has an effect on hungry panfish that even some live baits don't.
One effective tactic with the Mule Jig is to affix a small bobber so that the lure just drags or ticks along the bottom where spawning sunfish and crappies roam. The vertical appearance strikes ire in the fish and if the bobber moves just slightly, set the hook. Also, roving largemouth bass like to key in on these jigs as well and we have landed some fish in the four-pound category using these micros.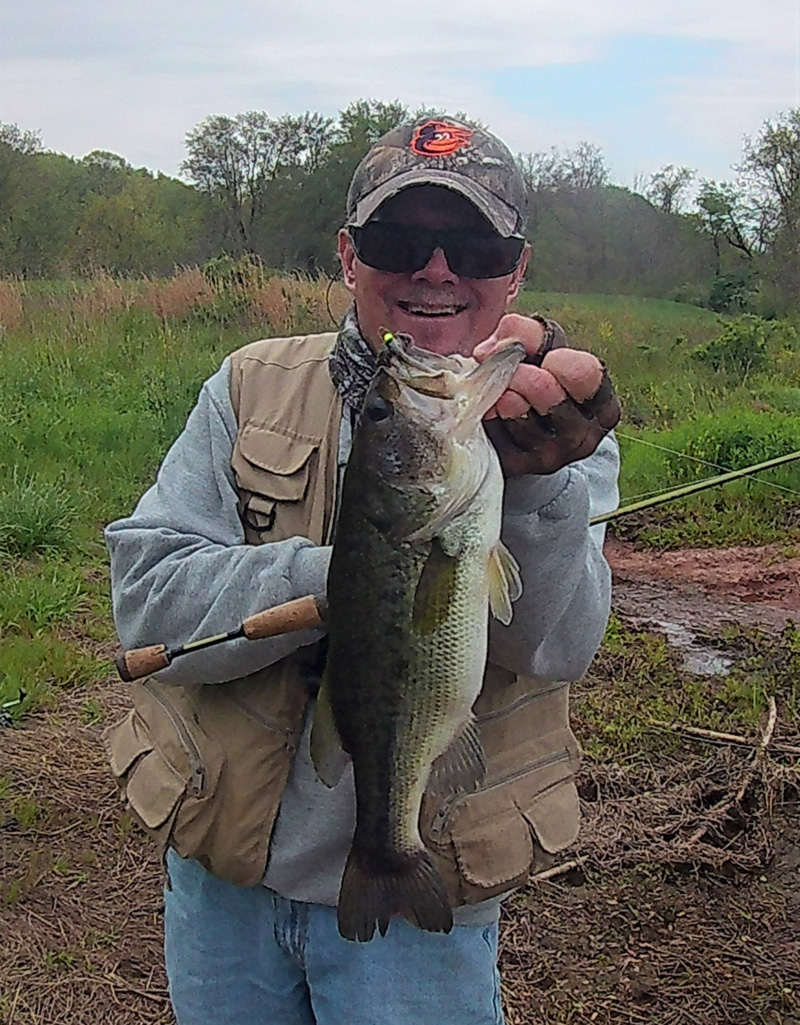 My favorite size for panfish species is the 1/64th ounce Mule Jig with either a chartreuse or red head to catch the fish's eyes. For bass, my angling friend Barry Pierson, who introduced me to the Mule Jig, utilizes the 1/32nd ounce edition and teams it with a 2.75-inch Finesse TRD in Copper-Truese color to absolutely slay smallmouth in Mid-Atlantic rivers including the Potomac, Shenandoah, and Monocacy. Along the way, he's caught giant carp and channel catfish during his kayak adventures, which are featured on his You Tube channel Barry P.
Another fine, American-made product, you can view the various jigs and plastics by checking out Mule Fishing.
Kalin's Triple Threat
When I first tried the Kalins Triple Threat crappie jigs I thought they would be too large for the bulk of my panfish duties. However, as advertised, these lures in the 1/32nd ounce weight fit the bill very nicely for crappie and finesse applications for bass, as well. They are round-head jigs and sport a wire keeper barb that holds soft plastics firmly. The thing I like about them is that the hook gauge is slightly heavier than other crappie jigs on the market, and that helps when the occasional five-pound bass shows up.
I like fishing the Kalin's below a bobber for springtime and fall crappie fishing scenarios. The larger number-four hook on the 1/32nd ounce Triple Threat enables a better hookset and more holding power on those larger slab crappies we all want to catch. For straight casting the ElazTech Finesse TRD at 2.75-inches again gets the call for a vertical presentation and a standup appearance when working the lake or stream bottom. If you go to the heavier 16th ounce Triple Threat when seeking deeper bass or even walleyes, which is emerging out of the "micro" classification, then up-size to the four-inch TRD or similar-sized plastic baits for a balanced combo. For more information on Kalin's jig options and plastics check them out at Acme Tackle.
Sometimes less is more, and in the case of micro-Ned rigs, that is exactly the concept. Try fishing them this season and you might just be surprised at how a micro jig can make for macro catches.
-By Jim Gronaw