One if the coolest things about the sport of fishing is that it can be as complicated, or as simple, as you want to make it. Yes, there are more advancements, electronics, lures, devices, and items of seemingly great value on today's market. All are intended to put more fish in the boat or on the bank. But if we look back on it all, there is certainly much to be said about the simple joys of pole-and-line fishing.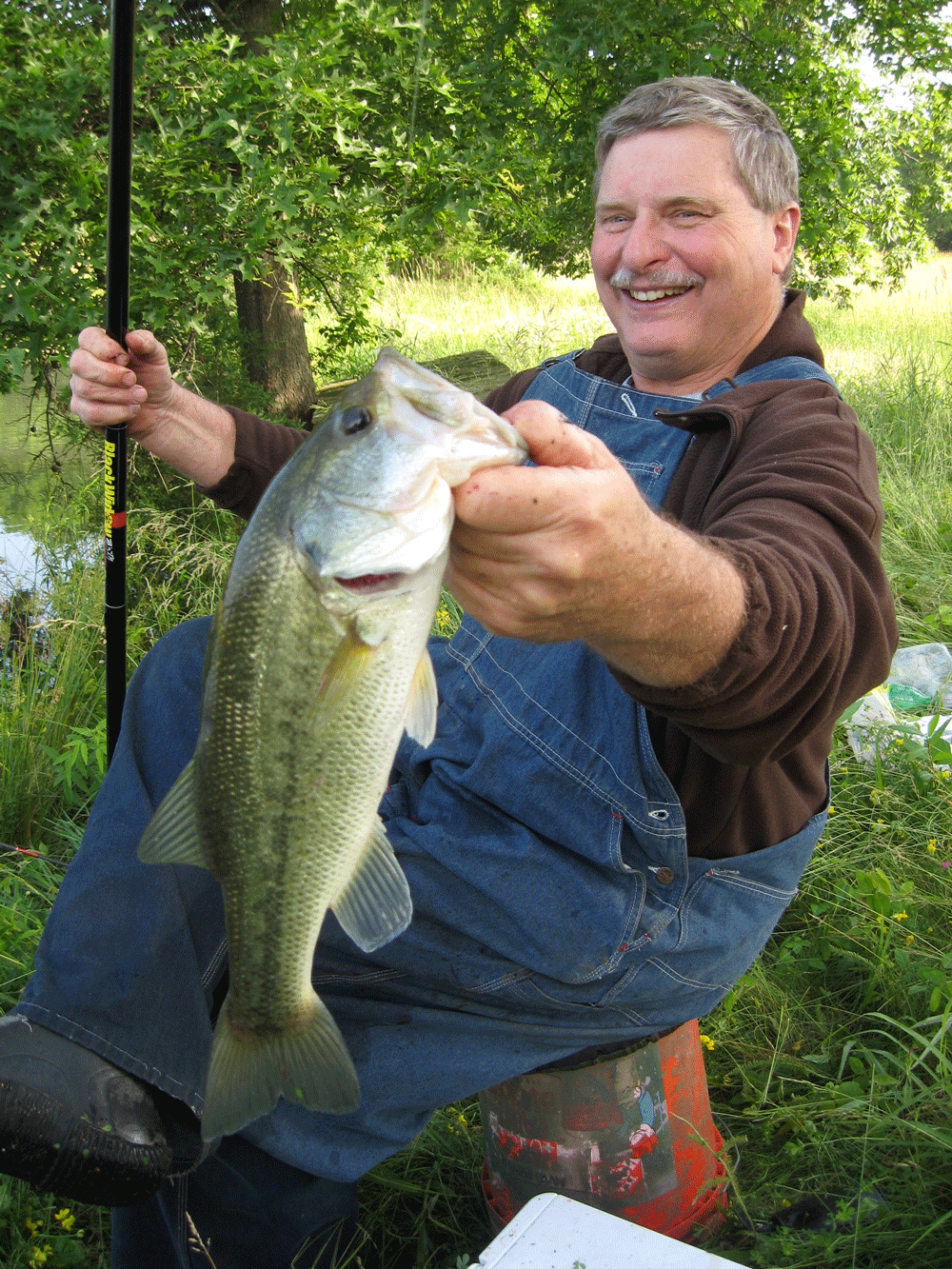 Most of us got our start by fishing with cane poles and a piece of line with a hook and bobber. The game was simple: put the baited hook in front of a likely spot and watch the cork, or bobber go under. Easy enough? You bet!
Jeffrey Abney, a friend from Elizabeth City, NC, specializes in fishing tidal rivers and creeks for monster coppernose bluegills and crappies in and throughout the Albermarle Sound. In researching for an In Fisherman feature last year, I was surprised as to what Abneys' preferred tactics were. He used a simple telescoping pole of 10 feet with a similar length of 10-pound test line and a shrimp jig tipped with bait. This man 'averages' 4000 bluegills a year, with between 400 and 700 in excess of 10 inches in length—and a very large percentage of those fish are pole-and-line fish. Along the way, he also lassos largemouth bass over five pounds, and powerhouse channel cats and bowfin in the 10-pound bracket.
When I fished with Abney back in the North Carolina blackwaters, he carried an on-board selection of 10 different fiberglass poles with various jig/float combinations. The long-reaching poles and a 'no-fear' attitude allow you to get close to weeds and wood of all kinds—which will quickly expose how effective pole and line angling can be.
The line-and-pole technique is particularly effective around docks and shoreline brush, with structure-oriented fish that run three to seven feet deep. Throughout much of the summer and well into fall shoreline panfish can be had via the pole and line efforts. I would recommend quality mono like Gamma Fluorocarbon in 10 or 12 pound test or Sufix Elite in the same strengths. At the tip of the pole, it's best to first secure the line to the rod portion just below the tip guide, then thread it through the eyelet. Even with quality poles, an eyelet can't hold up under the constant heaving of panfish or the strain of a larger fish, and may pop out of the rod tip. A selection of sensitive foam bobbers or small oval plastic floats can help you quickly adjust depth as needed. Tipping baits such as worms, maggots or mealworms make jig presentations more appealing.
The tactics are easy enough: you tie on a length of monofilament about the same length as the pole, tie on a 1/32 or 1/64 ounce jig, and put a bobber two to three feet about the lure. Then tip the lure with a piece of worm, and it's light's-out for the local panfish population.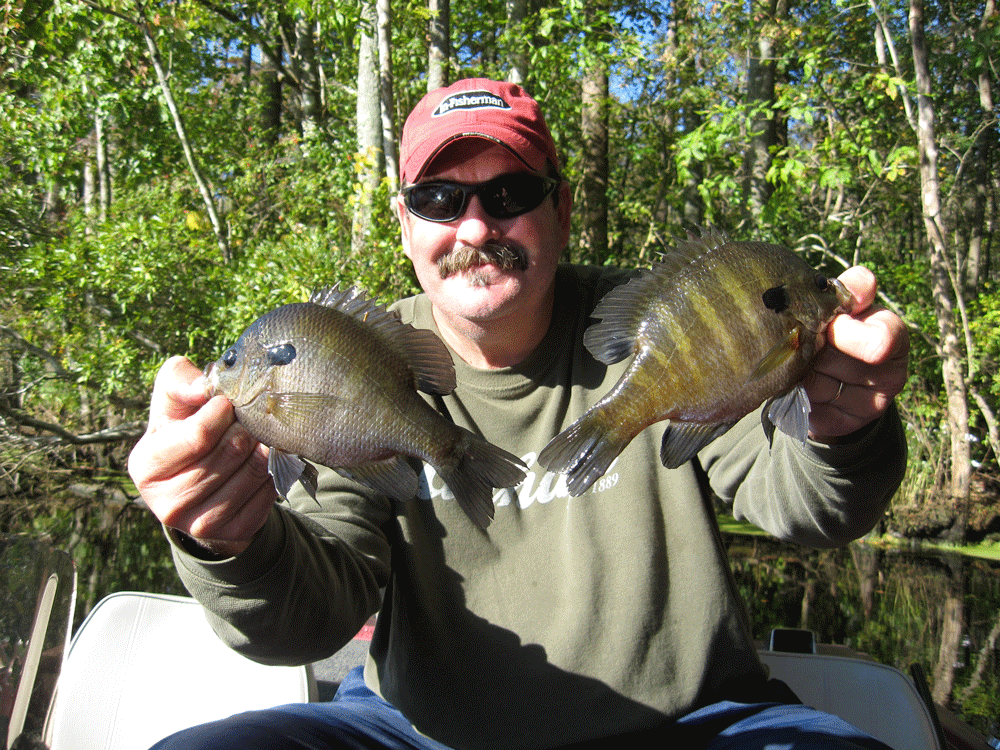 I tend to agree with Abneys thoughts on using 10-pound test mono, simply because there may be an apex predator in the area that wants to chow down on your bluegill. You'd like to have at least a fighting chance with a decent bass or cattie, hence the line that some might consider heavy for panfish. Plus, most of the ponds we fish here in the Mid-Atlantic region have at least a couple big bass cruising in them.
Captain Dave Snelling, of Indian Head Guide Service, uses telescoping poles almost exclusively for his crappie fishing clients during their spring efforts on the tidal Potomac. His spider-rigging set of multiple rods baited with live minnows can put the hurt on big tidal slabs.
Some good news: poles are cheap at $10 to $20 each, and some are somewhat customized with various styles of line-keepers and foam handles. Most are telescoping, fiberglass models that break down into a compact length for easy storage. Most simply have eyelets at the very tip of the pole, where you would secure your line.
In this day of incredible advancements in modern angling, it's nice to know you can still catch enough fish for a good meal without having to break the bank and travel great distances for them. Throughout the deep South this is still the preferred method for consistently making good catches of panfish for those fish frys we love so much, and more importantly, it's a great way to get kids started on a lifetime of fishing fun.
-By Jim Gronaw
The Gospel According to Bluegills
At the age of five Jim Gronaw caught his first bluegill and, by his own admission, he 'hasn't been the same since'. During the past 48 years he has been published in columns and articles in publications such as Outdoor Life, Sports Afield, Fishing Facts, Fishing World and is a regular contributor to In-Fisherman Magazine. His columns currently appear in the Baltimore Sun, the Carroll County Times, and the Fishing and Hunting Journal.
In his first book, 'The Gospel According to Bluegills' he tells the stories behind these fishing trips and his faith in Jesus Christ. Along the way, Jim has been able to turn his passion into ministry, authoring the popular blog 'Bluecollar Fishin' With Jim' on blogspot. Yes, this book is about fishing, but it is more about how a loving savior enabled a 'train wreck of a man' to cross over from death into eternal life. Cost: $14.95. Email [email protected] to learn more or get your copy.