Anglers in the Mid-Atlantic region have a plethora of opportunities, but for those located in or near the Baltimore/DC metro area, few match up to freshwater fishing at Piney Run Reservoir. Located in Eldersburg, Maryland (about half an hour west of Baltimore and an hour north of DC) this 300 acre body of water was damned in 1974. The range of fish that can be caught in this lake is rather amazing for its size: largemouth bass, crappie, yellow perch, rainbow trout, redear sunfish, bluegill, tiger musky, channel catfish, and even landlocked striped bass.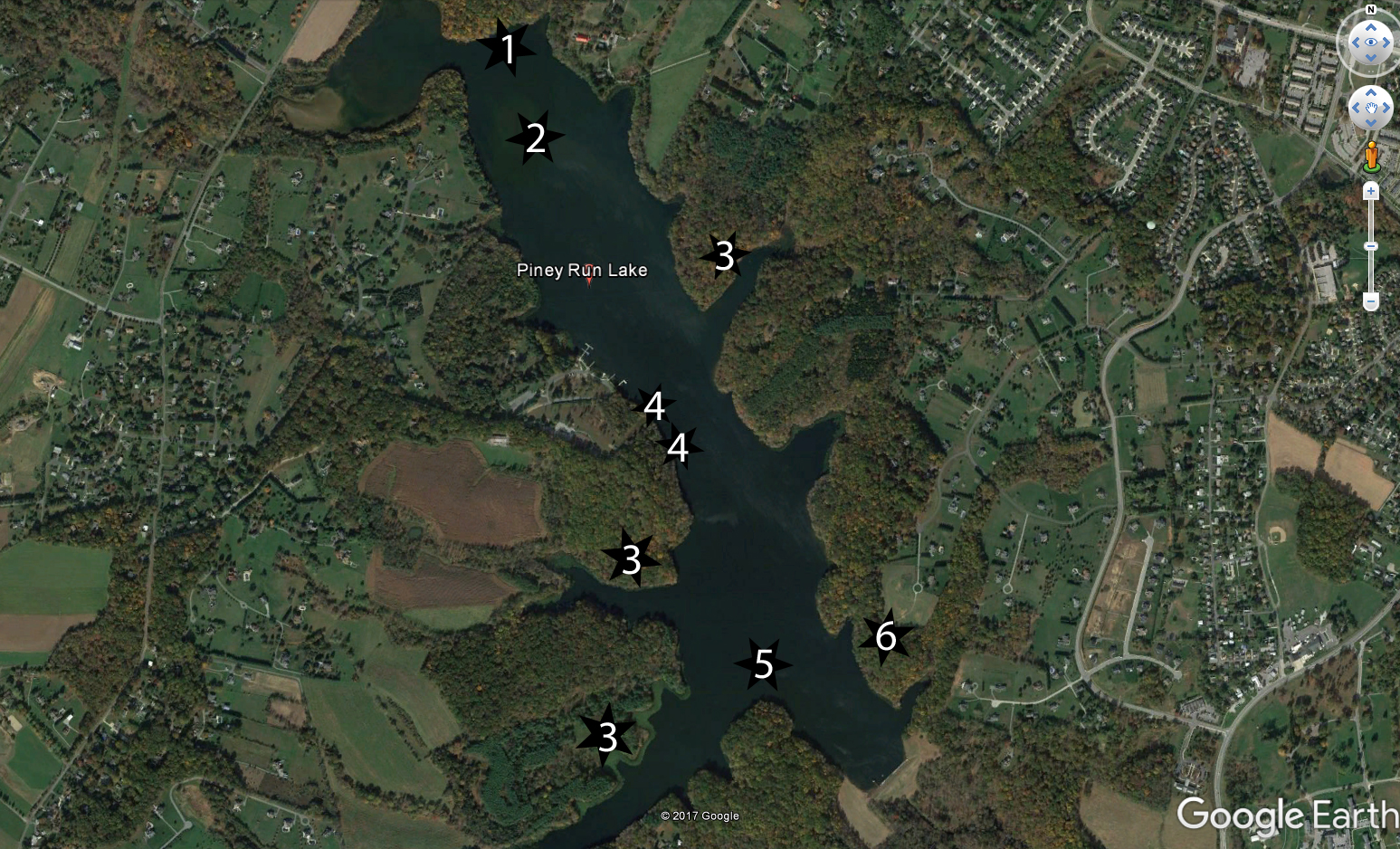 Before we get into the fishing, there are a few rules to note. When fishing from a boat the use of gasoline motors is prohibited, but they can be on your boat if they remain in the tilted-up position at all times. Daily launch fees are $10.00. (You can also rent row boats, canoes, and kayaks here, though the boathouse doesn't open until 9:00 on weekdays). The park opens at 7:00 a.m. and boats have to be off the water a half-hour prior to sunset. There—with that out of the way, we can take a close-up look at how and where to target some of these fish.
#1 – North Lake Shoreline
The north shoreline is as far up the lake as you can fish (with the remained closed off by a line of buoys). This shoreline has a relatively steep drop, deadfall, and beaver-dam brushpiles. There have been beaver dams along this shore and in the small cove to its east side for many years, and you'll often find bits and pieces of old ones either visually or on your fishfinder. All are excellent spots to catch both crappie and bass.
For the crappie, cast two-inch tube jigs or twister tails on tiny lead-heads (an eighth of an ounce is often too big, as it will sink quickly and find a snag). Another effective tactic is to suspend a small lip-hooked minnow under a bobber, on either a shad dart or marabou jig. In both cases, you have to get very close to the snags and brush to attract the fish's attention, so bring plenty of extra lures. If you don't snag and break off now and again, you probably aren't fishing close enough to the sticks and logs to maximize the catch.
Largemouth anglers can fish plastic worms and spinnerbaits in this area. In other parts of the lake crankbaits are also a good bet, but casting crankbaits into such snaggy areas can get expensive, very quickly.
Tip: when you fish the little cove on the east side, be sure to probe the submerged streambed which meanders out from the back. It's several feet deeper than the surrounding water, and often holds fish.
#2 – Weedbeds, Northern Lake
This area of the upper lake is relatively consistent in depth (12 to 15 feet) out in the middle, and doesn't have much structure. What it does have, however, is weedbeds. When the sun is high in the sky and bass move deep you may find some here, but the real attraction is crappie. They move into these weedbeds and inhabit them in rather shocking numbers; catches of several dozen fish in an afternoon is not uncommon. Most anglers target them in this area by casting and retrieving small jigs (try a red/white or blue/white tube) and/or hair jigs or darts tipped with minnow, on very light tackle (four pound monofilament is a good choice). Savvy anglers will carry some small float markers, and start out by doing a long drift or two across the weedbeds. When they locate a hot area, they'll mark it and then make tighter, shorter drifts.
Note that these weedbeds may be tough to locate at times. You can see them on a fishfinder (even relatively cheap, simple models), or you can allow your jig to sink to bottom as you drift, then mark the spots where you snag and reel up weeds.
#3 Cove Shorelines
The three different coves marked by #3 all hold good bass fishing. You'll see some fallen timber and a beaver dam or two as you work these shorelines, and by all means should cast your lures to them, but also work these shorelines thoroughly from the mouth of the coves to the very back.
Pay special attention to the southernmost and largest cove. Anglers familiar with this lake often race here first thing in the morning to cast for bass, as it commonly holds quite a few fish. Pay particular attention to the short point jutting out at the mouth of this cove (where it forms an "M" shape), too—the author has pulled a number of four and five pounders from this spot, on wacky-rigged plastic worms.
#4 Shore-bound Special
These spots are the ones we outlined in our No Boat Required regional shoreline fishing feature. The park has built a boardwalk along the shoreline here, which anglers can get to with a very short walk from the boat ramps. They've also sunk brush piles, which are within casting distance of the shore. Tons of crappie can be caught from here. The most effective method is to cast out small minnow on marabou or similar jigs, suspended about three feet from the surface with a bobber. Let the rig drift, until that bobber shoots down beneath the surface.
#5 Deep Water
The area marked by #5 is some of the deepest water in the lake, topping 40 feet. There's some structure on bottom, though it's small, scattered, and difficult to locate on the fishfinder. If you can pinpoint it and hover your boat over it, however, this is an excellent area for yellow perch. The trick is to use a jig (tipped with a live minnow) heavy enough to get down to bottom quickly, before you drift off the structure A quarter-ounce head with a short-shank is often a good bet.
The open water in this area is also a good place to try trolling for striped bass. While the striper fishery here used to be reliable decades ago, these days catches are few and far between. That said, trolling a silver one-ounce Rat-L-Trap or similar lure will occasionally lead to a crashing strike and a striper in the five to 10 pound range. While you probably won't want to dedicate a lot of time to this long-shot, it makes sense to carry a rod or two appropriate for this task and troll across this zone, as you head from one spot to another.
#6 Cove Mouths
The mouths of the two coves bracketing spot #6 have good drops and are another good bet for bass anglers. You'll also find crappie and perch near bottom or suspended off the points at the mouths of these coves. Again, tube jigs and small hair jigs tipped with minnow are usually the best way to get 'em.
While Piney Run can get quite crowded on a nice summer weekend, and the restriction on gas motors may force you to slow down a bit between hotspots, this lake has an awful lot to offer. It's also quite picturesque, peaceful, and a great place for city dwellers to unwind as they fish the day away.