We love playing with fishing goodies and we know you do too, which is why we have en entire section of this site dedicated to fishing gear. But each and every month bring us a hot new batch, so check out this latest crop of fishing fun: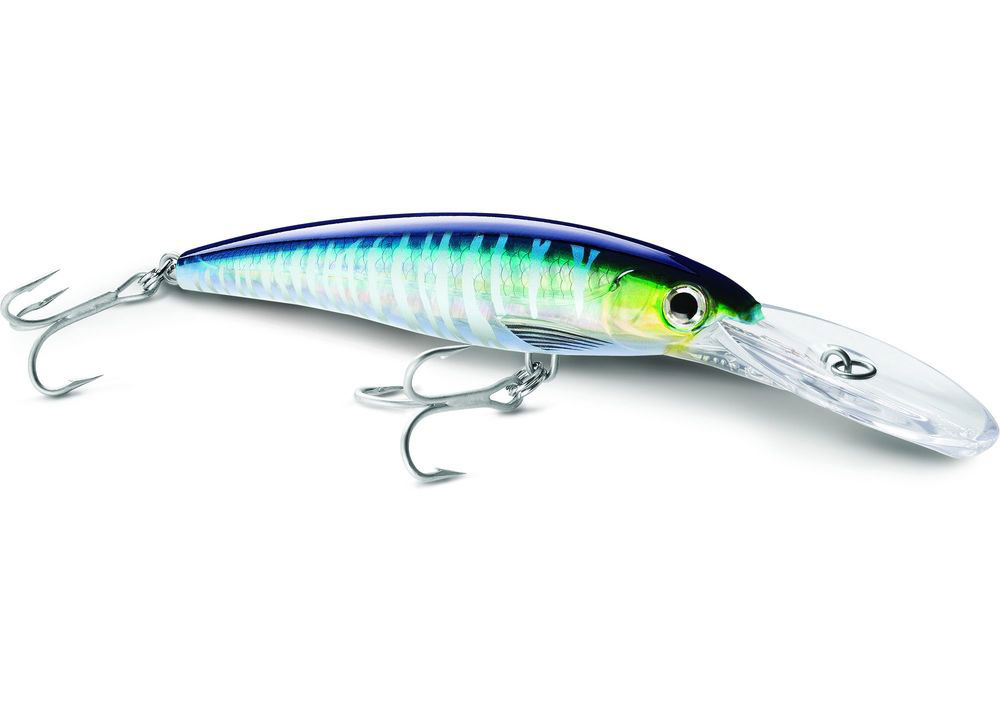 Rapala X Rap Magnum 40
If you like trolling those jaw-breaking monster lipped plugs, then you'll want to check out Rapala's newest entry in the X Rap series: the 40. This beastly lure can dig down deeper than the vast majority of other lipped plugs (the 40 denotes a 40-foot running depth) and it has 3X split rings with 4X VMC Perma Steel hooks. Internal holographic foil gives it some flash, and the wiggle these plugs have is phenomenal. The one fly in the ointment is a tremendous amount of drag—hey, you have to expect it from a lipped plug this large—and you'll want to deploy it from a broom-stick of a rod. Price: $22. Visit Rapala for more info, or check out this video preview.
Ugly Stik GX2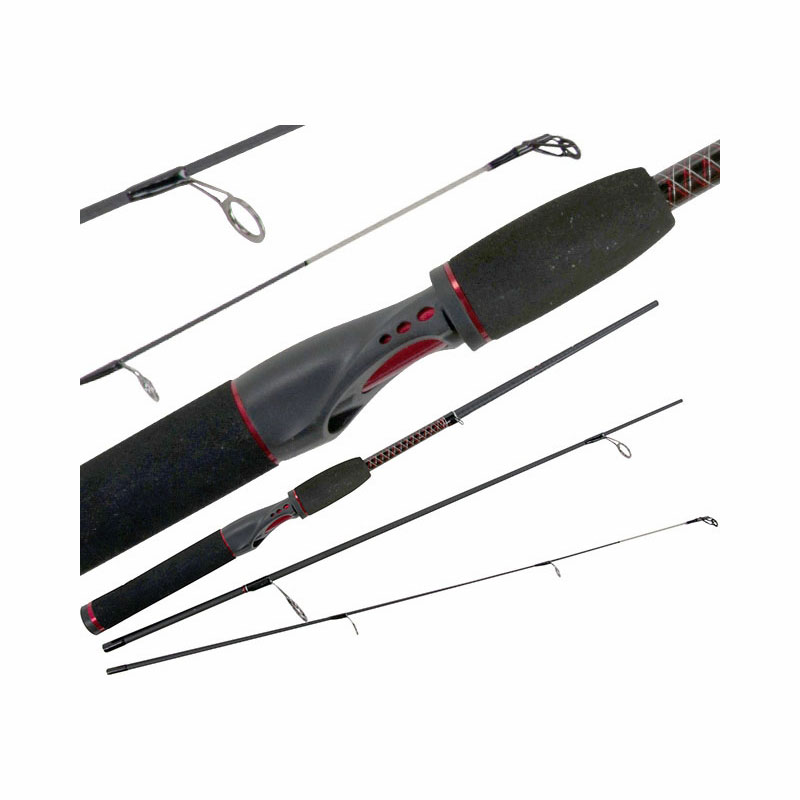 Drop it to the deck, step on it, kick it, whack it against the T-top six or eight times, and maybe back over it with your pick-up — you've got to love how an Ugly Stik rod can handle the abuse. No, these aren't the most sensitive rods in the galaxy. Their action is rather muted, and they aren't as light as a graphite rod. The stainless-steel guides aren't even lined. But when it comes to indestructible fishing rods that you'll want to hand off to overzealous kids and rank amateurs, these things can't be beat. So, what's new about the GX2? Mostly, it's a matter of looks. The handle and reel seat is a bit more modern than the old Ugly, and Ugly Stik says the rod has "enhanced cosmetics". We agree, and more importantly, we love the $39.95 price tag. GX2s are available from 4.6-foot ultralights to 6.6-foot medium-heavies. Check out Uglystik, for more info.
Yamaha F90
The 2017 Yamaha F90 is an all new outboard engine, and we had the chance to run one recently to find out if this motor is one you FishTalk readers need to know about. The short story? If a new four-stroke 90 horsepower outboard is in your future, you will want to check this one out. Let's peek at some details.
Weight - 353 pounds, 362 for the long shaft; weights exclude prop and oil (Really Yamaha? Really?)
Shaft Lengths - 20 and 25 inches
Alternator - 35 amps
Displacement - 1832 cc
Full Throttle Range - 5000 - 6300 rpm
Fuel Induction System - EFI
Compression Ratio - 10.0:1
One thing we didn't get to experience during our test was Yamaha's Variable Trolling RPM. We did, however, get to play with some other engines that had this optional feature. And, we love it. Variable Trolling RPM allows you to adjust rpm by tiny increments with the press of a button, so you can dial in very precise speeds. For guys who are trolling and need to get their speed just so, it can't be beat.
What about fuel economy? As one might expect, this 90 horsepower four-stroke outboard is thoroughly stingy. At a cruising speed in the upper 20's, while turning 4500 rpm, the F90 on our test platform was burning less than five gallons per hour and the boat was making approximately 6.2 miles to the gallon. On a heaver fiberglass boat this will drop a hair, but just a hair; it's safe to figure on 6.0-ish mpg performance. At wide-open throttle, we were burning about nine gph while running at close to 40 mph. And, we want to stress because it makes such a huge difference to the entire boating experience, the motor is practically silent at idle and is just as quiet as an outboard can be when running full-tilt.
The final factor for most folks is going to be price. Yamaha outboards are priced competitively and while you can find cheaper outboards, it'll be tough to beat the value with an MSRP of right around $10,000 and a street price in the mid-$8,000 range. To get the company line, visit Yamaha Outboards, but if you want to see it through the FishTalk lens, watch this short video review.
Neal Cohen Handcrafted Lures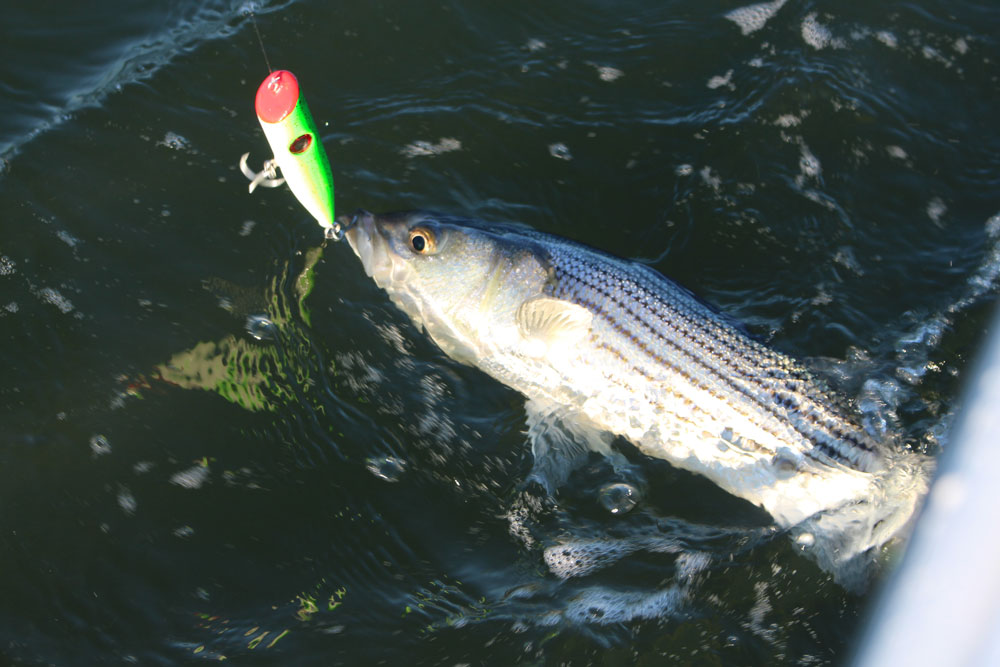 If you've ever wondered how someone could drag a bloody fish across the cockpit of a classic Rybovich or hang a gooey chum bag from the side of a Hunt Surfhunter, you'll probably think someone would be crazy to take a cast with a Neal Cohen custom-made plug. Neal hand-crafts these plugs from white cedar turned on a lathe. They're then weighted, balanced, painted, and epoxy-coated. Every one is unique, and every one is a work of art. Here's the problem with getting one for your mantle place: the dang things catch too many fish. I used one during a morning of topwater casting in Eastern Bay, and then an evening of fishing the shallows of the South River, and the plug out-caught both jigs and a store-bought topwater. Maybe the reason lies in the combined walk-the-dog/chugger action the plug provides, or maybe the fish just take one look and say "I've gotta have that gorgeous thing." Whatever — get over your love of art and tie one of these things on the end of your line. Price: Can you really put a price on art? Um, yeah. In this case it's $25 For more information email Neal at [email protected].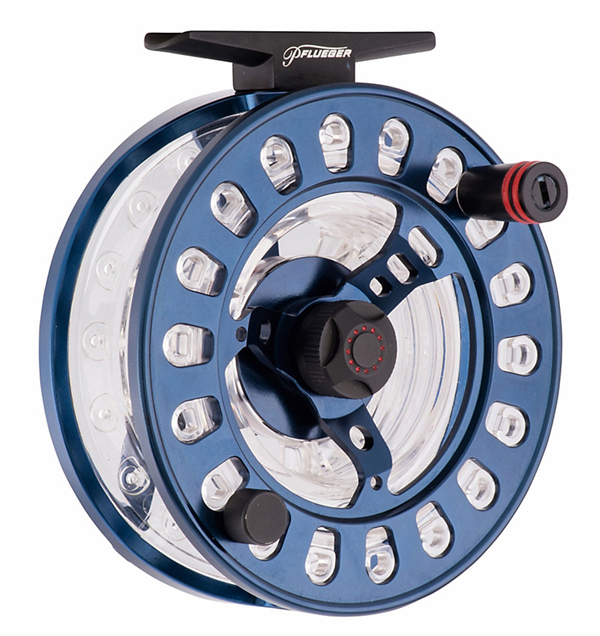 Pflueger Supreme QRS
It's often said that simpler is better when it comes to fly reels, and we're inclined to agree. Having a reel with a changeable spool, however, is a tremendous asset, especially if you plan to use a floating line for spring smallmouth and a lead-core for summer stripers — but you want to use the same reel. The Pflueger Supreme QRS makes this possible, with a quick-release large arbor spool. The frame of the reel is 6061 aluminum alloy, while the spool cassettes are polycarbonate. The locking system that keeps the spool in place is stainless-steel.
While a one-size-fits-all option is never going to be the very best choice for one specific type of line or style of fishing, it did seem to us like this is an excellent choice for someone who needs a relatively inexpensive reel with multitasking ability. It's available in sizes two through 12, and weighs 5.6 to 10.3 ounces, accordingly. Price: $149.95. For more info visit Pflueger.
Honda BF75, BF90, BF100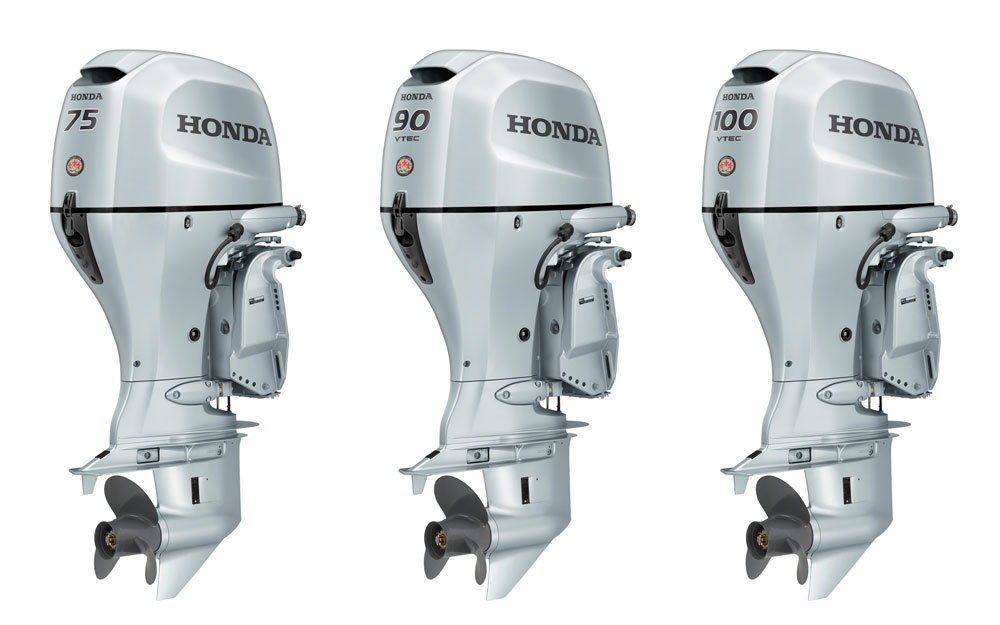 While Honda hasn't introduced completely new BFs for this year, their 75, 90, and 100 horsepower outboards have received some newsworthy attention. All three now come with new rigging components, including a digital multifunction display. There's also a new tiller handle in the mix, which incorporates a large shift lever, power trim and tilt, and trolling control. Trolling control lets you bump rpm up or down in increments of 50, so you can dial in the ideal speed to get those fish snapping. For more info, visit Honda.
Plano Z-Series Tackle Backpack
Plano dubbed their latest line of tackle backpacks Z-Series, because they're zipperless. Instead, buckles, Velcro, and cinch-cords secure the different pockets, holders, and enclosures, and allow you to securely pack away up to four Plano 3700 StowAway tackle boxes. We like this, because zippers are a common failure point in tackle bags of all types, especially when exposed to saltwater. How many dead zippers can be found in your tackle emporium right now? Yeah, that's what we thought.
If you've already seen the Z-Series you may be wondering why we've placed it in the Hot New Gear section, since it was actually introduced last summer. The new detail here is that the Z-Series Tackle Backback is now available in Kryptec Typhon. That's a color pattern, not a superhero weapon. And no, a new color pattern is not exactly earth-shattering, but we have to admit that it does look pretty dang cool. Price: $119.99. Visit Plano Molding for more info.
Rocket Rod!!! Rocket Rod!!!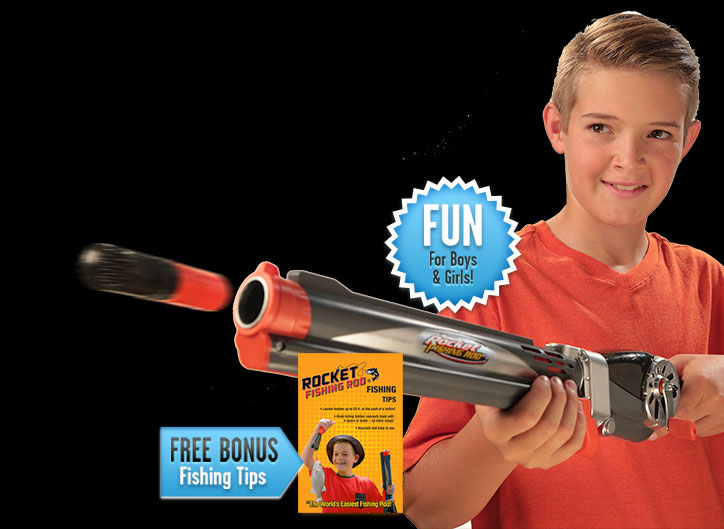 The epic Rocket Rod is back! (Although now apparently without Roland Martin's stamp of approval, as his face and signature no longer appear on the packaging). After going MIA for a while, the new version has a chrome-like plastic reel, a gunmetal gray plastic barrel, and a black and red plastic bobber. In fact, we're pretty sure that aside from the spring and one nut there's not a piece of metal to be found in this fish-harvesting tool. Plastic manufacturers, rejoice! True, this means it may not be long before you or your kids break it (we found that the original version remained functional for about two hours in the hands of a 10-year-old boy) but we're 100-percent sure the Rocket Rod is a worthy expenditure based on the entertainment value alone. Here's how it works: You pump the slide, pull the trigger, and the bobber goes shooting out. When it hits the water the bobber opens up, and the leader and hook come dropping out. Any exceedingly low-IQ fish that happen to be in the area then grab ahold, and you reel them in. All it costs is $39.99 and 100 percent of your angling self-respect. Learn more at Rocketfishingrod.com but be forewarned, the video on their web site may cause Flying Lure flash-backs.
Okuma ABF-65b
-by John Unkart
Back in the spring while checking the condition of the various 79 fishing rods I've accumulated through the years, I decided to retire and replace some spinning reels used for surf fishing. After discussions with my wife about why she needed the new reels, a budget was set — which ruled out many options. The requirements were simple: she (we) needed reels with a Baitrunner-style freespool function, which could hold up to the saltwater environment. We (she) decided on the Okuma ABF65b, which we then put through extensive use for the next six months.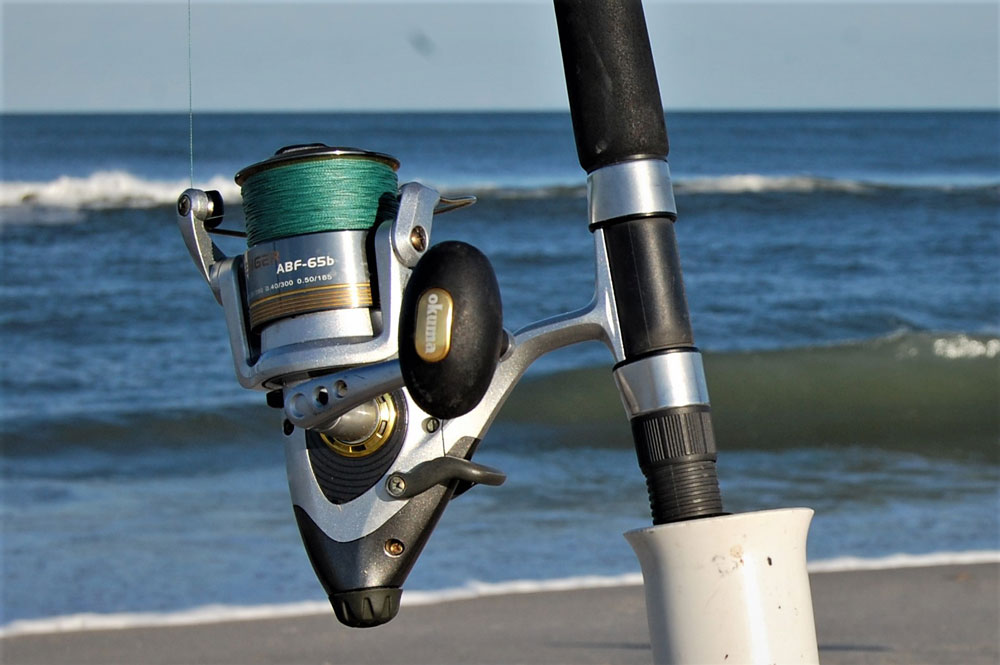 The ABF65b was spooled with 30-pound braid and mounted on a 10' Ugly Stik surf rod. Line flew from the spool freely when casting, and when spring chopper blues grabbed our rigged mullet, the Baitrunner function operated smoothly. The reel has a pretty solid feel in-hand and the drag always functioned well – even when a 50-pound brown shark picked up a bait, and made it scream. The reel does have a slight flexing in the seat shaft, but at a price-point of $64.06, it did everything expected of it. I now see this reel as one of our (my) regular surf work-horses. For more info, visit Okuma.