We admit it: running across the Jeanneau Leader 7.5 was a complete accident, and this isn't one we'd regularly choose for Fishboat Reviews. We didn't go to see this boat in particular, and spotted it more or less by mistake while walking down the dock. But seeing a fishing boat made by this company, which isn't exactly known for blood and guts angling machines, immediately made us curious. So we stepped aboard, gave the Leader 7.5 the once-over, took it for a spin, and shot this short video.
The first thing to note about this boat is that it's a flush-deck cuddy cabin design. There aren't many fishboats of this kind being made these days, and for a family angler who has kids and needs the protection of a cabin – but doesn't want to give up the light-tackle casting utility of the bow – it's a good compromise. And Jeanneau rings that bowdeck with a tall rail, so you feel secure going forward to fling your jig. Oh yes, and they also have a full cushion you can put up there to turn the bowdeck into a sunpad. We say ugh, leave that padding in the garage where it belongs lest it get pierced by hooks and defaced by bunker-puking bluefish, but we guess some sun-worshipers will want it.
That little cabin has the expected V-berth, but surprisingly, it also has a stand-up enclosed head compartment. There's a mini-galley, too – poof, tax deduction! – and even though this is a flush deck boat the helm extends forward a bit, allowing Jeanneau to design in standing headroom in the aft part of the cabin.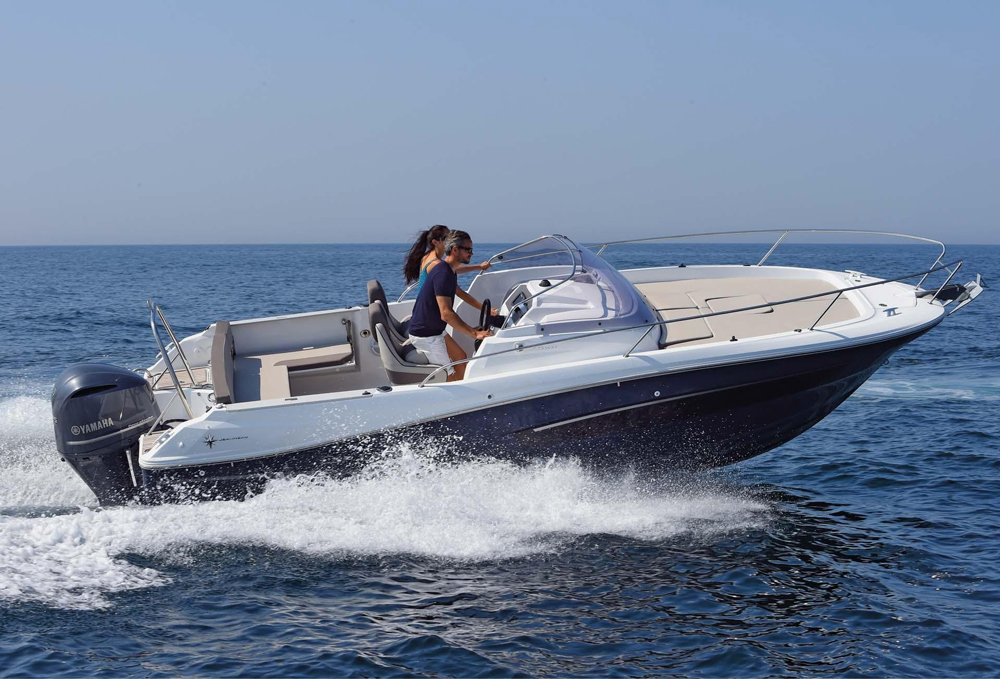 In the cockpit there's U-shaped seating with side seats that swing up and disappear into the inwales, opening up plenty of room to fish. Sweet. Jeanneau does insist on locating a removable dinette table back here, which we'd also insist on leaving in the garage. One thing you won't want to leave at home is your cooler, because the stowage compartment integrated into the deck, which looks like it should be a fishbox, isn't linered and doesn't drain. In our humble opinion this needs to be modified because even if you don't use it as a fishbox, sooner or later moisture will get in there and you'll forever be trying to get rid of the water and mildew that results. One other modification which we think would vastly improve the boat's fishability would be plumbing the aft compartment behind the transom door, so it could serve as a livewell (most dealers could probably make this relatively simple change, for a slight up-charge).
Out on the water, the Leader 7.5 is gobs of fun to run. The hull is a Michael Peters design which easily chewed through a river chop, and the boat felt solid and competent when we sliced across larger boat wakes. Our test platform had a Yamaha V-6 F250 on the transom which proved to be plenty of power, cruising in the low to mid 30's at 4500 rpm and hitting 47 mph at top-end. We're guessing that's plenty of oomph for most folks, but if you want more speed, upgrading to 300 horses is an option.
Sporty, fishable, flush-deck cabin boats in this size range are few and far between these days, even though there's oodles of utility plus a dash of comfort to this design. If you think it might be the right type of boat for your needs, take a look-see at the Leader 7.5.
Specifications:
LOA – 23'7"
Beam – 8'3"
Displacement – 3,263 lbs.
Draft (hull) – 1'7"
Transom Deadrise – NA
Fuel Capacity – 74 gal.
Freshwater Capacity – 21 gal.
Area Dealers – Grande Yachts International, Stevensville, MD, (410) 643-5800.