Huddled around the center console of the all-new Key West 263FS, we can see birds diving just past Parsons Island at one of our usual Eastern Bay hotspots. So we nail the throttles and unleash every ounce of power in the twin Yamaha F175 outboards slung on the transom of this fishing boat. The speedo zips up to 49.1 mph as tears begin to run out of my eyes, thanks to the frigid 45-degree wind-blast. But I'm not complaining—there are stripers busting water under those birds, and they're about to scratch my topwater itch.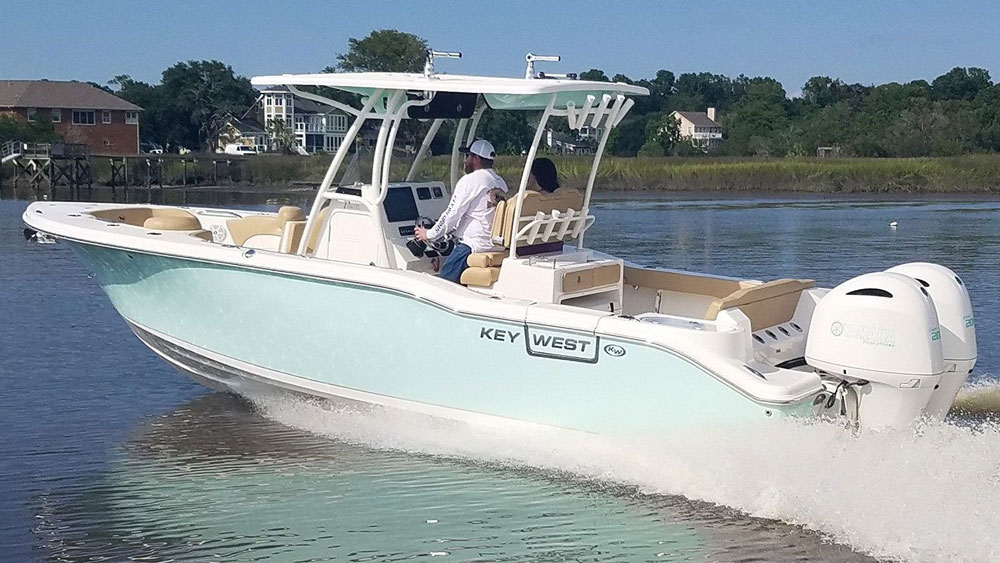 As we approach the birds and throttle down, I step up into the bow. Someone left the forward seat cushions on the boat, a mistake IMHO because the flanking and forward bow seats are all big enough to stand on and use as elevated casting decks. No matter, there's still plenty of space between them to cast from all by my lonesome, while two more anglers cast from the cockpit. While up there, however, it's impossible to miss the unusual bow seating arrangement. Rather than flanking benches with no backrests (which stinks, because you can't sit facing forward when the boat's in motion), or seats with drop-in or swing-out backrests (which sometimes stink, if you have to find somewhere to stow removable backrests), the 263FS incorporates molded-in backrests that curve out from the gunwales. Does this carve out a hair of fishing space? Yes. Does it also create some of the most comfortable bow seating I've ever seen on a boat of this size? Youbetcha. In fact, after wrestling a slew (three or four) of monstrous stripers (12 to 16 inches) up to the boat, as we ran off to look for the next hotspot I plopped down in one of those seats and found it eminently lounge-able. Family anglers and older folks with bad backs like mine will totally dig it.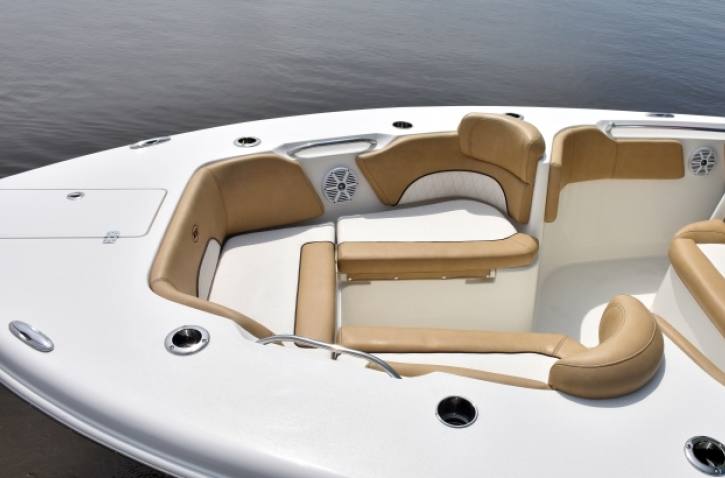 Key West 263FS Fishing Features
I'd like to say that we then tied into some fat cows and bloodied the deck, but the truth is that someone made the mistake of acquiring photographic evidence of the morning's catch. The experience did, however, give me plenty of time to check out all the fishing features on the 263FS. Between the gunwales, transom, and rocket launchers, the boat has 22 rodholders plus under-gunwale racks. There's a livewell in the corner of the transom (baby blue, with a clear top that dogs down on a gasket to prevent spillage), a slide-out cooler under the leaning post, tackle stowage integrated into the post, gunwale bolsters all around, and a standard windlass hidden under the bowdeck.
One of the best features of the boat, however, has nothing to do with fishing: the side gunwale door. I hesitate to call it a dive door since it's half-height and doesn't go all the way own to deck level, though when open this is an easy step to make. Flip the door down, and you'll discover there's a telescopic ladder hidden inside. This not only makes climbing in from the water easier, it's also an excellent safety feature for anglers who sometimes fish alone. Unlike standard dive doors which latch shut from the inside, you can flip this one down and pull the ladder out while you're in the water. So if you unexpectedly take a flop into the drink, re-boarding is relatively easy.
Back to fishing from this boat (since that's what we're all really interested in, anyway): another thing we learned while zipping from one flock of birds to the next is that Key West's stepped hull, which in this case transitions from 21 to 24 degrees of deadrise, provides a surprisingly smooth ride in a tight, pound-your-teeth-out bay chop. It was blowing a solid 15 knots, and while the waves weren't any bigger than two feet, they were stacked right up on each other. But blasting through the chop didn't bother my aching old back one iota, and on downwind and beam-sea runs, we stayed completely dry. The only time spray flew was in a quartering head-sea, and you'll be hard-pressed to find a powerboat that doesn't throw spray in these conditions. Still, for anglers who fish into the winter months one thing I'd suggest for this boat would be some clear canvass curtains. While the console is relatively large (and of course houses a head compartment) the windshield is relatively small, and doesn't offer a huge amount of protection. If you're going to fish this boat when there's a chill in the air, adding a full canvass windshield and maybe even a set of wings will help.
Boat Construction: Built to Last
Another thing I noticed while barreling through the waves is that the T-top is built to last. It didn't shimmy or swing one bit, including when I grabbed the back end and threw my weight against it. Part of the credit goes to the inclusion of aft supports, which can be bothersome at times when you're slinging a rod but vastly increase the rigidity of a hard top like this one. And it's indicative of the way the 263FS is built. Like most center consoles of its ilk it's all-composite. The structure is composed of alternating layers of mat, 24-ounce woven roving (36-ounce in the hull bottom), and biaxial fiberglass at high stress areas like radiuses and strakes. Coremat gets added for stiffness in the deck and hullsides, and Klegecell and high-density foam are used for coring where appropriate. Proboard foamed PVC and aluminum are used for backing plates and in the transom. The stringer grid is molded glass that gets laminated into the hull, then pumped full of foam.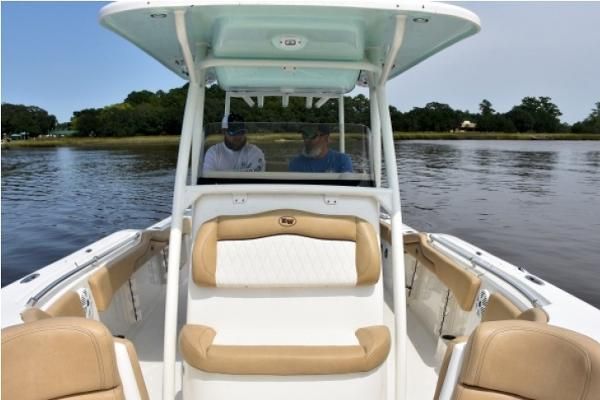 Building a boat with these components makes for a very light, very strong structure. (Though not necessarily a terrifically inexpensive one; the 263 FS will set you back around $120K). Yes, we know that everyone likes to crow about how light they build their boats, but will point out that a heavier boat is better able to bull large waves out of the way and all other things being equal, usually does amount to a smoother ride. That said, there's a real value to reducing weight, in the form of efficiency. Remember the twin Yamaha F175 outboards we mentioned earlier? If the boat was much heavier, a pair of Yamaha V-6 outboards or big Mercury Verados might be needed to attain similar performance. That means you not only save on fuel each and every time you run the boat, you also save on initial expense. And there's no question that 350 horses are more than enough for this rig. With three people aboard and a half load of fuel we cruised at just over 31 mph at 4500 rpm, while burning 13.1 gph. That makes for about 2.4 miles to the gallon, while 250s would probably get closer to 2.1 or 2.0 mpg. In fact, this efficiency matches or even exceeds some similarly-sized boats rigged with a single 300 horsepower outboard.
Well dang—somehow, we got drawn off the topic of fishing once again. I'd say we should return to it, but I'm guessing that at this point most of you have a pretty good feel for what the Key West 263FS is all about. To learn a much more, you're going to have to go for a sea trial. Besides, I need to stop typing. I know those birds are out there diving over a feeding frenzy somewhere right now, and that topwater itch needs some more scratching.
Specifications:
LOA – 26'3"
Beam – 9'3"
Displacement – 4600 lbs.
Draft (hull) – 1'4"
Transom deadrise – 24 degrees
Fuel Capacity – 175 gal
Max HP – 500
Area Dealers:
Annapolis Boat Sales, Chester, MD and Berlin, MD, (410) 973-2552
Anchor Boats, North East, MD, (410) 287-8280
Port Side Marine Baltimore, MD, (410) 682-2998
Gootees Marine, Church Creek, MD, (410) 397-3122
Bob's Marine Service, Clarksville, DE, (302) 539-3711
Garrett's Marina, Bower's Warf, VA, (804) 443-2573