In this first installment of our "Gone Fishin'" A Maryland Road Trip" we head to the eastern shore with the guys from Fish & Hunt Maryland in search of snakeheads. Part 2, took us to Western Maryland to tempt freshwater trout with fly fishing gear. In Part 3 the team headed back east to target flounder and collect clams in the back bays of Ocean City.
---
Butch Huber of Reel All American Fishing Ventures on Maryland's Eastern Shore is a licensed snakehead fishing guide. Butch has a great rep for catching fish and generously donated to FishTalk's Fish For a Cure effort two years in a row, so when we decided it was time to delve deep into the tactics of spring snakehead fishing, naturally, this is the guy we went with. And as we cast, we talked about the ins and outs of chasing after this invasive predator.

Q: What's different in fishing for snakeheads during the spring as opposed to summer or fall?
A: In the spring you have to be slow and patient with your retrieves, while starting out with good search-baits like spinnnerbaits or chatterbaits. The fish act differently than in summer and they'll be moving around a lot. Once it warms up, there are fry balls and you can see where the fish will be, and target them more specifically. But in the spring? You'll have to work to find them.
Fall is different too, because it's a time of changing weather and the fish will focus a lot on transition areas from shallow to deep water. It can take some searching to find them then, but working methodically to figure out where the snakeheads are and what they'll hit is key during the spring season.
Q: How does the tide affect the bite, and how do you adjust to it?
A: Low water pushes them deeper, so you'll want to target edges and drop-offs. And high water takes them up into grass edges and cuts. However, there's a big difference between the effect of the tide on the Eastern Shore versus the Western Shore. On the west side the effect is a lot more pronounced. For some reason on the Eastern Shore it doesn't seem to have quite as big an influence.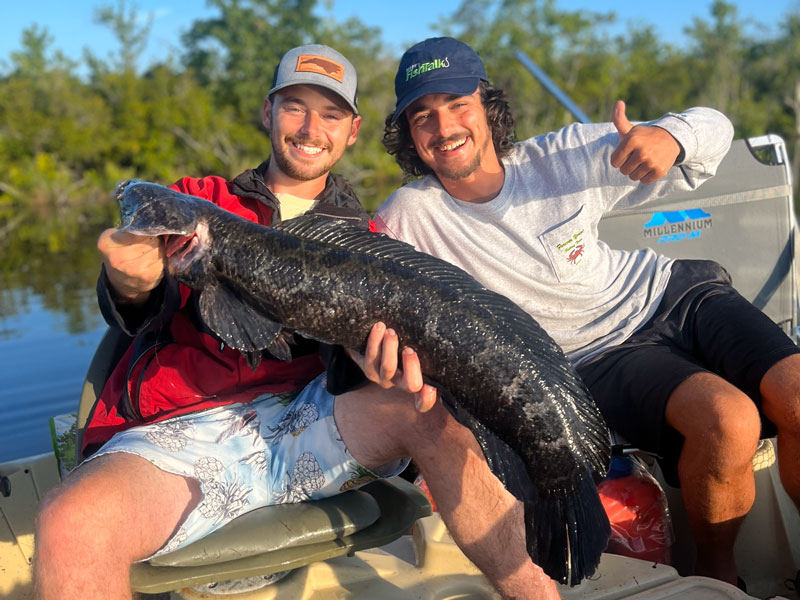 Q: Do you ever use live bait?
A: Personally I'm a lure fisherman. But I might use minnow as a last resort if they absolutely refuse to hit anything else I throw. It's really just a matter of personal preference, though, and you can catch plenty of these fish on both.
Q: What's your recommendation on gear — line, rods, reels, lures, and leader.
A: You want a heavy or medium-heavy rod with a fast action. Braid is my go-to, anywhere from 30- to 60-pound test will work, and I don't use any leader or clips. I've tried them, and broken off because of it — I don't like adding another attachment point that can fail. Which lures you choose really is a matter of personal preference. (Editor's Note: Butch is a pro-staffer for Addiction Baits and Tactical Fishing Company, and we cast some of each as we fished.)
Q: What do you think is the most misunderstood aspect of spring snakehead fishing?
A: Speed, usually the speed of the retrieve. If you go too fast in the spring you'll miss a lot of fish and get a lot of short strikes. I probably sound like a broken record to a lot of my clients because I'm always saying to slow down.
When there's a bite on topwater frogs it's not the speed of the retrieve as much as the speed of the hookset. You need to give the fish time to get the frog all the way into its mouth and if you set the hook on the strike, you'll miss every time. What I'm looking for is a solid three-count, but most people get excited and count way too fast in their head, so I tell them to count to five before setting the hook.
Q: As spring arrives and the snakeheads first start biting, what's your go-to lure?
A: Probably number one is a spinnerbait, because it's so versatile. You can fish it fast or slow, shallow or deep.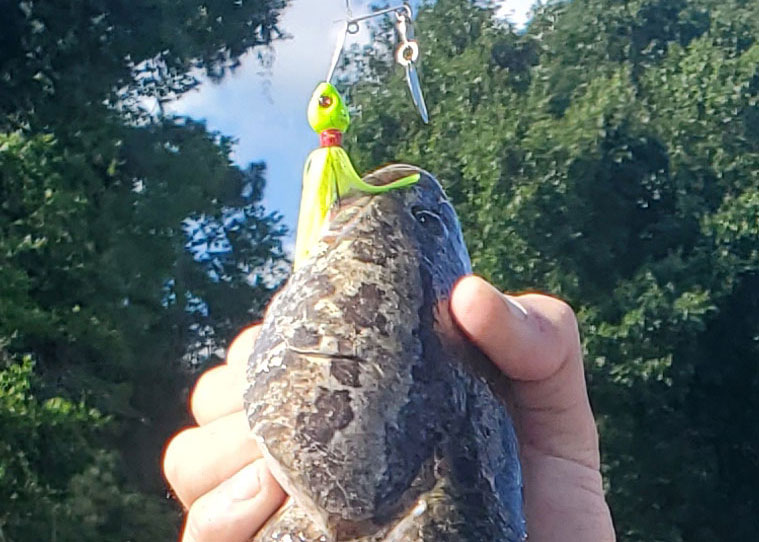 Q: What haven't we talked about that people who want to catch spring snakeheads need to know?
A: Keep casting. And casting, and casting, and casting. Don't give up, because these fish sometimes give you a very small window of opportunity and their behavior can turn on a dime. It's not unusual to go all day with barely any strikes and then in an hour put 20 fish in the boat.
You can reach Capt. Butch at Reel All American Fishing Ventures on Facebook or Instagram or at (410) 829-8966.
Travelling to Snakehead Ground Zero
For those travelling to snakehead country, Cambridge, MD, is ground zero. From here you're located close to the Blackwater River system, the Transquaking, the Chickamacomico, and all the associated tributary area waterways — all of which are jam-packed with snakeheads. You can hire a guide like Butch, bring your own small watercraft, or you can seek out one of the kayak rentals available in the area if you want to head out ISO snakes on your own. Plenty of shoreline fishing opportunities exist, too, but note that on sunny weekend days public access shoreline spots can get very crowded. Visit the Maryland DNR Public Angler Access Map for information on shoreline access locations, boat ramps, and soft launches.
During our snakehead escapade we stayed at the Cambridge Hyatt Regency Chesapeake Bay Golf Resort, Spa, and Marina, a premier resort with 342 acres on the Choptank River. This place is utterly magnificent and has multiple restaurants, provisions on-site, and plenty of activities so non-anglers in the family can keep busy during a stay. There are several other hotels in town as well as restaurants ranging from authentic Maryland fare to casual Mexican dining. Cambridge has a bustling arts and entertainment scene, too. More intel can be gathered at visitdorchester.org and choosecambridge.com.
Non-anglers in the family will enjoy simply kayaking in these waters, where wildlife abounds. On any given trip you'll see bald eagles, osprey, peregrine falcons, multiple species of ducks, herons, egrets, Canada geese, beavers, otters, and turtles. Lots and lots of turtles. If you get lucky you might even see sika deer or white tail along the shorelines. Those choosing to stay on dry land can visit Blackwater National Wildlife Refuge's hiking, cycling, or driving wildlife trails and the Wildlife Refuge Visitor's Center. Another area draw is the Harriet Tubman Underground Railroad State Park and Visitor Center in Church Creek, and the Harriet Tubman Museum and Educational Center in Cambridge.
Turn Snakes into Prizes!
Don't forget that the CCA Maryland Great Chesapeake Invasives Count is now on. Register for free on the iAngler app, log a photo of the snakehead on a ruler showing its length, and you're automatically entered in multiple prize drawings for cool goodie ranging from Engel coolers to tackles hop gift certificates. Every fish you log gets you another entry and blue catfish and flatheads count, too.

Shore Neighbors
As the popularity of snakehead fishing has exploded in recent years two issues of concern have arisen: litter, and parking. Visitors should be especially conscious that carrying out every bit of trash you generate is your responsibility, and coming armed with a bag to carry out extra litter left behind by less respectful people is encouraged. Do not ever trespass or park where the signs say not to. If you arrive at a spot to find all the parking taken, which can happen on sunny summer weekends, simply head for other access points — there are many. Also note that at boat launches there are some areas reserved for boat trailer parking, and of course, you should never park in such a way that access to the ramp itself is impeded.
- By Butch Huber and Lenny Rudow
Simple Snakehead Tacos Recipe
Just about everyone agrees that snakeheads are great eating, but not everyone agrees about the best way to cook them. Grilled or fried snakehead bites are awesome, but this snakehead taco recipe takes it to the next level.
Ingredients:
Chimichurri sauce
Coleslaw with red cabbage
Corn Salsa
Lime slices
Snakehead fillets
Tortillas
Slice the snakehead fillets into bite-sized slices and put them in a zipper-lock bag. Pour in the Chimichurri sauce, and leave them in the refrigerator to marinade for a half-hour or so.
Put a splash of oil in a pan, heat it up, and fry the snakehead chunks until they're cooked through and break apart easily with a fork.
Grill your tortillas for about 30 seconds per side (you can heat them directly on a stove-top). Lay on a heap of snakehead, a smattering of corn salsa, and a pile of slaw. Then give the ensemble a spritz of juice from a lime slice.
Enjoy!
---
Check out Part Two of our Gone Fishin' Road Trip as we head to Western Maryland to try our hand at fly fishing for trout on the Savage and Casselman Rivers.