There are many reasons dedicated anglers hire charters. They may not have a boat capable of hitting a certain fishery, they may be traveling and unable to take their boat with them, or they may simply want to learn the tactics and tackle that the pros use. Historically I've eschewed chartering a boat because I like to do things on my own and my own way, and fishing-wise that's always worked well for me. In recent years, however, I've been chartering more often when it comes to going offshore. I've found it harder and harder to get up in the middle of the night and haul my boat for a long tow, get banged around all day on the ocean, and then pull the boat and tow it home at the end of the day. So yeah, even the Angler in Chief does hire a charter now and again. And I'd advise others to do the same, because you'll discover that no matter how good an angler you may or may not be, you'll learn a ton by seeing how different fishermen do things differently.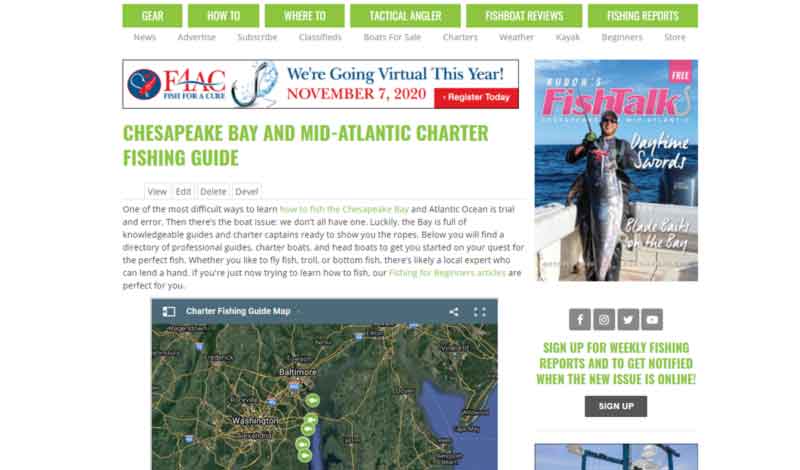 But anglers, especially those who rarely hire a boat, should consider a few items from the charter's perspective in order for the experience to be a good one for everyone involved:
Mates generally work for tips, and in the fishing world, 15 percent is considered sub-par and 20-percent is considered the norm.
Surcharges for losing or breaking expensive gear, or clean-up fees for unusually bad messes made due to carelessness (both of which are commonly disclosed upfront or on a charter's webpage), are not abnormal.
Glass bottles are generally not acceptable on boats, so get beverages in cans.
Captains set their own policies on drinking alcohol aboard, but as a rule of thumb, while drinking beer is generally accepted drinking hard liquor often is not. Getting drunk aboard is never acceptable.
The captain and crew generally have a much wider network of fishing intel, and a good feel for what's biting and what isn't. Listen to their advice, or accept that you may have a low catch rate.
Many people assume that I run charters myself, but I do not. Fishing is my happy place and I don't want to risk it by adding a ton of pressure to catch fish day in and day out, or by adapting techniques that I don't enjoy in order to harvest fish more effectively. (I can't stand fishing tournaments for the same reason). But for many, many years I have taken many, many inexperienced anglers fishing for a number of reasons ranging from charity fundraising promotions to media events. So I do understand some of the reasons why captains and mates sometimes adapt practices that can make for a less-than-ideal charter experience. Still, as those of us doing the chartering try to remember the above advice, we'd also hope captains and mates will remember that:
We do not want to be aboard a boat where the laws and regulations are being broken. Yeah, you may be able to load the box faster by using treble hooks when live-lining in the Bay. And of course, most of us do want to take home dinner. But we want to do it legally — not by cheating. Those of us who know the regs are really aghast to see those trebles being used and those clients that don't know the regs will feel deceived (because people assume they aren't violating the law at your direction) if and when they find out about it.
Simply smiling and being pleasant goes a long way in making for a good experience. Gruff captains and mates with an attitude simply are not fun to be around.
When you have a crew that has a preferred target species or technique, refusing to accommodate their requests is downright obnoxious. If someone wants to catch tuna and you shut that down because you're more concerned about how many marlin flags you get to fly at the end of the day, your ego trip will result in customers that do not return. Yes, this can mean smaller catches some days, and this should be explained to the customer. But they are hiring you — not the other way around — and a what-for/how-to conversation should have taken place pre-trip during the initial communications.
A captain that yells at a mate for screwing up ruins the fun for everyone. Sure, a missed scoop of the net or an errantly tangled trolling spread is a bummer. Hearing someone get berated by his or her boss is a much bigger bummer. Save that conversation for back at the dock, after everyone has departed.
The bottom line? Paying clients, captains, and mates all have the same ultimate goal: having a fun, enjoyable trip. Catching lots of big fish is a part of that, but it is never the sole determining factor. A longtime friend of mine who's a professional mate recently told me that his biggest tip of the year came from a party that had an excruciatingly difficult day of fishing, and didn't put a single fish in the cooler. After tipping him, they rebooked the boat for another day. The reason why? The captain and crew had shown them a great time and they'd had a ton of fun. If every party treated their captain and crew this way, and if every captain and crew treated their party this way, there would probably be a lot more anglers out there happily booking charters.