There was a day and age when mid-summer was considered the best of the tuna trolling action off the Maryland coastline, but those days are long gone. In recent years spring and early summer have proven to be prime times, and many boats will be rigged and ready by the time this edition of FishTalk hits the streets. But what many people across the nation don't realize is that even though Ocean City is known as the White Marlin Capital of the World, when the tuna bite here gets hot, it's nothing short of world-class. There will be times when yellowfin will be bagged by the dozens, and bigeye or bluefin in excess of 100 pounds hang from the scales—caught by both charter boats and private boats alike. You say you want in on this epic action? Of course you do! Here's the scoop on spring tunas, off the Maryland coast.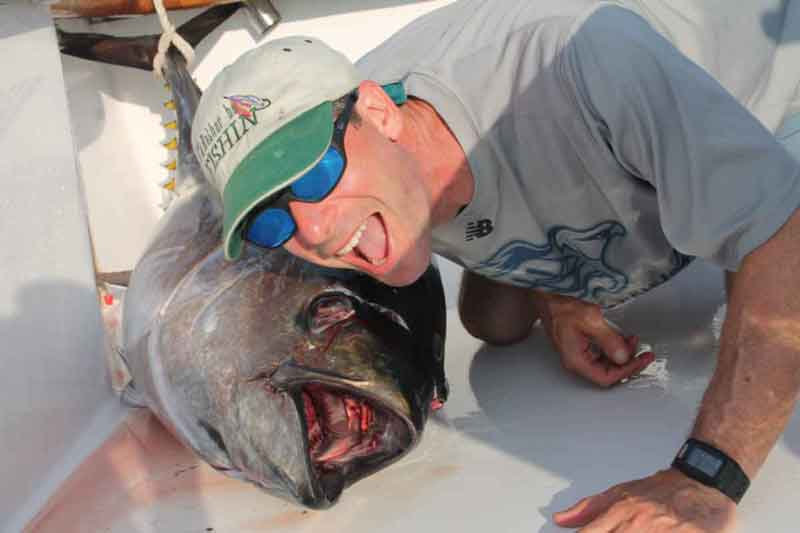 Troll, Troll, Trolling Your Boat
During the spring run, trolling a mixed spread of lures and ballyhoo is the name of the game. Gear for tuna trolling can range from 30-pound-class conventional gear to 50-pound-class, with some anglers preferring mono and others braid, usually attached to a wind-on leader or a snap swivel (in the case of gang lures like spreader bars, which don't allow you to reel the fish within gaffing distance without hand-wiring, in any case). Warning: do not take the GTIs and CLX level-wind reels on your striper trolling rods, and attempt to bag a tuna with 'em. The worm gear in most level-wind reels will literally melt down the first time a 50-pound tuna says "uh-uh" and gives a few swift kicks of its tail.
As far as the offerings go, spreader bars, splash bars, and bird/Green Machine rigs account for most of the hardware in the water, though a few old-timers still swear by cedar plugs. Some people will mix these with naked ballyhoo, but the majority like to mix and match different colored skirted ballyhoo, including some run behind chuggers or bullet-heads like the epic blue/white Iland lure.
Tuna Hotspots off the Maryland Coast
Although it's true that long runs are the norm, Marylanders are blessed in that their central location gives a wide choice of canyons within cruising distance—at one end of the range considered northern canyons and at the other end of the range considered southern canyons. These include the Wilmington to the far north, about 75 nautical miles from the inlet. Then as you work your way south the Baltimore is just under 60 miles away, Poor Mans is closest at 54, and with a bit more southerly direction showing on the compass the Washington is right around 68 miles off, and the Norfolk is more like 75.
This portion of the Mid-Atlantic is also lucky to have a wealth of inshore lumps, including the well-known group commonly called the "Inshore Deli," consisting of the Chicken Bone about 30 miles out, the Ham Bone (32), and the Hot Dog (40). In addition, we have the close-to-home Jackspot, a mere 21 nautical miles from the inlet.
Should you run all the way to the canyons, and if so, which one? Or, can you stay closer to home and fish for tuna at one of these inshore hotspots? Every week can be different, much less every season, and trying to predict which one of these spots will be hot a month in advance is futile to say the least. However, we do want to note that most seasons the run starts off with yellowfin being caught far out at the canyons, progressing from south to north. They can make up shocking distances overnight, and it's not unusual for the hot bite to be at Poor Mans one day and Baltimore the next.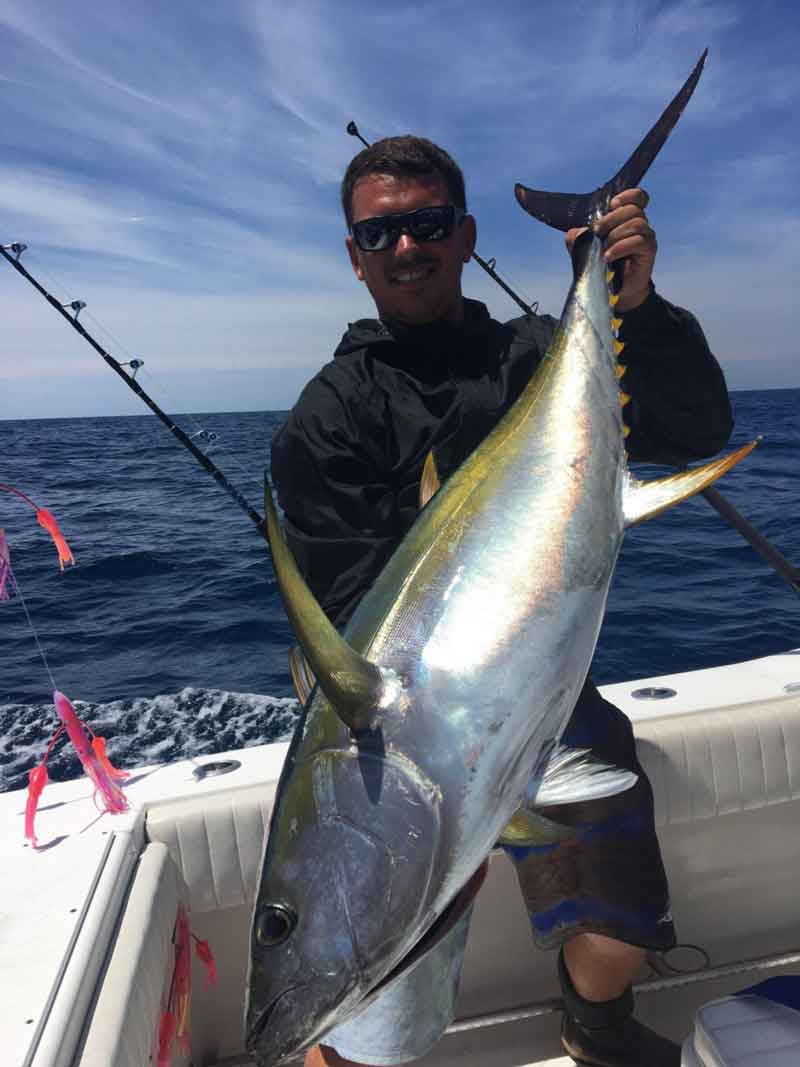 Whether or not the yellowfin take a left-hand turn and swim in to the lumps usually depends on the ocean currents, and whether or not we get a Gulf Stream eddy that brings a plume of warm water inshore. Bluefin, on the other hand, usually stay inshore of the canyons and offer better tuna fishing closer to port once they begin showing up. Naturally, our recommendation is that you stay tuned to the Coastal Reports to get a handle on which way those tunas are headed at any given time.
The bottom line? Boats leaving from Maryland will almost certainly be treated to some spring tuna action by the time your eyes pass across these pages—and world-class tuna fishing is just waiting for you to start daydreaming, make some plans, and pull the trigger.
Tips for Trailering to OC
There's a huge number of offshore anglers who have boats just small enough to trailer, but just big enough to handle runs into the deep. If you're one of those anglers coming from Pennsylvania, DC, Delaware, or any of the other nearby states, as you trailer to Ocean City always remember:
Maryland has a maximum trailer length of 40 feet, width of 8.5 feet, and height of 13.5 feet.
People aren't allowed inside the boat during trailering.
Be careful about where you pull in for fuel and food. As a general rule of thumb, the larger, multi-pump gas stations found along Route 50 have sufficient room for maneuvering a trailer.
Never attempt to pull your towed boat through a fast food drive-through. You will get stuck, and you will be embarrassed.
The boat ramp facility in West Ocean City off Golf Course Road is fantastic, with six ramps that can handle virtually any boat that will fit on a trailer, lots of parking, and restrooms. However, it's also a very busy spot. Remember to park prior to pulling into the ramp to prep your gear, and after pulling your boat out of the water, move away from the ramp before securing it for the road so other people can use the ramp without waiting.
If you catch fish such as bluefin tuna or swordfish, remember that they need to be tagged before removal from the boat (or pulling your boat). You can get tags at multiple locations near the ramp both during and after regular business hours; see the Maryland DNR Catch Card and Tagging Program webpage, for a full listing of the locations.
Trailer parking on public streets is not allowed in Ocean City proper. If you don't have private parking available where you're staying, there's a public parking lot on 100th Street and there's parking allowed at the West Ocean City Park and Ride during specific timeframes; visit the Ocean City webpage for the details.
GPS Coordinates for the Offshore Canyons
Plug these numbers (distances given from the Ocean City, MD inlet) into your machine, to reach the tips of the various canyons and hotspots off the Maryland coastline.
Canyons
Wilmington – (75 NM) 38'30.4 x 73'29.7
Baltimore – (58 NM) 38'14.7 x 73'50.6
Poor Mans – (54 NM) 37'52.4 x 74'06.5
Washington – (58 NM) 37'29.2 x 74'30.5
Norfolk – (75 NM) 37'05.574'45.5
Lumps
Jackspot – (21 NM) 38'05.2 x 74'45.1
Chicken Bone – (30 NM) 38'14.0 x 74'26.7
Hambone – (32 NM) 38'11.9 x 74'24.5
Hot Dog – (40 NM) 38'06.9 x 74'17.2
Booking a Deep Sea Fishing Charter
Naturally, a huge number of people book charters rather than trying to catch tuna from their own boat, even if they have a boat capable of making long runs out into the ocean. And if you've never fished for tunas we'd strongly recommend chartering at least a few times before giving it a shot, to see how it's done. Fortunately, Ocean City has a rather massive charter fleet. You can book boats of all types and sizes from 26 feet clear up to sportfishing yachts of 60-plus feet in length. And on top of that, members of the professional charter fleet tend to be true experts in the art of catching tunas along the Mid-Atlantic coast. Charters are available at:
Bahia Marina, 207 Herring Way, (410) 298-7438
Fisherman's Marina, 12806 Sunset Avenue, (410) 213-2478
Ocean City Fishing Center, 12940 Inlet Isle Lane, (410) 213-1121
Sunset Marina, 12911 Sunset Avenue, (410) 213-9666
Talbot Street Pier, (410) 289-3500
White Marlin Marina, Somerset Street and the bay, (410) 289-6470