Your love of largemouth bass versus the seduction of striper fishing is tearing your boating world apart? No wonder – if both types of fish and multiple freshwater and saltwater fishing styles appeal to you, there are few options short of owning multiple boats for multiple purposes. And while we certainly encourage buying a fleet, economic realities don't always allow for it. Good thing there are boats like the Ranger Z518CI.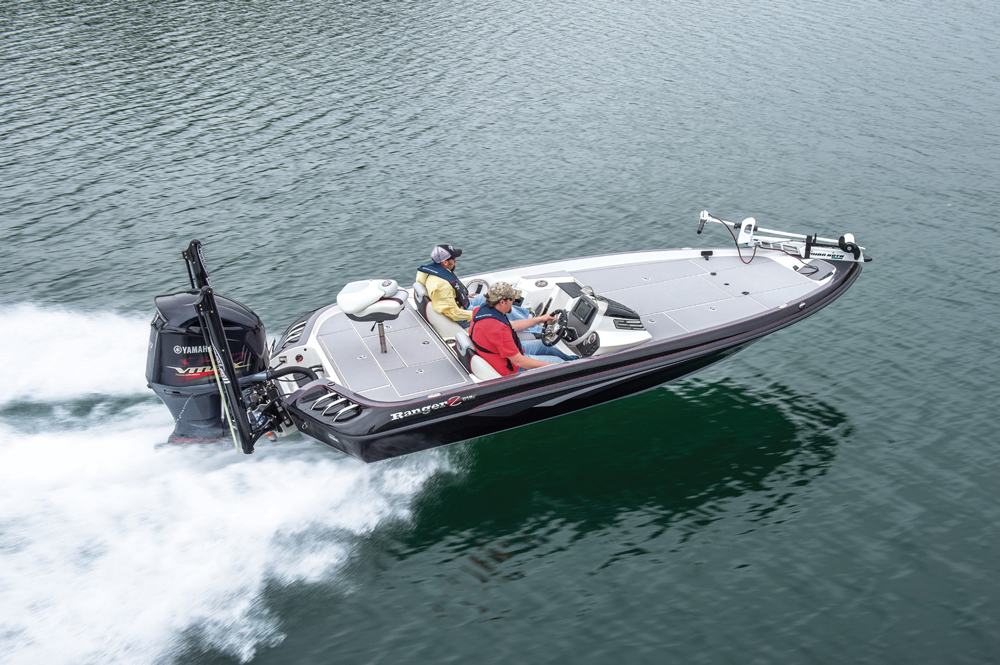 Ranger has built cross-over boats before, but usually these were essentially bass boats with nonskid instead of carpet. On the Z518CI, the carpet gets replaced with a "soft touch" skid-resistant interior. We've been aboard a number of boats with SeaDek and similar foam-pad interiors, and this stuff beats bare fiberglass by a mile. It's easier on the feet, knees, and back, cleans up well, and reduces loud fish-spooking noise that are often created when something gets dragged across the deck, or dropped on it. On top of that, the bow-mounted electric trolling motor is switched to a RipTide SF80, which is designed for use in the brine. And gas-assist struts on the hatches, grab rails, and seat bases are all stainless-steel.
Beyond those salt-friendly touches, the Z518CI is essentially designed like other Ranger bass boats. Obviously, that makes it ideal for lake, river, and reservoir largemouth fishing. This also means it'll prove perfect for shallow-water casting and useable for open water jigging. Trolling or bait fishing, however, is a bit of a stretch – especially without gunwale-mounted rodholders nor anywhere to easily add them. You'll also have to accept the fact that you'll be 100-percent exposed, as T-tops and Biminis aren't options on this type of boat.
The Z518CI is otherwise built like purely freshwater Rangers, which is a good thing. If you've ever zinged across the surface of a lake at 70 mph and then hit a wake in one of these boats, you know that it feels solid as a rock upon landing. Credit goes to the fiberglass stringer grid, foam-filling of the below-deck voids, the use of omni-directional and woven roving glass, and pultruded parts. Pultrusion is the process of running the fiberglass through a heated die, resulting in an incredibly dense, strong part. Ranger uses it in the transom of the boat, as well as for backing plates and in a few other critical areas.
The only potential down-side we need to point out at this stage in the game is that if you try to shred the surface of a body of water like the open Chesapeake at the speeds this boat is capable of, you're likely to go airborne with great regularity and beat both yourself and any passengers you may have aboard to a pulp. Rigged with a 200 h.p. outboard (sticker price: $43,795), speeds in excess of 60 mph are attainable. We'll stress once again that the Ranger is built like a brick you-know-what and comes down on waves feeling solid as a rock. But we don't care what type of boat you're in, if you go airborne at that sort of speed and come down on a three-footer it's going to hurt. A judicious use of the throttle will therefore be in order.
What about seaworthiness? Can a bass boat design really be safe out on the Bay? In our experience, the answer is yes. Naturally, you have to choose your days. The hull may not be ideal when it comes to rolling waves (you have to expect that waves slapping the beam may get you a bit moist) and the absence of any real gunwale height means you'll need to remain seated while running, and depending on the conditions possibly also while fishing. But Ranger's seats are shock-absorbing and in reasonable conditions at reasonable speeds, are quite comfortable. Bass boats also tend to be extremely stable and this one's no exception. Safety-wise, there really isn't a thing to worry about (again – as long as you wisely pick your days, which is true of virtually every boat to one degree or another). At least, there's no safety issue with the boat itself but we do have to bemoan the absence of a VHF radio. This is, in our humble opinion, an absolute must-have for any boat which one intends to take out onto the Chesapeake or similar waters. The dash of the Z518CI is engineered to fit a chartplotter/fishfinder, gauges, and switches, only. There's no good spot to add a VHF, so we hope you'll either get creative in adding one or make darn sure to get a handheld unit and tuck it away safely in a gear bag.
As you consider those down-sides, remember, this is give and take is present with any multi-use boat. And when you hit the lake, you'll have a full-blown bass-killing machine with no real sacrifices to pay in exchange for saltwater abilities. (No, we don't count the absence of carpet as a down-side). You'll have all the performance of a true bass boat. And no matter what species you're after (almost) or where you may be pursuing it (almost again), the Z518CI is going to get the job done, as a fleet of one.
Quick Facts:
LOA – 18'8"
Beam – 7'10"
Displacement – 1,550 lbs.
Draft (hull) – 1'0"
Transom Deadrise – 16 degrees
Fuel Capacity – 37 gal
Max HP – 200
Area Dealers – Mare, Inc, Thurmont, MD, (301) 898-3717; Cabela's Boating Center, Gainsville, VA, (571) 222-9049; Cabela's Boating Center, Henrico, VA, (804) 340-7349.