I've done a lot of fishboat reviews through the years, and the first Sailfish center console I ever tested was a 26-footer way back when, maybe 20 years ago. I arrived at the boat ramp extremely apprehensive. It was blowing 30 chilly knots, the waters of Eastern Bay looked like something out of "Deadliest Catch," and my mission wouldn't be completed if I couldn't wring out top-end speed runs for at least a quarter mile or so. The experience stuck with me because I can still remember just how flabbergasted I was at the way the boat handled the conditions, chopping through the chop without compressing my spine. Sailfish uses the exact same hull design today – and I say if it ain't broke, don't fix it. But before we get into the ins and outs of what lies below the waterline, let's take a live look at the boat topsides:
Okay: back to the hull. Sailfish calls this design Variable Degree Stepped, a term I'm not crazy about because it's often and easily confused with the traditional term "variable degree deadrise." A variable degree deadrise boat has a sharp V at the entry which tapers to a flatter V at the stern, where transom deadrise is measured. But on the sailfish 290 CC, the variation runs longitudinally along three different planes. The outermost plane, running from the edges of the chines to one-third of the way to the keel, has 22-degrees of deadrise. This rather moderate V helps enhance stability. The next third of the hull sits at a 23-degree angle, and then the final third of the bottom has 24-degrees of deadrise to maximize wave-splitting abilities. It's a play on the hull design that made SeaCraft boats famous in their time, and it still works wonderfully today.
Above the waterline, you'll find a platform appropriate for either bay or offshore fishing. Anglers who like to live line with spot (or any other baitfish, for that matter) will love the twin livewells, a 35 gallon well in the back of the leaning post and a 30 gallon well in the starboard corner of the transom. Both have clear lids which dog down on gaskets. Rodholders ring the gunwales, including two up in the bow, and the transom houses four more flush-mount holders. Coaming bolsters ring the stern and bow cockpits, the raw water washdown comes standard, and the forward in-deck stowage compartment is sized for a five-gallon bucket.
Once you haul the catch aboard you can slide your soon-to-be dinner into either the integrated in-deck aft fishboxes, or the forward fishboxes built into the bow seats. If there's anywhere I see room for improvement in this boat it's with those aft fishboxes, which are sized more for stripers than tuna. Big gamefish will have to be dragged up to the bow, before you can ice them down.
Throughout the boat you'll spot touches and tweaks that "fishing" boats built by companies focused on runabouts and cruisers simply don't have. Those livewells, for example, have foam insulation around them to keep your baitfish from overheating. Downrigger ball holders are integrated into the under-gunwale rodracks. Knife/plier/rig holders are mounted both at the leaning post and on the transom, and the one at the transom has a notch designed to hang a hose spray-head, so you can keep your washdown handy but out of the way.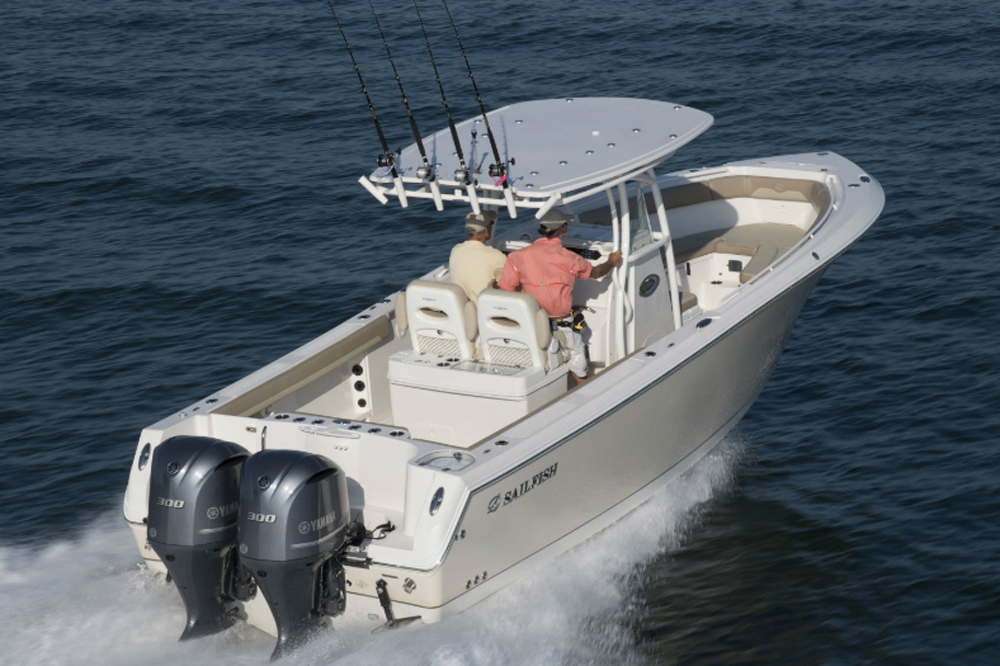 Look carefully and you'll also find some hallmarks of long-term boatbuilding experience. The deck drainage system is a great example. A Starboard grate prevents any scupper-clogging material from making its way into a sump, which is evacuated by not one but two large scuppers that can drain a large amount of water in a short period of time. More evidence can be found at the helm. Everyone tosses stuff on top of the console, where it often slides around and sometimes falls from. Sailfish smartly incorporates a series of stowage compartments here, protected by a heavy-duty gasketed Plexi cover, so the stuff you toss in stays protected but easily accessed. One of the compartments has a USB port for charging your phone. The top is supported by a spring strut, which is less expensive than a gas-assist strut but in my experience is far more prone to damage, usually by guests who don't realize you snap them open in the middle and instead apply brute force. In this case, however, it shouldn't be problematic since it's the captain who will be using these compartments the vast majority of the time.
Performance-wise, the Sailfish 290 CC turns in numbers right about where you'd expect. We couldn't take the boat off the dock when picking it apart at the Bay Bridge Boat Show, but Yamaha has a Performance Bulletin on this boat with a pair of Yamaha V-6 F300 outboards, and in our experience, the numbers they turn in mirror those we collect without fail. When Yamaha tested the 290 they saw 43 mph at a 4500 rpm cruise, while getting 1.6 mpg. Wide-open throttle hit 58.2 mph, turning in 1.1 mpg. Most efficient cruise was 2.2 mpg at 3000 rpm and 28.7 mph – as if any red-blooded American could stand to hold the throttles back that far, with fish awaiting over the horizon.
Oh yeah, family stuff… there's a pull-up tow bit in the transom, a large head compartment in the console, cushions for the bow seating, and a removable bow cockpit table. But hopefully the bit will never get pulled up, the bow cushions and cockpit table will live in your garage, and the console will remain so cluttered with fishing gear that your buddies will opt for the bucket method. Because after all is said and done, the Sailfish 290 CC is far more fishboat than cocktail cruiser – and it's a fishboat that will keep you in action when that breeze has most of the fleet tied up to the dock.
RED ALERT: Galahad has just let us know that they started a Summer Sales Event and will be offering a free five year extended warranty and 10% off scheduled maintenance - or - they'll pay your sales tax up to $2,000. Just mention you heard about the deal from FishTalk! 
Quick Facts:
LOA – 28'6"
Beam – 9'0"
Displacement – 8000 lbs.
Draft (hull) – 1'9"
Transom Deadrise – 22/23/24 degrees
Fuel Capacity – 225 gal.
Area Dealers – Galahad Marine, North East, MD and Deltaville, VA, (833) 425-2423.
For more information, check out Sailfish Boats.