Solace Boats is following up on its epic introductory boat, the Solace 345, with another totally unique top-shelf offering — and this one's even bigger. The 41CS can be a triple or quad engine rig and is expected to break the 60-mph barrier with triple Yamaha F425 XTO outboards powering the twin-stepped hull. With quad 450s it'll certainly be a rocket ship, with a projected top end pushing well into the 70s and a cruise in the solid 50-plus range.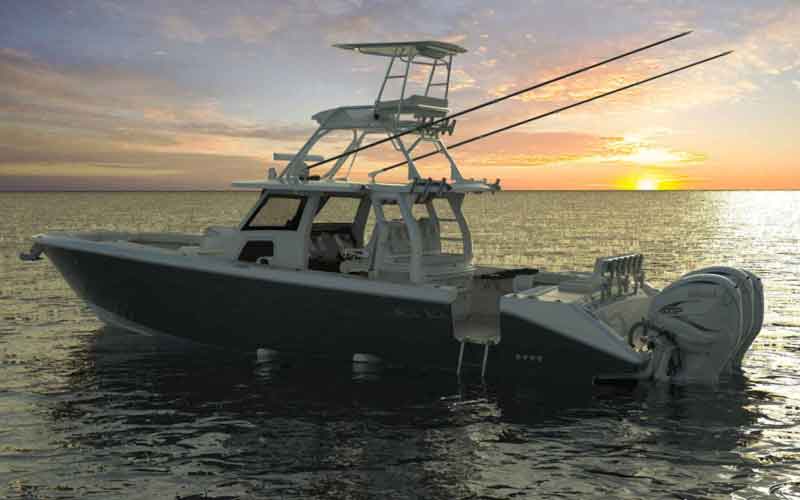 If you've seen the 345 you know Solace holds nothing back when it comes to outfitting their boats, but just as importantly, the tech level of their offerings is utterly obscene. On the 41CS the vacuum-infused carbon fiber and Innegra hull is twin-stepped with reverse chines, switching systems are digital, pipework is protected by a CreaKote anti-corrosion ceramic treatment, and helm seats are shock-mitigating. Electronics include a glass helm with twin 22-inch displays, and along with the helm station the 41CS has aft-facing LCDs so you can check the fishfinder from the cockpit.
What about that impressive outfitting? Dual livewells hold 50 gallons each; in-deck fishboxes hold 82 gallons a piece; removable cushions and the places they attach are magnetic for firm mounting with easy removal; the helm is blasted by 16,000 BTUs of air conditioning; seat pedestals are shock-mitigating; and the console cabin has twin berths, an enclosed head and shower, and a galley. Does it have gyroscopic stabilization? Silly question — of course it does, and as a standard feature. In fact, the list of standard features goes on and on.
The biggest difference you'll note right off the bat between the 41CS and their 345 is at the transom. The 41CS has a more traditional look, with outboards lined up side by side and no extended platform down the middle. That's because the size and weight of the boat mean triple or quad engines are needed to attain the performance Solace is looking for. We've been talking with Solace and their local dealer and hope to get in a sea trial asap, so stay tuned for more info on this one, people, stay tuned.
Solace 41CS Specifications
LOA – 41'0"
Beam – 12'3"
Displacement – 20,000 lbs.
Draft (min.) – 2'11"
Fuel Capacity – 525 gal.
Max. Power – 1800 hp
Area Dealers – PYY Marine, Pasadena, MD, (410) 255-1771.