Sportsman fishing boats have only been around for about five years, yet center consoles like the new Sportsman Heritage 251 have already made a mark on the industry. That's what happens when a pair of boat-builders who had decades of experience with four different fishing boat manufacturers team up - you get a creation like the Sportsman Heritage 251.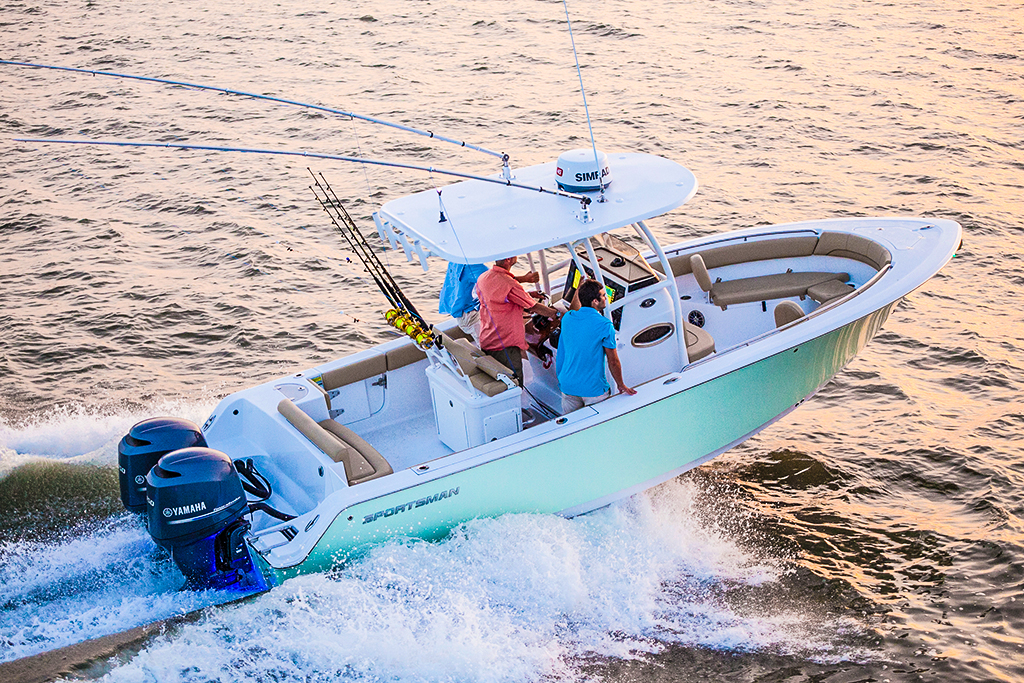 The fact that Tommy Hancock (one of the founders of Sea Pro), and Dale Martin (a co-founder of Key West Boats), teamed up to creates Sportsman is, of course, history. What you really care about is what Sportsman Boats have to offer. And in the case of the 251, it's serious fishability combined with some eye-opening performance.
Fishing-wise, the 251 starts by offering more room than you normally expect in a boat of this length thanks to a 9'2" beam. Then add in features like a pair of 30-gallon livewells, an 80-gallon macerated fishbox, coaming bolsters all around, and an anchor windlass on the through-hull anchor system. Nice. And the boat also has family-friendly features like an aft bench seat and removable backrests for the bow seating. Some people would prefer the fold-back backrests that don't need to be stowed and serve as bolsters when flipped against the inwale, and yes, it's true that this extra seating does cost anglers some deck space in the first place. Hard-cores would rather do without. That's one of the reasons Sportsman also has the Open series, which has an aft bench that folds flush. But let's be real, here—in many cases, a dose of comfort is what makes buying a center console palatable to family members who may be more interested in cruising or watersports. It's often best to give a little bit on the fishability front, and find harmony in the purchase decision. The Sportsman makes that possible.
One more thing this boat makes possible: long-distance cruises to the fishing grounds with abnormal efficiency. Rigged with a pair of 200 hp Yamaha V-6 Offshore outboards, the Sportsman 251 hits a maximum efficiency of 2.9 mpg while running at almost 30 mph. Go to the performance bulletins on the Yamaha Outboards web site and you'll discover that the average boat of this size and type gets closer to 2.3 or 2.4 mpg. In fact, plenty of similar boats hover around 2.0 mpg and many single-engine 25-footers can't match the 2.9 mpg mark. Firewall the throttles, and the 251 will hit a top-end of about 54 mph.
If you're currently in the market for a new 25 foot center console, truth be told, you have dozens to choose from. This is a competitive market, and boat-builders in this niche know it. Builders like Hancock and Martin. Will their Sportsman 251 be the ideal boat for you? That's a call for you and you alone to make, but one thing is for sure: it would be a bad move to sign on any dotted lines, before checking this one out.
Quick Facts:
LOA – 25'2"
Beam – 9'2"
Displacement – 4100 lbs.
Draft (hull) – 1'6"
Transom Deadrise – 21 degrees
Fuel Capacity – 155 gal
Max HP – 400
Area Dealers – Riverside Marine, Essex MD, (410) 686-1500. Jetts Marine, Reedville VA (804) 453-3611.
If you want to check out a slightly smaller Sportsman, see our video review of the 212 Center Console: