With many things in life size matters, but the Sportsman Masters 207 proves that bigger isn't always better. If you want to argue the point, I'll put up my 40 pound wahoo up against your 50 pound drum any day of the week. The same can be said about boats. While more LOA certainly has its advantages, sometimes the sweetest fishing machines come in small packages. Case in point: the Sportsman Masters 207.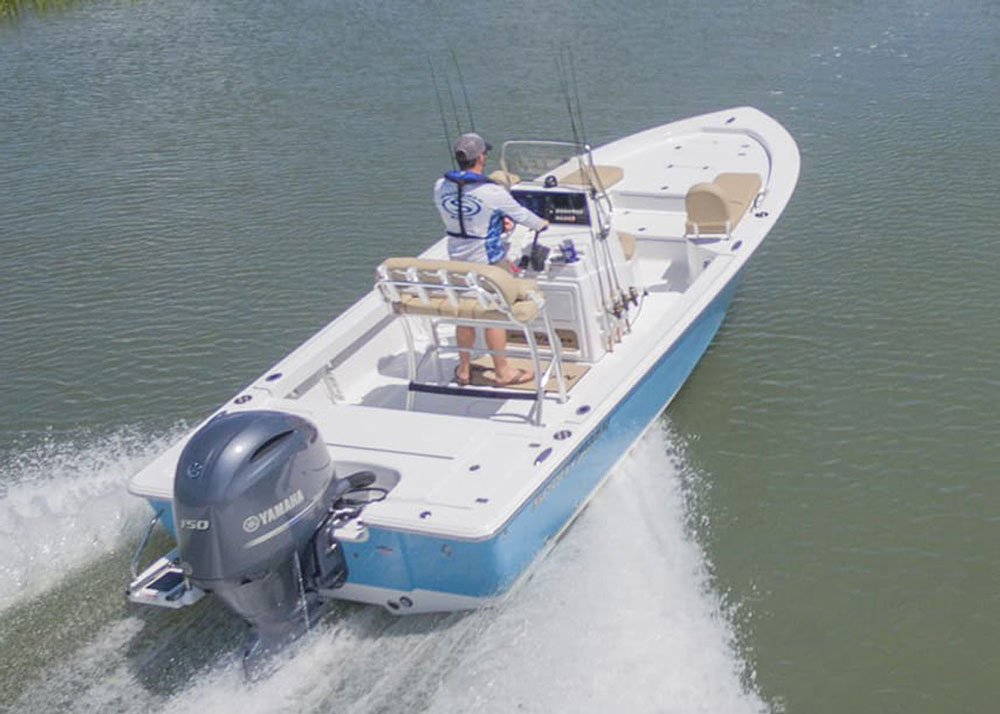 Sportsman Boats has redesigned and re-tagged the bulk of their bay boat line for the 2018 model year, now called the Masters series, and while plenty of people will be interested in the 267, 247, or 227, we've chosen today to focus on the 207, the smallest boat in the fleet. Because small models like this are relatively easy to afford, relatively easy to load on a trailer and tow, and relatively easy to handle around the dock. But just as important, because anglers who prioritize quality over quantity are going to find the Masters 207 quite attractive. (Though if a beefier center console is more your style, check out our Sportsman Heritage 251 Center Console review).
The list of standard features is long, including some big-ticket items like a Simrad Nss9 Evo3 with a through-hull transducer, hydraulic tilt steering, three livewells (a pair of 20 gallon wells aft and a 10 gallon well forward), a leaning post with flip-up bolsters, and USB/12-v charging at the helm. The only must-haves we didn't see on the list were the raw water washdown, VHF radio, and a compass (though we note that for some people, a T-top should be added to this list). And a look at the pieces-parts Sportsman has used in this series is a reminder that a diminutive nature does not necessarily translate into reduced quality; rodholders are stainless-steel, switches are lighted toggles, hatches are fully finished on both sides and are gasketed, and the cleats are pull-ups. We can't say we're in love with the windshield, which is one area where we don't think smaller is better as it's barely large enough to crouch behind, but it's an understandable trade-off as it's cosmetically pleasing and will allow you to to fit the boat into a garage. Besides, an open 20-footer isn't exactly an "all weather" boat.
The bowdeck is an area of change as compared to Sportsman's older bay boat models. It used to have a radiused aft end with no step up, but the new version has an inset step with stowage underneath, flanked by locking rodboxes that hold up to 10 rigs. One really smart move Sportsman made was integrating a centered bench seat in the stern deck, as opposed to jump seats placed on the sides. Have you ever ridden in a small boat with port and starboard jump seats? It's an excellent way to give your entire body a salt-bath, but passengers seated on the centered bench will gain some protection from the helm station. And yes, the back of the seat does fold down flush, so you have a trip-free, snag-free aft casting deck.
With the stock Yamaha F115, the 207 hits a max speed of 40 mph. A 4500 cruise gets you around 30 mph while netting 5.3 miles to the gallon. You could go bigger and opt-up to an F150, but we'd have to wonder why – that's plenty of pep in a 20-footer.
One question remains: when it comes to the waters of the Chesapeake and our Mid-Atlantic coastal bays, is a small southern-style bay boat really a good choice? For many anglers the excellent light-tackle fishability and shallow draft will be just as useful up here as it is in the bays of Texas and Florida, and that's why bay boats have seen a boom in popularity in this region over the past few years. No, you won't want to run across big water on windy days. But that isn't the first choice of any (sane) owner of a 20-foot center console in the first place.
Sure, size matters. But if the right size for you is a 20-footer and quality counts, give the Masters 207 a look-see. We're pretty dang sure you'll be intrigued.
Quick Facts:
LOA – 20'4"
Beam – 8'0"
Displacement – 2000 lbs.
Draft (hull) – 12"
Transom Deadrise – 15 degrees
Fuel Capacity – 64 gal
Max HP – 150
Area Dealers – Riverside Marine, Essex MD, (410) 686-1500. Jetts Marine, Reedville VA (804) 453-3611.
If you want to step it up a notch, check out the Sportsman 212 Center Console: