As fall kicks in many small boat anglers hang up the spreader bars and gaffs for the season – and that's a shame. While it's true that good weather windows are smaller and harder to come by, the change of seasons means awesome opportunities abound off the DelMarVa coast including a shot at very beefy tuna. The trick to getting them into the boat? It's all about the bars. Spreader bars, that is.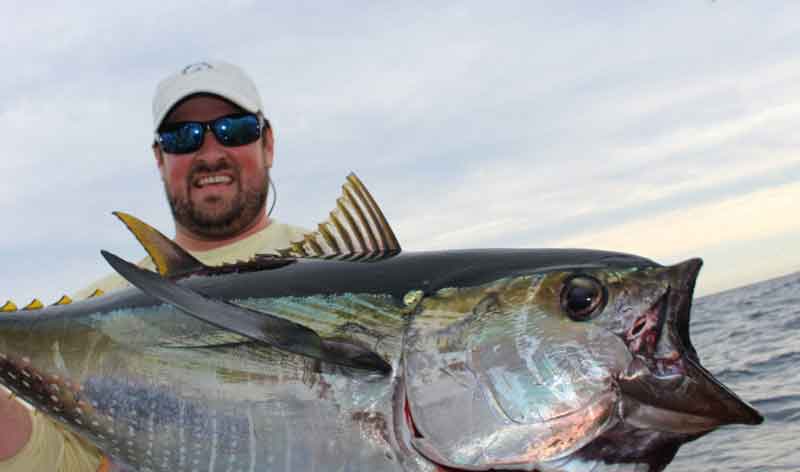 Run at least two spreader bars, one on either side of the propwash, in your late fall spread. Short riggers are a prime spot and will help elevate the angle of the line a bit, so you can set distance to keep the lures in the water but the bar itself in the air.
Keep flat lines closer to the boat and inside of the bars.
Place at least one Green Machine 10 to 15 feet behind a bar. If there are any longfin in the area (and this species often pops up in the fall months) that's usually what they'll choose to attack. And where there's one there's more, so if a longfin comes to the gaff savvy anglers will add more Green Machines to the spread.
If you add splash bars, give them a bit of distance from the spreader bars. The fish-attracting commotion of each is a bit different and it's tough to say from day to day which the tuna will like the most. If one draws noticeably more strikes than the other, start swapping out bars to match.
Put a bird followed by a daisy-chain of four Green Machines straight out the back in the shotgun position, well behind all the other baits. This one's a bona fide yellowfin killer.
Do lots of zigging and zagging, ideally swinging your short rigger bars to the edge of the propwash and then back away from it. You'll be amazed at how much more effective this is sometimes, as opposed to simply trolling in a straight line.
Check out our Top Lures to Use when Tuna Trolling video, which we shot at Alltackle last spring - which naturally includes spreader bars!