When it comes to offshore trolling, White marlin certainly get the most attention at this time of year with double digit releases headlining offshore canyon reports. Longfin tuna also adds a new twist when trolling Green Machines (or any other green lures/skirted bait for that matter) out on the edge. However, a little closer to the beach between the 20 and 30 fathom lumps, one of the fastest-swimming fish in the ocean (not to mention one of the best on a plate) stops by inshore lumps like the Sausages, Hot Dog, and Chicken Bone, off the DelMarVa coast. And while not a school fish, their numbers increase on inshore shoals this time of the year to the point where they're worth targeting in specific. After the first wahoo is slid into the kill box, work the area hard, as additional fish will typically be caught in the same general area.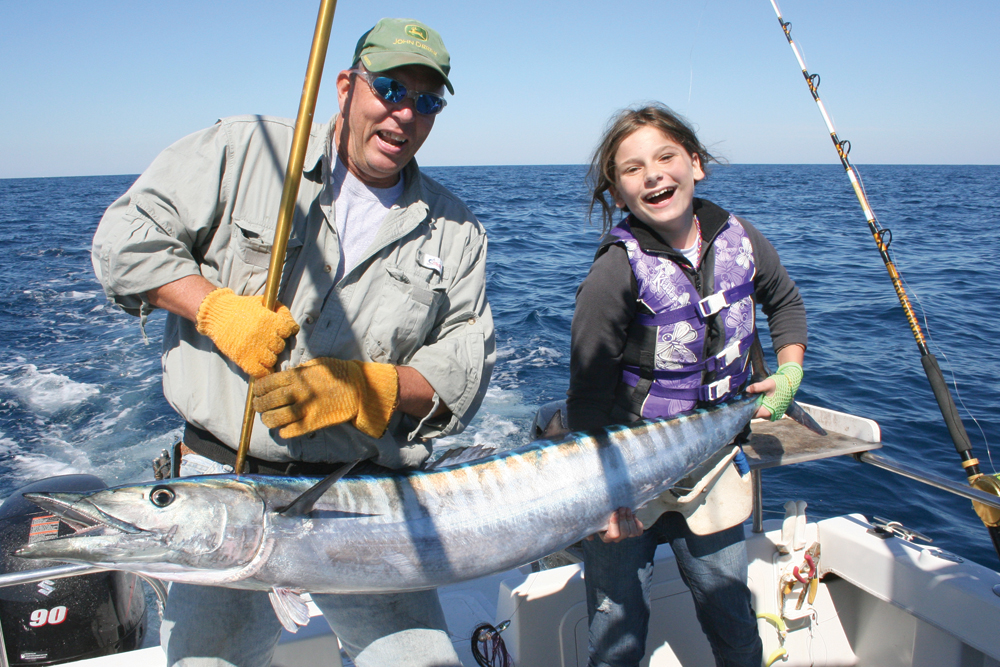 Wahoo will attack just about any size or type of bait. However, to up the chances of success, anglers should pay attention to color. Wahoo are partial to black/purple, black/red, or other dark color combinations. And while they can and will be caught in any position of the spread, many come off deeper lines. Personally, I'm partial to skirted ballyhoo, which also opens the door to catching other species like tuna and mahi which might be lingering around. Construct medium/large ballyhoo rigs using a four-foot piece of Malin copper-colored, single-strand size #10 to 131-pound wire leader material with your favorite 9/0 2x strong hook and a one-ounce egg sinker. The egg will allow the bait to be pulled at 6.5 to seven knots without the ballyhoo turning on its side. Skirt the ballyhoo in one of the aforementioned colors. A Spro 130-pound power swivel gets attached with a haywire twist, and is then crimped to a mono or fluoro wind-on.
Another option is to drag high-speed lures that run at nine or 10 knots and allow you to cover a lot of ground. One of the most popular lures for this tactic is the Yo-Zuri Bonita. Just be sure to rig everything on wire or a trip to the tackle shop will be necessary in short order. Wire is an absolute necessity to survive the blades of a wahoo's teeth. But remember that these rigs do not hold up when catching fish after fish, and once a kink develops in the wire (often on the first wahoo) you'll have to replace the rig.
Deploy a typical spread, but replace a flat line with a downrigger/planer for deep baits. Check to be sure your downrigger is capable of handling the force created by a planer compared to a cannonball weight. Downrigger cable needs to be replaced with 200-pound braid line to prevent humming at these speeds.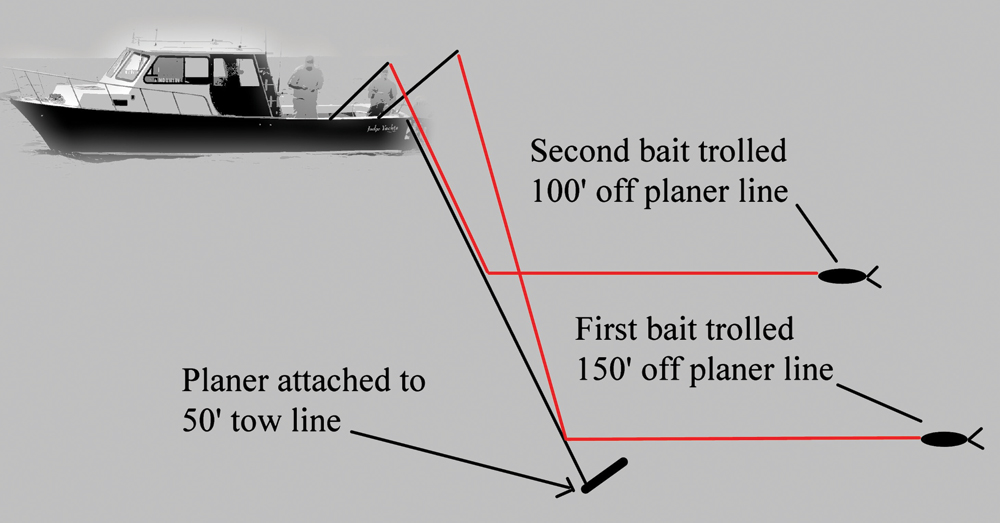 No downrigger? No problem. Use a Z-wing (or any large planer) and attach it to the boat with a 50-foot piece of 200-pound test Dacron or braid line (mono can be used but it creates more drag). Use gloves and extreme caution when setting a planer, and slow the boat for this process. A lot of downforce is created, and the line can cause injury if you're not careful. 
Depending on the planer it will run at a depth in the neighborhood of 35 feet. Two baits can be run off one planner line. Position a medium/large skirted ballyhoo (a black/purple Ilander is a popular skirt) 150 feet behind transom. A rubber band is then twisted around the fishing line several times before a double-end snap swivel is attached to ends of the rubber band; the other end of the snap swivel is clipped onto the planer line. As line slowly spools off the fishing reel, water pressure pulls the snap down the line until reaching the Z-wing or your depth desired. Then the rod is placed in holder and the drag set.
A second line is set the same way as the first with the exception that the bait is set 100 feet behind boat, and then only 20 feet of line is spooled off the fishing reel placing bait at about that depth. When the wahoo strikes the rubber band breaks, and it's game on.
Fill in the rest of the spread using lures or skirted ballyhoo. Sixteen- to 32-ounce inline sinkers can be used to keep ballyhoo rigs swimming a couple-few feet underwater. 
Our fall wahoo in the mid-Atlantic average 30 to 40 pounds with an occasionally 60- or 70-pounder creating additional excitement. Thirty class tackle is adequate for this pelagic. Wahoo normally make a blistering first run, before settling in for a mild tug of war. Don't set drags on the heavy side, as the strike often is on the move and with their speed, the drag initially can fall behind creating line separation. No one likes the sound of that loud "snap!" Finally, after gaffing, use extreme caution bringing these fish onboard. Those razor-sharp teeth managed to put a good size gash in one of my legs 20 years ago requiring stitches – a lesson learned the hard way!
- By John Unkart
For additional information on fishing for wahoo and other offshore species, check out John Unkart's books "Offshore Pursuit" and "Saltwater Tales."